This is a review of the new HiBy R6 Pro which is the next generation of the company's original R6
...
Disclaimer: The Custom Art FIBAE 4 sent to us is a sample in exchange for our honest opinion. We thank
...
The Lime Ears Model X now comes in a universal format and provides an instant purchase alternative to the custom
...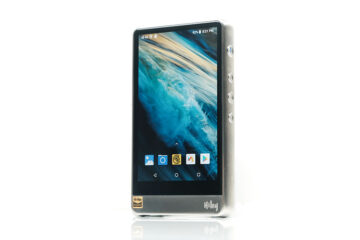 The HiBy Music R6 Pro is the company's next version of the original R6 DAP providing an outstanding price to
...
The Hifiman Ananda is a new planar magnetic headphone that supersedes the older Edition X series with the latest nano
...
Our review of the new AKG N5005 which is a reference class hybrid 5-driver in-ear monitor and the spiritual successor
...
The Unique Melody 3DD-Ti is a revised launch of the original triple dynamic driver 3DD from 2014. With new improved
...
This review covers the beyerdynamic Amiron Wireless which is a wireless closed-back version of the Amiron Home headphones priced at
...
In this review, we listen to the Hifiman RE2000 Silver and RE800 Silver which are reworked versions of the original
...
The Effect Audio Leonidas II is the newly designed successor to the original Leonidas using a new mix of Silver
...
The Vizio M-Series M-F0 is a 65″ OLED 4K capable flatscreen TV at just under $1000 with a wide range
...
IMR Acoustics R1 is a brand new dual dynamic IEM and marks the debut launch of the company itself in
...
The Burson Audio Play is an audiophile-level DAC and desktop amp primarily aimed at the gaming community. It is priced
...
The Plussound Tri-copper (Exo) is a mid-fi priced $549 IEM aftermarket cable featuring three different types of copper wire. Disclaimer:
...
The Astral Acoustics Libra is the company's TOTL silver headphone cable and comes in both a 4-wire and 8-wire edition.
...
The Custom Art FIBAE 3 is the 3rd custom monitor release by Piotr and the team using FIBAE or flat
...
The MrSpeakers AEON Flow is the open back version of the closed AEON planar headphone. It is also priced at
...
The Core Power Tech Equi=Core 300 is a heavy-duty power conditioner to lower noise improve the quality of sound from
...
The Echobox Explorer is a unique looking and beautifully finished wood encased digital media player featuring Android and is selling
...