The iFi Audio NEO iDSD is a new compact integrated headphone amplifier and DAC with MQA and Bluetooth LDAC capability. It is priced at $699.99
Disclaimer: The iFi Audio NEO iDSD sent to us for the purposes of this review is a sample in exchange for our honest opinion. Thank you to iFi Audio for giving us this opportunity.
You can read more about iFi Audio products we reviewed on Headfonics by clicking here.
Note, this review is 2 pages long and follows our new scoring guidelines for 2020 which you can read up on here.
iFi Audio Neo iDSD
If the iFi Audio NEO iDSD would have a beefier headphone amplifier section, this could almost be an endgame piece because as a preamplifier DAC it is clean as a whistle. There are no clicks, pops, hiss, or turn on or off thumps. This is probably the first device of this type I tested that is completely silent in operation.
iFi is going breakneck speed producing audio gear. Not only gear but accessories too. They are listening. We recently mentioned the need for a 4.4mm to 4.4mm Pentaconn cable and they delivered. But when did we mention to upscale their design while giving us even better quality audio reproduction?
Here we are looking at their new NEO iDSD and it does not look like a typical iFi product. But then again neither does their Aurora all-in-one music system. Although I must admit is quite an interesting product.
We are going to dive deep into this multi-featured cutting-edge codec rich balanced 3 in one DAC/AMP Bluetooth device. Read on.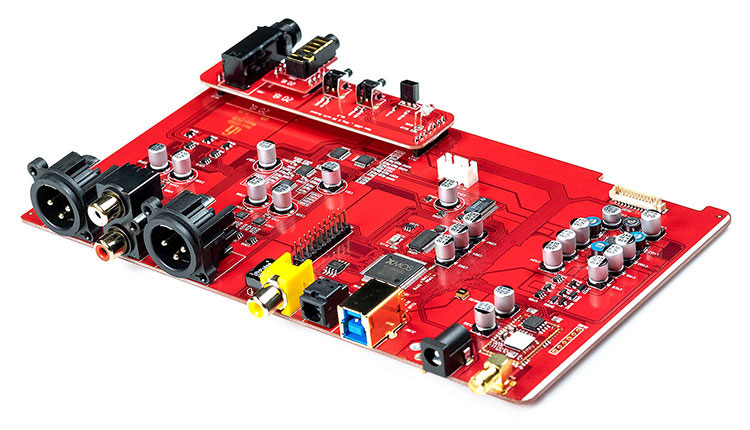 Tech Inside
Burr-Brown
I could probably write for days about all the tech features the iFi NEO iDSD has but at the heart of the NEO iDSD is the Burr-Brown chip.
The True Native chip is set to bit-perfect and is a chip used many times by iFi for its musicality character and since it's a familiar chip to iFi, they manage to squeeze the maximum performance this chip has to offer.
16 Core XMOS
This time iFi stepped up with a new 16 core XMOS microprocessor controller that accompanies the Burr-Brown instead of the usual 8 core. This XMOS chip can run at double the clock speeds at 2000MIPS and also doubles up on memory with 512kb which will ensure a stable buffer stage.
It also steps up the USB to the latest SuperSpeed USB 3.0 B standard which runs at as high as 5.0Gbps speeds. Plus, it uses iFi proprietary custom firmware which will most likely be upgradeable later on. At the time of writing, there was none available.
Decoding
The iFi NEO iDSD has a plethora of codec compatibility. Of course, the usual PCM is available and, would you expect anything less than support for 768/705.6/384/352.8/192/176.4/96/88.2/48 and down to 44.1khz? PCM of course will not be a problem here.
What about DSD? The iFi NEO iDSD can do single, double, or quad speed DSD up to DSD512 and could also do 256/128/64. No problems here either. DXD is also no problem for the NEO iDSD. It can do 768/705.6/384/352.8khz and at single or double speed rates and as the commercial says, but wait, there's more.
iFi is big on codec features and their units are usually compatible with MQA so of course, you can playback MQA and even stream Tidal MQA at up to 384khz from your phone via Bluetooth 5.0 which the iFi NEO iDSD also has. It can also do MQA over S/PDIF.
GTO filter with GMT
The only filter used in the iFi NEO iDSD is not really a filter. What the GTO filter does is adjust the latency of the signal to closely match the natural latency of the ear mechanism.
Along with the GTO filter, there is also the GMT Femto precise clock which keeps the buffer in check and this combination eradicates Jitter and other phase anomalies that can occur in the average and common digital audio circuitry designs.
Purist Design
Every XMOS equipped system is capable of running DSP correction but the iFi NEO iDSD does not use any DSP whatsoever and there are no digital filters used anywhere in the circuitry either.
This design ensures audio purity and by using quality components, the need for filters or any DSP correction is eliminated. By simply using quality parts and by using a straight path in circuitry iFi ensures no change in the sound up to the analog playback level.
I think it works because it does sound cleaner with a more natural tonality comparing it to other iFi units I have used which tend to sound warm with a touch of color.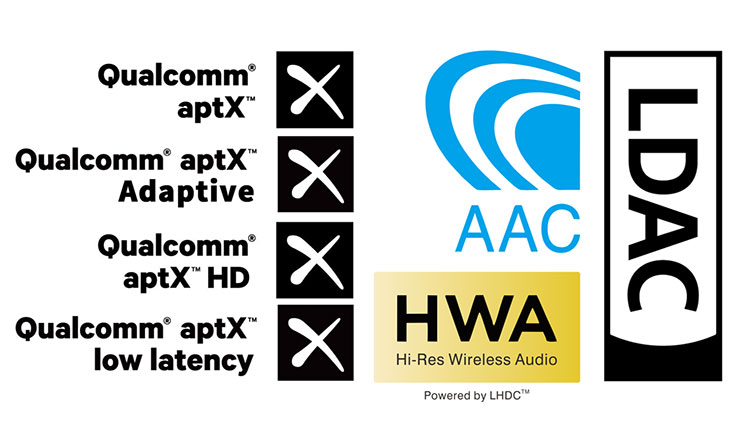 Bluetooth
The iFi NEO iDSD sports the new Qualcomm QCC5100 5.0 Bluetooth chipset. This chip is compatible with practically every format out there and can remember up to 7 devices in memory.
To start there is the usual SBC, AAC, and aptX There is also aptX HD which steps up to 24bit with a bit rate of 570kbps rate versus the 16bit 384khz bit rate of conventional aptX.
The iFi NEO iDSD can also do adaptive aptX which although has a lower bit rate and can output a cleaner signal with a 135db of SNR when used on a 420kbps bit rate versus 120db on aptX HD. The NEO iDSD even does aptX low latency.
The NEO iDSD also does LDAC which can stream audio at up to 990kbps at 24/96kbps.
To top off the list the NEO iDSD can also handle the newest HWA LHDC audio codec which runs at a maximum of 900kbps on a 24/96 sample rate. These two mentioned takes Bluetooth performance closer to FLAC quality levels.
PureWave
iFi is using a new type of circuitry design on the NEO iDSD called PureWave. This is a new balanced, symmetrical dual-mono topology design with a short and direct signal path for each channel.
iFi claims exceptional linearity and very low levels of distortion. iFi also claims this design also eliminates crosstalk by separating both channels from each other.
Trench Technology Switching
The iFi NEO iDSD uses something called Trench Technology switching or also called Vertical Trench VDMOS.
Let's get technical. gate-drain engineered trench VDMOS improved high-frequency switching capability with lower gate charge utilizing non-uniform gate oxides, field shaping, and charge balancing (super junction, RSO) methods.
The simple version is simply a quiet way of using switches and the switching system sleeps only waking when the user makes changes.
This implementation also handles the muting feature not only giving you a dead silent muting stage but it makes sure no clicks and pops are heard operating any of the switches, changing sources, or just powering up and shutting down.
Components
A list of the components used inside the iFi NEO iDSD includes multilayered ceramic TDK COG capacitors, Murata control type low ESR high Q multilayer capacitors. MELF thin film resistors and, inductors from Murata and Taiyo Yuden.
Texas Instruments low noise IC chips are used which have great unity-gain bandwidth, very low noise and distortion with a high output capability. They also reject power supply noise up to 100 decibels with a wide output swing bandwidth and high slew rates.
iFi also uses a new custom-designed ultra-low distortion op-amp. The custom OV series operational amplifiers contribute largely to the extremely low noise levels with wide bandwidth and an ultra-low distortion rating of 0.0001%.
Design
The iFi NEO iDSD does not resemble any past iFi headphone amplifier because technically it is not just a headphone amplifier. But apart from that, this device has an upscale appearance.
The entire case is made of solid aluminum including the knurled volume knob which by the way, is very smooth to operate. The included stand Is also made of solid aluminum. The finish is a combination of brushed aluminum and some other areas have a matte finish.
The unit measures 8.4 x 5.7 x 1.6 and weighs in at a little over two pounds at 2.14lbs.
Screen
The iFi NEO iDSD was made to sound completely neutral and clean with no noise. So the designers used an OLED SilentLine display which avoids electrical noise once introduced into an audio circuit.
The SilentLine OLED switches itself off internally when not in use and disconnects itself from the circuitry most times but still displays information doing so.
One neat trick the OLED does is that since the NEO iDSD can be used horizontally or vertically, the display will flip and match the unit orientation automatically.
Step Resistor Volume Knob
The iFi NEO iDSD uses an analog rotary volume knob which feels very smooth to operate. However, it acts as a digital knob. It does not use a motor to operate under remote control either.
That is because the volume is adjusted in the analog domain using a resistor ladder which is microprocessor controlled.
Most analog volume knobs present channel imbalance but this one seems to do well. It does remain silent at the bottom volume settings and present no abnormal noise when operated. But to get some volume out of the unit, I did have to go past more than a few clocks to hear something come through.
I/O
Rear Panel
Besides having a Bluetooth input, the iFi NEO iDSD has a few more input on the backside. There are a total of four ways you can feed the NEO. The other inputs are a digital coax input, a USB input, and an optical input. There are no conventional line inputs.
The USB input is a full-sized USB port that also powers the unit. I am a certified computer technician and I would advise using an external power brick as a power source to remove that load off the USB PC port. The NEO iDSD needs 2.5 amps to work optimally after all.
The NEO iDSD does come with the iFi iPower 5-volt power brick which is an excellent wall wart. It works great supplying a clean voltage to the NEO iDSD.
On the output end of things, you get the conventional RCA 2 volt line outputs. There are also 2 left and right XLR outputs that do up to 7.7 volts. These would be excellent for either running a more powerful headphone amp or for studio monitor speakers.
Front Panel
The front panel of the iFi NEO iDSD has two headphone output slots. There is a full-sized 6.35mm TRS single-ended output with a power output rating of 295mw with a max voltage of 3.25 volts. There is also a 4.4mm Pentaconn balanced output slot. This port can do a max of 1040mw and a maximum voltage of 6.4 volts.
Just looking at the numbers I would highly suggest obtaining a balanced wire set because the single-ended output leaves some to be desired when it comes to raw power. To be honest, the single-ended 6.35mm was lacking in power at times even though it seems a conservative rating comparatively saying.
The output impedance is an acceptably low 1 ohm with a very low distortion number of 0.0015% at 125mw but I think that number is fairly stable on higher power ratings also.
Remote control
The iFi NEO iDSD comes with a small remote control unit that has some basic functions. It does volume up and down plus mute. You could also switch inputs and even adjust the display brightness.
For the volume to work you have to put the NEO iDSD on variable volume and the unit has fixed and variable volume switchable by pressing the volume while powering on to access that feature.
I am uncertain why but my particular unit did not come with a battery for the remote. It did have a protective cover for the battery but there was no battery. It uses a CR2025 and I would have preferred the more common CR2032 which I had plenty of. They do fit and work but presented a slight bulge on the top.
Accessories
I already mentioned that the iFi NEO iDSD comes with the iPower 5-volt wall wart and with a basic remote control but it also comes with a couple of other goodies.
In the box, you get a blue USB-C cable which is rather short and more suitable for laptop use. There is also the usual iFi branded RCA cable. You also get a stand because the NEO iDSD can be used horizontally or vertically, and I already mentioned that the display adjusts orientation accordingly and it does so automatically which is a nice touch.
Accessories also include rubber feet which are needed because the unit tends to move especially when pressing the input or power buttons so you will have to do it in a 2 hand operation. There is also a removable Bluetooth antenna, a 3.5mm to 6.35mm adapter, a warranty card, plus an instruction booklet.
Click on page 2 below for sound impressions and comparisons