The AAW x Custom Art Project 4+2 is an IEM featuring a dual-diaphragm 8mm isobaric woofer, 3 BA, and Nozzle-less Open Vented Armature (NOVA) driver. It is priced at $749.
Disclaimer: The AAW x Custom Art Project 4+2 sent to us is a sample in exchange for our honest opinion in this review. We thank the teams at AAW and Custom Art for giving us this opportunity.
To read more about AAW (Advanced AcousticWerkes) products reviewed on Headfonics click here. To read more about Custom Art products reviewed on Headfonics click here.
Note, this review follows our new scoring guidelines for 2021 which you can read up on here.
AAW x Custom Art Project 4+2
You are getting a lot of technology trickle-down from each company's higher-end models into this monitor, which, combined with a very mature and pleasing sound, should make this the type of IEM attractive to all but the most rabid bassheads. 
Over the last few years, audio collaborations have become commonplace though usually, this is via DROP or a fashion label rather than two companies essentially competing in the same market space. The last or most memorable exception was AAW and Shozy on the hybrid EST POLA39.
Project 4+2 is the second such collaboration involving Singapore's AAW. This time, they pool their collective technical know-how with Poland's Custom Art to produce an IEM dripping with some of the best tech produced in the last few years from each company.
And yet, perhaps the most surprising aspect is the price point. At just $749 you are getting a lot for your money with this universal monitor. Key tech highlights such as FIBAE, isobaric dynamic drivers, BassFlow Control from the Halcyon, and a new open vented BA driver. Not to mention a great quality stock cable.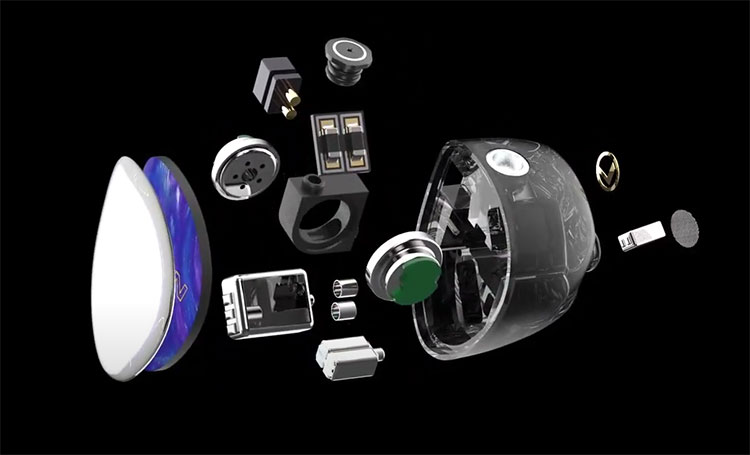 Tech Highlights
Configuration
Project 4+2 is a 6-driver hybrid monitor consisting of a dual-diaphragm 8mm isobaric woofer, (dynamic driver), and four balanced armature drivers, one of which is a new proprietary NOVA™ driver.
The configuration is the isobaric woofer purely for the lows, three FIBAE mid-woofer drivers for the mids, and the NOVA driver for the highs with a 4-way passive and acoustic crossover.
NOVA™ Driver
The NOVA driver is essentially a Nozzle-less Open Vented Armature, hence the abbreviation. You will find no phasing tubes or typical BA nozzles and instead, you get an open vent design.
This particular driver is placed far into Project 4+2's 3D printed nozzle and closer to the exit. The idea is that being closer to the ear the design eliminates potential sound pressure decay and any unwanted resonance found from traditional BA driver designs.
Isobaric Dynamic Driver
The dual-diaphragm isobaric driver is actually a concept pulled from AAW's flagship Canary but interestingly, it's a slightly bigger version at 8mm compared to 6mm.
At the simplest level, this is a smallish 8mm dynamic driver. However, its performance is governed by a key design feature. This is an isobaric dual-diaphragm design combined with a high-strength neodymium magnet build. This should deliver a very uniform level of tension across both diaphragms for optimal performance.
Isobaric is a thermodynamic process in which the pressure stays constant and has been knocking around audio applications since the 1950s and mainly in speaker drivers.
The dual-diaphragm of this 8mm dynamic driver is one of the key characteristics of an isobaric design. Both operate simultaneously to improve low-end frequency response and in doing so, allows the 8mm driver to perform to the same level as that of a larger single diaphragm driver.
BassFlow™ Control
This is tech first seen in AAW's high-end Halcyon monitor from 2020 and has shades of 64 Audio's APEX and Jomo's ACU filter-based sound tweaking though not based on the same technology.
Basically, Project 4+2 has a tunable sound signature via a set of interchangeable filters. Each filter regulates the air supply to the isobaric driver (venting) to alter both the response and timbre of the low-end of Project 4+2 by up to 10dB.
Project 4+2 comes with 3 filters, Norm, Bass, and Vokal with the Norm filter installed out of the box. I would suggest using this filter as your reference point and has a bass dB of around 5dB.
The Bass filter is 10dB and the Vokal filter strips it right down to 0dB. The extent of the upswing in dB on the isobaric driver is to the first crossover point of around 700Hz.
Insertion and taking out are resistance-based with some tight rubber grommet rings keeping them in place and a small metal hexagonal disk to keep safe the filters that are not in use.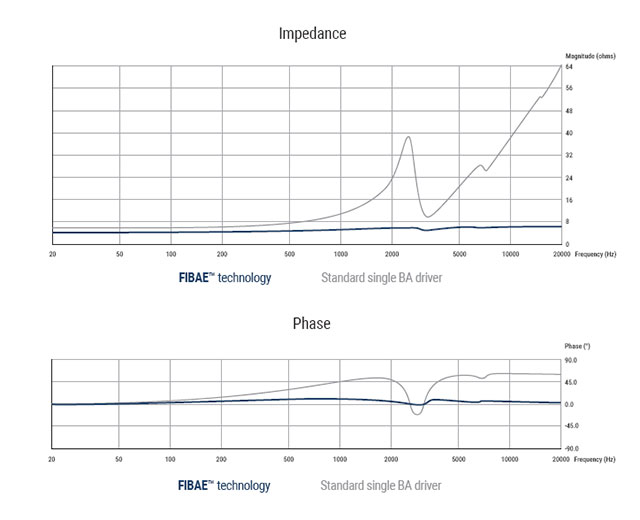 FIBAE™ Technology
FIBAE™ stands for Flat Impedance Balanced Armature Earphone. This is a patent-pending design Custom Art developed back in 2016 and since then has rolled out several FIBAE monitors with the tech at the heart of each monitor.
In summary, FIBAE promises to deliver flat impedance and phase via a series of specially designed balanced armatures to negate the problem of output impedance dependency.
Why is that important? Basically, every headphone jack has an output impedance rating that affects the tonality of your IEM to some degree. Manufacturers have taken strides to reduce this as a factor in their DAPs and amps with a sub-1Ω impedance being almost the norm.
Inductive To Resistive
However, this is not always the case. Some can range well over 1-ohm such as the original HiBy Music R6 at 10Ω and many balanced outputs come close to 2-ohms.
The FIBAE pitch changes balanced armature designs from inductive to resistive to cancel out impedance mismatching and delivers an optimal sound no matter what jack you plug your IEM into.
Design
Two custom designers collaborated on this so it stands to reason you are going to get an attractive design monitor. Project 4+2 is definitely that with a beautifully polished blue 'Midnight Lava' faceplate housed on top of an opaque smoky-toned acrylic shell.
Each plate has the logo of each company to emphasize the collaborative theme as well as some clear channel marking on the underside printed in gold. On the top, you have a flush 0.78mm 2-pin connector system with the BassFlow Control system housed on the rear of the main shell. The housing creates a minor aesthetical footprint but overall a relatively discreet bump.
The nozzle does have a decent lip for tip housing as well as a silver gauze on the tip rather than individual boreholes which will help prevent dirt build-up
In terms of form factor, Project 4+2 is on the slightly larger side in terms of the main body with a shorter nozzle as well as being marginally weightier than some competing monitors in the same price class. The contouring on the acrylic shell is moderate rather than aggressive but it sits well in the ear and does not stick out that much.
Filters
The filter mechanism is very easy to work with and requires no intricate screw-in or pliers such as the FLC micro-filters. These modules have little grommet circles that allow for a pressure-based insertion into that rear hole of the shell rather than snap-in.
The cavity is also very cleanly cut and protected with a silver contact ring so I cannot see the filter edges getting worn down and losing their seal over time which would be a disaster. Nor can I envisage the acrylic shell cracking from pressure stress due to the metal finish around the port.
Just a note on the white marking on the top of the filters which are different for each filter. For the Norm filter, it is a white line with two breaks in the line. With the Vokal filter is its 4 breaks and for the bass filter no breaks. This should make them fairly easy to distinguish from each other.
Comfort & Isolation
Despite the size and moderate curving, Project 4+2 sits quite easily in the ear without any undue pressure build-up. Due to the relatively short nozzle insertion depth, you could argue that the fitting is more on the relaxed side with relatively little acrylic pressure build-up inside the ear canal.
This is a monitor that will place a little bit more emphasis also on the tip completing the final mile in terms of secure fitting and they do become a bigger factor in the levels of possible passive isolation.
Bear in mind also the BassFlow Control system is also a venting port for the isobaric driver so the level of isolation is very good but also consistent with most dynamic driver IEMS as being just a shade lower than BA-only IEMs.
Tips
AAW & Custom Art have supplied two types of tips with Project 4+2, a single bore silicone in small, medium, and large, and foam tips in similar sizing. The silicone tips will provide a slightly comfier fit compared to the foam tips but the foam tips will isolate that bit better than the silicone alternative.
Both stock tips will throw a slightly different spin on the general sound signature of Project 4+2. The silicone tips offer slightly less bass warmth and quantity but sound a bit airier and cleaner through the mids and highs.
The foam tips are a shade softer and warmer throughout the sound signature but offer a bit more body and could be described as yielding a more forgiving tone for natural sibilance.
Aside from swapping the filters, alternative aftermarket tips can also change that sound signature even further. For example, Final E tips will produce a cleaner top-end than the foams but also significantly enhance the bass body and slam over the stock silicone tips.
Packaging & Accessories
The Project 4+2 packaging is compact rather than expansive but properly organized and professionally finished. The retail box is a simple two-piece narrow package with branding graphics on the front outer box and everything neatly organized via a foam cut-out inside.
Accessories include an AAW branded leather carry case, monitors, cable, BassFlow Control system, cleaning cloth, and tips. You also get your accompanying warranty card with a membership ID for online registration, (QR code included).
The tip are actually housed quite cleverly into the base of the packaging foam underneath the carry case, however, they lack a carry solution once taken out. My personal take is it would be preferable for them to be in a small portable tray as the carry case is big enough to handle that. Otherwise, they might get lost.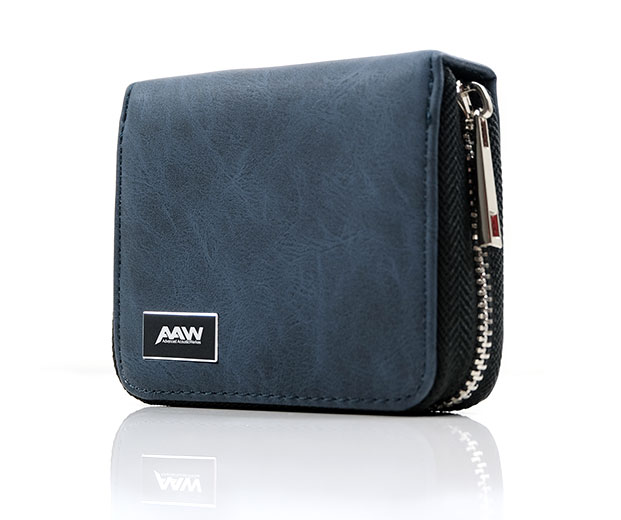 Carry Case
The Project 4+2 carry case is a PU leather-covered blue finished zipper case with decent loading capacity to fit pretty much every accessory included with Project 4+2, including the tips.
This is an AAW branded case with its classic styling and quality finishing. It offers moderate protection with a stiff frame and easily pocketable. Custom Art monitors normally come in Pelican hard cases that offer more protection but they are also a lot bulkier to understand why this smaller case might have been chosen.
Click on page 2 below for cable and sound impressions