The ULTRASONE Panther is a compact portable headphone amplifier and DAC with native DSD256 decoding and up to 950mW of power. It is priced at $549.99
Disclaimer: This ULTRASONE Panther is a sample sent to us in exchange for our honest opinion in this review. We thank the team at ULTRASONE in partnership with Manfrotto for giving us this opportunity.
To read more about ULTRASONE products we reviewed on Headfonics click here.
Note, this review follows our new scoring guidelines for 2020 which you can read up on here.
The ULTRASONE Panther USB DAC and amplifier sells for $549.99 and for such a small package, I received a truly large wild feline roar of a sound from it. I am glad to see ULTRASONE moving to the portable market in this manner, I have a lot to say, so let us not waste more time and just leap off the diving board!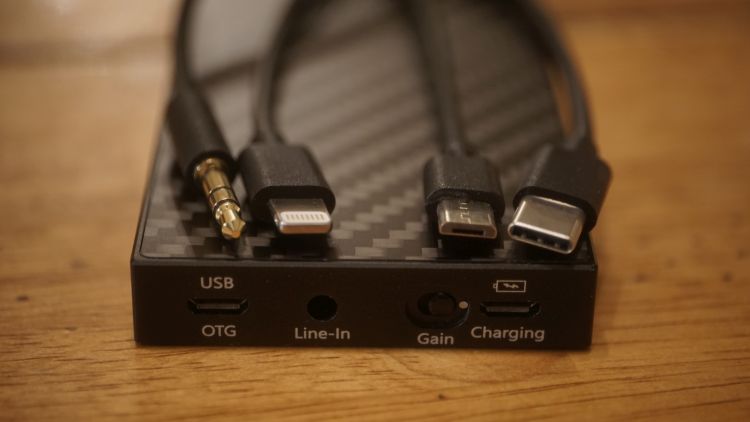 Packaging & Accessories
The box is small and unassuming. Nothing fancy to report here, it is fairly standard cardboard with logos and text. No carrying case or protection for it. In the box, we get a standard USB micro cable for charging and DAC usage.
Beyond that, nothing else was included…. oh wait, hang on, I am just so used to saying that about portable DAC's and amps that I neglected the five included interconnects…AS ALL expensive products should be including! Thank you, ULTRASONE, for caring. Included is a plethora of cable options:
Standard 3.5mm to 3.5mm
USB C to USB Micro
USB Micro to Lightning iOS
USB Micro to USB Micro
USB standard to USB Micro
I do not even know what to do with myself. How could this even be! Lo and behold! A company included all the cables in a HiFi product? Dang. Well, it is 2020 after all, who knew to even expect this.
Design & Power Output
Exterior motifs revolve around the Carbon Fiber appeal and I really like it. The Panther feels quality, no doubt there. For being so small and light at 110g I am glad to see that it does not feel cheap. And look at the size of this Panther versus something like the xDuoo XD05+! It is teeny tiny.
The volume knob doubles as a power function, long pressing for a few seconds enables the device and another tap will swap from 3.5mm to digital input with a color change of the LED.
I have a small gripe; I wish the volume knob were not so easily turned and operated. It is a very slick feeling and often I feel myself worried about fumbling it in my jacket pocket while I am out, nearly blowing my ears out.
I want more physical resistance there; I find it too easy to brush against and suddenly plummet or drastically raise the volume. It is a small gripe, so long as you are careful, then it's fine.
DAC
The Panther uses a single AKM AK4490 chipset inside which is a relatively old but fairly engineering friendly and likable DAC for portable audio solutions. It is capable of up to 32BIT/384kHz PCM and up to DSD256 native decoding.
Amplifier
The ULTRASONE Panther amp is plenty powerful for being so small at >350mW into a 32Ω load and >950mW balanced into the same load. That should be more than enough for modern planars and most dynamic headphones up to 300 ohms.
PO and LO are via a 3.5mm front and rear and balanced are via a 2.5mm PO to the front. I would have loved to have seen a more modern 4.4mm option to the front but this might have resulted in a much bigger dimension to the amp.
Battery Life
Battery life is excellent, at just around 15 hours for an OTG connection and 20 hours using it as a pure amp via line-in. That is competitive considering its 3000mAh size though the excellent output rating going balanced, high volumes and high-res decoding might drop that a little.
Sound Impressions
Summary
This Panther is quite natural, but not chaotic neutral in a negative way. I would not classify the tone of this Panther as clinical. I consider it "natural" more colorless than cold or sterile.
And that is a good thing. I knew this would be the case, as the other DAP's that use this same chip have the same general sound. It was expected and that is simply fine.
Bass Tone
As mentioned, this product is really quite colorless, so the low end is fair in setup. By that, I mean the physical quantity is not boosted, nor lacking. If you like your bass, you will be boosting often in your source.
Otherwise, I think the majority of other listening group types will not touch the low end and will find it satisfactory in appeal.
The Bass tonality and coloration is certainly well into that natural aesthetic, more colorless than vivid and warm feeling to my ear. It pairs immensely well with my Shozy Black Hole, but not so well with my Ikko Obsidian, which is a very warm feeling and highly musical compared to the hypernatural Black Hole IEM.
Bass Fidelity
In terms of raw quality, it really shines quite nicely compared to the xDuoo XD05+, which is my pick for the best sub $500 portable DAC and amp out there, immensely useful as an all-in-one solution.
Beyond it, Swan Song Audio's Mini amp is also audibly superior in bass quality, but not physical responsiveness, as that award goes to the Panther. What do I mean by that? I mean that when I boost via the source software, it takes much more dB leveling for muddiness to appear on the Panther. That is a good thing.
You can raise the low end +2dB and hear and feel a difference up to +6dB and not have to worry about added gunk and overblown bass. After that point though, it gets a little shaky, which is fine at this price point.
Swan Song Audio's Mini retains control beyond +6dB, but the increments between 2 and 6 are not as audibly different from each other.
The xDuoo XD05+ is almost one-note bass by comparison and almost nothing changes when its bass switch is disabled, and I am using only the software for music control.
That changes when I use the physical bass switch and the tonality inverts itself entirely on the XD05+, these are not problems on the Panther or the Mini, which is a fair bit more expensive than the Panther.
Midrange
The Panther is not a very forward sounding experience, I have tried hard to get it to sound forward in my testing phases, but it is stubborn and wants to stay lusciously relaxed at all times.
This is the first amp I would say that Audio Technica forward headphones do not mix with. This is a great Sennheiser, or Audeze and Hifiman headphones.
In fact, as mentioned, that Shozy Black Hole is a hell of a pairing with this Panther. Even the Shuoer Tape IEM's fit very well here.
However, my Ikko Obsidian, my current favorite IEM, does not mesh with this Panther in terms of physicality. The Obsidian is a very musical and dense feeling, exaggerating even. The Panther is not.
So, I would say if you have very forward headphones, this probably is not the best option. In terms of fidelity though, it will be. It is fantastic in terms of raw purity and quality offered, no doubt.
Treble
Surprisingly, the Panther has a reserved treble response and I find it a bit underwhelming. With my Shuoer Tape IEM, which is known for exceptionally great treble, the Panther feels much more reserved and relaxing than the xDuoo XD05+'s very musical top side.
This is a case where the quality of the Panther is audibly superior, but the musicality factor of some other cheaper sources and amps are a better fit for specific headphones.
Now, this is a pure preference and not objective. I recommend this Panther for pretty much anyone who does not have a specialized sound signature in their rig that they need to have.
If you are not that type of buyer, then grab this Panther, it's lovely. If not and you need something specific, make sure you know what you are buying and what synergy package you need for your preferences.
The top side of this Panther is elegant and natural feeling, it lacks that zing and bite, as well as a bright top side. It is moderate in quantity offered. The fidelity experience is more than justified for the price.
But as mentioned, we musicality lovers want that gentle sparkle that glistens and shines without being painful. It is hard to find. I think natural tone enthusiasts will like this middle of the road approach that ULTRASONE as opted for.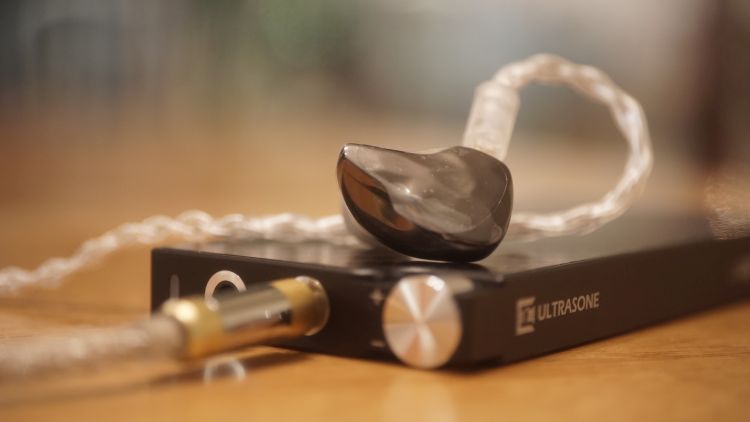 Treble Response
The Panther is a bit stubborn, as mentioned, with little response to EQ. That is not really a fault. It just means that heavy boosting results in minimal changes.
I can raise the treble quite a lot and not hear or feel much of a problem. Usually, enhancing the treble is a bad thing. But in this case, I can get some extra oomph without destroying my ears with wince and brightness.
The response in a physical manner of speaking is relatively low for the top side, so if you have a treble switch on your amp or DAC, play with it and see if you like the added boost.
Let me know what you think of it because I have found the top side to respond to different DSP add-ons with Foobar in ways I have not seen in a while. I am curious to know if others also had this experience. For reference again, what I just said is a compliment.
Staging
ULTRASONE is known for exceptional imaging prowess and I think they have done a fine job with this little Panther. I find it more detailed in-depth of field than the XD05+ and more akin to Swan Song Audio's Mini overall.
I think this amp is also a bit wider than tall feeling to my ear. Stage left to right separation and air is quite good, but not stellar. I am not blown away by it, but it still meshes with the immensely amazingly coherent Shozy Black Hole IEM.
Again, it does not mesh so well with the Ikko Obsidians. Why? I think because the image is just a bit wider than tall and it feels relaxed in midrange placement compared to the other amps I have on hand. That does not really mean much. It depends on your rig.
I have a fun time with the Sennheiser HD800 in balanced mode with this Panther. And that is saying something about the relaxed nature of this product. It pairs with…the HD800! Woo!
I think the Panther has a spacious feeling to do justice to the HD800 on the go. I tell you; it is lovely to walk around the house or outside, weather permitting, with this rig. I highly recommend it if you are using Spotify via OTG, or any portable DAP + the Panther. It is very relaxing and a pleasure to use.
Our Verdict
The ULTRASONE Panther is a little monster of a product, at nearly 1w in balanced mode, I am immensely happy to finally have a massively powerful amplifier in the palm of my hand. It is slick and small, with roughly 12-15 hours of battery life.
I enjoy the simplistic design and operational aspects. There is nothing complex about it. No ridiculous switches or massive body. Just a simple little powerhouse of a DAC and amplifier that sounds good, performs good, and looks damned good if you ask me.
More so, they included everything you need to start using the product right away and for that, they get massive respect and credit from me. I really enjoyed this Panther. It actually sounds great with the HD800 and that is really saying something.
ULTRASONE Panther Technical Specifications
Output power >350mW (PO/32Ω), >950mW (BAL/32Ω)
SNR > 115dB (USB OTG), >101dB (Line-In)
sampling rate 32 kHz-384 kHz/32bit
Supported DSD 128, 256, 64
Adaptive Impedance 16Ω – 300Ω
Battery life 3000mAh
Battery Lasting Time >15h (USB OTG), >20h (Line-In)
Loading time 3-4 hours
Product dimensions 115,6mm x 55,6mm x 12mm
Weight (without cable) 110g
Entrances 5mm Line-In, Micro USB Charging Port, Micro USB OTG
Outputs 5mm balanced, 3.5mm unbalanced
DAC Chip AKM 4490
Connection cable AUX, Lightning, Micro-USB, USB-A, USB-C
ULTRASONE Panther
The ULTRASONE Panther is a little monster of a product, at nearly 1w in balanced mode, I am immensely happy to finally have a massively powerful amplifier in the palm of my hand.  It is slick and small, with roughly 12-15 hours of battery life.