The Empire Ears Bravado MKII is a hybrid quad-driver tribrid IEM featuring a single Weapon IX+, 1 BA driver, and a dual electrostatic driver design. It is priced at $799.
Disclaimer: The Empire Ears Bravado MKII was sent to us in exchange for our honest opinion in this review. Many thanks to Empire Ears for giving us this opportunity.
You can read about previous Empire Ears products reviewed on Headfonics here.
Note, this 2-page review follows our new scoring guidelines for 2021 which you can read up on here.
Empire Ears Bravado MKII
The Bravado MKII is like an initial welcome to the Empire Ears 'power game' and is probably one of the hardest hitting monitors sub-$1k I have heard lately.
The final 2021 second-generation Empire Ear's monitor we are covering, (thus far), is the new Bravado MKII. Like the ESR MKII, this is a first for me in hearing the Bravado line so I can't pass comment on the original version and how it has been improved.
Also, the launch has coincided with Empire Ears simplifying its line-up so there is no more EP and ES Series, it is just custom and universal now which makes things a lot easier. The Bravado MKII is thus the most affordable in their universal line-up.
The price has gone up though from the original Bravado's MSRP of $599 to $799 so this a bit more of a 'wallet emptier'. However, the Bravado MKII has also gone through a significant transformation that may warrant that price rise. Improvements include moving from a two-driver hybrid to a quad-driver, incorporating EST instead of just dynamic and BA.
Tech Highlights
Configuration
The Bravado MKII is a much more expansive proposition over the original dual-driver Weapon IX and BA construction. This is still a fusion of different drivers but this time we have a triple blend consisting of a single Weapon IX+ for the lows, a single proprietary BA for the mids, and 2 electrostatic or EST drivers for the highs and super-highs.
As with most MKII launches, the synX Crossover System has also been re-engineered going from 4-way to 6-way to better cope with the more complex driver phasing inside the new version.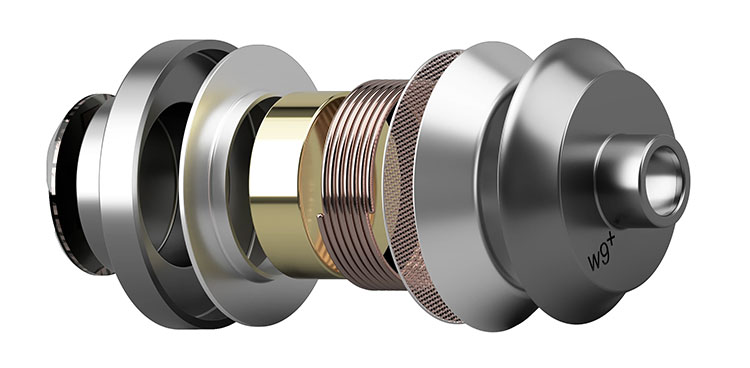 Weapon IX+
Even at 'entry-level', the Bravado MKII gets the potent Weapon IX+ driver used also inside the more expensive Valkyrie MKII, and the flagship Odin to name but a few. That does mean bass and something we will about in more detail on page 2.
The Weapon IX+ is a proprietary rare-earth magnet-infused dynamic driver. The non-plus Weapon IX driver was used the original Bravado. Both are 9mm drivers but the Plus edition does have some upgrades.
The defining characteristic of the first Weapon IX dynamic driver is how the woofer is enclosed in a tuned bass-reflex system. It has a front-firing port and rear-firing vent to reduce distortion and enhance frequency extension. This is different from traditional DD designs that rely more on internal shell enclosures for volume and can often end up being fairly inefficient.
This time around Empire Ears has designed a Weapon IX + with a larger internal coil diameter and an improved suspension design to reduce potential peak-to-peak distortion. That should mean a bass response on this new driver which is tighter and even cleaner than the original driver performance.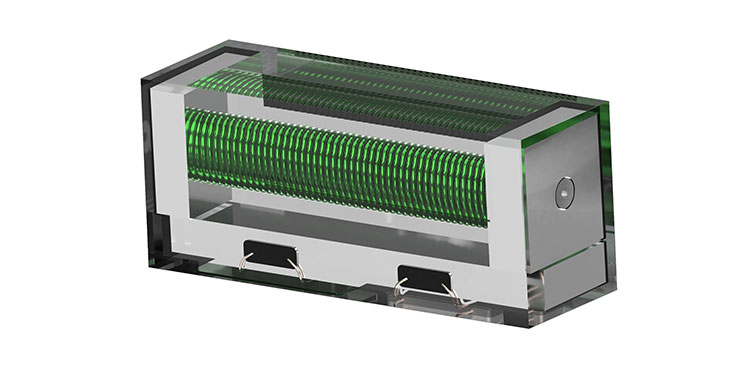 EIVEC
I am actually quite impressed they found room for two quality Sonion EST drivers and an EIVEC at this price point. Then again, it's been a few years now since the introduction of EST drivers into monitor designs so it could well be the material cost is dropping and the R'n'D is much faster.
EIVEC stands for Empire Intelligent Variable Electrostatic Control and it is designed to work in tandem with the Bravado MKII synX crossover network.
You can consider it as a measure of additional control on the EST driver through electronics components and how it works in tandem with the other drivers. Its main job is to ensure that the EST driver works optimally across a very wide frequency range without upsetting the harmonic balance with the BA and Weapon IX+ drivers.
Like the ESR MKII, the Bravado MKII will be using electrostatic drivers where the original did not. That should mean for upgraders a potentially different tone and timbre on the highs.
A.R.C.
The Bravado MKII uses Empire Ear's A.R.C tech which is now applied to all of their monitors making it a staple of their design and production methodology.
A.R.C is short for Anti-Resonance Compound and is a special type of damping coating used on the inside of the Bravado MKII's shell. It is applied to virtually every component used such as the drivers, tubes, and crossover boards.
Empire Ears claims that this coating adds a critical level of mass or solidity to the internal components. This, combined with ferrofluid damping inside the drivers, creates a high level of clarity, better efficiency, and importantly, deeper bass which, like the Valkyrie MKII, should be a bit of a 'banger'.
Design
A new monitor means a new faceplate design. The Bravado MKII version is called 'Deep Field' and it sits somewhere between the bolder Dragonhide and Bifrost color scheme of the Valkyrie MKII and Odin and the more executive tone of the ESR MKII.
The Deep Field design uses a black base with a suspended metallic glitter overlay. That overlay seems to be a subtle mix of silver and gold depending on what angle you look at it. Instead of the silver-gold wings of the ESR MKII, we go back to the EE gold wing moniker for the artwork to give it a nice harmonious finish.
Underneath the Bravado MKII uses Empire Ears' standard molded hollow-body black acrylic shell which works well here given the black plate base. Gives it a more uniform or unified look.
As with all their dynamic drive implementations, the Bravado MKII incorporates a small triple-hole crosshair venting design allocated at the rear near the top, well out of the way of any potential obstruction.
The overall form factor is quite similar to the likes of the ESR MKII we reviewed recently with its heavily contoured and smooth shape, lengthy nozzle, and generally lightweight handling.
The main difference is the size. It is just a little bit bigger than the ESR MKII to account for the larger Weapon IX and more in line with the likes of the Odin or Valkyrie MKII.
Comfort & Isolation
The relatively compact shell with good contouring in terms of width combined with the lightweight acrylic material makes the Bravado MKII a very comfortable fit.
The nozzle is a tallish design meaning you can get a deep insertion into your ear canal with the stock Final E tips. If you have the Valkyrie MKII or Odin MKII it is a similar experience in terms of depth and isolation.
The Weapon IX+ venting system on the rear of the shell does not seem to diminish the excellent passive isolation capability of the Bravado MKII but it is not quite to the same level as the Wraith and the ESR MKII which do not need any sort of venting. You might hear a little bit more low Hz rumble from your aircon with the Bravado MKII compared to these two.
Tips
The Bravado MKII comes with a set of single-bore Final E silicone tips inserted into EE's in-house aluminum metal holder tray. You get a total of 5 different sizes from very small to 2 x large, (SS, S, M, L, LL).
As with all of Empire Ear monitors I find the large to be just the right fit with the LL size to just be a shade too big. YMMV but a good fitting Final E tip does a better job than foams in my experience with them to date.
The Final E tips are also very comfortable with little in the way of canal irritation and provide excellent levels of isolation.
If you are coming from foam tips the Final E alternatives are more vivid sounding with better treble clarity, and more impactful bass. This is an especially important trait if you are going to stuff your monitor with electrostatic drivers and a Weapon IX subwoofer.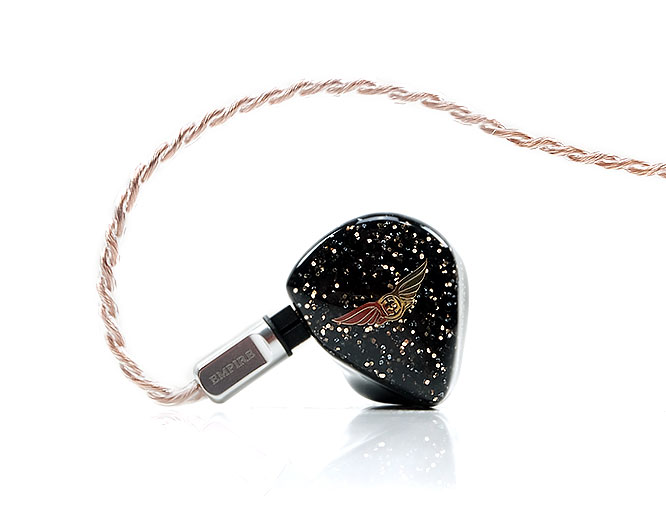 Stock Cable
The Bravado MKII uses the Alpha IV as its stock cable which I previously reviewed with the ESR MKII. The Alpha IV is a modified version of the very popular Effect Audio Ares II aftermarket cable that retails separately for $149 at EA.
Inside you get a 1.2m 26AWG 4-wire multi-size UPOCC Litz copper strand geometry cable wrapped on the outside with a supple PVC translucent jacket. The aesthetics are of a saturated coppery hue due to the transparency of the PVC combined with a tightly braided twist showing very few loose gaps.
The microphonics on this cable are very low, as you would expect from any good cable. It is nice and soft, fairly lightweight, with only the slightest of kinks in terms of memory retention from its prolonged initial packaging. Those kinks will iron out over time and use.
The splitter is a very thin and lightweight aluminum clasp with the EE logo on one side and a tiny black adjustable chin cinch on the top. As mentioned in the ESR MKII review, I would have preferred a matching aluminum adjustable cinch for design harmony but not a deal-breaker. It does its job well and hangs tight where you want it to stay when adjusting.
Terminations
The Alpha IV is terminated with a heavy-duty aluminum barrel with a gold-plated jack at one end and their new overmolded 0.78mm 2-pin connectors on the other end. These connectors are a little bit longer than EA's own connector barrels with more indentation on the sides for better grip.
You can also order the Alpha IV stock cable terminated with a 2.5mm TRRS balanced jack but that will come with a different straight silver and carbon fiber finished barrel. I know some will prefer the right-angle version as it creates a lower profile on media players and is tougher than 2,5mm pins but it can also block other connectors on players when attached.
Packaging & Accessories
The packaging for the Bravado MKII is the same pristine white and dual shelf black foam internal tray and display system as the Valkyrie MKII and the ESR MKII. These boxes are currently quite interchangeable though I am told this should change with stronger individual branding which is something I would support.
The mechanics of the Bravado MKII box, (as with the other monitor boxes), are excellent through offering an almost jewelry-type clean and compact display with everything neatly laid out.
Inside, you get the cable plus the drivers neatly housed on the top-tier in their own display area with the accessories and carry case housed in a slide-out tray just below.
The lower tray holds a black aluminum puck-type carry case printed with the EE branded wings and a text engraving of "BRAVADO MKII". You also get a small cleaning tool under the tips tray and a black satin cleaning cloth inside the aluminum case which is also branded with "Empire" in white. To finish it off you get some stickers, a product brochure, and a thank you card.
Carry Case
The threaded aluminum Pandora puck case is the standard carry case offering from Empire Ears. These are tank-like in construction with a rubbery internal lining for protection of the monitors against external knocks. They sell for $50 direct from Empire Ears on their website.
The case is also weatherproof with a fairly tight seal when the lid is screwed shut. It is a shade on the heavy side so for some this might be a bit tight for carry-on weight limits for air travel.
Inside, the case offers just enough room for the monitors, cable, cleaning tool, and cloth. If you want to throw in the tips you will need to find a small plastic bag as the tips tray does not fit into the case.
Click on page 2 below for sound impressions and select comparisons