The FiiO FH7 is the company's top-of-the-line hybrid universal monitor featuring a single dynamic driver and 4 BA drivers. It
...
Disclaimer: The Campfire Audio Polaris 2 sent to us is a sample in exchange for our honest opinion. We thank
...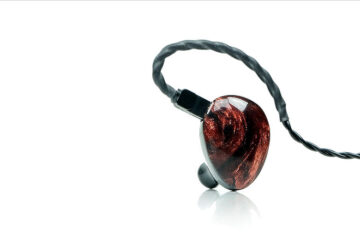 Disclaimer: The Noble Audio Savant II Wizard sent to us is a sample in exchange for our honest opinion. We
...
The FiiO M11 is their latest mid-range digital media player, (DAP) and an indirect replacement for the 2017 X5iii model.
...
The iBasso SR1 is a limited edition full-sized open-back headphone with a silicone suspension driver and Tesla technology. It is
...
The Brainwavz Alara is the company's debut planar magnetic open-back headphone and it is their flagship headphone in the range
...
The Shanling M5s is the new upgraded M5 digital media player and represents their current flagship player in their line-up.
...
Disclaimer: The Shanling M5s was sent to us in exchange for our honest opinion contained in this First Contact feature
...
The Oriolus BA300S is a portable tube amplifier designed to offer a fully balanced 4.4mm companion to Sony DAPs and
...
The iBasso IT04 is the company's new flagship hybrid universal IEM consisting of 3 balanced armature drivers and one single
...
The Hidizs x NF Audio NF-3U is a collaboration between Hidizs and NF audio. This is a triple balanced armature
...
The Feliks Audio Echo is a new entry-level tube amplifier by the Polish family-owned business. It is priced at $452.
...
The iBasso DX150 is the latest mid-fi digital media player from this Chinese manufacturer. Priced at $499 it is aimed
...
This review covers the Hifiman Sundara which is the next generation of mid-fi priced full-sized open-back planar headphones from Dr.
...
The RIVA FESTIVAL is a multi-room "+" wireless speaker in RIVA's WAND series for large room audiophile-level of sound quality
...
The Acoustune HS1551 CU is a Japanese manufactured single dynamic driver with a universal form factor monitor priced at $450.
...
The Advanced Alpha is a brand new planar magnetic headphone from a company previously known for bang for buck earphones.
...
An LCD screen. It is perhaps inevitable that the one distinctive "lack of feature" on one of my favorite budget
...
We first published a standard review of the HDACC as an audiophile DAC/Amp using a 2.1 set up last December.
...