The STE Cable Ag W16 & Cu W16 are two 16-core IEM cables with the former a pure Silver wire and the latter a pure copper wire. They are priced at $580 & $400 respectively.
Disclaimer: The STE Cable Ag W16 & Cu W16 were sent to us as samples in exchange for our honest opinion in this review. We thank STE Cable for this opportunity.
To learn more about cables reviewed on Headfonics you can click here.
Note, this review follows our new scoring guidelines for 2021 which you can read up on here.
STE Cable Ag W16 & Cu W16
The S.T.E Cable Ag W16 and Cu W16 pair very closely to what you think their perceived strengths might be. For the Ag W16, this is more about clarity, headroom, and excellent separation throughout. The Cu W16 is about a smoother, fuller-sounding presentation with enhanced PRaT but a more forgiving treble performance.
S.T.E. Cable is a new brand here on Headfonics though it seems it has been around under one form of ownership or another since 2015.
Back then it was known as STE Audio and based in Taiwan and Hong Kong. Then after a brief period under the Simple Technology Electronic banner in 2019, it ended up under group ownership since 2020, and their current name, Silverstone Technology Electronic or S.T.E. Cable for short.
As far as I am aware they are still located in Taiwan and Hong Kong for their main output but have further expanded into Thailand for a second factory as well as China and Japan for dealerships.
Their primary focus are aftermarket cables for both IEMs with two lines, a Lite entry-level series and their flagship alternates, the W8/W16 lineup of which we have two of their W16 products for review today. Those two are the Ag W16 priced at $580 and the Cu W16 at $400. If you are chemically minded then you should pick up right away that the Ag is silver and the Cu is copper.
Tech Highlights
Wire
Both cables have similar geometry and core count but their material use varies quite considerably. The Ag W16 is a 16-core 26AWG 7N Ag or silver wire which is the highest rating for silver purity levels.
The Cu W16 is also a 16-core 26AWG wire but this time it is a 7N copper. The purity level, however, is the same as the Ag W6 at 7N. Both use a very good grade of metals in their wire.
Both cables use slow annealing or double grain wires which S.T.E. Cable claims helps to deliver a balanced and stable audio signal through each wire. Annealing involves heating steel to a specified temperature and then cooling it at a very slow and controlled rate and is a common technique uses to create wire with improved electrical conductivity.
Geometry
Both cables use what STE has described as a Nalite System geometry wrapped around their core silver or copper wire. They have actually included a handy cross-section which seems to indicate a core and inner core for their builds and differing levels of materials therein. The differing materials are split with 8 core using a mix of gold, silver, and copper coatings as follows:
4u Silver Coating
3u Golden Coating
2u Silver Plated Coating
2u Soft Oil Coating
1u Copper Oil Coating
The outer design, also 8 conductors, has a slightly simple level of the coating compared to the inner as follows:
5u Silver Coating
3u Golden Coating
4u Soft Copper Coating
For your reference, the "u" measurement unit is the cable coating thickness so 1u = 0.1mm coating thickness.
Both cables are insulated with a mix of cotton and metal shielding that is pitched as a bit softer than regular shielding and if you do handle them you will notice that the wire is quite supple and pliant when in use.
Design
Both cables have a very similar design or build with the key difference being the underlying wire used which colors the cable after the splitter. The Ag W16 retains a very silvery tone and the Cu version a traditional copper tone due to a transparent lightweight PVC jacket. Everything up to the splitter is sheathed in a black nylon material braided jacket.
Both the jack and splitter have low-profile titanium builds with gunmetal coloring and branding on the jack barrels. The 2-pin connectors on both cables are all black to neatly match the strain relief and fairly heavy-duty black memory coating which is more the springy type than the memory retention variety.
The braiding is excellent with both the Ag W16 and Cu W16 having a similar short-throw braid technique around the individual wires per channel rather than being stuffed and braided inside a single nylon jacket. I much prefer this technique and personally, I think it offers better shielding.
These two-tone PET and cloth jacketed cable designs are less common these days compared to 10 years ago. From memory, BTG Audio with their Starlight cable is our most recent review using this type of cable build but the likes of Null Audio have used them before, for example, the Lune MKII which was faithfully attached to a UE TripleFi 10 almost a decade ago.
So, the design is more unique these days than commonplace but in the case of the STE Cable version both cable designs so seem to be of high quality and not so DIY looking as the Starlight.
Handling
Both cables have the exact same handling qualities given their similar design and materials. That means an impressively lightweight yet disciplined handling experience. I suspect the barrels are a factor in keeping this cable very nimble as they seem a lot lighter than the traditional bulky aluminum and carbon fiber printed barrels on competing cables.
For a fabric-based cable, the flexibility below the splitter is also very impressive. I have to give credit to STE for opting to sheath the two channels separately rather than into a single cloth jacket. If you have used PW Audio cables like the Monile you will be very familiar with how both the Ag W16 and the Cu W16 handle.
You get very little memory retention, very little in the way of kinks but you do get a slightly higher level of microphonics above the splitter, similar to the Monile.
The deadening from the soft fabric jackets below the titanium splitter is very good with low microphonic noise from knocks. I tend to find fabric jackets have just a little more noise than PVC or PET jackets, especially if monitors have a very good seal such as customs or use memory wire.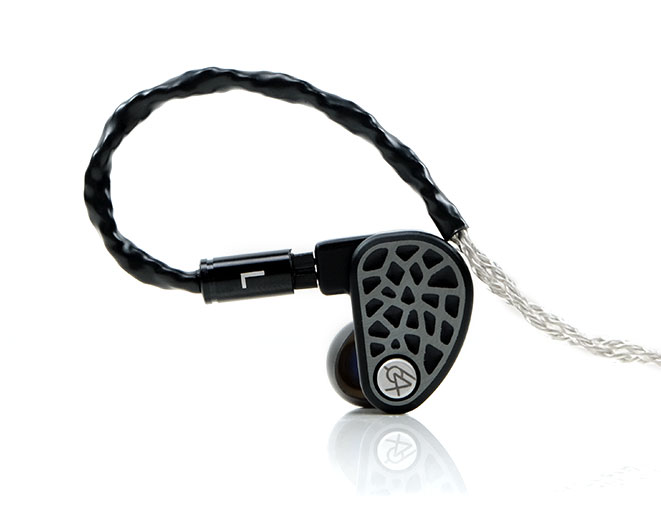 Terminations
As with most cable companies, you do get a range of termination options to match your requirements. For both the Ag W16 and the Cu W16 you can opt to go single-ended with a 3.5mm TRS or balanced with a 2.5 TRRS or 4.4mm Pentaconn.
On the other end of the cable, you can choose 0.78mm 2-pin to MMCX. Note other termination options would be by special request so email them in advance to inquire. I could not see any other listed options apart from those ones described above.
Our sample cables both came with the same 2.5mm TRRS and 0.78mm 2-pin terminations and are good quality lightweight designs. The jack housing and splitter use a 6u gold-plating internally with a titanium barrel outer. Both barrels are fairly slimline also so this will be useful for those worried about thick barrels blocking source ports.
The 2-pin barrels on the other side are finished in black and feel equally robust. Like the main barrels, the connector tubes have a neat low-profile strain relief and a fairly slimline in terms of dimensions.
Comfort On-Ear
Everything about these cables screams lightweight, both in terms of handling and the level of pressure or presence around the ears. The springy type memory tubing on both cables is relatively long but quite soft to the touch so it doesn't really make its presence felt on your ear.
This is not an adjustable memory wire but rather a springy type one that adjusts naturally to the shape of your ear when you wear it. Once you take the cables off your ear they spring back into shape. The W16 barrels are also relatively lightweight and not overly long or fat so they rarely press on your ears uncomfortably.
Overall, the Ag W16 and Cu W16 comfort levels are very good for a 16-core wire. 26AWG has always been a sweet spot for comfortable wearing for aftermarket cables for me and these are no exception.
Packaging & Accessories
The Ag W16 and Cu W16 cables both come in similar small white cardboard boxes with STE Cable branding and the cable details on the outside. There is also a layer of black foam padding on the inside base of each box.
The cables also come vacuum-sealed in plastic bags alongside a warranty card held in a top cardboard layer. There is nothing else in the way of accessories such as pouches or cable organizer straps.
Honestly, there is not much to write home about here in terms of packaging and accessories and perhaps this is a weaker area in the general presentation that does not quite match the pricing.
If you look at competitors such as PLUSSOUND and Satin Audio there is a lot more work being put into the unboxing and accessory experience with their respective cables. Not that it hugely matters when you are using the cable but sometimes a smattering of aesthetical luxury can help reinforce the cable price point.
Click on page 2 below for performance impressions and comparisons