The DUNU EST 112 is a quad-driver 'tribrid' IEM featuring a 13.5mm dynamic driver, a single Ba, and 2 Sonion EST drivers. It is priced at $489.99
Disclaimer: The DUNU EST 112 sent to us is a sample in exchange for our honest opinion. We thank the team at HiFiGo and DUNU for giving us this opportunity.
To read more about DUNU products we have reviewed on Headfonics, click here.
Note, this 2-page review follows our new scoring guidelines for 2020 which you can read up on here.
DUNU EST 112
If the words vibrancy, punchy bass, smooth midrange with a particularly good accessory list tickle your innards then it sounds like you might like the DUNU EST 112. These IEMs are well constructed which seem ready for a lifetime of use and out of the box you have five possible ways to connect.
DUNU was actually started way back in 1994 as an audio and Telecommunication Company, emerged from the ODM/OEM scene, and decided to turn their ship around at one point to exclusively cater to music enthusiasts.
DUNU has since then emerged in its present form, or shall I say re-emerged in 2006. Equipped with an innovative staff, a couple of critical pieces of gear like the Bruel and Kjaer head and torso simulator, A dedicated anechoic chamber, multiple spectrum analyzers plus some other audio tools, and went to work.
One of their claims to fame was the development of myriad composites and micron thickness diaphragms going all the way down to 4 micrometers. Yes, not only is there a nanometer race in computer sciences but in headphone tech as far as the diaphragm thickness goes. The lighter the diaphragm the more accurate and better the transient response will be is the belief.
We just received one of the DUNU IEMs called the EST 112 from their line of hybrid IEMs and this IEM is DUNU's first attempt at implementing EST super tweeters in a hybrid design.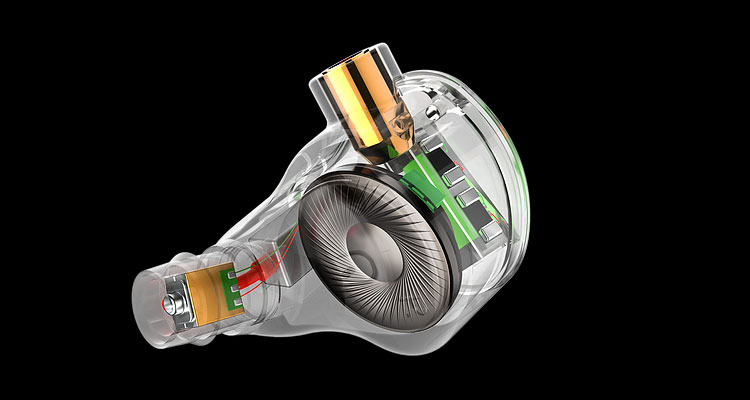 Tech Highlights
Quad Driver Setup
Under the hood of the DUNU EST 112 is a quad driver in a three-way configuration setup. If you still have not figured out where the 112 comes from it is from the 1+1+2 driver setup. DUNUs main concept in tuning with the EST 112 was to aim for a gentle and resolving sound signature.
The bass driver is a rear-loaded 3rd gen 13.5mm dynamic unit with a dual-sided Beryllium coating diaphragm. On paper, they seem like very capable drivers able to reach very low notes with a listed specification of a 5Hz bottom end.
The frequencies above the dynamic drivers' frequency range are handled by a couple of DUNU customized Knowles balanced armature tweeters. Knowles is being used nowadays by lots of IEM makers for their good sound and tuning versatility.
The twist here is that the very top portion of the frequency spectrum is handled by dual Sonion EST super tweeters that some call E stat drivers which are based on a dual electrets design and probably use Sonion AccuPass technology.
Specifications
The DUNU EST 112 has got to be one of the most efficient IEMs I have in my personal collection. With a low 10Ω rating plus with a sensitivity of 110db plus or minus 1 decibel at 1kHz, you could push these with a whisper.
However, they seem comfortable taking on some power with those 2, 3, or even some 7-watt amplifiers and seem to be fine with that but to me that seems like an extreme case of overkill. Just feed them clean power.
Frequency response is listed with a bottom end of 5Hz and on top, it's capable of reaching 40 kHz. The DUNU EST 112 claims a low 0.3% total harmonic distortion and also claims the HI-RES certification. They certainly have the specifications to stake the claim.
ACIS
If you look at the DUNU EST 112 shells there are some small screens that are in reality vents that form part of what DUNU calls a proprietary air control impedance system.
I guess it is safe to say that the vents act as speaker ports to optimize back volume airflow and minimizing rear standing waves. There is also a machined spiral pathway carved within the shell to further direct and control the driver's back waves.
What this system attempts to do is control cone back pressure which by proper tuning would be the equivalent of a correctly calculated port diameter and length in a ported speaker box which is known to improve bass response while increasing efficiency at the same time.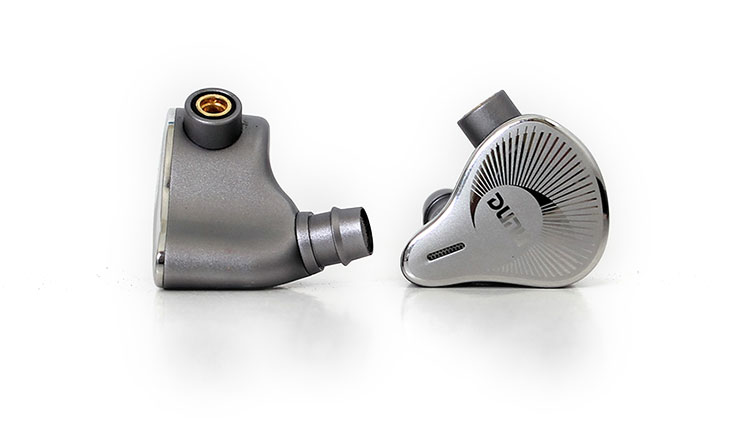 Design
Composite Metal Construction
The DUNU EST 112 is a robustly built IEM with all-metal construction and comes in at 15g. Their weight feels a sort of in-between. They are not the heaviest or the lightest IEM either and fall somewhere in between but tilting a little to the heavy side, however. They also have some girth.
These IEMs are basically colorless and rely on the metal finish itself for their appearance. They do look good if you like the industrial tool look and I personally do. The construction method used is the general empty shell filled with goodies type IEM topped off with a faceplate and there is nothing unusual about the shape of the IEM itself.
The body of the shell is made of aluminum while the faceplate is made of stainless steel. The DUNU logo and artwork are etched onto the stainless steel faceplate surface. The stems are made of the same metal as the shells with the identical finish while the MMCX connectors are gold plated and flush-mounted.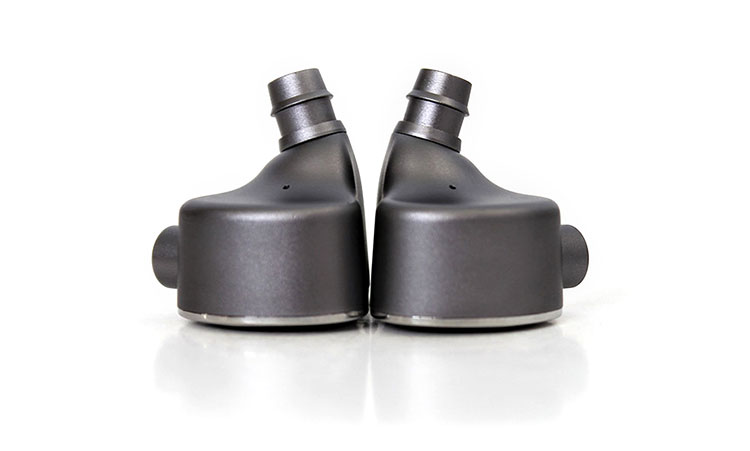 Comfort & Isolation
Comfort levels are important of course and the DUNU EST 112 presents no problems far as creating sore spots because all the edges on the backside are non-protruding and everything is rounded.
Their weight is somewhat noticeable, and the IEMs are somewhat chubby and weigh 15 grams you feel them in your ear, but the comfort level is acceptable enough for a couple of hours at least.
Isolation is also common and again mostly depends on the choice of tips and the seal they form. If I were to guess attenuation of noise levels are around 20 to 22dB which is on the low side.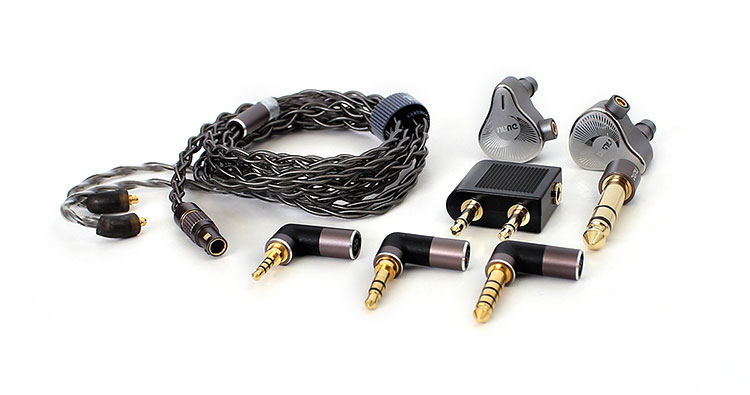 Stock Cable
It seems DUNU made this wire exclusively for the EST 112 because although they sell cables and not only IEMs but this particular wire for some reason is not for sale on their website or not yet. They do offer a DUW-03 but it's a very different cable and has very few similarities to this one.
The DUW-02S is a very nice cable none the less made from four core microcrystalline silver plated wire. A four-wire braid resides from the metal DUNU branded patented connector to above the matching metal center Y split and the bead for adjustment and then a set of dual twisted wires continue all the way to the MMCX connectors.
The MMCX connectors although fine in quality have a subtle right and left identification mark and are hard to see. The translucency of the material almost obscures the raised letters but some might like the subtlety in contrast to the more common bright red and blue tips.
Connectors
The included cable comes with a twist, no pun intended. The assembly comes with a familiar setup to those who are familiar with DUNU cables.
The cable assembly technically has no tip but instead has a DUNU patented catch and hold MMCX connector. The plug is a female gender and DUNU includes tips that once installed onto the cable's connector with the plug of your choice it becomes a complete 45 degree angled plug.
You get a choice of a 4.4mm TRRRS, a 2.5mm TRRS, or a 3.5mm TRS so with the same wire you could go balanced or single-ended alike. I like the versatility and the combination of the included set and it left little to be desired far as connectivity.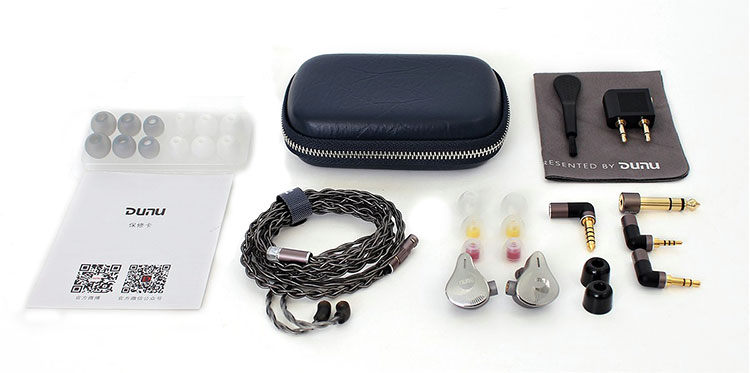 Packaging & Accessories
I had a rather pleasant unboxing experience when I opened up the DUNU EST 112 IEM box and was greeted by the IEMs being frontally displayed while remaining attached to the cable assembly so all I had to do was install tips on both ends and go.
At the bottom of the box, you'll find a decent storage case made of blue faux leather with a rather heavy-duty zipper. All the tips for the cable are displayed inside a foam mold. A 3.5mm, a 4.4mm, a 3.5mm plus an adapter to go 6.35mm is included and I also found a dual plug airplane dongle.
Ear tip inclusion is fairly ample and I counted a total of ten pairs. Three spin fits, 3 pairs of white silicon, and 3 pairs of grey rubber tips. The tenth set is a single pair of medium-sized black foam tips.
To keep them clean DUNU also packs in a cleaning brush and a rather large DUNU branded grey colored micro cloth which completes the list of accessories besides the usual user manual.
Click on page 2 for sound impressions and select comparisons