This is a review of the Loxjie D40 which is an integrated dual DAC, MQA decoder, and 1.4W capable headphone amplifier. It is priced at $429.99.
Disclaimer: This was sent to us as a sample for our honest opinion. Headfonics is an independent website with no affiliate links or services. We thank the team at Loxjie and HiFi Express for giving us this opportunity.
To read more about Loxjie products we have previously featured on Headfonics click here.
Note, that this article follows our new scoring guidelines for 2021 which you can read up on here.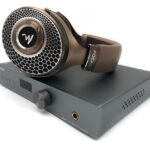 Loxjie D40 Review
While there are still areas that Loxjie needs to polish in the technicalities of the D40, its unassertive musicality, and impressive DAC makes it a well-packaged system that can be easily upgraded if needed when used as a downstream source to external amplifiers.
Pros
Balanced sound signature
Competent DAC technicalities
I/O Flexibility
Cons
Amplifier Power behind some competitors
Functions are coded
With a naming scheme that cannot be easier to understand in terms of hierarchy, the D40 is aptly called having clear advantages over its cheaper brothers such as the previously reviewed D30 yet retains the excellence achieved by their current top-of-the-line DAC and completing the series starting from 10 going up to 50.
Tucking in a headphone amplifier while retaining an affordable price tag puts the D40 into a more versatile position than the DAC-only applications of the pricier D50.
Right now, DAC/Amp combo market is becoming quite saturated with manufacturers chasing perfect measurements and next-level performance all without breaking the bank. So what exactly does the D40 bring to the sub-$500 desktop category?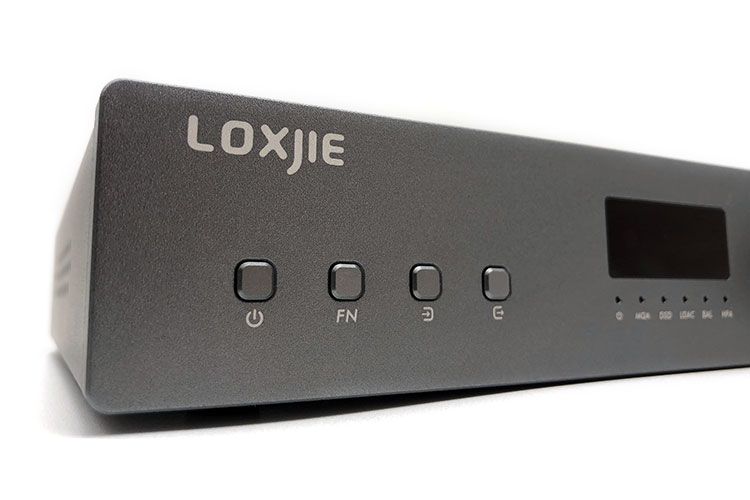 Tech Highlights
The D40 does pack quite a list of tech features that proves the manufacturer is only placing its priorities where it counts.
Digital signals fed to the device are all converted to analog through its two ESS ES9068AS DAC chips handling each channel with MQA decoding made readily available for all digital inputs except Bluetooth and I²S.
A second-gen XMOS XU216 USB Processor allows the support of PCM playback up to 32BIT/768kHz and DSD512, while a Qualcomm chip enables Bluetooth 5.0 for aptX HD and LDAC protocols.
The amplifier of the D40 has a THD+N of 0.00008% working with Four OPA1612A dual op-amps for up to 700mW of power on 32Ω loads and is designed to operate separately which could help isolate it from the interference of its other components.
Plus, it is coupled with a built-in power supply that Loxjie claims to achieve low noise and a rigid aluminum chassis for better electromagnetic shielding.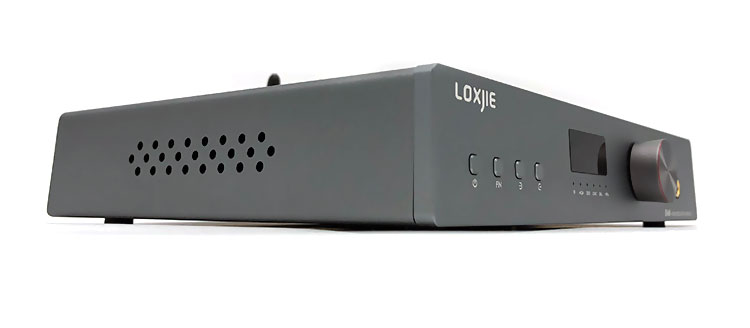 Design
My initial impressions of Loxjie as a brand were on the fence when I saw their pyramidic D10 coated in either vivid red or deep blue. However, the D40 appears to have undergone a more sober development and is easier for me to appreciate aesthetically.
The 3-part chassis assembly of the D40 comes in at 1.1kg squatting to a low and wide stance. While not too heavy for transferring it from one desk to another, it does sit firmly in place.
Taking notice of the front, I initially thought it to be more premium than advertised having a 'less is more' impact with smooth and well-spread features. So even if it is using only a 7-segment display, since it separates some important information to the LEDs illuminating below removing the need for a bigger screen, it doesn't lessen the appeal.
Acting as a multifunction knob, the volume selector turns with nice feedback and is curved gently improving ergonomics. Delegating some of its roles, there are four shallow but responsive buttons on the left side of the fascia bringing out some of the commonly accessed settings in full view of the user at all times.
I/O
Offering a host of digital inputs, the D40 has I²S and AES/EBU aside from the usual USB, optical, and coaxial found in this price range. In addition, there is also a Bluetooth receiver for wireless playback with support for LDAC, aptX HD, and more.
Having a balanced XLR output at the back in addition to a pair of RCA offers more flexibility and easier compatibility for amplifier upgrades down the line. Headphone users on the other hand will have to use the 6.3mm jack.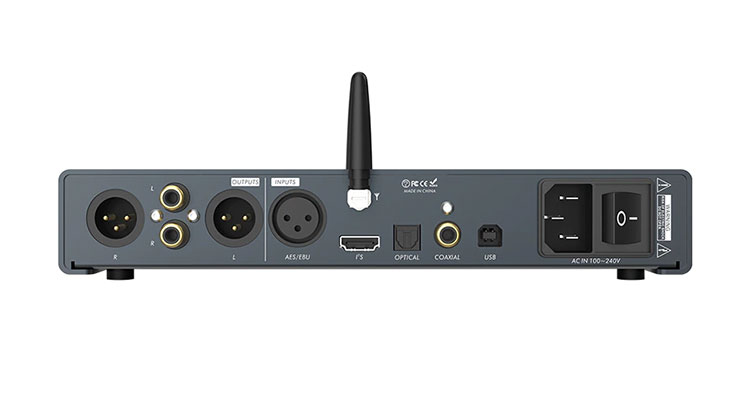 Control
Powering on the unit using the switch at the back will start the welcome sequence to show the current input mode, output mode, and volume level one after another to refresh the user before settling on showing the current sample rate. There is another power button in front to put the device on standby, next to the function, input, and output buttons.
Loxjie decided to assign filter selection to the function button instead of the more useful to the average user sound modes which are hidden further inside a menu together with other useful settings such as DPLL mode and screen brightness.
To access this, a remote has been provided, or simply press the volume knob then check with the manual the meaning of the labels as the interface is limited to coded descriptions.
Packaging & Accessories
Maybe to control the cost of ordering elaborate packaging for the quite sizable combined dimensions of the unit and its accessories, Loxjie delivered the D40 in an unpretentious brown cardboard box with company labeling.
Abundantly lined with black foam material to protect its contents, the simplicity of its exterior does carry over to how it presents the inside.
Divided into two sections, the larger left area is where the unit awaits to be uncovered as it hides further inside an additional layer of thin plastic. The remaining space is for the remote, antenna, USB cable, and IEC cable that it comes with.
Sound Impressions
DAC/Amp
While still on the lower end of the spectrum when it comes to output power, for Loxjie, the 700mW@32Ω rating of the D40 is its highest yet in its full lineup. Upping their amp game, the expectation for me is to hear more of the DAC when used as a combo.
The lows of the D40 present dual-faced characteristics to me where fast blows are met with crunchy and airy feeling maintaining an engaging listen. On slower, more dispersed thumps, a more accurate and articulate presentation is achieved only with a minor setback of playing a bit smoothed out with floating details pushing images slightly further.
There is no forwardness and weight when listening to lyrics as it blends in the same distance with instruments forming a cohesive timbre that does not twist the midrange to sound artificially good or full. Although there is an indication of a deficit in executing emotive ballads losing its emotions on breathiness and vocal features.
It extracts details in treble and engages with its crisp yet non-sibilant appeal. Taps on cymbals produce a welcoming sense of space and air but subtleties are not expressed enough compressing some elements to blur into their nearest neighbor.
With a wider than usual soundstage, directionality is kept intact even for quieter objects. The overall presentation however gives a smaller picture than expected but nothing seems unnatural nor tinny.
DAC
The built-in amplifier seems to limit the dynamics of the DAC as I discovered after connecting the D40 to a Burson Funk for another listen.
This simple amp swap gave the bass its much-needed texture revealing some of the smoothed over qualities in bass guitars and kick drums. It somehow conveys a stronger impression even if the presence remained the same.
Taking hold of the drivers with higher precision and control, a closer delivery of the singer's intent is conveyed indicating the changes in fading notes. Its upper midrange gained a bit of girth as it loses trace effects from the thinner treble so higher female registers have more finesse.
Comparatively, the default D40's top-end signature has a slight attacking character, yet listening on the Funk showed that it can give violins a more relaxed, and expressive presence that is pleasing for longer listening sessions.
The width of the stage did remain pretty much the same but with much more vivid and emphasized images. It developed an enveloping sound without losing the space it created for instruments to move around.
Bluetooth
Wireless playback is not a problem with the Bluetooth function of the D40 only a few clicks away which is convenient when using powered speakers away from the couch. Pairing is easy as the device showed up right away on my phone once input is set to Bluetooth although it will disconnect when not selected.
I was able to keep a stable signal nine meters and behind one solid wall away from the unit. Pushing it to a ten-meter distance with two walls blocking the signal is causing some intermittent drops in connection.
Sound-wise, the D40 is an impressive wireless unit with a performance that is very close to the USB connection. When my phone is kept near, the sonic capabilities of the unit's DAC and amplifier are put to good use, and only when I was moving around some obstacles does some soft rustling sound creeps in.
MQA
Encountering zero problems playing MQA made me feel right at home pushing master quality files to the D40 with no extra effort required. The assigned LED for MQA will light up to a blue or violet hue depending if the unfolding is fully left to the hardware of the D40 or if the signal has been already unfolded through software.
While I did not hear a huge difference, the overall picture did develop a sense of authority, especially in the softer areas where more emphasis and finesse are notably achieved. Listening to orchestral pieces, horns are more affecting and violins better controlled.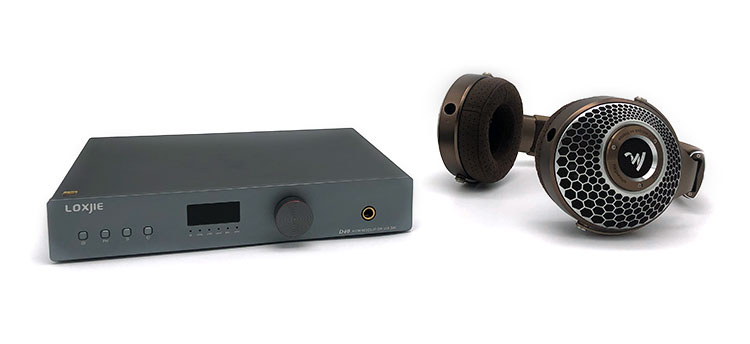 Synergy
Power
The Loxjie D40 with its 700mW of power on tap for 32Ω loads is already packing enough punch for most gears especially since most headphone manufacturers are already turning up the sensitivity of their recent releases to be friendlier to the everyday audiophiles.
Planar pairs such as the Audeze LCD-X and the 55Ω dynamic headphone Focal Clear MG got loud fast and are well below half the volume capability of the amplifier making it dangerously easy to turn up the loudness higher than what is recommended.
Further proving it has the elements of a dependable desk companion, I got a black and quiet background when listening through the Hidizs MM2 which is an 18-ohm IEM.
Pairings
Cutting the D40 some slack, I initially listened to more efficient gears like the Focal Clear MG and did not perceive massive degradation in sound quality. Similarly, with planar magnetics such as Audeze's LCD-X, while it misses that final oomph it still manages to sound close to what I expected.
Moving on to the harder-to-drive Sennheiser HD600 and Audio-Technica ADX5000, both did not sound flat especially the HD600 retaining the signature midrange it is known for. Surprisingly, I did like the HD600 the most capturing me into a state of rest even with the more intimate staging it introduced.
Once I connected the D40 to the Burson Funk, the 420Ω dynamic drivers of the ADX5000 rose to life as the amplifier grabs it firmly for more active feedback. The overall musicality combining the D40 with the Funk did not introduce any unwanted coloration and retained an honest presentation.