The Massdrop x Koss ESP/95X is a collaborative special version of the classic Koss ESP950 electrostatic headphones and energizer pack. It is priced at $499.99
Disclaimer: The Massdrop x Koss ESP/95X was sent to us as a sample in exchange for our honest opinion in this review. We thank Drop and Koss for this opportunity.
To learn more about Drop reviews on Headfonics you can click here.
Note, this review follows our new scoring guidelines for 2021 which you can read up on here.
Massdrop x Koss ESP/95X
Overall, the Massdrop x Koss ESP/95X is a great electrostatic headphone. It is not the clearest you can get today for the price, but it is perhaps the cheapest complete rig system you can get that will let you step into the world of Electrostatic tonality. And trust me, you likely won't want to leave it.
The Massdrop x Koss ESP/95X is a $499 Electrostatic headphone rig that comes with its very own electrostatic amplifier. If there ever was an all-in-one electrostatic headphone purchase, this would be it! This is old-school tech, but with a new re-release branding.
I have owned the original ESP950 for many years before I had sold it off. Just a short time later, Koss and Drop pair up and re-release it at half the price I paid for it, which was almost a decade prior.
Is the Koss ESP/95X system worth its new and much lower price tag in today's market? Let's see how it stacks up against the other big boy toys in the mid-fi pricing tier.
Tech Highlights
Configuration
Electrostatic design is a finicky thing, and quite difficult to explain in the context of the physical layout of the internal parts.
The standard dynamic and planar driver design relies on magnetic fields themselves to relay the audio toward you. However, in an Electrostatic design, it is the electric field itself that permeates the sound toward the user, of which is a voltage that flows across metallic plates in the inside of the earcup (sandwiched between them is that thin-film diaphragm).
The notion of electrical charge is a push/pull configuration in electrostatic designs, much like pulling a lever to the left and to the right, exciting the film between the metal plate and procuring sound.
The film between each plate is so thin that you can often almost see right through it and it appears lighter than the air around it. Electrostatic amplifiers are specifically designed to handle the high voltage output required to flow over those metal plates, which is why they cannot be used with normal Dynamic or Planar Magnetic headphones.
Specifications
The ESP/95X headphone diaphragm is rated as a polyester film of 1.5 Microns with a frequency response of 8Hz – 35kHz. Due to the open design, they required very little acoustic dampening materials that would naturally add more weight to the headphone. The result is a fairly lightweight 353gram headphone that is a delight and a pleasure to wear.
The ESP/95X Energizer Amplifier is a bit of a beast in sheep's clothing. It is rated at 1.5Hz – 50kHz and offers 100vrms output, with a special dial that can alter stereo left and stereo right volume separately.
What I love about this little amplifier is that Koss thought ahead and made sure to design both a standard RCA input, as well as a 3.5mm input. I cannot thank them enough for that. I have so many nice 3.5mm cables and too few nice RCA interconnects that terminates into a 3.5mm adapter. So, to have the option of either or is wonderful.
Each part of the ESP/95X is nearly entirely detachable. You can unmake the entire headphone and put them back together. In fact, that is how the original Koss package presented the experience to you. The headband was entirely detached from the headphone's earcups and you would have to connect a few pieces together just to get the headphone into a complete unit.
I recall the original Koss carrying case also had separate compartments for each section of the headphone, with the earcups themselves having their own zipper area on the far ends of the carrying case and the internal area housing the cable and headband areas. Thankfully, you don't have to do that with this re-release, it comes preassembled for you.
Design
Drop altered the stock color of the ESP/95X to a midnight blue, as well as changing out the earpads for a newly made set for this partnership re-release that are a bit thicker than the original pads.
This apparently allows for more comfort over the stock pads. Truly, I've never heard the stock original pads from 1990 and I feel like if anyone had them, they would be deteriorated beyond recognition by now.
When I owned my ESP950, I had 3rd party pad replacements that didn't come from Koss. So, it was very interesting to me that Drop and Koss produced new pads entirely for this re-release, adding a little thickness to the experience and increasing the comfort factor with velour vs the stock pleather pads.
Build Quality
Well, let's just put it out there. The build quality on the ESP950 has always been regarded as poor. It is a very cheap plastic feeling and is prone to creaking. Thankfully, those velour pad additions were a lovely improvement over what I knew to already be an improvement in 3rd party alternatives that existed before this Drop ESP/95X variant came around.
The amplifier feels almost like it is hollow. In the nicest way, the entire build, from headphones to amp, feels like a toy. It is subpar materials used, no doubt.
Despite me owning the original model for nearly 10 years, I never had a break or a fracture, or any driver issues. After I sold it, I regretted it. But I never once had a single issue with it breaking or sustaining damage.
Stock Cables
Koss and Drop include two different lengths of cables with your ESP/95X purchase. One is very short, roughly 3ft in length. The other, roughly 2x that length.
Each cable is a flat cable in physicality, terminating in a special type of pin connector that is very uncommon. As mentioned, you cannot use this with a ¼ or a 3.5mm headphone amplifier. You must use an electrostatic amplifier.
The special adapter snaps into place snuggly and has virtually no play whatsoever (wiggle) between the cable lead and the amplifier input jack.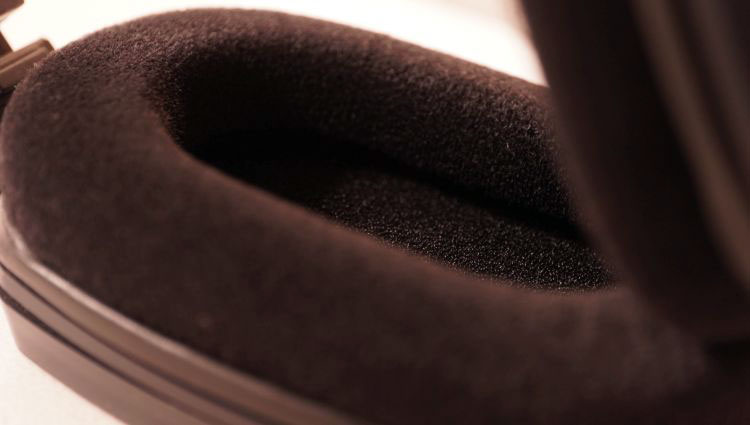 Comfort
Excellent. The cheap and light materials have a lot to do with this, I suppose. The headband is very well-formed, cradling the top of my head nicely and offering excellent weight distribution. The ESP/95X is roughly 350g in weight but it feels far less when you actually wear it.
If I had to hazard a guess, the ESP/95X is one of the most comfortable headphones out there, which was only even further improved with the nice new velour pads that Drop offered in the package. I can't see anyone saying this is a heavy and cumbersome pair of headphones. Either way, the ESP/95X excels for prolonged listening sessions.
The open-back design and new pads allow for much more breathability, which means the headphone doesn't get nearly as warm as it did with leatherette or pleather pad options that linger out there for purchase elsewhere.
Packaging & Accessories
Untypical of the original Koss package, the awesome Koss carrying bag is missing from the Drop version. But hey, this ESP/95X version is only $499, so I am not complaining that the Drop version has to cut costs somewhere.
What you do get is the stock velour pads, the headphone itself, two cable options, a 3.5mm interconnect and a short RCA to 3.5mm interconnect. Outside of the power adapter and a little package information packet, the box is fairly standard and nothing to boast over.
Yeah sure, I miss the awesome Koss carrying but really when I think about it, I toted my ESP950 perhaps once in my entire time with it in the past. So, I don't need it. The Energizer amp and the headphone are small enough to fit into some standard carrying cases out there that you can get for cheap on Amazon anyway.
Click on page 2 below for sound impressions and select comparisons