The Audeze LCD-1 is the company's latest and most affordable planar magnetic headphone with an open-back, foldable, and light-weight design. It is priced at $399.
Disclaimer: The Audeze LCD-1 sent to us is a sample in exchange for our honest opinion. We thank the team at Audeze for giving us this opportunity.
To read more about Audeze products we have reviewed on Headfonics click here.
I remember how stoked we were at the turn of the decade when a buddy of ours bought the very first production phase LCD-2. This was a dark but rich and very planted sound and pre-Fazor also. None of us stopped to think at the time why the number 2? Where is number 1?
Well, yes there was technically an Audeze LCD-1 in 2009 before the LCD-2 came out but it did not last long. Most considered it a prototype for what was to come just one year later. However, ironically a decade later, (I presume the timing was such), we have the resurrection of the LCD-1 moniker into an entirely new headphone from Audeze.
The Audeze LCD-1 is an open back planar headphone but it is much cheaper at $399 making it their most affordable LCD class planar headphone to date. It is also moving in on the SINE DX territory with a small form factor and foldable design to make it very portable.
At a time with Asian OEM rebranding of affordable planars are at an all-time high and our Eastern European buddies are knocking out stellar performers such as the Verum Audio Verum 1 for a similar price, this feels like a fairly weighted response by Audeze.
Tech Inside
Everything that makes an Audeze headphone an LCD headphone is stuffed inside the LCD-1. This is not an entirely new thought process here but it is an entirely new trickle-down of that existing technology into a smaller more portable form factor.
Trickle Down High-End Tech
This includes existing technology such as their Ultra-thin Uniforce™ Diaphragms and Fluxor™ Magnets commonly used on their higher-end LCD line-up. It also includes their Fazor airflow technology. What has changed, however, is the size and by that, I mean driver size.
Smaller Transducer
The typical LCD headphone planar diaphragm or transducer size is 106mm starting with the LCD-2 Classic and right up to the LCD-4Z. Now how much of that size is a moving part I am not too sure as sometimes it can be a little smaller.
With the Audeze LCD-1 it has been reduced to 90mm which is still substantially larger in physical size to something like the Final D8000 which is only 50mm in diameter and the Verum 1 is 82mm. That fact they have been able to get that shoved into such a diminutive cup is all the more impressive.
Unboxing
The Audeze LCD-1 comes in a typically impressive and relatively large Audeze retail box though it is not quite as flashy as their higher-end LCD travel cases or wooden display boxes. This is a black cardboard material and something similar to their older EL8 open-back packaging which we have here still. Not the white, but the original black version. I believe they used the white packaging line for Lighting powered EL8 as well as the SINE series.
Accessories
The accessory lineup is relatively simple but very revealing regarding what makes the LCD-1 so unique. Inside, you get the following:
A 2m 3.5mm to dual 3.5mm cable with reversible connectors
3.5mm to 6.35mm adapter
Zippered travel case
Certificate of Authenticity
The standout is really that carry case. We already know it is a folding design but the tiny case really hammers home the message that the LCD-1 can be tucked away relatively easily in a backpack or large bag. The materials used are more practical than opulent with a netted nylon finish over a semi-stiffened black interior.
There is also a small strap and smooth zipper function for keeping everything tucked in safely and for general hand carrying. My only criticism of the zipper is the lack of branding and the overly smooth finish which lacks a little grip but it is a very minor observation.
Inside, you can enough space to fold away the Audeze LCD-1 plus a little mesh netting up top to hold your accessories and cable. Audeze has also thrown a small cushioned divider to prevent any damage during transportation.
Design
The Audeze LCD-1 is 70g lighter than the now-discontinued Oppo PM3 at just 250g compared to 320g. Just let that sink in for a while because there was a time when planar magnetic headphones and additional weight were synonymous with each other. Not anymore. The PM-3 was heralded as an example of how to lower that weight. Even the smaller SINE DX is heavier than the LCD-1 at 290g compared to 250g.
How did we get there? Well, the Audeze LCD-1 uses a copious amount of plastic in its build to shave a lot of that weight off for a start. Outside of the spring-steel headband and screws, I am hard-pressed to find any aluminum or metal construction on the Audeze LCD-1. This in turn also saves on raw material costs over heavier alloy parts which sure helps meet those project BOM budgeting concerns at the R'n'D table.
To be fair though, the design is excellent and the stiffened plastic is nicely finished and feels sturdy. Those coming from the SINE DX will be more than familiar with the core "A-Grill" sleek aesthetic because it does have a similar look though with a more traditional portable headphone cup shape. The SINE DX does have better raw materials with its steel housing but then again it was a good deal more expensive and heavier.
Articulation
This is the big differentiator for me between the SINE series, EL8 and any other LCD headphone, the articulating and foldable design of the Audeze LCD-1. Surprisingly, it has actually less 180-degree cup swivel than the SINE DX but it doesn't really matter because it has enough for plenty of adjustment on the head.
The ability to fold it inwards in a stacking fashion turns this reasonably sized planar into a very small footprint indeed. Importantly, it does it without the painful flex sound you get from cheaper plastic headphones. It is virtually silent from the joints when folding.
Cable & Connectors
Audeze has simplified the dual-entry cable connectors on the LCD-1 compared to the DX. Gone are the angular slide and lock connectors and in comes a more routine 3.5mm TRS dual-entry socket system at the base of the cup.
I must admit that the slide and lock connectors of the DX looked beautiful when in place but they were slightly awkward to work with. The LCD-1 is more basic in its aesthetic and does not have much of an angle to clear collars etc but they do the job and will detach easily under pressure.
The stiffer flat cable of the SINE DX is also done away with and replaced with a nylon jacketed 2m 3.5mm TRS cable with channel-agnostic 3.5mm connectors. This means the L and R are determined by the headphone cups, not the cable. I have yet to find out what the wire is or gauge so we will try for the main review.
You will not have an issue with microphonics but it is a bit stiff and memory retentive for me. It is also quite long for portable use. With a dual 3.5mm, however, I can roll this with shorter cables for easier use if required.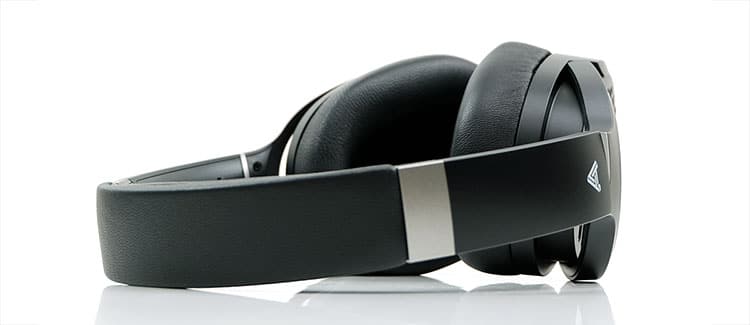 Comfort & Fitting
The Audeze LCD-1 is miles comfier than the SINE series with a little less clamping force, slightly larger cup size, and deeper memory foam and leather pads. The pressure distribution thus far seems solid with a nice balance between vertical and lateral pressure. They do feel secure on the head and with the foam padding underside, there is little by the way of discomfort.
As of now, I do not feel any pressure hot spots centrally on my scalp. However, I do think that prolonged use of the leather pads might produce some heat for long listening sessions. Velour options might be useful so long as they do not mess up the sound.
One thing I did notice is that the Audeze LCD-1 is technically a shorter headphone than the SINE DX. There is plenty of spring steel length on the headband but how long for big heads I do not know. Mine is rather small and the shortest fitting works just fine for me.
Initial Sound Impressions
Power
The Audeze LCD-1 is rated at 16Ω and 120dB SPL. That sounds wonderfully efficient, doesn't it? Quite a far cry from the old nuclear plant in the corner with your 500g planar headphones from several years ago. And indeed it seems out of a Samsung Note 9 the LCD-1 sounds ok or at least sounding sufficiently loud and reasonably peppy.
Look closer though and that volume slider is almost 100%, so no. Samsung's Note 9 does not have enough headroom to really drive the LCD-1 well enough. More than that, at times the treble sounded a shade on the bright and lean side.
What I have noticed so far is the difference when you up the power to something like the 0.5W Lotoo PAW Gold Touch. Things are much smoother and the treble is more liquid or fuller sounding. The LPGT is known to be a little on the neutral to bright side but with the LCD-1 it wonderfully balanced and natural sounding to me.
Pushing it even higher to the 1.8W (32Ω load) single-ended output of the Monolith Liquid Platinum and the AK380 as the source was ridiculously good for this price point. I threw on the remastered Def Leppard Hysteria vinyl recording which is known to be a touch on the bright side for unforgiving headphones, especially on percussion and their layered vocals. The LCD-1 sounded absolutely spot on, not a sibilant or lean note in sight.
So yes, do not plug this into a smartphone expecting amazing things despite the lovely specifications that suggest otherwise. The LCD-1 likes power, it can scale. A decent DAP may well be a recommended pairing.
Tone
As for our initial impressions of how it sounds? This is a rising curve with a slightly mid-centric presentation and a very natural timbre. I say slight because otherwise, the LCD-1 sounds very nicely balanced. This is perhaps one of Audeze's most mature tuning I have heard to date on any of their sub-$1k headphone models.
As always with the Audeze house sound, there is deference to a pleasing linear bass to lower-mids rise with a slightly sub-bass 'wallop'. You could argue that it sounds a shade on the shy side right at the lowest-end but it does not lack in terms of extension or detail. Very much a planar sounding pure bass tone.
Audeze has really nailed the treble on the Audeze LCD-1. There is a slight fade downwards in a very controlled fashion to get that pleasing slightly even harmonic biased tone. If I remember this was the one area Tyll used to struggle with on earlier LCD Fazor editions called them uneven. I honestly think the LCD-1 upper mids and treble so much more balanced and even now.
Stay Tuned!
Gosh, the Audeze LCD-1 sounds fantastic and not what I was expecting at all coming from the SINE DX a few years ago. It is certainly miles better than the original EL8. This is a very mature, coherent and tonally natural sound. Especially that treble performance.
Power could fool you if you are not used to planar headphones. Pay no attention to the specs because there is a lot more to the LCD-1 than what an iPhone or smartphone can offer, this headphone feels like it can scale a bit.
I wish I could get this full review out before the awards because I have a gut feeling it is award-worthy. However, shop with confidence this Black Friday and Cyber Monday if this is on your wish list. I already think the LCD-1 is a steal at $399.
Audeze LCD-1 Specifications
Specifications Style Over-ear, open-circumaural
Transducer type Planar Magnetic
Magnetic structure Single-sided Fluxor™ magnet array
Phase management Fazor
Magnet type Neodymium N50
Diaphragm type Ultra-thin Uniforce™
Transducer size 90 mm
Maximum power handling 5W RMS
Maximum SPL >120dB
Frequency response 10Hz – 50KHz
THD <0.1% @ 100dB
Impedance 16 ohms
Sensitivity 99 dB/1mW (at Drum Reference Point)
Ear Pads Memory foam, genuine lambskin leather
Weight 250g