The Cayin N3Pro is a dual operational mode, tube-infused digital media player with a twin AK4493 DAC implementation. It is priced at $479.
Disclaimer: The Cayin N3Pro sent to us is a sample in exchange for our honest opinion in this feature. We thank Cayin for this opportunity.
To learn more about Cayin products on Headfonics you can click here.
It is out, it is here, it is the N3Pro, Cayin's latest player, and the cheapest of their 3-tier DAP ecosystem. Priced a few bucks lower than $500 the N3Pro is looking squarely as the iBasso DX160, FiiO's M11, and HiBy's R5.
And yet, from our initial impressions, this is nothing like those 3 players. In fact, the N3Pro has a lot more in common with its flagship N8 player. Why? Because it has tubes and multiple timbre modes layered on top of that, possibly the first player at this price point to do that.
To be honest, anyone thinking the usual pro "incremental updates from the original N3 why so expensive?" is coming at this from the wrong angle. This is a completely different player and a massive upgrade in scope and ambition.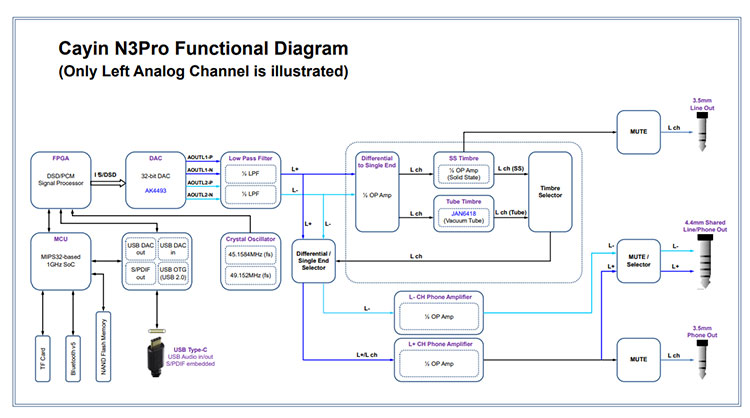 Features
DAC
Cayin has opted for a dual AKM AK4493EQ chipset implementation supported by a dual Crystal oscillator system inside the N3Pro. This now makes all their DAPs dual-chipset capable, (N6ii with T01 and E02 motherboards).
Whilst on the lower end of the DAC scale compared to the AK4497EQ inside the A01 Motherboard and the N8, the bitrate sampling capability of the N3Pro does seem equally as competitive.
Local playback and USB-DAC capability are set at DSD256 (Native), DSD128 (DoP), and 32BIT/384kHz PCM. That is lower than the DX160, for example, but on the same level as the N8 and N6ii decoding ceiling.
The N3Pro does have a USB Audio-out capability of 32BIT/768kHz PCM as well as up to DSD512(Native), DSD256 (DoP), and PCM 88.2kHz (D2P) when in transport mode. Whilst the spec sheet does not state it, that DSD512 native USB Audio out does suggest to me that Cayin is using a decent XMOS USB stage.
SPDIF (coaxial) via USB-C is also supported with a maximum rate of PCM 192kHz and DSD64 (DoP). I believe Cayin are still activating an additional 2 pins in the USB-C interface and that may mean using their supplied cables for optimal SPDIF compatibility.
Bluetooth
Bluetooth is included and again, a very impressive decoding rate out of the box with BT5.0 and LDAC transmit and receive functionality up to 24BIt/96kHZ as well as UAT (for those with UAT receivers and sources), up to 192kHz. Bluetooth capability on the N3Pro also includes bi-directional support with HiByLink tucked away in the Bluetooth OS menu.
CPU
The CPU is still an XBurst 1.0GHz, MIPS-based chipset which is a bit aged in today's marketplace. Whilst not the fastest, the proprietary OS derived from the original N8 development is not really going to tax it that much further as it is designed for chipsets like this.
And yes, this is not an Android OS but rather a heavily skinned version of the HiBy OS. That means access to WiFI for OTA upgrades and importing music, Bluetooth bi-directional capability including HiByLink, solid and familiar media management tools. It does mean though a slightly slower artwork refresh rate when scrolling if you are using hi-res JPEGS.
Amplifier
Configuration
This is really the money shot on the N3Pro, as it was on the N8 flagship because of the use of tubes in the amplification topology. As with the N8, the tube implementation is single-ended only with the balanced output remaining solid-state but making full use of the dual AK4493EQ channel separation capabilities.
The N3Pro uses 2 Raytheon JAN6418 mini pentode tubes which are a step down from the Korg NuTube implementation on the N8 but still fairly popular for size and power considerations. With a suitably low voltage setting, you should able to get years of operational efficiency out of these tubes.
Operational Modes
Single-ended has no less than 3 different flavors of amplification. As before you can choose between solid-state and the tube output. However, the N3Pro goes one further with dual operation mode capability on the tube stage. That means you have the ability to pick either a Triode or Ultra-linear tube flavoring to that 3.5mm single-ended output. They do indeed sound very different to each other.
Balanced output has no tube input and is purely a solid-state implementation, however, it does have one very salient feature and that is power.
Power
The most head-turning number is the 800mW into 32Ω using the N3Pro's 4.4mm balanced output. That makes it potentially the most powerful DAP amplification stage in its price category and on paper it even has 50mW more headroom than the N8 on its balanced High² output.
Single-ended is more than good enough for most decent monitors to drive well at 250mW into 32Ω and Cayin still offers its excellent 3 stage gain feature via the OS drop-down menu to reduce noise as much as possible.
With their own YB04, the N3Pro is very quiet indeed on initial impressions but you will hear a bit more with sensitive monitors if using the tube operational mode. At 0.002% and 0.003% THD+N for unbalanced and balanced output respectively, the N3Pro is a bit behind competing DAPs such as the R5 and DX160 for noise.
Unboxing & Accessories
Sadly, this sample came without the full retail unboxing experience which we will update for the main review. However, we did get all the accessory lineup as well as the optional additional leather case so we are not without some early insight.
Honestly, for the price point, it is about as good as you can expect and competitive. You receive a user manual, screen protectors, (front pre-applied), a nylon jacketed gold-plated 1m USB-A to USB-C cable for charging and data transfer as well as the obligatory silicone protective case. You also get 2 Hi-Res Audio stickers if that is your bag.
The manual comes in English, Japanese, and Chinese and reads fairly well with no "Chinglish" errors and a fairly comprehensive walkthrough of the specs and operational guidelines.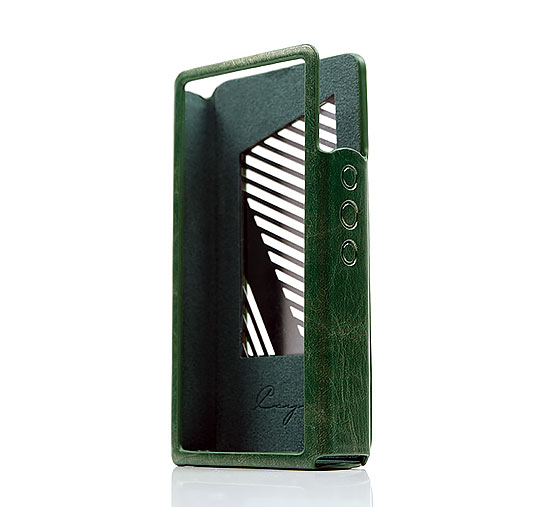 Personally, I would recommend you grab the additional leather case. The design and fit are excellent with some welcome soft protection and a quality leather finish. The strengthened metal plating at the rear also adds some welcome durability. It also allows the N3Pro to vent any minor warmth from the player during operation.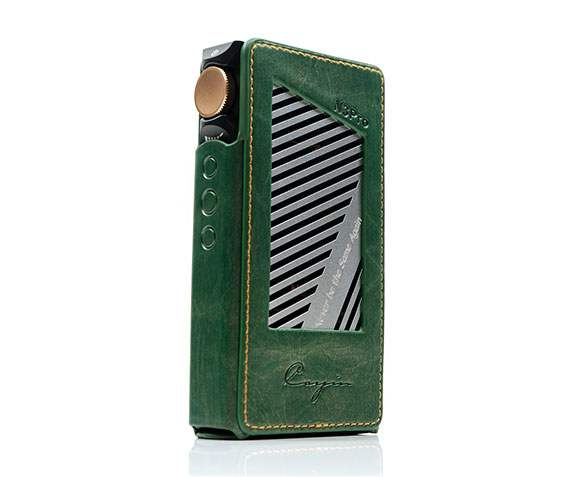 It is a bit green though, isn't it? That will polarize a few though to be fair it is growing on me, (it does have our national colors!) and I do like bright tones as opposed to just plain black. Just so long as they do not clash or look garish.
Will they come out with different colors? Not at the time of writing no so, this is it for now until some 3rd party comes up with an alternative.
Functional Design
The N3Pro is consistent with the N6ii and N8 and kind of looks like a miniature crossover of both. One thing for certain is that the build quality is a massive step up on the old N3 if also the size.
At 195g it is not the heaviest nor the largest at 115.2 x 63.5 x18.9 (mm) and overall, fairly easy to operate single-handed with some nice smooth cornering. It's CNC-machined aluminum black housing is bulkier than both the R5 and the DX160, however, but allowances need to be made to fit those tubes.
To that effect, it has that same N8 glass protected front panel design with a smallish touch-sensitive 3.2″ IPS panel to the top and a fairly large black 'expanse' from about 2/3'rds of the way down where the tubes are located. This expanse has a semi-transparent design so when the tube operational mode is activated you will see them light up with a reddish glow which is a pretty cool effect.
Controls
The N3Pro draws a little also from the N8's use of accents with the rotary dial using a gold plating as well as the analog sockets which are all housed on the base panel.
The N3Pro only has one digital I/O, the USB-C socket, which is housed also on the base panel. The top panel is flush as is the left panel save for a single microSD slot capable officially of up to 1TB, (no onboard memory).
The right panel has that N6ii lock with 3 playback buttons and a digital volume control rotary dial which is protected with an integrated panel guard. Labeling is printed rather than etched into the panels. The rotary dial also duals as a multi-functional button for powering on and off the N3Pro as well as turning the LED screen on and off.
You also get one more indicator/functional control at the base of the front panel in the shape of a small LED circle. This is a touch-sensitive control that will allow you to go direct to the playback screen as well as indicate the audio playback quality via a set of color codes.
There are 6 color codes overall from tangerine for lossy up to white for DSD. For the majority I suspect on 44.1k you will see a yellow shine from the LED circle.
OS
The rest of the controls are via touch on the skinned HiBy OS that N8 users will be very familiar with. I guess that is a benefit given Cayin has had time to bug fix and improve via various firmware upgrades. It does feel quite mature in terms of operation and flow.
Since the CPU is also the same on the N3Pro the speed feels the same from memory. I cannot tell you exactly as I no longer have the N8 here, (back to base), but it is not as fast as the newer Android implementations on the N6ii or the R5. Artwork refresh, in particular, feels a bit sluggish in the media management section though navigation and folder drill down feels suitably snappy.
Navigation
I do love the drop-down navigation and all options are really useful and pertinent to how I want to tweak my music playback without having to navigate through endless menu lists.
Gain, operational mode, PO/LO, and USB-DAC settings are all available with a single click. Bluetooth is here also but not WiFi. Given WiFi is limited to OTA and music file transfers it makes sense to leave that one out.
As before, deeper environmental and music settings are available via a swipe up from the bottom of the screen, and here the limitations of that tiny screen kick in with long lists prompting a bit of scrolling up and down. Not too much mind you but a full-length screen would probably have captured them all.
The same is also true for a heavy media database load that creates a long artwork driven list. It can take a while to scroll through it does have a faster alphabet access scroller to the far right.
Media Management
The Media and playback features that are front and center on the home screen and does not require any sub-menu navigation. This format pitches the N3Pro much more as a dedicated music player than Android platforms, similar in emphasis to Sony and Lotoo's OS. It is simpler but much more direct.
The tag-focused library is broken down into Song, Artist, Album, and genre. You also have the ability to drill down via the physical folder and create playlists and favorites via the home screen as well as a sub-menu option to add to these lists via the playback screen.
Tagging accuracy from the scanning will depend on how you tag your own tracks but on 2300 FLAC scan I found the tag scanning to be accurate. Anything missed was because I have not embedded the correct data or artwork.
Battery Life
Battery life is not too bad actually given the 800mW balanced output capability and the single-ended tube implementation. You get 9 hours on the operational tube mode unbalanced and the same again for the 4.4mm balanced output. You get a bit more at 11 hours for the solid-state operational mode unbalanced.
I will be interested to see if we get that when we go to the main review but I do have to bear in mind that these results are done under specific test conditions including having the screen off, wireless disabled, a mid-gain setting, and a volume of 30. I suspect more demanding than 32Ω and hi-res files, as well as endless button-mashing, will shorten that cycle a bit.
The N3Pro does not have any quick charge capability so from a standard 5V-2A USB port it is a bit sluggish at 3.5 hours from zero to 100%.
Cayin N3Pro Initial Sound Impressions
(Initial impressions formed using an Audeze LCDi4, Cayin YB04, 64 Audio's tia Trio and FiiO's FA9 for monitors and the Dan Cark Audio AEON 2 Closed for headphones)
Noise
With sensitive monitors, you are going to pick up a bit of hiss and more so with the tube operational mode than the solid-state 3.5mm alternative. The lower noise floor will be the solid-state 3.5mm output and the 4.4mm solid-state not far behind with the likes of the Campfire Audio Solaris in low-gain mode.
However, once you move up to medium efficiency monitors like Cayin's own YB04, FiiO's FA9, and the tia Trio the background hiss is non-existent for both solid-state outputs and only the faintest of hiss levels for the tube operational mode unbalanced. I would hazard a guess at this early stage and say anything below 110dB SPL should be safe for noise.
Channel balancing is very good for all operational modes but tube ringing is noticeable, especially on light taps during playback lasting for about 4-5 seconds and then fading away. Of course, no tube rings in solid-state mode.
Power
Initial impressions from our Dan Clark Ether 2 test is that balanced will give you enough headroom, at least compared to the 800mW of the on-ear headphone setting of the FiiO M15. I do not think the N3Pro is as resolving as the M15 but in the high-gain mode, about 65 steps volume setting was more than enough to get the Ether 2 loud and fairly dynamic sounding.
The bigger drop to the 250mW 3.5mm unbalanced solid-state reduces channel separation and staging width and is best reserved for less demanding portable headphones and IEMs.
The Audeze LCDi4 is a good example of a specialized monitor that should have no issues working off either output but I preferred the 4.4mm output for the more expansive staging element which suits its expansive and open presentation.
Timbre
Early days but it ultimately depends on which operation output you want to work with. The two tube modes, triode and ultra-linear, are smoother and warmer but differ from each other quite markedly.
The triode defers to a slightly enhanced warmer low-end and a mids and treble that falls back a bit whereas ultra-linear is more neutral and definitely delivering more mids and treble presence.
Thus far, I prefer the ultra-linear mode with our monitors tested. It sounds better balanced with modern pop and rock. I would go with triode mode if the treble or sibilance was a shade too lively or you want something a bit smoother and more relaxed for acoustical/vocal mixes and soul classics.
The solid-state operational mode of the N3Pro is energetic and musical sounding with good low-end elevation and a lively percussion that seemed to play out with our tested monitors. The timbre is a little cooler with percussion offering a slightly elevated presence. Going 4.4mm balanced also offers better separation and staging width compared to its 3.5mm equivalent.
Vocals are clean and clear, especially strong female vocals such as Sia and Ruelle. However, I do prefer the tube timbre compared to the solid-state unbalanced performance. They sound sweeter with more presence on the ultra-linear tube mode.
Right now it does feel like the N3Pro might perform at its best with that modern pop sound or a stripped sound soulful performance where vocal and low-end driving rhythms have more prominence.
Stay Tuned!
There is a lot more to discuss in the main review and it is going to be very much focused on the operational mode or timbral synergy of the Cayin N3Pro.
One of the things I noticed was just how many different IEMs I was trying with the N3Pro's various timbre operational modes just to see which came out on tops. It can be addictive but right now the 3.5mm unbalanced Ultra-linear tube mode is my personal favorite.
I do need to compare with the likes of the DX160, R5, and M11 but already the N3Pro sounds and feels very distinct from these competing players. In truth, the N3Pro offers a very different experience to those DAPs. It does have a charm about it much like the N8 and like the flagship you should consider this as a pure player first and foremost. Stay Tuned!
Cayin N3Pro Specifications
Product Information
DAC: AK4493EQ x 2
MCU: XBurst 1.0GHz, MIPS-based
Vacuum Tube: Raytheon JAN6418 x 2
Storage: one TF card, up to 1TB
Bluetooth: v5.0 (LDAC, UAT, AAC, SBC)
Display: IPS 3.2" (480 x 360)
Touch sensing: Capacitive touch screen
USB: Type-C (Digital Audio, charging, OTG)
Battery: 3.7V 4100mAh
WiFi: IEEE802.11, 2.4GHz
Dimension: 115.2 x 63.5 x18.9 (mm)
Net Weight: 195g (±10g)
Battery and Duration
Testing Condition: Screen off, all wireless disabled, mid-gain, volume 30, 32Ω earphone, playback 44.1kHz WAV music files
32Ω loading 3.5mm Single-ended solid-state: 11 hours
32Ω loading 3.5mm Vacuum Tube Solid State: 9 hours
32Ω loading 4.4mm Balanced: 9 hours
Charger Standard Charger (5V-2A): Charging Time ~3.5H
Digital Interface
USB Audio out
Connector: USB-C
PCM:up to 32Bit/768kHz
DSD:Up to DSD512(Native), DSD256 (DoP), PCM 88.2kHz (D2P)
USB Audio DAC
Connector:USB-C, Asynchronous USB Audio Class 2.0
Support Windows(drivers required*), Mac OS, Android(partial)
PCM: up to 32Bit/384kHz
DSD: up to DSD256 (Native), DSD128 (DoP)
S/PDIF Coaxial
Connector:USB-C(75Ω)
PCM:up to 192kHz
DSD:up to DSD64 (DoP)
Bluetooth
Transmit Codec: UAT (up to 192kHz), LDAC (up to 96kHz),
AAC (up to 48kHz), SBC (up to 48kHz)
Receive Codec: UAT (up to 192kHz), LDAC (up to 96kHz),
AAC (up to 48kHz), SBC (up to 48kHz)