The qdc Dmagic 3D is a triple dynamic driver universal and custom monitor consisting of a 10mm dual dynamic driver and a single 8mm dynamic driver. It is priced from $1315.00.
Disclaimer: The qdc Dmagic 3D sent to us is a discounted unit in exchange for our honest opinion. We thank the team at qdc for giving us this opportunity and for the support of Musicteck.
You can read more about qdc products we reviewed on Headfonics by clicking here.
Around 2 years ago I reviewed Unique Melody's 3DD-Ti which was then the first-ever triple dynamic driver monitor and it was an interesting tuning, to say the least. This came after a few years of companies getting sucked into a dual dynamic driver craze that did really have any legs.
Since then it seems hybrid or multi-BA has taken the high-ground and multi-dynamic has fallen away. Until now that is with the launch of qdc's new Dmagic 3D multi-dynamic driver monitor. qdc have been very well received here thus far with 2 of their custom versions, the Anole VC and VX getting some top marks both from us and readers.
However, this is the first universal IEM I have received from them so I am quite keen to hear if some of that custom magic can translate into their universal versions which are a little cheaper.
This particularly version retails for $1315 on Musicteck with the custom version starting soon from $1460 also on the Musicteck website.
Tech Inside
Drivers
Both the universal and custom versions have the same internal configuration. This is a triple dynamic driver design consisting of a coaxial 10mm graphene vibrating diaphragm and titanium-plated vibrating diaphragm compound dual dynamic driver and a single smaller 8mm compound vibrating diaphragm.
Configuration
The grouping looks like the dual 10mm for the lows and the mids and the 8mm compound dynamic driver for the highs using a 3-way crossover.
The impedance at 13.5Ω will play well with low-voltage sources but current (volume levels) capability looks important with an SPL of 98dB. To be fair, dynamic drivers tend to pull down the average sensitivity levels of any configuration and this is not a surprise to me.
Acoustic Cavity Design
It seems also that the Dmagic 3D has a special acoustic cavity design to accommodate the unique signatures of 3 dynamic drivers. The primary focus seems to be blocking of damping down on any phase or interference problems from using multiple dynamic drivers in much the same way as you would with multi-balanced armature driver acoustic performances.
The other offshoot from this design should be the better upper treble performance. qdc claim a response ceiling of u to 30kHz which might not mean much since most human hearing taps out around 15-17Khz max but it should mean a bit more energy and perceived air from 8-12k when other drives tend to fade away with only minor bumps.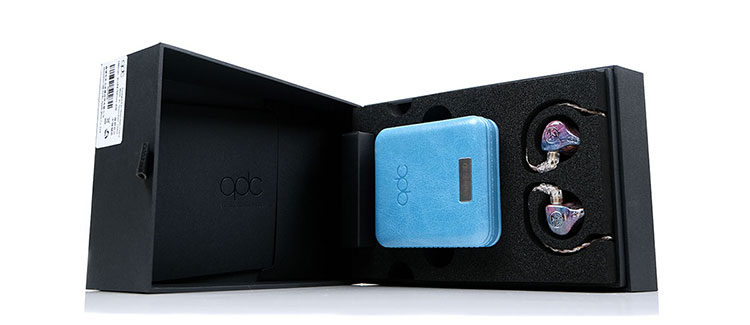 Unboxing
The unboxing experience from qdc is similar to the Anole V6 and VX in styling though the precise packaging design and layouts have changed slightly.
The color scheme is drawn from the silver external design of the VX rather than the gold of the Anole V6 though instead of a flat internal split box container the Dmagic 3D uses a small wedge-like single-sided foam display. Overall, it feels a little more compact and less extravagant compared to the VX retail box but it does seem to house the same accessories so the value is good here.
Inside you get a carry case, tips, airline adaptor, quarter jack converter, cleaning pick, and of course, the monitor and stock cable (plays adapters). The adapters and cleaning tool come inside a smaller black cardboard box beside the new carry case and at the top of the foam wedge. The drivers and cables are neatly housed at the base of the foam wedge in a decorative layout.
qdc have opted to retain the same attractive sky-blue square leather magnetic square case carry case from the VX which I quite like.
The front is adorned with qdc branding and the Dmagic 3D branding on a metal faceplate on the front. This will change to whatever you want if you decide to go with the custom version.
The inside has a tight leather holder on the underside of the lid and a pillar just off-center on the inside floor of the case to allow you to wrap the cable around. The materials are soft, almost Alcantara-like material which should do a good job of cushioning the Dmagic 3D whilst on the go.
The size is just ok for me now that I have to squeeze the tips inside as opposed to just a custom version and the cable. I would have preferred the supplied tips to come in a small plastic bag than the bulkier cardboard cutout which never holds its shape and generally decays with use over time.
There are also the additional cable adapters which you can squeeze into the corners of the case and you can read more about this cool new cable development in our cable section further down.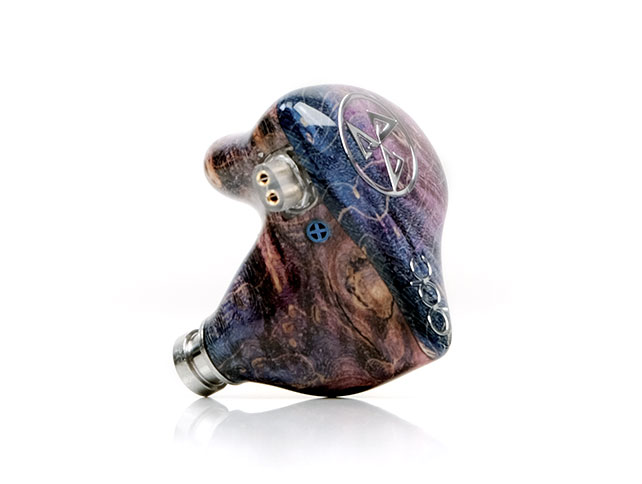 Design
OMG 'love love x 10' (technical term – editor). Normally, when I am post-processing monitor pics I have to polish up the detail a little just to get some pop in the final output. Here, I needed virtually nothing because the Dmagic 3D design has so much detail and pop in its own right I felt guilty if I added anything more. It is almost perfect, well at least for my tastes.
More than that, this is the second woody design I have received in the last month with the other one to be unveiled in a new feature shortly. Apparently, this is a solid woody carving so I am presuming a base wood with a stabilizing resin and a lot of dye mix and matching to get that beautiful deep, and richly diverse nebula swirl design.
It really is outstanding for a universal monitor but then qdc have always had a knack for teasing out some really creative custom designs so it should not be a surprise, I guess.
The Dmagic 3D finishing is lacquered and polished very nicely indeed with a silver qdc logo and brand name on each faceplate and a stainless-steel nozzle tip for additional strengthening as well as create a nice lip to keep tips securely fastened.
The form factor for the universal format is quite a bit smaller than the custom designs but it retains that heavily contoured shaping that tends to work really well for tight and comfortable fits.
One thing to notice is the bass venting which has a nice little plastic plug colored in blue and red for easy channel identification. Normally these bores are quite raw and open, this one has a slither of protection against dirt finding its way in as well as channel markings so it is a deft little tweak.
In The Ear
As you might expect from a custom design company the fit of the Dmagic 3D universal version is really good. The smallish form factor combined with the aggressive contouring makes for a relatively flush and very comfortable fit with virtually no pressure anywhere in the concha basin.
qdc use their extended 2-pin connector designs to also lift the stock cable away from the ear a little which takes away any the potency of any unwanted lateral pressure from the cable's physical presence which I quite like.
The Dmagic 3D nozzle is not too long but because you can get the body fairly tight it does not need to be. It does mean tips will play a bit of a role in the seal and final sound signature and this is important because of the two provided types of tips for the Dmagic 3D, I had one very definite preference.
Tips
You get two types of tips with the Dmagic 3D: single bore silicone tips with different colored stems and a set of 3 double flange tips all in black. The sizing is the same with both coming in small, medium, and large and one additional spare single bore on the Dmagic 3D out of the box.
The single-bore silicones have different colored stems to denote their sizes and add a little bit of styling pop in the process. The all-black double flange sizing differences are easy to make out.
The double flange tips are the way to go, they penetrate better than the single bore silicone tips and offer better isolation with the Dmagic 3D. They also perform better with a nicer treble tone, particularly from the upper treble which can sound brittle with the single bore silicone tips.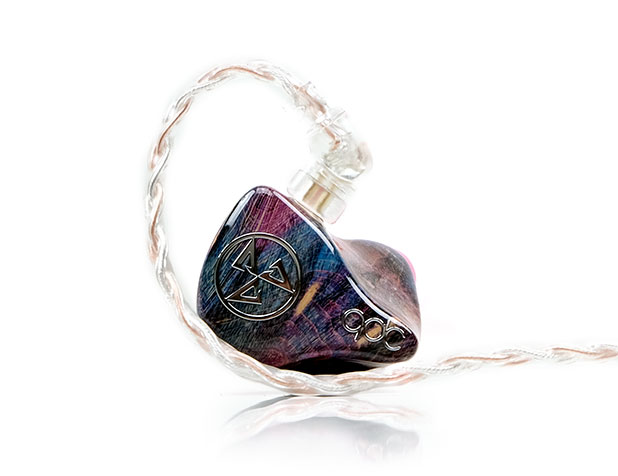 Stock Cable
Ok so here is the tricky part with the qdc cables. If you are happy with the Dmagic 3D stock cable or one of the cables provided in your checkout then it will not be an issue. For those that like to swap cables and have high performing ones then the design of the connectors might present challenges.
Protruding Sockets
The issue is two-fold. First, the connector stems on the Dmagic 3D shell are protruding designs. This is a design I have seen before with Unique Melody customs and in all honesty, I do find them stronger and more comfortable with the cable connectors angled to gently guide the cable around the ear.
However, unless you specifically have that type of connection on your aftermarket cable the resulting connection with a regular 2-pin design loses a lot of strength and sticks out a fair bit.
Reverse Polarity
The second problem is where it gets challenging as the pins in reversed polarity as is the entire cable to connector design. That means any regular cables have to be connected with the pins "upside-down". Combine that with protruding connections and it becomes really awkward to use and wear.
This is not an unworkable scenario if you are really determined to roll so like me, you can buy a small set of DIY connectors that can re-orientate the polarity, then you are all set.
Stock Cable
The Dmagic 3D stock cable is the same as the VX stock cable at around 1.2m in length and a little thicker but more pliant than their older 4-wire versions. It is also very microphonic free. It uses a mix of 26AWG copper and silver inside an 8-core parallel wire, (4×4), geometry build. In short, it is a hybrid cable.
Strain relief is good on both sides with a pliant rubber finish on the connectors and thick rubber tube on the jack connector. The chin cinch has also been improved over the VX stock cable with a better-formed silicone slider over the VX's cheaper raw cut.
Interchangeable connectors
Now, this is the value-add that might make all of the above rather moot if you like the sound characteristics of the Dmagic 3D stock cable. Unless I am mistaken this cable is a first for qdc in terms of connections though the wire itself, and the rest of the cable is the same cable that comes with their flagship VX.
The stock cable has an interchangeable jack system and does remind me of the DUNU cables I reviewed last year with their DK high-end series. It uses a simple slide and lock system with a small pressure button release on the top of the jack barrel to unlock again. All connectors convert the jack into a long right-angle system so the form factor remains discreet on most players.
Granted quite a few companies are adopting it now and so long as the stock cable is good then it is something I really encourage because it saves a lot of time and money finding cables with the right connector for your source.
The Dmagic 3D comes with 3 connectors, a 4.4mm, 3.5mm TRS, and a 2.4mm TRRS which covers just about every connector you could want. They also supply an airline adaptor and a 6.35mm adaptor with the accessories so you are honestly all setup here.
Initial Sound Impressions
(Tested with the stock cable and both single bore silicone and double flange tips. Sources used included a HiBy R8 balanced 4.4mm and the iBasso DX220 MAX balanced 4.4mm.)
Well, the Dmagic 3D is miles more balanced sounding than the 3DD-Ti from a few years back. It has that trademark dynamic driver timbre throughout with a mildly bumped but solid sounding low-end, a fairly focused midrange bump around 1-3k for vocal presence, and a milder upper-mids rise around 4-5k.
The lower treble is second fiddle to the upper treble with more of a rise around 8-10k producing a slightly ethereal tone to higher pitching timbre and this is where I suggest moving to double flange.
The single-bore silicone produced that shimmer and glassy tone to percussion and vocals which I didn't find that appealing. Switching to double flange softens the attack, adds a bit more body, and produces a really nicely extended upper treble sparkle without those nasty sharp partial overtones to go with it.
Unlike the 3DD-Ti there does not seem to be a huge lower-mids scoop in the Dmagic 3D tuning. It does dip a shade into the lower-mids to prevent it from sounding muddy and bloated but the low-end is not hugely emphasized so the cut from the elevated mid-bass presence is not that extreme.
That allows midrange instrumental notes to take on some pleasing warmth and presence. That bodes well for rock and metal lovers as well as offering enough density and punch for EDM fans. So far, this seems a very balanced and enjoyable tuning and not what I was expecting at all.
Stay Tuned!
I do not know why companies have largely dropped the multi-dynamic driver design approach that seemed to be all the crazy a few years back. Ok, so some of them did not turn out to be all that popular, and the BA driver count wars were gathering a lot of marketing speed at the time.
Still, with a bit of time and studied tuning they can, and often do, have a much better timbre than balanced armature drivers, especially on the low-end. They have their fans and for good reason. the Dmagic 3D tuning and that gorgeous design should go some way to proving the doubters wrong. This is a very smooth tuning.
Stay tuned for the main review which will include more detailed Dmagic 3D sound impressions, synergy/pairings, and those all-important comparisons in the coming weeks!
qdc Dmagic 3D Specifications
Sensitivity: 98dB SPL/mW
Frequency response: 10Hz-30000Hz
Impedance: 13.5Ω
Driver units: 3 Dynamic Drivers
Noise isolation: 26dB
Monitor plug: 3 in 1 push type replaceable plug
Shell color: Custom options, with a full wood option
Technical feature: Dmagic patented technology, 3 crossovers, 3 dynamic drivers, 2 way sound channels
Warranty: 12 months