The Noble Audio Tux 5 is a brand new hybrid 5 driver universal monitor featuring a 10mm dynamic driver and a quad balanced armature design. It is priced from $1300.
Disclaimer: The Noble Audio Tux 5 sent to us is a sample in exchange for our honest opinion in this review. We thank the team at Noble Audio for giving us this opportunity.
To read more about Noble Audio products we reviewed on Headfonics click here.
Note, this review follows our new scoring guidelines for 2020 which you can read up on here.
Noble Audio Tux 5
The Tux 5 has huge potential and the tuning is possibly one of the best I have heard from a non-electrostatic hybrid this year. This hits hard and low but with buckets of sparkle and a clean mids to treble timbre. Some heavy interesting contrasts but not a v-shape for me, the vocals do have some good presence.
Brand new Noble Audio IEM's have a tendency to just sneak up on you in terms of when they are out and when they announce it. I know they spend a hell of a long time in research and development and I do get to see and hear some very advanced prototypes every time I meet the guys at the shows. However, the exact launch time can often be very downwind.
The Tux 5 I was not expecting but I gladly welcome it. This is the company's second hybrid IEM after the Khan but the first in terms of a traditional blend of a dynamic driver and balanced armatures. The Tux is short for Tuxedo and that is primarily due to the very black and white design and branding that has taken shape with the current product marketing.
The 5 stands for the driver count inside the Tux 5. Not that driver counts have ever really mattered to Noble but if there is someone I trust to tune higher drive counts well then it is the Wizard. And finally, the price at $1300 places it on the lower-tier of high-end and squarely up against the likes of the Solaris, DUNU's DK-4001, and Meze's Rai Penta.
Tech Inside
Noble are always hesitant to go into detail regarding their IEM specs so details can often be a bit on the light side. What we do know is that the Tux 5 is a hybrid universal monitor with 5 drivers; 1 10mm dynamic and four balanced armature.
Now, the Khan went with a 10mm drive also and I do wonder if we are talking about the same driver from the Khan inside the Tux 5. The four balanced armature drivers are all Knowles drivers though which ones we do not exactly know.
The overall configuration for the BA drivers is two for the mid-low frequencies, and two for the mid-high frequencies. That leaves the 10mm dynamic driver free to focus on the lows. The grouping would indicate dual-driver Knowles and a 3 or 4-way crossover configuration.
The Tux 5 is rated at, well, we do not know. That is the Noble way and we can but guess anyhow. Historically, Noble IEMs have never been that hard to drive so do not expect the Tux 5 to be any different even though it is a hybrid.
Unboxing
Noble has a habit of tinkering with its box shape every year or two and the Tux 5 sees a relatively new form factor but still a classic Noble Aesthetic. No surprise it is all black and white since the theme is a Tuxedo but the new box is deeper than the older flat and wide version from the Khan and Django.
The white sleeve of the classic universal line-up has also gone and replaced by a plainer black and white vinyl sleeve with TUX 5 on the front. Underneath the main box is the classic Noble swirly finish that most will know for many a year.
Accessories
Inside, the packaging is a little on the simple side though well protected with a deep foam insert. Some previous accessories are no longer included. Gone is the silver tip tray and the additional plastic screw lid carry case. Instead, you get a velvety drawstring pouch as your secondary carry case.
For your primary carry case, you get the classic black Pelican 1010 weather-sealed container with a carabiner lock that I tend to enjoy for travel.
These cases have plenty of space and protection against the elements. You also get a healthy-looking bag of tips, a cleaning brush, a seriously upgraded cable, two branded rubber bands plus a warranty card.
The tip selection has always been good with Noble universal IEMs and the Tux 5 is not too bad actually. You get two different types of foams in small, medium, and large, (black and gray), and a single set of black single-bore silicone tips in the same sizes.
What we are missing are those red and blue stems that have a bit more stiffness about them over the regular black tips included.
Design
The Tux 5 represents a complete departure from the classic Wizard and universal designs of their previous lineup.
I believe this is the first Nobel universal monitor to have an aggressive custom universal contoured main shell and matching faceplate. The Tux 5 all black with a deep stainless-steel tipped nozzle and relatively compact. There is nothing fancy or colorful save for the Wizard signature plus the Noble crest on the front faceplates.
Previously they would opt for a diminutive speckled jellybean-like acrylic shell and a specially designed faceplate for the Wizard series. For the Classic line-up, they used a similar speckled acrylic shell but with the aluminum faceplate in various colors.
This is neither, this is new and this is more modern and competitive. I know Noble was considering a refresh so I am presuming this, along with the M3, is the start of that refresh.
Cable & Connectors
Noble did hint with that nice little cable upgrade with the Khan late last year. However, the Tux 5 cable is a big upgrade on what I am used to seeing with Noble monitors. This is a 1.2m 8-core OCC wire in what seems to be an FEP or PVC jacket. And yes, a two-tone black and white finish for that Tuxedo look.
I am presuming a 26AWG gauge of wire here as it is wieldy or too stiff either. You can buy this cable in 3.5mm TRS unbalanced or for an additional $20 2.5mm TRRS or balanced at the Tux 5 checkout. This one is the 3.5mm version.
More than the wire, the finishing in terms of barrels and splitters is really good also. The 2-pin connectors are encased with a gunmetal grey aluminum barrel that nicely matches a similar thin but long splitter barrel. The chin cinch is a really tasty aluminum pill form factor and slides up and down with minimal resistance. It is also steady enough also not to slide down accidentally.
The only caveat is the huge memory wire heat shrink. It is a little on the long and bulky side for my tastes but fit wise it is not that hard to work with. There is no real pressure on my ears so a minor complaint at best.
In The Ear
The comfort is excellent with the new custom universal shell sitting in very comfortably. The long nozzle means I do not have to go for my usual large size. I can go with a medium foam tip and get a better seal and it does feel deeper in my ear as a result.
The Tux 5 does have a fairly large venting bore at the head of the faceplate so you will not get a great amount of passive isolation. That is normal for most hybrids or dynamic driver IEMs.
The single silicone tips really do not help seal or isolate as a result of their generally porous nature and that bore. I found the foam to have a much better level of isolation so long as you can go deep on the insertion.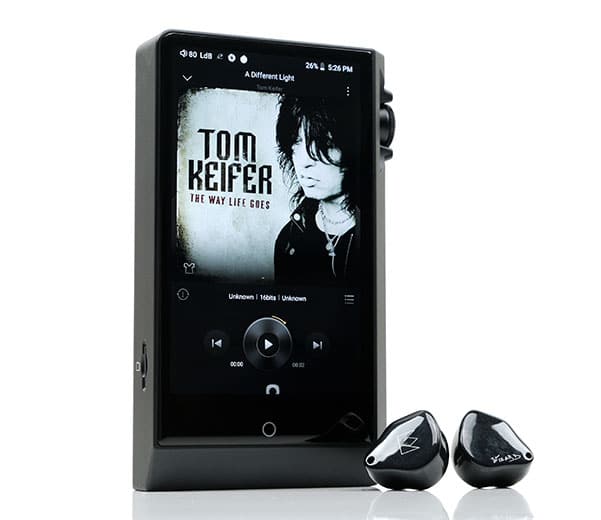 Tux 5 Sound Impressions
Sensitivity
First things first, using unbalanced from the FiiO M11 and Cayin N6ii the Tux 5 is quiet. There is no hiss and these two DAPs are my go-to for checking ultra-sensitive IEMs because faint hiss can show up. That means the Tux 5 is probably not a super-sensitive monitor.
The volume on these DAPs was comfortable around 40-45 on the N6ii unbalanced low gain and just 50-55 on the FiiO using unbalanced low gain. However, it is more sensitive than the like of the 104dB SPL Tia Trio from 64 Audio.
I did a quick test on the Hifiman Red R2R2000 and the Tux 5 did not need anywhere near the same volume level as the tia Trio and also showed a little background noise. The best I could get was 5 for volume on low gain 3.5mm unbalanced. By the way, it sounds really good with the R2R2000 but then so do most things.
Tuning
Oh, I think a lot of people are really going to like the Tux 5. It has some great low-end extension, and I mean really low but it is not overly dominant. The 10mm driver is weighty and smooth, with some excellent sub-bass presence. I was rolling with Kendrick Lamars's Element and the Tux 5 has zero issues delivering some serious depth and weight sub-100Hz.
That being said there does seem a bit of a cut into the lower-mids because there is not a huge amount of warmth traveling up. It is more of a BA timbre beyond 600-700Hz where the Knowles drivers start to take over.
Instrumental notes are fast, clean with a good bass fundamental from that 10mm driver but also not a huge amount of warmth. Timbre seems relatively natural to neutral rather than rich and liquid-like compared to something like the hybrid DUNU DK-4001.
Vocals do not seem dipped. I suspect there is a small bump from 1-3k on the Tux 5 just to give them some nice but not overly forward focus. Percussion also sounds just about right on initial impressions. Not overly dulled or pulled back with some good presence and a lack of sibilance across that upper midrange. Again, the timbre is more dry than wet with an emphasis on fast and detailed but I must emphasize I have yet to find anything harsh about the Tux 5 timbre.
Treble has a bit of a lift beyond 5k, you do get a nice bit of sparkle on the Tux 5, I suspect around 7-10k there is a lift which also means the Tux 5 has some nice height and decent headroom to go with that stellar depth.
Our Verdict
The Tux 5 has huge potential and the tuning is possibly one of the best I have heard from a non-electrostatic hybrid this year. This hits hard and low but with buckets of sparkle and a clean mids to treble timbre. Some heavy interesting contrasts but not a v-shape for me, the vocals do have some good presence.
Out of the box, the Tux 5 sounds nothing like the Andromeda, Rai Penta, or the DK-4001 IMHO. You could argue that the Tux 5 has the Campfire Audio Solaris as its true target here and that is a worthy comparison.
In the meantime, if the above quick description sounds good then go ahead and grab it, demo it and see for yourself if it matches what we think about it.
Noble Audio Tux 5 Specifications
10mm dynamic bass woofer
4 Knowles balanced armature drivers
Ergonomic and comfortable 3d printed shell design
Stainless steel nozzle with a wax guard
Standard 2 pin 0.78mm recessed sockets
Premium 8 core OCC copper cable