Synergy
Efficiency
With an impedance of 14.8Ω and sensitivity of 104dB, the Timeless is surprisingly easy to drive. In fact, getting a good pair isn't difficult. It is easily powered with the iPhone 12 Pro Max, producing decent performance.
Do note that soundstage and imaging are notably improved when paired with a good quality source like a DAP, such as iBasso DX150 with AMP6.
Pairings
Powering the Timeless with the iBasso DX150, known to have a warm tonality with energetic upper mids, produced a meaty bass rumble and smooth upper mids. As someone who prefers meaty lows and sparkly highs, the pairing is perfect for my taste.
However, with the Timeless having a V-shaped sound signature, it is also preferable to pair it with a dense midrange or a neutral DAP to create a balance on its tuning.
Perhaps with a DAP that has dense and smooth mids such as the Shanling M6 Pro or a fuller-sounding lower-midrange such as the Hiby R6 Pro. The iBasso DX220 with AMP 1 MKII combo would also be an excellent choice for a more reference-sounding and accurate imaging DAP.
Select Comparisons
IKKO Gems OH1S
$199
Technical
IKKO Gems OH1S is a hybrid universal IEM with a 10mm dynamic driver and a Knowles 33518 balanced armature. 7Hz timeless has a different configuration with its magnetic planar driver with an ultra-thin diaphragm and a whopping 14.2mm Planar driver.
Design
The play on textures with Gems' mix build of resin and metal is an eye-catcher. With a triangle-shaped shell and small size, it is truly unique in its own right. Timeless is also one of a kind with its disc design. It's stealth with its black metal shell and a flat textured circular plate.
Both IEMs have an ear-hook design with an MMCX termination. The cable on both IEM feels the same, although different in the overall finish. The cable of the Gems is terminated with a 3.5mm straight jack while the Timeless is terminated with a 4.4mm straight jack.
Performance
The Gems pale in comparison with the Timeless in terms of bass response. The sub-bass on the Timeless has a deeper and meatier rumble that is missed in the Gems. The mid-bass also sounds significantly recessed in the Gems with Timeless' full-bodied bass response.
The midrange is more forward on the Gems. Male and female vocals are more aggressive with the Gems, while they are presented further back on the Timeless. However, instruments are thicker and more articulate on the Timeless. Especially with wind and string instruments, timbre sounds richer and cleaner.
With both IEMs having a bright tilt in their tuning, they are very similar with their treble presentation. Cymbals are splashy, vocals are airy and crisp. Both monitors exhibit good treble control, with higher frequency neither feeling sharp nor harsh.
The soundstage of both IEMs is similar, wide and deep, spacious and impressive at their price points. However, the imaging of the Timeless is a bit better. Instruments and vocals have better separation, are more multidirectional, and are accurate. It was easier to imagine where sound is coming from with the 7Hz Timeless.
Surprisingly, both IEMs can be powered with the same volume levels from my iBasso DX150 DAP. It just goes to show how easy it is to power the Timeless, despite its magnetic planar driver.
Moondrop KATO
$199
Technical
Moondrop KATO is a single 10mm ultra-linear technology dynamic driver IEM featuring Moondrop's latest flagship dynamic driver. On the other hand, the Timeless is the 7Hz's first attempt in producing a magnetic planar driver IEM, with its double-sided array N52 magnet and ultra-thin 2mm diaphragm 14.2mm Planar driver.
Design
KATO has a polished silver finish, highlighted by a metal irregular geometric-shaped shell. What's unique with the KATO is its removable nozzle, proving KATO is here to last.
With a similarly futuristic look, the Timeless is equipped with a 2D round faceplate with a textured finish, preventing prints from accumulating. The body is made from a single piece CNC aluminum shell, making the IEM both durable and light.
KATO has a 2-pin 0.78 termination while Timeless has an MMCX termination. A 4.4mm balanced plug can be found on the Timeless while the KATO has a 3.5mm straight plug.
Timeless is noticeably lighter compared to the KATO, despite both having a metal shell. Despite its significant weight difference, both monitors are easy on the ears and are comfortable to wear.
Performance
The bass on both IEMs is deep and tight. It was surprising for the Timeless to be so close with KATO's bass response, knowing that the KATO has a dynamic driver. Although, KATO has a thicker and warmer bass response. Nevertheless, nice try for Timeless.
The midrange on the KATO is mostly even, with a warm and rich tonality. Vocal presence is excellent. Exceptionally good with its clarity with transparent layering.
As expected, Timeless, with its recessed mids, had a thinner midrange presentation. Although not washed out, vocals sound recessed compared with the KATOs. The thick and sweet midrange on the KATO is nowhere to be found with the Timeless. However, Timeless is incredibly detailed like the KATO, which makes up for the lack of a rich midrange.
One known weakness of dynamic drivers is their recessed treble tuning. This is true in the case of the KATO. Although the KATO is not dark, the Timeless outshined the KATO with the shimmer and sparkle in the higher frequency. Cymbals and acoustic guitar simply sound cleaner and crisper on the Timeless.
The soundstage on both monitors is above average, respectably wide, and spacious. Staging is also impressive for both monitors. Layering is above average. Vocal layering was presented well. The sound was well projected with multi-directional replication.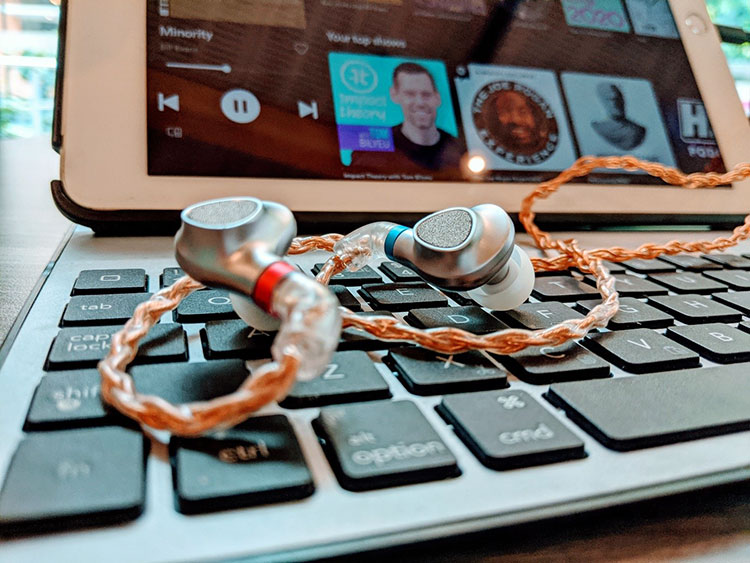 Tin HiFi P2
$349
Technical
Both the Tin HiFi P2 and 7Hz Timeless are equipped with planar magnetic drivers, with the P2 having a second-generation 12mm planar magnetic driver while the Timeless has a 14.2mm version.
Design
The TIN HiFi P2 is enclosed in a satin-finished stainless-steel chassis. Examining further, TIN HiFi designed the shell such that the small textured faceplate hides the fact that it encloses a large 12mm planar magnetic driver.
Contrastingly, 7Hz flaunts its bigger 14.2mm, planar magnetic driver, with its futuristic disc design, taking the size and shape of the driver itself. The shell is made up of a CNC aviation-grade metal, with added strength and durability on the IEM.
Both IEMs have an ear-hook design, with the TIN HiFi P2 having a universal 0.78mm 2 pin termination while the 7Hz Timeless having an MMCX termination.
The P2 offers a 2.5mm plug with 2 adaptors – a female 2.5mm to 3.5mm male single-ended connection and a female 2.5mm to 4.4mm male balanced connection, making it flexible to use across different players. Unfortunately, 7Hzs only come in your preferred termination, either a 3.5mm, 2.5mm, or a 4.4mm jack.
Performance
Bass are generous on both monitors. Both go deep and low, with a full-bodied presentation. The bass response is tight, with good levels of control. If I were to nitpick, the 7Hz does have a very slightly slower decay between the two, although both have a similar bass response, and nothing much can be said on their difference.
Mids are more forward on the P2 compared with the Timeless, which is not surprising given Timeless' V-shaped tuning. However, P2 outshines Timeless' midrange in terms of quality.
P2's midrange is arguably fuller and deeper, making Timeless feel dull, but only when compared side by side. Male and female vocals feel lusher and warmer making it sing. Instruments are more articulate, with a heavier and thicker texture.
Both monitors have a treble uptick, with the P2 leaning brighter than the Timeless. Both monitors possess good treble control. Sibilance and harshness were not observed on both monitors. However, cymbals are splashier on the P2, which makes Timeless sound tame in comparison.
The sound stage and imaging are significantly better on the P2, although Timeless is not that far behind. P2 has more width and depth, giving a wider sound stage. Imaging is also more accurate with the instruments having enough gaps, especially noticeable in busy tracks.
Although Timeless' soundstage never felt cramped nor tight and imaging is above average by itself, P2 just performs better, with better vocal layering and more 3-dimensional feel.
On a side note, one thing I dislike about the Tin HiFi P2 is that these are power-hungry. While P2 is better sounding overall, Timeless can be powered by 60% that of P2's required power, which gives the Timeless an advantage.
Our Verdict
There are a limited number of magnetic planar IEMs in the market, but growing. It was a pleasure to review the Timeless 7Hz, being a budget magnetic planar driver IEM. I would have to say that it's a refreshing addition to the market of $200-$250 priced IEMs.
When it boils down to the question if it's the best planar IEM, I'm afraid not. But with its sub $250 price tag, it's a good alternative to higher-priced planar IEMs, with one clear advantage – it's easy to drive.
The 7Hz Timeless has a fun and energetic tuning, with arguably a fast and thick bass response. This can be a good buy for old audiophiles looking for a side-grade from their dynamic, BA, or hybrid drivers or for new enthusiasts ready to pull the trigger for a good starting point in the hobby.
7Hz Timeless Technical Specifications
Driver 2mm planar driver
Impedance 8ohm
Sound pressure level 104dB/1Khz
Frequency response range 5-40000hz
THD <0.2%/1KHZ
Connector MMCX