The Shanling M6 Pro 21 DAP features a dual ES9068AS DAC, Snapdragon 430 CPU, MQA, and up to 760mW of output power. It is priced at $799.
Disclaimer: The Shanling M6 Pro 21 sent to us is a sample in exchange for our honest opinion in this review. We thank the team at Shanling for giving us this opportunity.
To read more about Shanling products we have reviewed on Headfonics click here.
Note, this 3-page review follows our new scoring guidelines for 2021 which you can read up on here.
Shanling M6 Pro 21
The M6 Pro 21 is a top-notch player with a great balance between performance and design, whilst retaining their dense, powerful signature tuning. This is a highly completed and elegantly tuned design with great value for the price.
It seems logical that after the reimagination of the M6 into the M6 Version 21 we would soon have the M6 Pro equivalent and sure enough, here is the $799 M6 Pro 21 in all its 'new' glory.
Due to the fact that AKM chipsets are put to a production halt after the fire that broke out in their plant, the M6 Pro 21 now embraces ESS. It packs in a dual ES9068AS chipset along with MQA 16x unfolding power, as well as a handful of other welcome upgrades.
The M6 Pro 21 uses the same housing design as the M6 Pro as well as the same Qualcomm Snapdragon Octa-core processor. However, beyond that, the amping circuit, ROM size, playback time, S/N ratio as well as output power are all updated.
It seems like it is not just a change in decoding chipsets but also the more nuanced specs have also been upgraded as a bonus. With ESS I would expect a smooth signature, and from my experience, on the M6 Version 21, I have a good hunch it is going to be an impressive update for interested readers.
Tech highlights
DAC
The M6 Pro 21 adopts the ES9068AS chipset from ESS with Sabre architecture offering a -120dB THD+N performance. This audiophile dual DAC implementation supports MQA so we have MQA 16x decoding on the M6 Pro 21 this time, though still slightly below top-tiers lossless decoding with a maximum of DSD256 and PCM 32BT/384kHz decoding support.
Another important design feature is its low noise LDO linear regulated power supply. Shanling claims that the vocal density will be enhanced as well as the transparency, as well as help them to retain its natural and effortless tuning.
There is a lot of power, dynamics with the M6 Pro 21 performance yet the background is very quiet. We will elaborate more on that in the sound impressions on page 2.
FPGA
With an FPGA controller KDS Femto Clock inside as well as Shanling's own CPAF technology, (Constant Phase in All Frequency), the DAC is able to feed a phase-aligned signal to the LPF and OP+BUF stage for precise signal processing.
Shanling has its own patented algorithm for the sampling process and the architecture strengthens the accuracy in decoding high sampling rate audio files, putting together dense output with top-notch accuracy.
Snapdragon CPU
An 8-core Qualcomm Snapdragon 430 CPU sits inside the M6 Pro 21 with 4GB RAM. This is the same CPU that has proven smooth operation on Shanling's customized open android UI.
This time the ROM or onboard memory is doubled to 64GB so you can install more apps and games without worrying about having enough space on board.
MQA
The M6 Pro 21 supports MQA hardware decoding with the new DAC upgrade. With ES9068AS, the M6 Pro 21 supports full MQA unfolding at a 16x rate, realized by 2x unfold from the processor and 8x on the DAC side. Shanling claims that this split lessens the system load and helps to achieve better power efficiency.
With the Shanling app, you can see the MQA file's sampling rate being stepped up as advertised. With some other 3rd party player apps or streaming apps, you will get a smaller unfolding rate.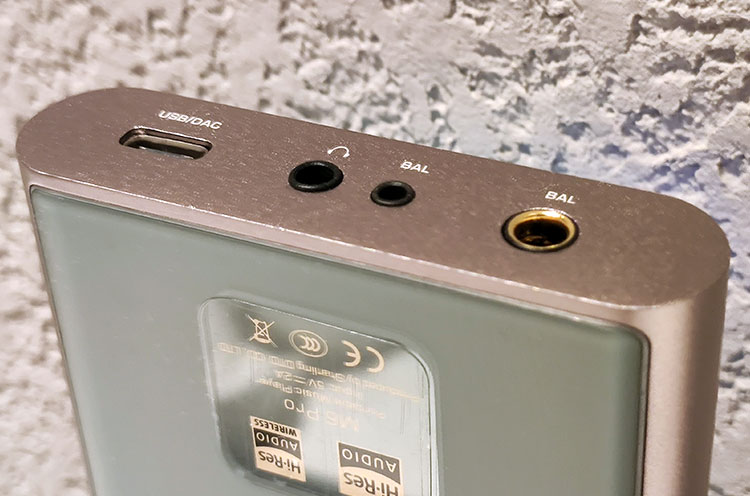 Amplification
Not only do we see the change in the decoding chipset, but the new design delivers an amplification upgrade on the OP+BUF stage as well. We have the new OPA 2211 as a Low pass filter and the JFET ADA4610-2 + Texas Instruments 634A for the OP+BUF stage.
On paper, this means the M6 Pro 21 offers more raw power in the output stage, as high as 760mW@32ohm on the high gain setting using its balanced output.
The M6 Pro 21 achieves a 125dB S/N ratio on its 4.4mm output and enhanced THD+N figures measured 0.0005% only, with improved < 1-ohm output impedance.
This means you can pair very sensitive IEMs without worrying about noises or a dampened sound. With some very sensitive earphones or even planars, the dynamics are strong and there is good separation in the low-end.
Shanling has also showcased their use of 8 x Panasonic 220uF caps for filtering, and an SS1712 FPGA chipset for clock control. A low noise linear power supply system is integrated to supply clean power to the audio circuitry.
Shanling also stresses the importance of their LPF (Low pass filter) design which they claim to help achieve constant phase in all frequencies.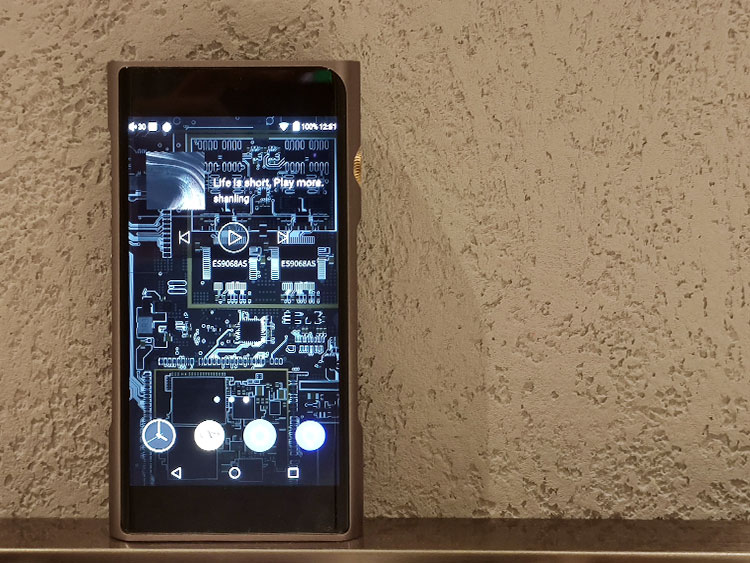 Design
Although relatively identical in the design flow and form factor, the new gold accent finish on the knob, the M6 Pro 21 adds an additional refined touch compared to the older M6 Pro. The design outline is otherwise very masculine but with some excellent machining work on the panels and corning.
Everything else is as impressive as on the original M6 Pro with cool curved glass, smooth rounded edges, and the roller wheel that doubles as the on/off button can be found as usual.
The full laminated screen is particularly mesmerizing, fitting seamlessly on the solid aluminum framework with no screws in plain sight. Turning to the back you will see the satin-finished, AG reinforced glass panel, that has a very premium feel to the touch.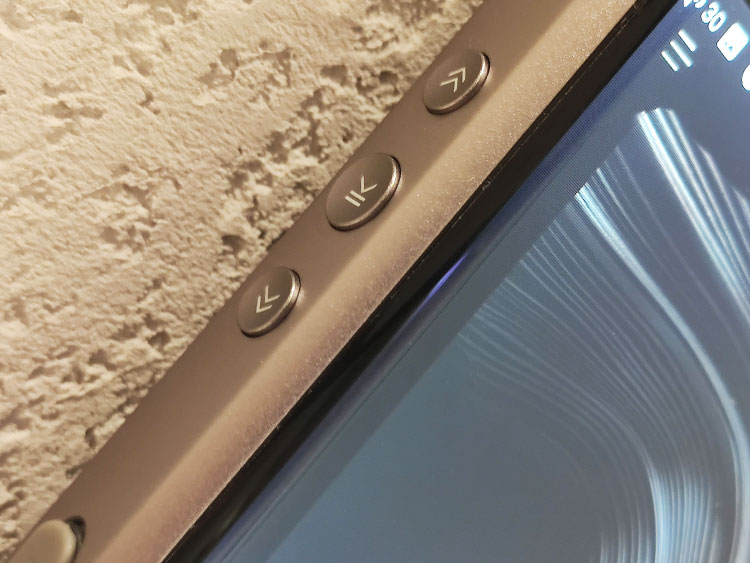 Controls
On the left side of the M6 Pro 21, there is a series of round control buttons. A micro SD card slot with a soft cover that does not require a pin to unlock sits on the lower side, quite a friendly feature that could prevent the card from jumping out. This will also let you quickly swap cards/eject the card and transfer files from a card reader.
On the bottom of the housing, you get a single USB-C port, and your analog outputs in both balanced with 2.5mm TRRS and 4.4 pentaconn as well as 3.5mm TRS SE, all spread out horizontally.
The volume wheel that doubles as the on/off button has a good tactile response and this subtly designed volume wheel should prevent accidental pressing.
Screen
The M6 Pro 21 has a similar front panel size to the iPhone SE at 4.7inch, 720p which is perfect for single-hand operation. The Sharp panel used can get quite bright, with a good pixel density that works clearly under sunlight along with its good contrast.
Scrolling is responsive on its oleophobic coated screen with enough RAM to make all music application runs smooth. The packaging comes with screen protectors to prevent scratches but if you want an even smoother or unobstructed experience, it is better to use the M6 Pro 21 without any screen protectors.
Battery
The M6 Pro 21 retains the same 4000mAh battery from the M6 Pro with QC3.0 quick charge support. With 3.5mm single-ended outputs connected and single DAC mode, you will have the flexibility to a lengthy playback time of up to 16 hours. On a balanced connection, the M6 Pro 21 will get you around 13 hours max on a single charge.
The dual DAC switchable mode is a very useful feature that can nearly double the battery life with a backup 3.5mm IEM. While I perform run-in with the M6 Pro I tried the different combinations and can confirm the battery life is lasting more than half a day using this combination!
With time-to-time app surfing, you can feel the battery draining faster in balanced mode. The drainage increases with external devices hooked up or with more graphically intensive apps.
Packaging & Accessories
The M6 Pro 21 comes in an impressive artistic retail box with a reflective sleeve embossed with a Shanling logo and the 'ver.21' badge in the corner.
On the sides, it prints the MQA logo, Hi-res certificates, HWA (Huawei's wireless transmission standard), LDAC, and aptX HD support. This suggests the player can be paired with Bluetooth dongles/receivers for higher resolution files playback. Airplay is also supported at 24BIT/48K so even Apple users can enjoy using it as a receiver.
Shanling has included a screen protector installation kit for the player which we went through earlier. With the curved screen, it is slightly harder than normal to get a bubble-free fit so do it slowly if you decide to add extra protection for the screen.
You will also find a USB cable inside the packaging for PC transfer and charging, nothing much in excess.
Click on page 2 for software and sound impressions