The Tin Hifi P2 is a second-generation 12mm planar magnetic driver closed-back universal IEM with a 6N OCC 2.5mm balanced cable. It is priced at $349.00
Disclaimer: This Tin HiFi P2 was a personal purchase but will be used also for the purposes of this review. We thank Tin Hifi for their continued service to the audiophile community.
To read more about our reviews of Tin Hifi products on Headfonics click here.
Note, this 2-page review follows our new scoring guidelines for 2021 which you can read up on here.
Tin HiFi P2
If you are looking for a timbre-realistic, and highly resolving IEM with an assertive mid-bass presence, the Tin HiFi P2 captures those sentiments remarkably well. However, unwanted treble peaks and their current-hungry transducers are quirks to be strongly considered.
Tin HiFi is no stranger to the portable audio world. Universally renowned for its affordable offerings such as the T4 and T2 Pro, Tin HiFi is strongly associated with its unrivaled price-to-performance ratio.
However, the Tin HiFi P2 is the company's halo product. Breaking from its traditional price-point of under $100 USD, the Tin HiFi P2 is the spiritual successor to the P1, its previous planar-magnetic release.
Pivoting away from its catalog of budget releases, the P2 is deliberately priced to compete with mid-range flagship IEMs in the saturated IEM marketplace. Unlike its younger sibling, Tin HiFi's engineers have vowed to take user feedback for the P1 into account, revisiting the drawing board to ensure the P2 succeeds the P1 in all aspects.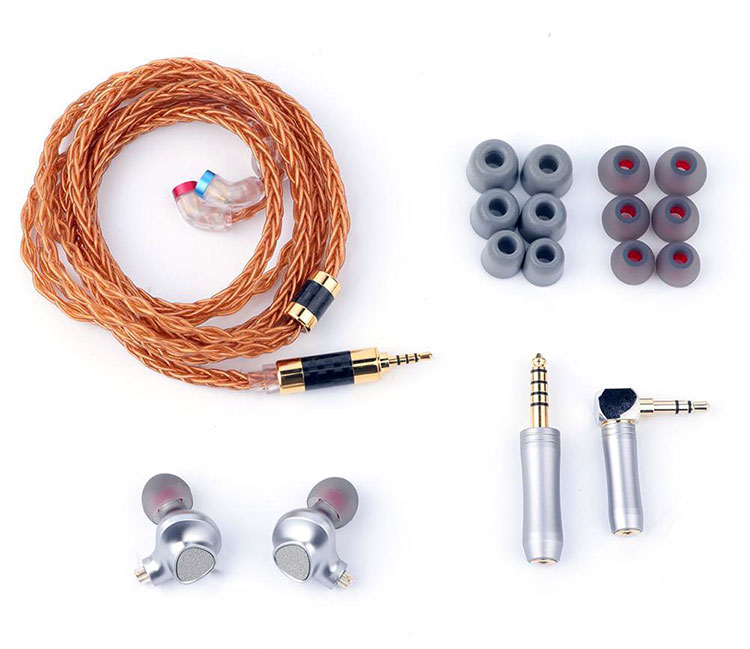 Tech Highlights
The Tin HiFi P2, like its previous sibling, features a miniature, planar-dynamic driver. However, the P2's drivers have been completely revised. Instead, it features a 2nd generation pair of 12mm-wide planar dynamic drivers.
Unlike traditional dynamic transducers, planar-magnetic drivers always strike me as being more resolving and speedier in terms of pace, rhythm, attack, and timing.
What it achieves in speed and detail, it might sacrifice in terms of efficiency. Planar-magnetic drivers require more current because of their sizeable magnetic array. At 32Ω, the P2 is an IEM that requires a potent source. In this aspect, it does not stray too far from their original formulation with the P1.
As the company's flagship product, Tin HiFi has included a 6N OCC, 8-braid cable which terminates with a 2.5mm balanced female jack. Listening to the impassioned feedback of its loyal customers, the ubiquitously adopted MMCX connection across its previous offerings has been duly replaced with recessed 2-pin CIEM connectors in the P2.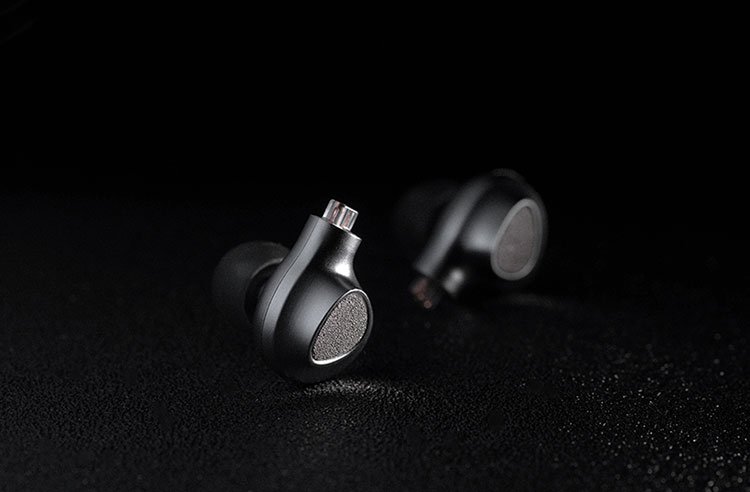 Design
At first sight, the P2's unorthodox design stands out well from its competitors. Foregoing the industry standard, hypoallergenic acrylic shells, Tin HiFi had settled for a satin-finished, stainless steel chassis.
The textured faceplate and the overall build inspires confidence in its long-term longevity. As someone that places tremendous emphasis on the build quality of my "everyday carry" arsenal, the Tin HiFi P2 is a product worthy of their flagship moniker.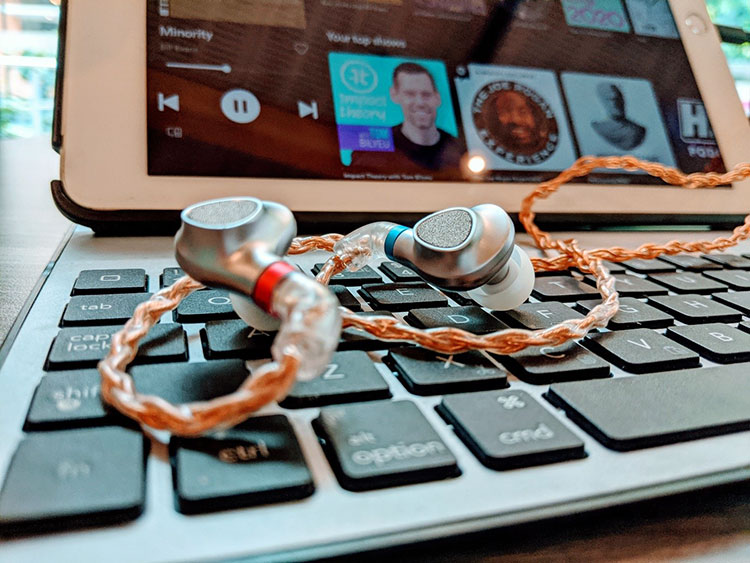 Stock Cable
The cable itself has a shimmery, burgundy finish as one would expect with OCC cables. In the middle, it features a carbon-fiber y-split with gold accents, and it terminates at a 2.5mm carbon-fiber balanced jack.
From a purely aesthetical perspective, I would have loved to have seen silver-accented hardware on the cable. The juxtaposition of the gold accents alongside the austere silver shells comes across as a bit garish.
However, the cable is easily malleable, barely retaining any kinks or bends. It avoids the dreaded problem of clumping into a tangled clump when stuffed into my pockets. Its luxurious fit and finish punch far above its price tag would.
Connectors
The P2 comes packaged with additional terminations to be used with balanced and unbalanced sources. From 4.4mm to 3.5mm connectors, all your standard audio bases are covered; there is no need to purchase after-market connectors.
This is a much-welcomed addition, sparing consumers the inconvenience of sourcing for alternative solutions.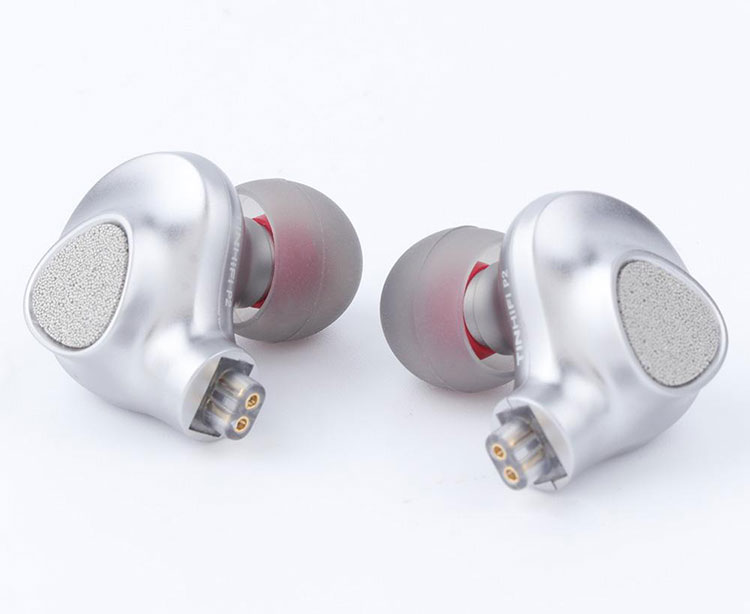 Comfort & Isolation
Initially, there were some concerns that its unorthodox shell shape and odd contours would not sit in my ears all that well. Thankfully, it is clear that Tin HiFi did not forsake ergonomics in favor of style. It sits snugly in my ear canal with a lightweight shell structure never caused any discomfort during long-listening sessions.
The cables are supple, never placing any unwanted stress on my outer-ear lobes. The medium-sized nozzles fit my ears fine when paired with the included medium-sized silicone ear-tips.
Isolation, as one would expect with an IEM with a pinhole-sized vent near its spouts, is not the most optimal vis-à-vis a standard balanced armature configuration. Additionally, it is susceptible to wind noise and microphonics, should the cable brush against your clothes.
Despite several caveats, the P2 ticks all the right boxes when it boils down to long-term comfort.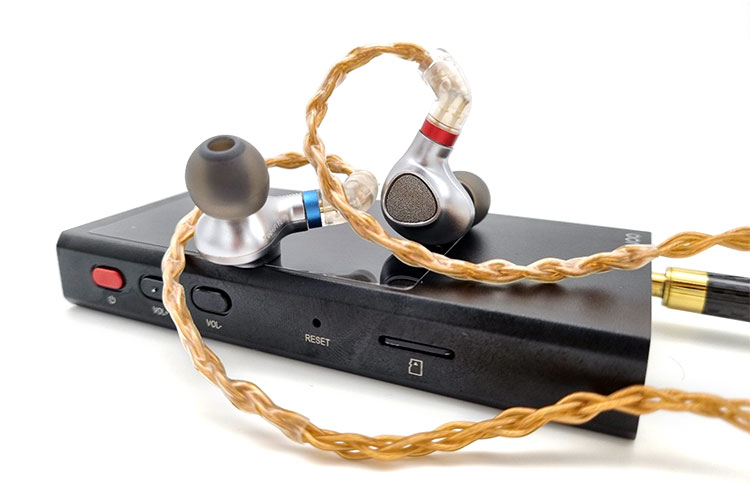 Sound Impressions
Summary
The Tin HiFi P2 carries a very dynamic and resolving sound signature, with a potent mid-bass slam and distinct treble.
Its presentation of sound is wholly unique, capturing the dynamic engagement of traditional dynamic drivers, and the resolving transients of a balanced armature. There is a prominent focus on the mid-to-lower midrange, and a recognizable planar bass slam akin to the Hifiman signature house sound.
However, there are some noticeable treble spikes and unwanted textures on tracks with prominent odd-harmonic focuses. On these off-chances, its timbre-production while hyper-realistic is diminished by these occasional hindrances.
I would describe the signature as a gentle V-to-L shaped, with the highs muted slightly to avoid the possibility of shrill highs and enervating resonances.
It is imperative to note, however, that the Tin HiFi P2 is the most power-hungry IEM I have ever had the privilege of reviewing. However, its heavy mechanical damping gives it ample room to achieve a substantial damping factor when paired with the right sources. In this case, its impedance rating is both a blessing and a curse.
Bass
The Tin HiFi P2's bass was the first segment of the frequency spectrum to capture my attention. As I alluded to earlier in the summary section, its low-end is full-bodied with an emphasis on a commanding mid-bass.
Sub-bass is proportionately dispensed in relation to its mid-bass. This is an energetic and engaging presentation that distances itself from a neutral tuning. Songs like Jessie Ware's Read my Lips are expertly presented with a dominant treble response contrasted by pulsating basslines.
Tonally, the P2's bass texture is a new experience for me. Perhaps it is the planar-magnetic drivers working their magic as opposed to other traditional, orthodox approaches to IEM design. Whatever the case, the P2's bass response is a stand-out characteristic that I can only associate with those new drivers.
Mids
Touching upon the points I had made earlier, the P2's mid-range is robust and incisive, but the upper-midrange is a tad more pronounced. The lower-mids, which serve as the bedrock of the entire mid-range, are placed a smidgen behind its upper-midrange. It is not immediately noticeable, so the disparity between both regions is not a major concern.
Because the P2 distributes the entire frequency spectrum to a singular planar-dynamic driver, the mids sound coherent and natural to my ear. It lacks the austere and dry representation of the midrange that balanced armatures are commonly associated with.
A consequence of that is its less resolving character. Reflexively, it surpasses the slower and draggier presentation of a standard dynamic driver. To conclude, its midrange is warm and full-bodied, without relinquishing sonic detail in the upper midrange.
Treble
The P1 was initially critiqued as flat sounding upon release. It seems that Tin HiFi has taken the portable audio community's feedback to heart. The alterations that were made favors a warmer sound without diving headfirst into "vinyl-like" territory.
While it remains an exciting and energetic presentation, the highs appear more reserved to avoid any room for screechiness. Although it is still given ample elbow room to breathe, it just does not extend quite as far as an IEM with a fairly linear frequency response, albeit close.
With poorly mastered tracks such as Coachwhips' 'You're Gonna Get it, the distorted melange of electric guitars never sounded overly harsh like nails on a chalkboard. For reference, it was erring closer to the side of being overzealous. However, it strides the lines of not being too smoothened out or being too clinically assertive. This is a delicate balance that is not struck easily.
Treble Character
The P2's treble is energetic, clean, and bold. I am quite a treble-sensitive listener, but the P2 carefully tows that line. I genuinely enjoyed its grittier sound which is balanced out by its splashy tonality. It aids in its dissipation of shrill "s" notes that carry a coarse, brittle quality.
Drum strikes, especially on the snare drum, are captured vividly with their snappy decay and assertive strikes. It is crystal clear to me that the P2 was designed to be consistently engaging across the entire frequency spectrum.
Consequentially, on bebop tracks, brass instruments such as the tenor saxophone's shrill character are exacerbated, with its signature "hot" peaks generating much more friction upon testing. It is worth noting that this characteristic only ever presents itself with poorly mastered recordings.
Staging
The P2's staging is significantly wide, spreading instruments and vocal positions across an expansive lateral plane. The test tracks that I have thrown at the P2 never sounded claustrophobic or closeted in. It is an out-of-head experience that is characteristically uncommon in the IEM market.
Its staging properties, however, sacrifices some intimacy for an expansive and grandiose presentation. On acoustic recordings, the P2's gargantuan width detracts from the simplicity of a standard singer-songwriter setup.
Reflexively, songs with complex, multi-layered arrangements shine on the P2's. Santa Esmeralda's 'Please don't Let Me be Misunderstood' is a behemoth of a recording that features an onslaught of instruments, propagating an unceasing wall of sound that challenges even the most technically proficient of transducers.
Here, the P2 does a notable job of capturing the sonic nuances in the track with its blaring guitars and rhythmic claps positioned accurately across the virtual stage.
Imaging is another one of the P2's strong suits. Audible cues are easily picked up on without much deliberation. Unfortunately, its mid-bass bloom occasionally derails vocals and instruments centered on the mid-range.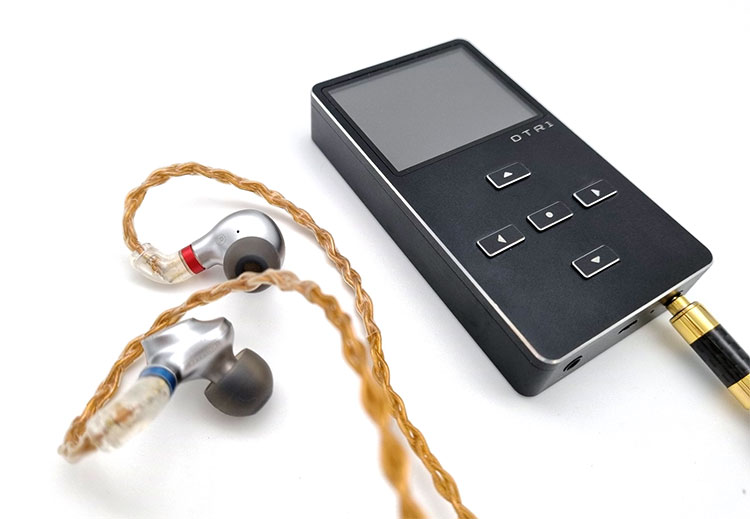 Synergy
Source dependency is highly volatile with the Tin HiFi P2. On sources with a weak output power rating, there is a clear veil across the entire frequency spectrum.
On the SE output of the Dethonray DTR-1, the voluminous power output of the DTR-1 exerts ample control over the P2's transducers. The bass response is taut, deft, and distortion-free.
Moreover, the DAP's inherently lush signature complements the energetic performance of the P2. Any grating transients in the treble region are cleaned up by the source's thicker and lower-mid focused sound.
With the balanced 2.5 mm output on the xDuoo X20, the stark changes between a single-ended output vis-à-vis a balanced output are easily noticed. The lower registers sound snappier, slightly more engaging and the mid-range sounds more transparent.
However, the xDuoo's house sound is slightly more upper-mid forward, favoring neutrality and clarity over the fullness of the DTR-1.
The SE out sounds characteristically similar as one would expect, apart from minute changes in the foreground. Background instruments sound less distinct, and the mid-bass response is a smidgen looser, but these are slight improvements that are difficult to pinpoint on casual listening sessions.
To surmise, the P2 scales considerably well with distinct sources, but it is an earphone that demands ample power for it to truly sing in the best of circumstances. Pair it with a weak source, such as a smartphone dongle, and you will be doing it a disservice.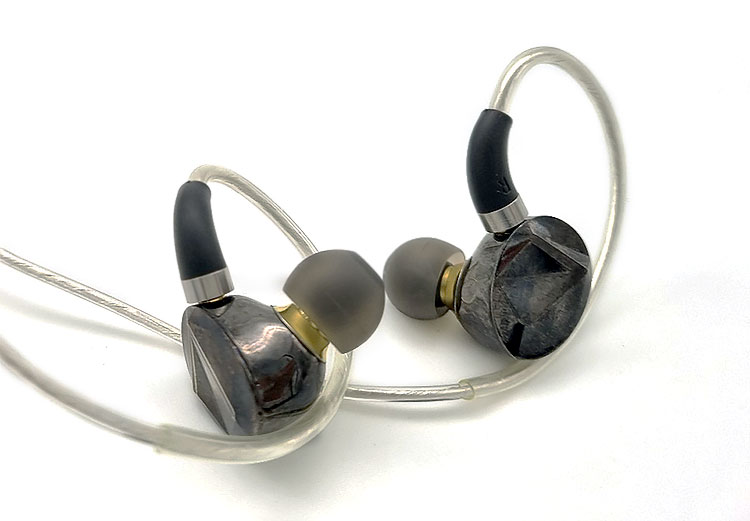 Select Comparisons
7hz i99
$480
Tech differences
The 7hz i99 is the titular debut of a relatively young brand in the chi-fi scene. Machined from a single block of aluminum, and its 13.88mm single beryllium-coated diamond-like carbon (DLC) dynamic drivers are fitting for a flagship release. Priced at more than 150 USD as compared to the Tin HiFi P2, this is the battle of the midrange, flagship single driver IEM's.
Tonality
There seems to be a confluence of tuning philosophies from each respective brand. The i99 comes across as energetic, unashamedly forward, with a voluptuous mid-bass punch that belies its sub-bass rumble.
Nevertheless, the i99 goes a few steps further, doubling down on the excitement factor. Because of its enthusiastic performance, timbre properties pertaining to both acoustic and electric instruments sound hollow, and unrealistic in its replication. The i99's emphatic approach to an engaging tuning differentiates itself from the P2's subdued one.
Bass
The i99's bass response is more vivacious than the P2. It retains its resolving and snappy decay without overstaying its welcome, but the mid-bass is denser and carries more explosive aplomb. I personally find it far too forward; the thicker wall of mid-bass does cloud the upper registers on a consistent basis.
The P2 again comes across as far more reserved. The P2 most certainly, cannot be described as a neutral IEM. But here, restraint was practiced, ensuring the bass response is tastefully calibrated without being too vanilla or staid.
Mids
Here, there is a clear variation to the formula. The i99's midrange is scooped out. The valley between the highs and mids is not strikingly deep; the midrange is still present, but it is positioned behind the entire mix. The remaining V-shaped frequency response is clearly oriented towards a consumer-friendly signature, one that complements modern R and B tracks.
On the other hand, the P2's midrange is fuller, deeper, and arguably more comprehensive in its approach. It is an "apples v oranges" approach to tuning. But I do value a prominent midrange as opposed to a V-shaped frequency response.
Highs
Airy, extended, and porous, the i99's high registers are given elbow room to extend beyond the periphery set by the P2. Sadly, its crystalline highs lack control, and its tonal traits come across as garish and screechy.
The i99 is impressive from a technical point of view, but potential does not always equate to applicatory success. The P2 adopts a safer route, and it succeeds in what it sought out to achieve.
Periodic Audio Carbon
$399
Tech differences
Dan Wiggins, the brains behind the Periodic Audio brand, is renowned in the portable audio industry for his company's ownership of an in-house vertical chain prior to releasing any IEM.
Utilizing frontier-pushing dynamic drivers, the Carbon (as its name implies), harnesses the power of a single diamond-like-carbon driver. Another fitting competitor in the single-driver IEM arena.
Tonality
Robust and rotund, the Carbon's bass response commandeers all the attention. Its syrupy and dense tonality can only be described as sweet-sounding.
As one would expect, the midrange has a sturdy foundation in the lower midrange, its highs concealed by its cascading bass production. The P2 appears balanced in opposition to the Carbon's cavernous sound.
Bass
The bass on the Carbon is extraordinarily powerful, for better or for worse. It appears that its diamond-like carbon transducers displace much more air, recreating a sub-woofer-like bass in a minuscule chamber.
The P2's bass response is unequivocally conservative, with much less aplomb across both the mid and sub-bass registers. The P2 is likely to appeal to a larger crowd, but the Carbon surely has its niche following.
Mids
As discussed earlier in the tonality section, the Carbon's midrange takes after its bass-response, insofar as having a rich, cloyingly sweet lower-mid floor that accentuates smoother notes.
It is surprisingly addictive in its intimate presentation, but it lacks the detail and finesse that the P2 has in its resolving and detailed mid-range. The P2 is more accommodating to a multitude of genres, being a jack-of-all-trades.
Highs
Unfortunately, the Carbon struggles because of its overall tonality. The carbon's signature simply blankets the highs in a mid-to-lower register veil. They are barely given space to flourish, lacking much-needed depth for it to project additional detail beyond its bodacious frequency response.
Conversely, the P2 high's strike an audible sweet spot, painstakingly avoiding any unwelcome peaks, while retaining enough of its sonic make-up to be considered realistic.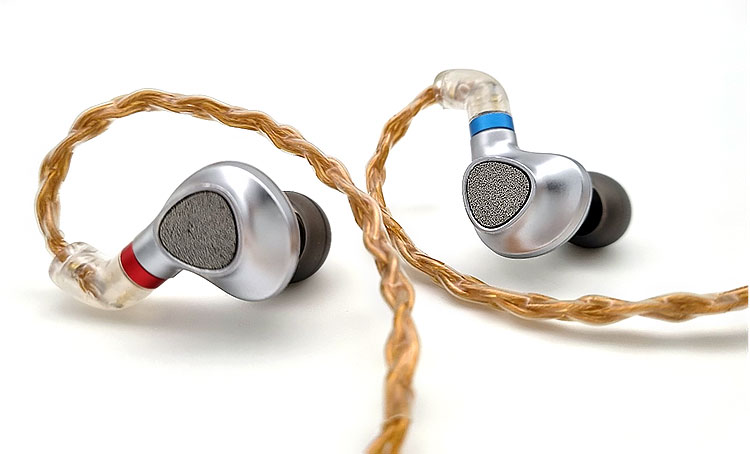 Our Verdict
The P2 is a harmonious expression of planar-magnetic technologies. Its close-to-neutral presentation, paired with its excellent lateral width and its precise imaging qualities makes the P2 an excellent sounding IEM.
Despite its insensitive and power-hungry arrangement, what could be achieved here when powered adequately is impressive. I commend Tin HiFi for its ambitious attempts at creating a wholly unique IEM that deviates from the status quo.
If you are currently searching for an IEM with a signature that oscillates between linearity and excitement, and an impressive out-of-head soundstage, I would strongly recommend that you set your sights on the Tin HiFi P2.
Tin HiFi P2 Technical Specifications
12mm planar magnetic driver
10-20KHz
32Ω±15%
Rated power 5mW
Max power 10mW
Max distortion 1%@1kHz 0.179v.
Gold-plated 2Pin connector
2.5mm gold-plated plug with carbon fiber tube