This is an in-depth review of the YULONG Aquila III, which is a 3rd generation desktop integrated DAC, balanced headphone amplifier, and pre-amp. It is priced at $999.
Disclaimer: This sample was sent to us in exchange for our honest opinion. We thank the team at YULONG and Awedyo Audio for giving us their support.
Click here to read more about YULONG Audio products we have previously featured on Headfonics.
Note, this review follows our current scoring guidelines which you can read up on in more detail here.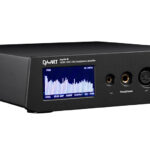 YULONG Aquila III
Even with a price increase, the YULONG Aquila III counters the additional money invested over the previous model with superb sound characteristics and a Class-A headphone amplifier. Usability and functionality are straightforward and easy.
Pros
Two distinct sound signatures
I/O options for most of your needs
Pairs well with IEMS and headphones
Cons
Design may not be for all
Sub-menu lettering is too small
Could use more power for high-impedance headphones
YULONG has a history of producing quality headphone amplifiers at a reasonable price and we have reviewed two previous models.
The first was the higher-priced Class A integrated DAC/Amp, the DA10 in 2019, and the second was the previous iteration, the YULONG DA-ART Aquila II in 2020. These compete nicely in the market and the company has developed a devoted following as a result.
Marcus summarized the Aquila II stating, "The value proposition of the Aquila II at $700 is excellent, in all honesty. You get a modern DAC implementation, two qualitatively different sound signatures, a heck of a powerful headphone amp, and the ability to preamp or pure DAC out to an analog amplifier of your choice."
With some internal changes, the Aquila III presents an interesting upgrade to an already worthwhile product.
Tech Highlights
Digital
The Aquila III comes packaged with YULONG's new 5th-generation Jitter and Interface Control system (JIC).
It also has a proprietary USB interface based on their ARM+FPGA architectures with AK4191+AK4499EX chipset, which enables decoding up to class-leading levels, including PCM1536Khz and DSD 1024 files.
Dual clock modes (similar to the ASRC and SYNC modes on the Aquila II, labeled Clock-1 and Clock-2) allow for two signatures along with three different filter options (short, sharp, slow).
Amplification
The Aquila III uses a DC-coupled Class A design that can operate as a preamp or a dedicated headphone amplifier.
It has a single-ended dual RCA and a 3-pin XLR (analog) output to the rear along with balanced 4.4mm, 4-pin XLR, and a 6.35mm single-ended output on the front. Built-in gain control is again left out, leaving you with the détente of a 99-step volume control knob for adjustment.
Power provides up to 4W (32Ω, balanced) and 1w (32Ω, single-ended). An output impedance of less than 1 ohm makes for a black background. The Aquila III had no issues driving any of the headphones, speakers, or IEMs used.
The stronger pre-out is ideal with items such as powered speakers, (Edifier R1280T in my case). Volume is adjustable via both the speaker and the Aquila III.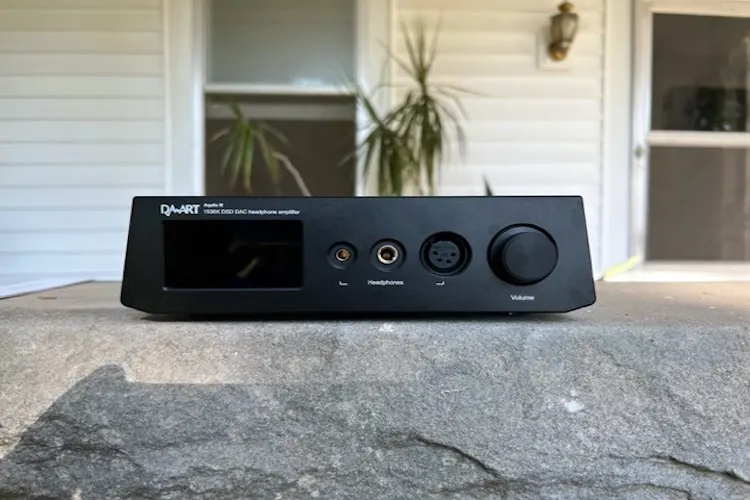 Design
Similar in design to the Aquila II, the combination of isosceles trapezoidal angles has grown on me. I was not a fan of the Aquila III design at first, but having the exposure to two different models, makes me appreciate the lack of a "simple black box."
With good heft to it, (4 kg), the Aquila III can hold a place on your desk without embarrassment. The vast majority of the display on the front left side features a spectral analyzer.
Four menu options (input, output, filter in use, and clock in use) lie below, which can be easily accessed by pushing the volume knob, highlighting the chosen menu.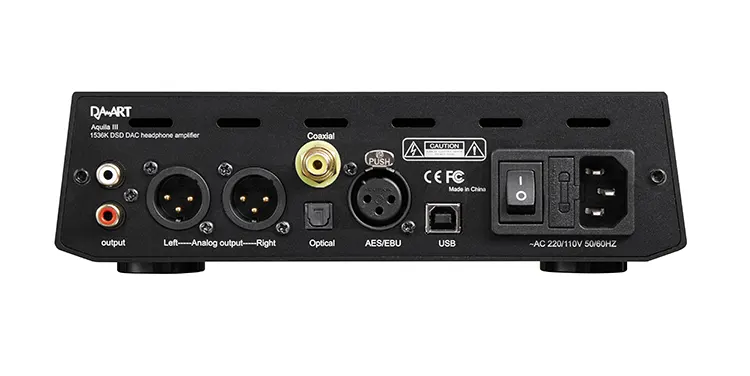 I/O
The Aquila III rear is identical to the Aquila II, with analog outputs for RCA and XLR to the left, optical and coax in the center; and AES/EBU along with USB-B to the right, respectively. Still missing is a 3.5mm input, which might make the Aquila III more adaptable to a DAP.
To the far right is the 220/110v AC socket, which is connected to a multi-stage independently regulated power supply from the two toroidal transformers, which have low noise regulators inside the main chassis.
The Aquila III power switch is still nestled within the same frame as the fuse and power cord connection. Fuses are user-accessible, for people living in a region who might have power surges.
The front panel gives the user a smart, efficient look with the display taking approximately 3/8ths of the whole. The spectral analyzer shows above the input, output, filter, and clock features, which are the four sub-menu options available.
The volume knob on the right balances the look, doubling as the "function key" for the sub-menus when pressed. Once in the menus, turning the volume knob changes the accessed function.
No remote is included with the Aquila III. You must either use your source for play/pause or turn the volume knob to access the functions mentioned above and volume.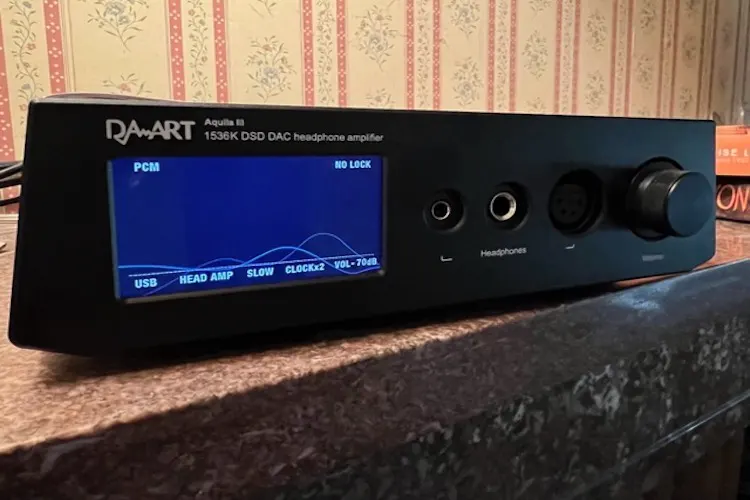 USB-DAC Mode
The Aquila III can be used to bypass the onboard DAC of your source if needed, by switching via the second setting on the screen (least processed option). *Note: Volume is maximized in this setting, with a note on the screen stating so. Please make sure your source volume is lowered accordingly before play.
Onboard Digital Filters
Three filter options remain (short, sharp, and slow; compared to phase, sharp, and slow of the Aquila II):
Short
Faster decay coupled with a slightly more analytical presentation showcases the AK chipset. Classical music comes to mind when using this filter. Bursts are curtailed to present that analytical response. A bit of treble accentuation occurs as well.
Sharp
Representing a flat response, sharp is recommended for general-purpose use. YULONG describes this as suitable for most genres and is essentially the equivalent of a fast roll-off or linear phase filter as described by the AK. Mids seem to be a bit more forward in presentation as well, with a bit of hollowness to them.
Slow
A gentle rolling-off on the high-frequency results in a more laid-back presentation. Recommended for music, which benefits from a smoother presentation and is the equivalent of a slow roll-off, linear phase filter in the AK description. The bass is more forward, with a good reverb to the presentation.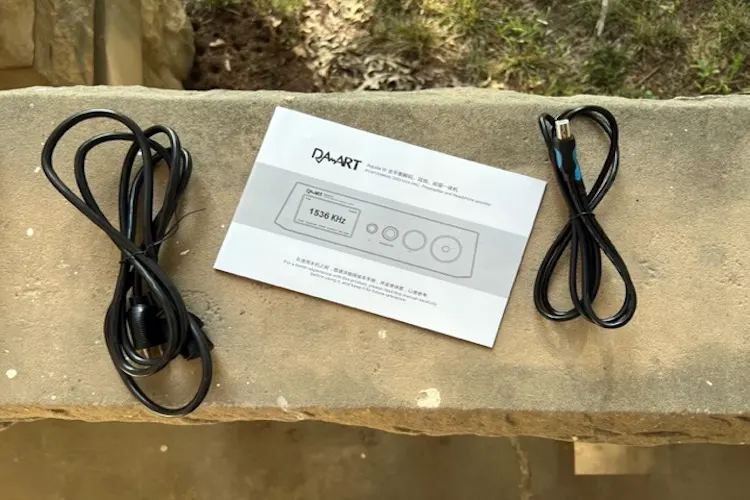 Packaging & Accessories
Included with the Aquila III is a power cord, with an external AC power source (minimizing internal interference), a USB-B to USB-A wire, and a detailed instruction manual.
Sound Impressions
Testing of the Aquila III sound quality was done using the Meze 99 Classics, Ultimate Ears Live (custom, with Null Audio Symphonym – Tiburon MKIII 8-core 4.4mm balanced cable), Edifier R1280T (for pre-amp usage), Audeze LCD-3 (w/ LQi XLR balanced cable), and a MacBook Pro as the source.
Summary
Two distinct sound signatures emanate from the Aquila III matching the literature-cited Clock-1 (YULONG JIC, lower oversampling rate with a punchy, more analog sound) and Clock-2 (AK4499, with default sampling mode promoting "outstanding resolution and details"). Clock preference changed with headphones/IEMs used in my tests.
Clock-1
Aquila III's Clock-1 promotes a more neutral and natural sound, which is the aim of most DAC/Amps on the market. Coming across with a slight mid-forward push, detail comes across succinctly and with accuracy.
There is a certain amount of reverb associated with Clock-1 as well, which can be discerned in some listening sources better than others. The liveliness of the sound permeates the tonality, making for good accuracy and placement.
Brighter with more detail, Clock-1 represents an accurate response to the source material, whereas Clock-2 adds a touch of warmth.
Clock-1 Timbre
Neutral with better detail than Clock-2 highlights a large part of the difference, with greater accuracy to the notes, with regard to clarity and detail. Accuracy comes across as markedly better, giving a slight thinning of notes.
That accuracy carries across both instrumentation and vocal presentation, with male vocals pushed forward and up compared to female voices. Excellent detail comes forth in both vocal presentations. Female vocals come across as more vivid as well (much like the Aquila II).
That vivid response of female vocals and percussive instruments can be attributed to the push forward of the mids. Testing found that the push carried into the upper mids, and lower treble, forcing me to lower the volume on some songs.
Their presence was excellent, with a sense of "in-person performance" coming across. Attack is better here, aiding in a detailed clarity of notes in songs.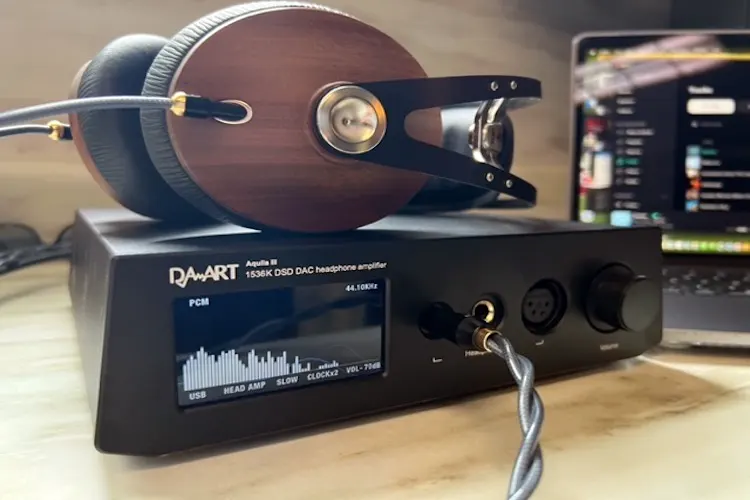 Clock-2
The Aquila III's Clock-2 carries good resolution, with more punch down low and up top than Clock-1. Presence provides a thicker sound, with more depth to the notes than Clock-1.
Especially with sensitive IEMs or accurate headphones such as the 99 Classics, but with less authority in the upper mids and treble regions. Somewhat less neutral and natural as a result, which can be attributed to the performance of the AK chipset.
Clock-2 Timbre
Preferred for brighter-sounding listening sources, the Aquila III Clock-2 tended to "tame" vibrancy a bit, while still promoting good detail. The body of the notes tended towards the thicker sound mentioned above.
The complexity of songs showed a more lingering effect, with decay adding length to the notes, which could cause some loss in detail as a result. Density increased, which could lead to a less accurate naturalness to the song.
Those wishing for a thicker, slightly less detailed sound will prefer Clock-2, while Clock-1 presents a more accurate assessment of the song.
Staging & Dynamics
The Aquila III soundstage comes across as wider and higher with Clock-1, while depth is better on Clock-2 (aided by the slower decay of notes). The wider and higher stage of Clock-1 presents an airier, but still accurate sound, regardless of the listening source.
On the UE Live, Clock-1 gives a sensation of excellent detail, without losing depth. Clock-2 comes across as thicker yes, but as a result, less engaging due to a narrowing of the stage.
More accurate listening sources benefitted from the expanse of Clock-1 such as the UE Live, while headphones such as the LCD-3 came across as more engaging on Clock-2, using the same songs.
Both worked well on either Clock setting, but matching the tonal characteristics of the IEM or headphone allowed each to shine.
Accuracy of instrumentation became an afterthought with the Aquila III since the neutral signature gave spatial awareness as well as an accurate placing of the instruments across the 3D spectrum. The placing of instruments and vocals within the song could be discerned easily as a result.
Click on page 2 below for our recommended pairings and selected comparisons.