Today, we review the SMSL H300, which is a balanced-design desktop headphone and a pre-out amplifier capable of up to 5w into a 32Ω load. It is priced at $295.99.
Disclaimer: This sample was sent to us for our honest opinion. Headfonics is an independent website with no affiliate links or partnerships. We thank Shenzhen Audio and SMSL for their support.
Click here to learn more about SMSL products that we have previously featured on Headfonics.
Note, that this article follows our latest scoring guidelines which you can find in more detail here.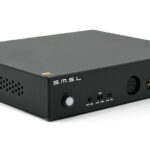 SMSL H300
With a 10W power reserve and a built-in three-level gain to couple with a wide range of gears, it makes sense to think of the SMSL H300 as a long-term desktop upgrade. Its wide selection of IO also covers most of the common cables and interconnects used in the industry so no one will feel left out.
Pros
Plenty of power and headroom
Wide three-level gain jump
Can be used as a pre-amp
Cons
Can sound stiff and shouty on poor pairings
Delineation gets hindered by dampened bite
SMSL has a penchant for releasing DACs that are absent of a paired amp. Well, that's until they finally decide to release one. On rare occasions like the HO100 and DO100, there is no waiting game, but to those who haven't caught on yet, the H300 has a match and it is already a few years late in joining it.
I don't have a sample unit of the D300 so I won't be able to confirm the flavor of two together. I wish I could have tried it though more so because the D300 is not your typical converter box.
A sort of gamble on the part of SMSL, the headline is the Rohm BD34301EKV chip inside which deviates from the sea of AKM and ESS stuff we see today.
For those who won't be pairing it with a D300 though, it needs to keep itself abreast of the competition aside from simply having a tempting price point. I'll see if the motivating raw numbers first defining the H300 on paper translate into something substantial.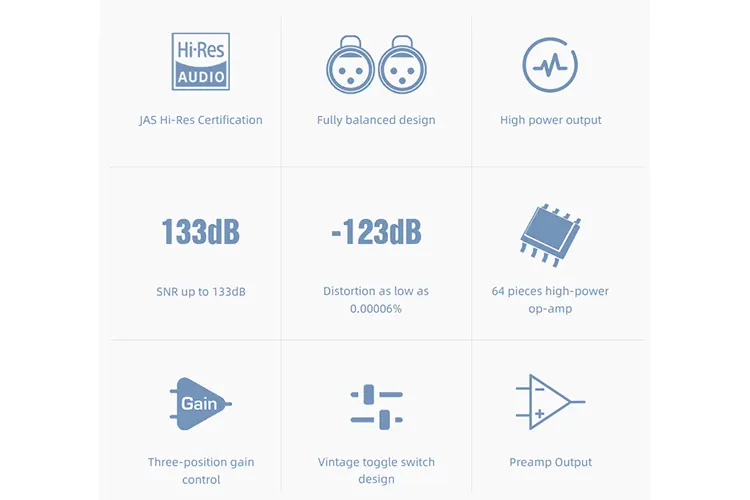 Tech Highlights
With no superfluous plot aside from being a technically performing amplifier box, the H300 concentrates on honing the essentials often associated with one.
Yet as far as compatibility is concerned, the multiple balanced ports it is designed around imply that it doesn't simply look like a tank, there is actual muscle backing it up.
In a fully balanced configuration, two independent amplifier is essentially running at the same time isolating the left and right channels. Each side can produce up to 10W of power and a very low distortion of 0.00006%.
The maximum power though is measured for 16Ω loads dropping to 5W at 32Ω. SMSL didn't share the output wattage of the H300 when paired with higher impedance loads.
Output power figures may be curtailed but what is certain is that SMSL thought about end users and the wide variety of gears they may use. The gain switch in front of the H300 proves just that as the three levels attune it for most IEMs and headphones.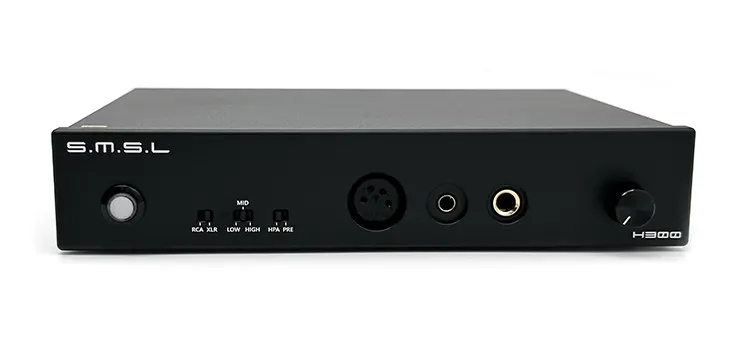 Design
Even though the front plate of the H300 is trying to look up-to-date, I'm still getting a brusque feeling concerning it as I knock around its folded sheet metal casing. It reminds me of a witty picture I've seen somewhere about a man looking sharp in a suit while his backside exposes a more candid story.
Planting itself on the table, the H300 is quite dense at 1.23kg. This is not at all a fault since it supports the grippy rubber feet in preventing unwanted movement while plugging and unplugging cables.
I think most of you will notice that the volume wheel is quite small compared to how wide and chunky the H300 is. It bothered me in the beginning as well since I would prefer if it could have been a little bit bigger.
Where it gains my attention though is in how firm it glides and stops at any point with almost no play.
The analog toggles in front of the H300 are neat and I like it visually over the silver ones SMSL has been using in their other amplifiers like the HO300. Having a short tip and travel though makes it a bit more awkward to use. I sometimes overshoot when selecting between the three gain levels.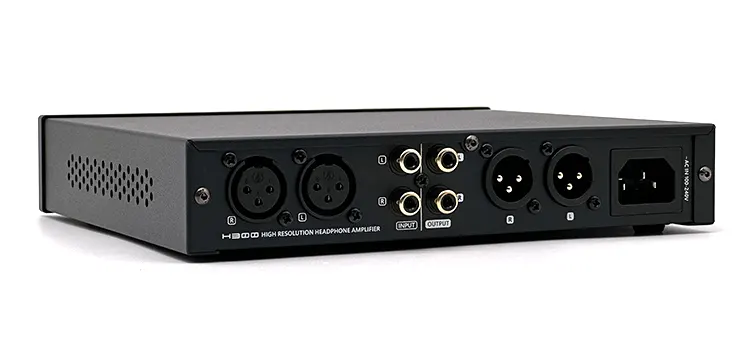 I/O
There are two sets each of full-sized 3-pin XLR and RCA ports flanking the tail section of the H300.
Neatly split in the middle, there is a clear line and label indicating which one is reserved for taking input signals from downstream components and which is directed outbound when undertaking pre-amp duties.
For personal listening jobs, the H300 has an excellent range of output options available. SMSL thoughtfully installed the H300 with 4.4mm and 4-pin XLR headphone outputs to cover most types of balanced cables, together with a 6.35mm interface for single-ended users.
There is no adaptor included for 3.5mm cables so you may need to buy or look for one if this is the case.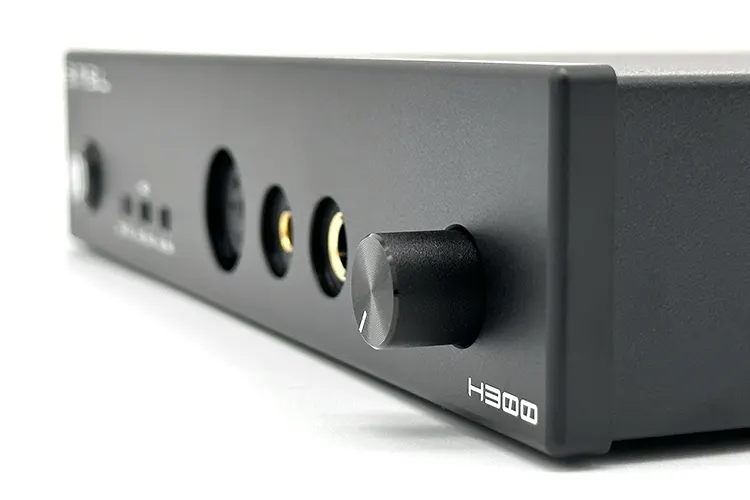 Controls
The power button and volume wheel placed on opposing ends of the H300 is straightforward enough so I wouldn't worry about it too much. Just plug the unit in and a relay click will signal that the H300 is now on standby.
The leftmost toggle that's right next to the power button on the H300 is actually for manually selecting between the available input options. No, it's not designed to operate between the two rear outputs even though they are of the same mix of ports.
Aside from the pre-amp outputs, the headphone jacks as well are all active when enabled allowing simultaneous listening if you ever find a need for it.
Of course, you'll have to set first the H300 to either push power to the front or rear by moving the rightmost switch to the correct position. This feature at least cuts the stress on the circuitry by completely shutting the other end of the system off until needed.
Lastly, sitting in between the input and output control, the three-level gain selector is meant to widen the range of gears the H300 can handle. Be careful though since the jump in loudness is significant enough that going to a higher gain even caught me by surprise when I forgot to attenuate the volume.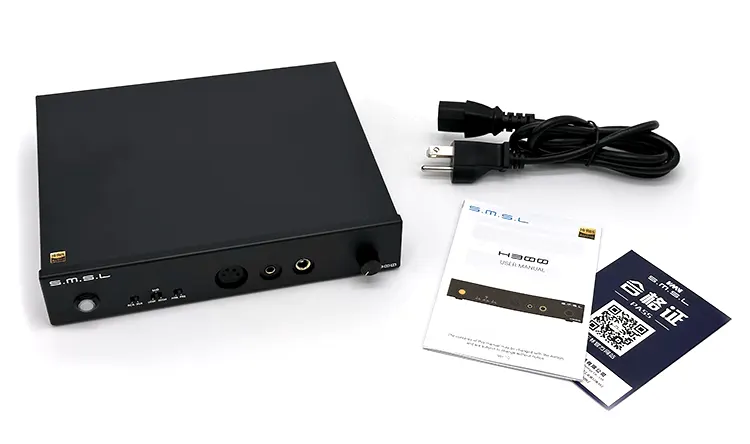 Packaging & Accessories
As straightforward as they come, there's not much to admire or look at while unboxing the H300. Wearing the same unpretentious white box that matches the outfit of basically any other SMSL gear ever made, the invitation is to go ahead and check out the contents.
Aside from the H300 protected on one side by a thin sheet of plastic, there's only the manual and power cable left that's joining it. The included power cable is not very long which could be slightly inconvenient for those with outlets far from their desk.
Having been reminded of the fact that this is an amplifier review we're talking about, the short list of accessories didn't upset me. Sure, some notable brands include additional goodies like RCA cables but not having one is a good prompt to buy the exact quality and length you want.
Sound Impressions
The following impressions were created using a mix of the Audio Technica ATH-ADX5000 and the Thieaudio Wraith headphones with the Burson Conductor 3 Reference and the SU-9 Pro DACs.
Summary
I liked how punchy and elaborate the delivery of the H300 is with kick drums and synths. While I do think it is a bit on the smoother side treating a delineated edge with shallow bite, the warmish body gets dressed in a lasting sub-bass that constructs a feeling of grandeur.
The refreshing energy of the low-end may be steadfast but it doesn't abuse its authority. It knows to add confidence to the thump but in a way that remains collected.
Growing lighter on the pitch, stringed instruments get more serious. But followed by a diffusive air, guitars do not feel aggressive even when brought forward.
The H300 indicates a simple disposition to pianos touching it very lightly with a silky twang for easy picking of genre. With the songs that I listened to, the H300 showed confidence in pulling information on quiet parts.
Climbing up to the upper midrange though may need more attentiveness to gear matching since it can be a bit shouty. The center image for singers is solid but depth is more utilized by calmer singers as they tend to space out better.
Riffs are a bit tense at times depending on how busy the track is. On the other hand, cymbals get a light and airy timbre filled with refined texture.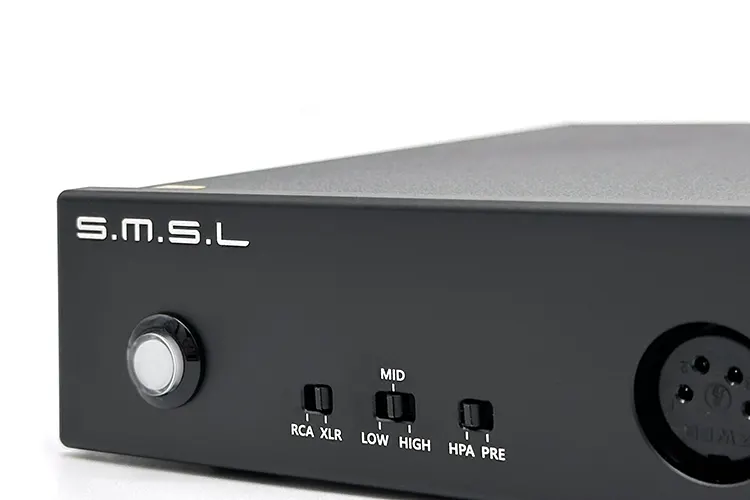 Staging & Dynamics
It's easy to endorse the H300 as a wide staging amplifier projecting distant objects without much effort and excellent dynamic range through the tested headphones.
The origin of the sound is solid and distinctly placed, but the fluctuating degrees of size and energy affect the effort of the H300 in creating an accurate instrument positioning.
The H300 performed live songs in a life-like manner. The layering of a cheering crowd was distributed within the stage enveloping me with sensational tension. It did separation quite splendidly, especially on the treblier images.
Click on page 2 below for our recommended pairings and selected comparisons.