The Yulong DA10 is an all-in-one desktop pure DAC, preamp, and balanced headphone amplifier featuring an AK4497 DAC and up to 3W of output power.
Disclaimer: The Yulong DA10 sent to us is a sample in exchange for our honest opinion. We thank the team at Yulong and Shenzhen Audio for giving us this opportunity.
To read more about desktop DAC products we have reviewed on Headfonics click here. For solid-state desktop amplifiers reviewed, click here.
Note, this 2-page review follows our latest scoring guidelines which you can read up on here.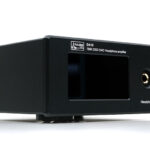 Yulong DA10
The integrated balanced headphone amp on the Yulong DA10 has more than enough power and a good level of transparency for modern and classic headphones, both low and high in impedance, to sound very good indeed.
To know Yulong is to also know Shenzhen Audio. Both Headfonics and Shenzhen Audio with the big boss, Tony Wang, go back a lot longer than you think in terms of working together. In actual fact, the Bravo Ocean budget tube hybrids in 2012 were our first collaboration nearly 7 years ago.
Since then, Tony and the team at Shenzhen Audio have expanded not only their portfolio to include the likes of Yulong but also put on a more aggressive marketing front in terms of trade show presence, most notably at CanJam Shanghai in 2018 and CanJam Singapore 2019.
They brought a lot of top-quality brand Chinese Hifi names with them also including Shenzhen Yulong Electronics Co., Ltd which have been around since 2009.
That was the first time in 7 years I have met Tony and the first time I bumped into the Yulong team. Definitely, a moment to savior when you convert the virtual into the physical and get to meet the people behind the brands.
Positioning
The main topic of our first-time meet was their new $1200 DA10 desktop DAC and balanced amplifier combo.
Of course, with a 10 you would presume there was a 9 and yes, Yulong does have a DA9 predecessor. The DA10 aims to improve upon the DA9 though sadly we do not have one here to test and compare. This is also their flagship DAC/Amp as far as I am aware.
From talking with Yulong, we do know the DAC chip, the AKM AK4497 has not changed, however, components such as their FPGA, FIFO digital signal buffer, and a PLL clock featuring Femto crystal for reduced jitter have all been implemented or upgraded. Clearly, the design has also been given a bit of an overhaul also.
Purposing
However, the main purpose of the DA10 remains the same as before. This is a desktop all-in-one solution that can do quite a number of things as follows:
Operate as a pure DAC and output both balanced and unbalanced to analog amps, (stereo integrated, receiver or dedicated headphone, etc.)
Operate as a pre-amp in balanced or unbalanced format and integrate into either a Hifi setup or a dedicated headphone amp
Act as an integrated all-in-one DAC and headphone amplifier with balanced and unbalanced output.
For the record, the DA10 does not provide any wireless connectivity such as you would find on the now discontinued Oppo Sonica DAC though it can certainly connect to most streaming sources that will output a digital signal via USB, coaxial, or optical.
Design
Form Factor
The DA10 design has that classic rectangular box visual which is perfect really for any easy internal assembly but it will not win any awards for its aesthetic originality. 'Understated' here is an understatement but then again, those fairly compact dimensions mean the DA10 will not hog a lot of space or stick out like a sore thumb in any system setup.
Industrial but discreet, (especially in black), is the lingering feeling here with a set of 4 claw-style stabilizing feet on the base to hold it in place and discreet venting to the rear.
And compact it is at just 248mm x 210mm x 60mm. This is a considerably smaller component than the Oppo Sonica DAC which is just a pure DAC, never mind the headphone amplification. It is also a little bigger than the Cayin iDAC-6, (240mm x 252mm X 69mm).
However, all 3 pale in comparison to the diminutive Chord Qutest which is more or less in the same price bracket as the DA10, (pure DAC only).
Finishing
I have no issues at all with the build quality of the DA10. There is nothing thin or hollow-sounding when you knock on its solid aluminum chassis and you will not find any flex either when lifting it.
Screws and joints are invisible on all sides with the rear panel just slightly inset to protect the sockets from accidental knocks. Listed at 4kg its about right for this class of device.
If you want to brighten up the looks you can also order the DA10 in silver or a red finish.
Display
The monotone black visual is broken up on the front panel by a fairly expansive LCD visual display. Font size is good actually for the most part so you will find this panel fairly easy to read. I do actually prefer this to the slightly more spartan Oppo Sonica OLED and the simplistic Cayin iDAC-6 alternative. Certainly, much more user-friendly than the orb array of the Qutest.
The panel is pretty much your hub of data depending on the operating status you choose via the rotary dial which doubles up a pressure-sensitive functions selector. Certain options are changeable using the rotary dial such as the input method, (USB, coaxial, optical, and ABS), 3 digital filters and sounds on the bottom panel, and the output mode (DAC, preamp, and headamp).
The volume adjuster is disabled by default when in pure DAC mode. the DA10 operates a fixed-line voltage in pure DAC mode and the dB incremental is set to 0dB. The volume becomes 'live' once you move into preamp and headamp modes with a range of 99dB or 99 steps, (99-0dB).
Inputs & Outputs
Rear
The DA10 offers a pretty good selection of inputs and outputs with the only thing really missing being a 3.5mm line-in. To the rear, you will find all the digital inputs including USB, optical and coaxial, as well as single AES3 input.
These are all housed beside the switchable 220/11v AC socket which is connected to a fairly hefty Plitron toroidal transformer (50VA) inside the main chassis. Fuses are disposable on the DA10 which is a huge plus for me living in a region with power surges. You can simply swap them out if they blow.
To the far left you have a set of dual RCA unbalanced and 3-pin XLR balanced outputs for preamp duties.
Front
Aside from the LCD panel, the DA10 uses a rotary dial controlled analog PGA2311 for volume which also duals as a function/filter and source selector when pressed inwards. Analog does mean, however, that the housed amp channel balance might be a little off at very low levels with sensitive headgear.
In between the panel and volume dial are the two main headphone outputs in 6.35mm and 4-pin XLR format. A little closeup tells me Yulong is using Neutrik plugs for the female 3-pin XLR socket.
So what is missing from this package? A remote control. Boy, could the DA10 do with remote control for handy changing. Especially if it is part of a HiFi component setup and there is some distance between you and the DAC for preamp volume control or source selection.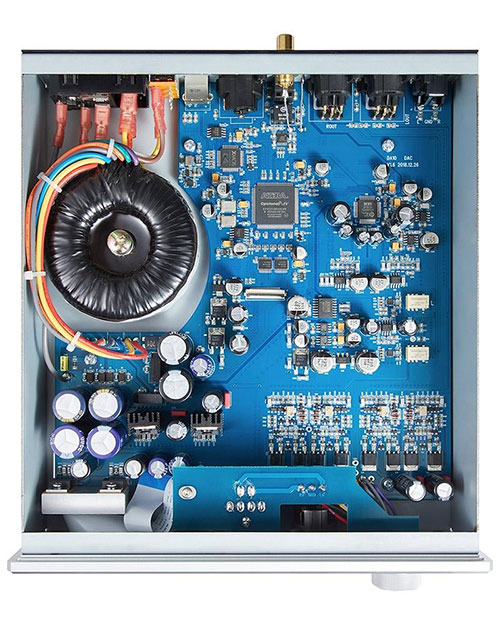 Internal Hardware
Chipsets
The DAC is unchanged from the DA9 as far as I can tell but it is still a pretty darn good chipset. This is a single channel AKM AK4497 but in combination with an upgraded XMOS XU208 input stage, the DA10 can now handle far higher decoding rates than the older DA9.
You can now natively decode up to DSD 512 and PCM768kHz via the DA10 whereas before the max was DSD256 and PCM384kHz on the DA9.
Outside of MQA, the DA10 will pretty much decode anything you throw at it from MP3 lossy to lossless SACD and DSD. To increase the accuracy of the digital signal decoding via the AKM chipset Yulong has also implemented a proprietary FPGA with a FIFO buffer, a low noise Femtosecond clock generator, and a PLL circuit before it hits the DAC.
Filters
Yulong has also allowed a number of the digital filters from the AK4497 to be user selectable on the DA10 including super slow, slow, and sharp. Yulong recommends slow or sharp for the most balanced performance with super slow delivering a high level of attenuation on its high-frequency response.
The 3 additional sound profiles remind me a little of the attempt by iBasso to introduce subtle sound profiling changes with their AKM AK4495EQ implementation on the DX120. Some AKM chips have that additional profile available to engineers but how successful the companies are at influencing the sound profile is debatable. For your reference, the modes are, (in order of 1,2,3):
Balanced
Analytical
Vocal presence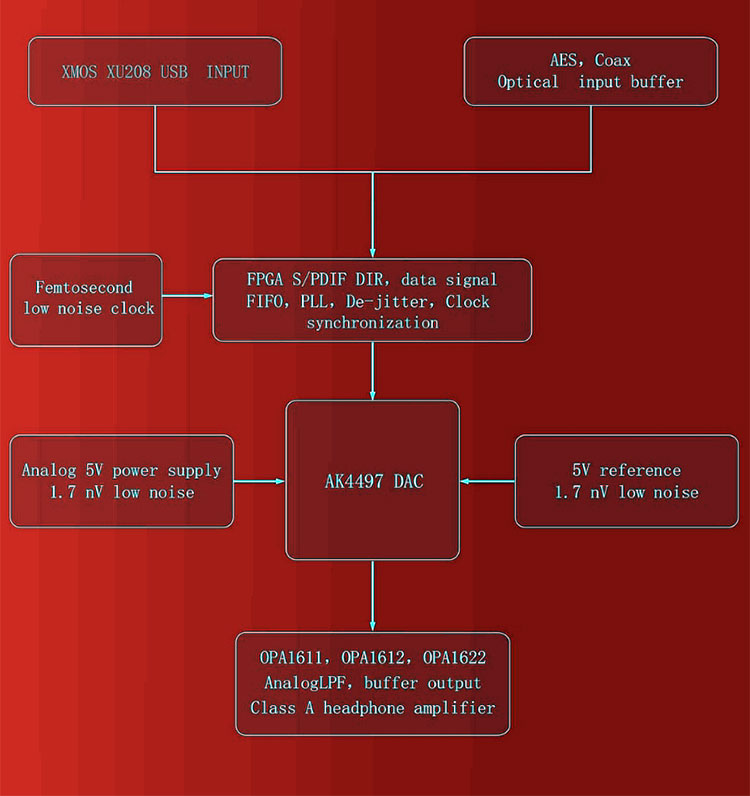 Numbers
Interestingly, there is no official change in the SNR (-130dB), dynamic range (125dB), and the THD+N (0.0003%) numbers when compared to the DA9. Compared to the Sonica DAC on paper this may well be a better performer in terms of SNR and dynamic range.
The Sonica measures at -120dB for SNR and 120DB for DR though I would be cautious on that given there are no weighting indications on the Yulong measurements.
Amp
The internal amp design is discreet, Class A, and can run balanced or unbalanced in preamp and headamp mode. The rated specs on the DA10 amp output for headphones on the balanced side is actually pretty powerful and should cover a wide range of demanding planar headphones that hover in and around the 50Ω marker.
On the single end, however, there might be a small deficit in power at 300Ω upwards with the DA10 rated at 230mW and at 600Ω it is rated at 110mW. I would advise going for the balanced output option which has much better numbers at up to 3W into 32Ω and 460mW into 300Ω.
Planar headphone users should be fine in either balanced at unbalanced given their lack of high impedance issues and a potential 2W into 32Ω unbalanced.
Click on Page 2 below for Sound Impressions & Comparisons