In French the term "savant" is derived from the French term 'savoir' or "to know" in English and is generally interpreted to mean "knowing" or knowing a lot about a particular subject. Given that Noble's Savant line is highly secretive of how many actual drivers are stuffed into their all new Wizard Savant line I thought the term was rather apt – The Wizard knows – but no one else. Now I am sure this base $599 new BA IEM from Noble will be eventually cracked open to reveal what is inside and the matter will be put to rest but that won't be me in this review I assure you. Instead I will go with the flow, probably guess a bit wrong because cracking open an IEM as sleek as this one is just plain wrong.
I had also considered the meaning of savant in medical terms to denote a person with a mental disability, such as an autism, demonstrating prodigious capacities or abilities far in excess of what would be considered normal. However, it doesn't seem a comfortable marketing semantic to apply to the Wizard line regardless of whether it punches above its weight or not so I went with the French term as my opening gambit.
My last encounter with a Noble IEM was the Classic 4 line and I thought it a perfect reviewers tool, a reference IEM sounding flat, neutral and though devoid of musicality could more than adequately display excellent detail and balance to wire right into the sound of something else like a DAP or amp. So when Noble said, 'hey try out the new Savant universal line', I couldn't help but notice that this time the description was quite different on the web site:
Perhaps the most subjectively balanced in-ear monitor Dr. John has designed thus far, Savant is a detail-oriented IEM with a solid low-end and clean highs. Savant is an expert at playing a large variety of genres well, making it a versatile addition to any collection or standalone piece.
I was taken by the term subjectively balanced and wondered what that could mean? Natural, flowing and not as neutral or flat as the Classic 4, especially with the solid low end and clean high description that sounded almost v-shaped. What about the mids guys? It turns out (page 2) that a lot of those elements in the Savant line were clear and present and definitely a step up on the Classic 4.
What You Get?
This time Noble have decided to upgrade the packaging experience particularly with the boxes both inside and out. Gone is the rather drab colored sleeve from the Classic 4 line and in comes and more integrated black box design with the logo clear and center on the top of the lid and "Wizard" to the side. Much better this time.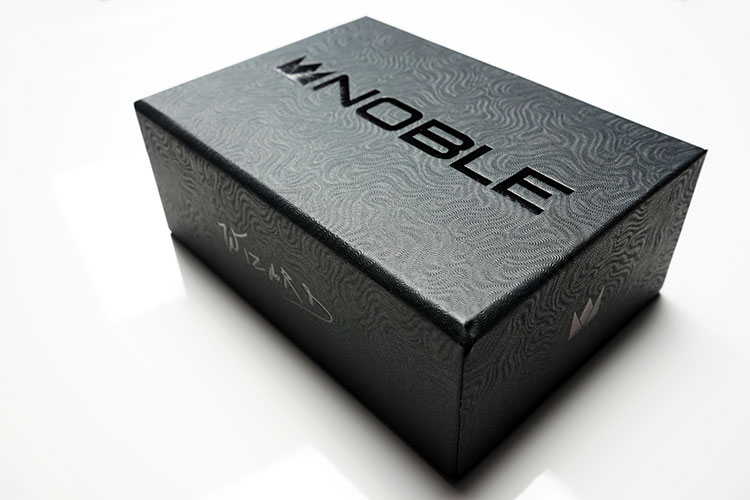 Open it up and the next change is the move from the smaller Otter Box type hard cases from the Classic 4 line and onto a much deeper and more elegant black Pelican 1010 case which offer a heck of a lot more room for your IEM's than before. Alongside the unit itself inside the 1010 case you also get an ear cleaning pick. a soft velvet cloth pouch should you wish to ditch the larger hard case and a plethora of differing tips, a few rubber straps, the warranty card and a few Noble stickers.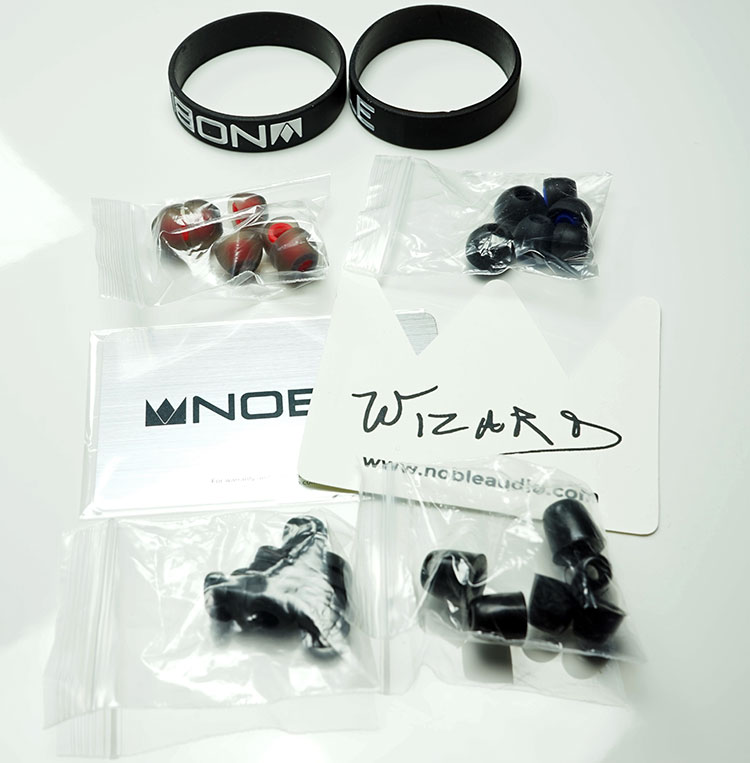 The selection of tips is excellent actually and I am pretty sure at least one type of material or size will fit your needs. I grabbed the smaller of the two double flange tips as my preferred option due to comfort and seal and as such the review is done with those in mind. For everyone else if these don't suit you can try the following:
1 set of hybrid red stem single bore silicone tips in small, medium and large
1 set of hybrid blue stem single bore tips in small, medium and large (differs with a slightly softer material to the red stem)
1 set of dual flange silicone tips in small, medium and large
1 set of foam tips in small, medium and large
Build
These guys build great customs and it's no surprise that the Savant, even in universal form, also has that same great build quality. Made from hardened plastics, the Savant has a medium to small sized form factor similar to the Classic 4 but just a tiny bit smaller and with a much smoother finish (the colored lot editions come in at $799). The standard edition is pretty much the same understated uniform black design of the Classic 4 with three slate pentalobe screws on prominent display to create more of an industrial feel than anything else.
Standard edition Savants also have a slightly raised bevel logo on the front plate whereas the Wizard Savants have a glossy colored and smooth face plate finish without the logo imprint. You can get the finishes in a number of differing colors such as blue, yellow etc but I am not sure it's going to be consistently the same colors. There may be room for experimentation that trickles down into the Wizard Savant range from the CIEMs later on.
The unit is a detachable unit with a traditional Westone style 2-prong connector and we do know it's a BA setup since the unit seems to lack any sort of bass port on the shell.
Fit & Isolation
One of the better ones out there in the market in terms of comfortable fit and superior isolation for a universal IEM. The techniques and knowhow from the customs business stands Noble in good stead as it slots right in and no messing about. Yes, the tips will play a role in the fit and for me the double flange gave the best balance in terms of seal and comfort and right behind the medium single bore red stem single tips. Isolation was excellent with minimal leakage and background noise creeping in. The over the ear fitting and noise cancellation was superior to all but the Westone series and produced better results than the RHA T series, the UM900s and even the IE800.
Cables
The Noble Wizard Savant utilizes a Westone 2 pin socket connection and looking at the cable it seems much the same as the stock cable from the Classic line and possibly from their CIEM line. The stock cable itself is a very pliable and flexible light over the ear cable with a matching colored memory tubing for steadying the unit around your ear and reducing microphonics to a minimum. The cable is a 4 cable braided construct with individual plastic wrapping with a rather basic plastic 'y split' tube and a second short tube for chin locking. It all works, microphonics are too a minimum, memory retention is zero and it's really comfortable to wear and light and soft enough to manipulate with ease. Cable swappers should feel right at home with the Wizard Savant.
Page 2: For Sound Impressions