Today, we review the Cypher Labs C6IEM, which is the company's latest high-end universal in-ear monitor using a 3-way driver configuration. It is priced at $599
Disclaimer: This is a sample sent to us in exchange for our honest opinion. Headfonics is an independent website with no affiliate links or status. We thank Cypher Labs for its support.
Click here to read more about Cypher Labs products we have previously featured on Headfonics.
Note, that this article follows our latest scoring guidelines which you can read here.
Cypher Labs C6IEM
The C6IEM from Cypher Labs definitely wears its heart on its sleeve. Dave and the team could easily have picked a vanilla-type sound signature that would probably hear little from in terms of pluses and negatives and a sense of Meh.
Cypher Labs have always had one eye on the new, the different, and the bleeding edge over the last few years but it is still surprising that a company known for cutting an advanced path into iOS and Android DAC-amping technology suddenly burst onto the scene this year with an IEM.
Not just a vanilla IEM, which is not the Cypher way, but a 3-way balanced armature IEM called the C6IEM that has custom monitor aspirational designs and is priced at a not insignificant $599.
This is an IEM that is more expensive than a few other 3-way and 4-way BA units out there and as such it is an IEM you really have to take quite seriously.
I guess there is an added advantage in being an amp/DAC manufacturer for reference tuning an IEM to match because I can see a lot of similarities in the sound of the C6IEM to some of their recent portable amplifier units.
Cypher Labs seem to be starting to carve out a distinct path in terms of where they want to go with tonality preference and in that respect their target audience also.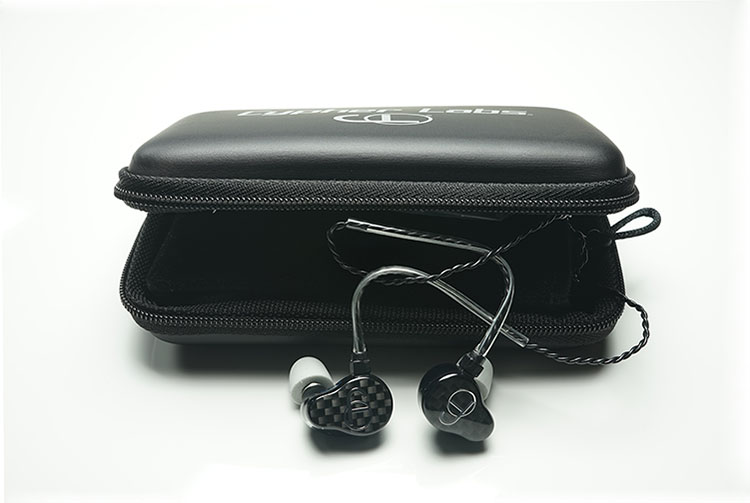 Design
The C6IEM is on the large side of BA IEMs, being about double the size of a Westone W4 or W50, and is contoured in a similar way to custom monitor demo units that I have experienced over the years.
The C6IEM is all in black with a slightly holographic carbon effect on the front plate of both the left and right. Carbon effects always work well on black for me and the C6IEM is no exception.
You would not find this design out of place on pricier custom monitors either. The front plate is finished in the Cypher Labs logo in a silver accent.
The nozzles are pointing slightly upwards as per normal in an over-the-ear design and lack the black paint finish. Instead, they are bare aluminum silver in color and material with a honeycomb wide filter at the top.
The shell itself is not really contoured as such for your ear. That would be kind of hard to achieve given their universal qualities. Instead, it is a common fit designed for the 'average ear' so it may not be a perfect fit for everyone.
That will also mean that the tips will play a more significant role in terms of seal and comfort. The shell itself though is of excellent quality with zero bubbles or discoloration.
Tips are inserted in the usual manner but I must admit the silicones are not that secure for me personally on my best fit the medium size. They tend to come off a little too easy in my hand. I am not sure if I just got a pair of loose tips or not but do watch out for that as they may come off in your hands. The foam tips are a bit more secure though so no issues there.
Comfort & Isolation
Given that the C6IEM is universal your mileage is going to vary as this one is down to personal taste and your ear shape as always. Being somewhat bigger than some of the other contoured over-the-ear units in the market such as the T10i from RHA and the Westone range I did feel both their weight and presence in my ear more than the others.
Roughly speaking they have the same weight and dimensions as the Heir Audio 8.0 and the Fidue A83 which I am well used to. The seal is about 80% of a custom fit, relatively comfortable with minimal adjusting to get the sweet spot in terms of seal and comfort.
They do tend to stick out a tiny bit more but not much more than the A83 and are a good deal more comfortable than the Fidue flagship.
As mentioned I preferred the silicone over the foamies. The foamies, as in all foams, have a tendency to irritate my ear so I usually prefer flange silicone or single-bore tips. I would say overall the seal and isolation were on par with the UE900 universal monitor but slightly behind the Westones.
Stock Cable
You will not find any igadget remote devices on this cable thankfully. This is a custom behind-the-ear cable finished in a 3.5mm gold-plated right-angled jack with a fairly heavy-duty strain resistor rubber finish around the jack.
The over-ear part has a transparent memory sheath for easy manipulation and contouring and is finished with a 2-prong recessed socket.
It looks relatively similar to many of the high-end stock custom cables I have received before from the likes of 1964EARS, Vision Ears, Rhines, etc but it does get one award as being possibly the most stubborn cable to remove from the socket since I started reviewing.
It is a detachable cable and with all detachable cables I am super curious to see how cable swapping might change the presentation on the C6IEM but such were the aches and pains I decided to leave it in there and review on stock and see if later I could get a bit luckier during testing.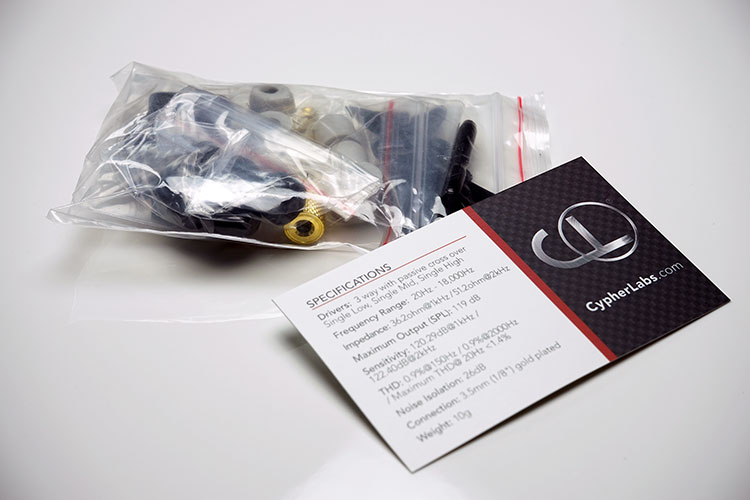 Packaging & Accesssories
I have to say much as I admire the choice of model for the box the design does feel somewhat disjointed and lacking in premium appeal. It might seem picky but at $599 that box doesn't convey the right message. It does not scream high-end earphones inside.
I hope it can be reworked a little. In its defense, all the right information is on the back and the key features are well laid out but this is an audiophile pitch and for those audiophiles who get it they will reach for it. For the rest of the market used to visual pop, this might be a harder sell.
Accessories
Take out the contents though and it is a very different story. Cypher Labs have wisely stuck to their semi-hard shell-type casing first seen on the Piccolo range of amps which personally I spoke highly of in my amp/dac review as being a proper case often ignored in the portable amping world and not just an afterthought.
The case for the C6IEM follows the same lines only somewhat on a smaller scale being about 40% of the size of the amp cases but certainly more comfortable to use than pill boxes and similar competing pouches.
Inside you get a more free-form holding area for the C6IEMs themselves which are tucked into the more classic velvet soft pouch and slipped under an elasticated holding strap.
On the flip side, you get a nice little business card from Cypher Labs and a ton of tips and useful accessories. The tips and accessories that come with the C6IEM are perhaps one of the better offerings in the market today up there with UE and Westone whom I consider having this nailed for mid-tier.
You get a series of foam tips in s/m/l and a series of silicone tips in s/m/l as well as a nifty little fish-type cable organizer, a 3.5mm to quarter gold plated jack converter, and a little cleaning brush. The only thing missing that I would love to see is some double flange tips but apart from that everything seems spot on.
Click on page 2 below for sound impressions and cable rolling.