If you are from Head-fi or a general audio enthusiast you cannot have passed a web page by without hearing the name Noble. Incredibly this is the first time I have spent any time with a Noble earphone of any kind and I have been doing this gig for over 5 years. The fact it is the 4u or the 4 "Classic", which is widely regarded as Noble's bread and butter signature universal IEM, then I reckon that is a pretty good introduction to what Noble could be all about. It has been out for a while now so it is not a hot of the press review but I have been hankering to try out this "reference unit" for quite some time and the price point at $450 makes this more than attainable and right smack in the mix with the likes of Westone and Ultimate Ears which are considerably large companies.
There are some variations on the '4' with the Switch and the Wizard but the review is really all about the 4 Classic which at times of seems to fly under the visual radar with all the commotion over the new Prestige series and the jaw dropping custom designs on Noble's Facebook page. I post their high impact designs almost daily oh our own FB page and the innovation is supreme, which makes starting with the plain Jane black of the 4 Classic seem a rather subdued initial foray. Then again I like to benchmark and for reviewers there is a lot to be said for having something right in the middle of the range so to speak for testing and comparisons. The Classic, ideally, should be right up my street if the claim is true that it is a very neutral and flat frequency response. There is nothing harder disseminating a source's characteristics through a haze of headphone or IEM coloration and trying to figure out the sources own characteristics. It is time consuming and at times dangerously misleading.
The Patrick Henry In Me
There is really nothing on the box or in the packaging either about the Classic 4 that might lead you to think you have something here a little different or special. The likes of Westone, UE and Sennheiser are an essay in marketing seduction from head to toe with claims of bass this, extreme that, as the artist intended blah blah and all designed to make you whip out the wallet and cry for the salesman to empty it. Noble have none of that. This is an "in the know" presentation. It comes in a plain brown cardboard box opening up to a nicely decorative, but nothing special, outer slip with the Noble and wizard branding which gives way to an Otter Box 1000 series type hard case also with the Noble emblem on top lid slightly to the left. It has been done a thousand times before by many a customs manufacturer and frankly I hate the 10oo size being too small for easy fitting of any earphone never mind carrying extra cables. I will get by but been there and bought the t shirt. Give me an Otter Box 2000 type case or give me death. Luckily I have spare 2000 so I live to finish the article.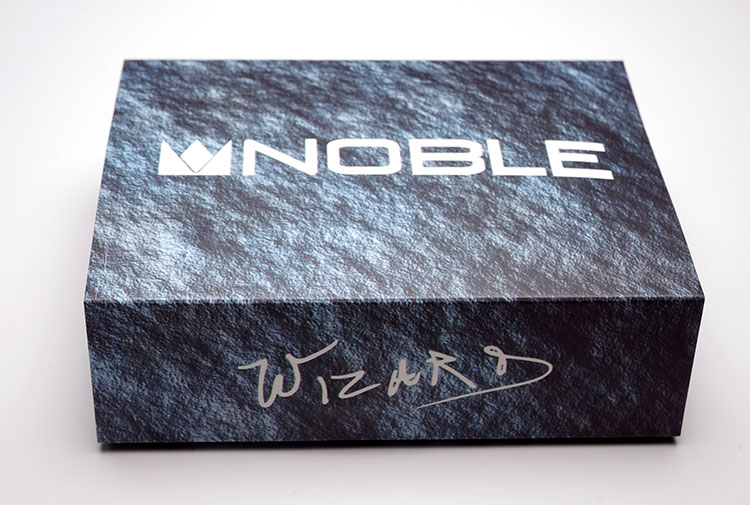 The Space Conundrum
Opening up the carry case and you get more than what you thought possible in such a tiny space. I sure as heck couldn't figure out how Noble got so many accessories into such a small box and try as I might and really could not put them all back in properly by myself. You get a small velvet black pouch for days when the hard case is just too wieldy (its not the most pocket friendly of cases), two sets of silicone single bore tips (hard & soft s/m/l), one set of bi-flange silicone tips (s/m/l) and one set of foam tips (s/m/l) all in separate plastic sealed bags. On top of that you get a tip cleaning tool much as what you see in customs packages, 2 black branded rubber bands and a small personal details card you fill in yourself in case you lose sight of it. Kind of like a set of dog tags I guess. The Classic 4 unit itself is in a slightly large sealed bag and all stuffed in that tiny hard case bursting to get out, but not back in. After a bit of trial and error I opted for my usual tip of choice, the biflange. Quite a lot of the single bores felt a little short on the nozzle of the 4 Classic with the tip a bit too close to the end of the bore itself. The biflange gave me the best seal combined with distance from the nozzle.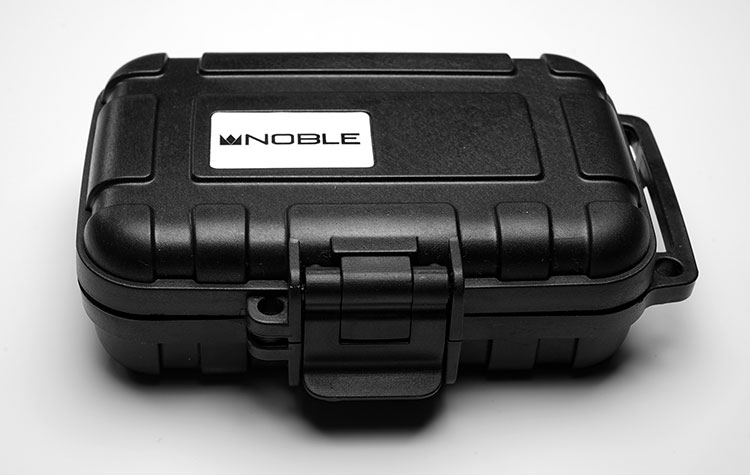 The Unit
The 4's classic heritage is understated with a pure black single tone finish, sleek lines and a cut that is designed to fit most ears comfortable with a high degree of seal. In most parts this quad BA succeeded in delivering that experience. The almost industrial visual experience is pretty much on purpose and actually a unique selling point with those three slate pentalobe screws on prominent display on the front plate and only a slight raise in the bevel Noble logo to break the endless black smooth of the shell. It is tight, finished to a very high level and falls somewhere in between the Westone 4 and the UE900s in terms of size. It is more comfortable than the Fidue A83 and the UE900s and certainly a lot smaller and lot more discreet in your ear than both of these units.
Cables
Like its competitors it is also an over the ear design with the detachable cable connectors housed in a forward position on the top of the shell. The connectors are classic two pin which is great for cable swapping for me personally since everything I have is 2 pin. The stock cable itself is pretty familiar territory if you are into customs which is not a bad thing as it's a very pliable and flexible light cable with a matching colored memory tubing for steadying the unit around your ear and reducing microphonics to a minimum. The cable is a 4 cable braided construct with individual plastic wrapping with a rather basic plastic 'y split' tube and a second short tube for chin locking. It all works, microphonics are too a minimum, memory retention is zero and it's really comfortable to wear and light and soft enough to manipulate with ease. It is also the first time I have encountered a cable of this type that doesn't throw a veil over the sound requiring a cable swap to lift it.
Mechanics
Inside the 4 Classic houses a 4 BA 3-way setup with 2 drivers for the bass, one for the mids and one for the highs. Impedance is set at 30ohms so it not the most super sensitive of IEM's out there and puts in a similar impedance range as the Westone 4 and the UE900s also. They will reveal high noise levels but should not be too demanding to drive with decent DAPs. Often I find IEMs in the 30-40ohm range to benefit from a little bit of amping to get the best out of them and the 4 Classic is no different in that respect.
Isolation and Fit
Despite it being one of the slightly larger universals its does fit well with above average isolation. Of course your mileage may vary as we all have different ears but the biflange tips using the stock over the ear cable give me a seal on par with the UE900s, Westone W4 and the RHA T10i and a higher degree of comfort than the Fidue A83. Background noise was minimal and virtually eliminated during audio playback though not a complete block out. The units themselves sat rock solid in my ear even during heavy duty head or body movement with no slippage or movement detected.
Page 2: Sound Impressions