We review the LEAR NatroSound NS-U1, which is a unique single dynamic driver in-ear monitor using the company's patented DSP technology. It is priced at HK$1688.
Disclaimer: This was sent to us as a sample for our honest opinion. Headfonics is an independent website with no affiliate links or services. We thank the team at Lear Audio for giving us this opportunity.
To read more about Lear products we reviewed previously on Headfonics, click here.
Note, that this article follows our latest scoring guidelines which you can read in more detail here.
LEAR NatroSound NS-U1 Review
As it stands the price of HK$1600 is not a bad price for such a bold experiment and if you are into your u-shaped sound signature, and enjoy modern genres such as EDM and Hip Hop as well as some genres of heavy rock then it's a decent performing dynamic driver in its own right with above average detail retrieval regardless of the new tech stuffed inside.
Tatco Ma and I have been speaking for a while now about reviewing some LEAR gear and truth be told this is not the first item I have received from Tat but it is his newest IEM and something I can sense he is very excited to get out into the market – The NatroSound NS-U1 dual dynamic IEM.
Tatco Ma is the head of LEAR, a Hong Kong-based IEM and customs company that has been operating since 2009 and has grown to become one of the SAR's leading IEM manufacturers, even being credited "Hong Kong's Most Valuable Companies Award 2015" from MediaZone, one of the big publishing houses in HK itself.
Now if you have heard of Lear then chances are you are running the rule over one of their yummy custom creations which can price more than $1kUS and I will get to the review of their flagship, LCM BD4.2 in due course I assure you.
But right down at the budget end of things is an all-new IEM, the NS-U1 which delivers not one, but two differing sound signatures for the price of HK$1600 and it's all down to this new technology that Tat calls NatroSound.
The Pitch
NatroSound is LEAR's interpretation of how a loudspeaker sound signature should be heard if it was delivered through an IEM, i.e. much closer to the real experience than what current IEMs deliver.
LEAR's contention is the direct left-right input of sound of a traditional IEM gives a rather unnatural sound with a clear separation of right-left channels such as you would not find with traditional speakers which have a much more integrated front image sound and thus more natural to our ears.
The argument here is that the right ear can't hear what the left ear is hearing and thus you get what some describe as the "inside your head" sound that is normal for most IEM users.
How NS sound differs is that it delivers both right and left sound to both ears in such a way as to recreate the type of sound field you would get with a regular speaker setup using acoustical HRTF simulation earphone technology.
Now this all might seem like dabbling with crosstalk to produce a closer field and less left-right channel separation but Tatco explains that in reality, the technology here is quite different.
In the NS-U1 the main units contain two drivers which are not technically dual drivers but housing one traditional dynamic driver for your regular IEM sound delivery and one NS driver unit with a series of acoustic path tubes for the delivery of the NS sound signature.
All of this is switchable, meaning you can opt to have a traditional IEM sound from the NS-U1 or choose instead to listen to your music using the NS filter and driver design housed side by side.
This is achieved by a simple in-line switch on the main cable of the NU-S1 itself. So note this is a hardware technology, not a software implementation at play here.
What You Get
I have to admit LEAR does nice package designs and accessories for their gear from budget to flagship. The package itself is nothing too fancy or over-elaborate like say the UE900S extravaganza but it's nicely laid out with a black coated plastic hard case in which the NU-S1 is carried and a small box to the bottom for the tips and manual.
The manual is very useful here actually because the cable itself is unique and you do need to understand how to detach and attach it properly which is shown in the manual itself.
The hard case is a screw-type circular-shaped pill box case with a black exterior and green interior. The color combination works rather well and the finish is excellent given the price range we are pitching here. It simply doesn't look cheap and also feels like it can take a bit of abuse when taking it with you outdoors.
The accompanying tips include a set of small, medium and large silicone single bores as well as two sets of foam tips. There is also a single-bore silicone medium size tip housed on the NS-U1 out of the box making four silicone pairs in total.
If anything the only thing missing for me is a small cleaning pic and a set of double or triple flange tips but I suspect I can beg, borrow, and steal flange tips from other units in daily use if needed.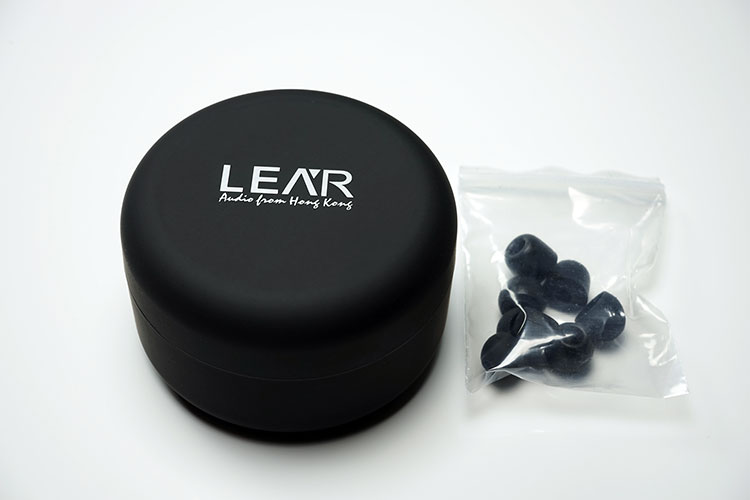 Build & Fit
The NS-U1 is a big IEM even by big IEM standards. The only unit I have which is considerably larger is the Roxanne and some CIEM's but those babies have a ton of BA drivers in them.
IEMs with two dynamic drivers are rarely small though so in some ways I am not that surprised with the size of the NS-U1 but it is one of the larger types. The good news is that the NS-U1 is much lighter than I expected being mainly constructed of lightweight but well finished and solid plastics in a two tone chrome and black finish.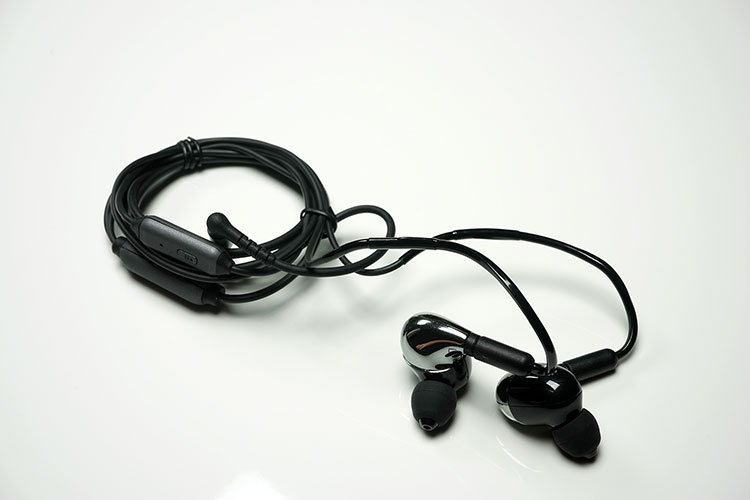 Design
The NS-U1 design is also an over-the-ear IEM and the nozzle itself is very long indeed. The stock single bore tips had a small portion of the nozzle sticking out beyond the tip itself which although didn't' cause any issues physically really shouldn't be the case so I would encourage you to trade out the tips until you find the best length of tip to suit you.
The best seal I got was with the small silicone tips which do not go down as far on the nozzle and keep it covered at the tip and the memory foam tips. I preferred the small silicone tips acoustically over the foam tips which I will get into on the next page.
Isolation
Isolation-wise I found them pretty good with the small tips once deeply inserted with only the mild of the air con behind me to keep me company but most ambient noise was blocked out rather well.
There was very little fiddling to get the sweet spot in terms of seal and fitment but then again I am blessed with universal fit ear canals so the usual caveats apply here.
The Cable
The cables are an important element in the identity of the NS-U1, much more so than a regular IEM cable. These are 4 pin detachable cables and they are four pin to allow the NS technology to deliver the right left mix sound into each individual ear.
The NatroSound tech is controlled by a switchable unit inline on the main cable which also doubles up as the y split with resistance rubber on either side. There is also a further inline remote mic/track selector unit on the right side beyond the y split module which works with most Smartphones (tested with Android and Blackberry).
The cable itself is memory-free and robust but a little springy. It reminds me of the RHA cable a bit in size and quality. Its 1m cable is terminated with a right-angled 3 pole gold-plated 3.5mm jack with decent resistor strain.
On the other end, the over-the-ear memory plastic is a bit stiff in parts though it will do the job. If anything I would like to see any subsequent cables produced have a bit more flexibility to it than this one but it's not a deal breaker.
During my discussion with Tatco, he informed me there would be a new cable coming out this month that would be an upgrade on the existing cable. This new cable is called the NSC-03 and will have a few extra features up its sleeve including 3 controls for:
1. The NS On/Off Switch as per the original cable but also;
2. Main channel sound tuning from balanced to a bass-boosted signature;
3. NS Effect adjust switch for the width of NS effect, resulting in a narrower or wider left and right channel effect option depending on your tastes
Sound Impressions
NatroSound Off
This is a case of not one but two different types of tonalities and presentations, one with NS off and one with NS on. With NS off the NS-U1, perhaps unsurprisingly, has a much less integrated and left-right stereo presentation and throws out a relatively typical consumer u-shaped signature.
Bass starts at a reasonably elevated level and from there begins dipping to around 1k before climbing again from 1-5k with a slightly elevated vocal presence and lower treble performance. There is a minor peak again around 7k but nothing serious, the main peak is around 5k.
After that, the treble falls away pretty sharply. Tonally the NS-U1 with the NS tech switched off is a bit flatter than when the NS-U1 NS tech is switched on with a fairly neutral bass extension that's reasonably snappy for a dynamic driver.
The lower treble extension has a slight shine to it on high-energy tracks, particularly with neutral sources but that drop off at the top end stops it from becoming too bright overall.
NatroSound ON
Your ears will need a few seconds to adjust to how things are being presented to you on NS mode as everything is pulled in a bit more from the sides and placed more in front of you imaging-wise.
Within those seconds however immediately you will notice the tonality get a welcome injection of warmth, body and musicality. The NS On mode sounds the beefier of the two signatures.
Left-right stereo separation is far less tangible also and initially, you might think your soundstage is being squeezed up and becoming more congested or intimate but in reality, it does sound a bit more like how some speakers project.
Bass is fuller sounding also on NS mode whilst the treble performance on the top end remains roughly the same in terms of quick roll-off beyond 7k.
If anything that should further recess the midrange but I found the mids and vocals to perform roughly on the same level only with more body and much more center-focused than with the NS tech switched off.
Preference?
Now understandably we have been listening to IEMs without NS tech for a long time and subsequently, I do feel some will prefer the greater width offered by the regular non-NS driver and the more neutral bass signature.
The slightly elevated bass response of the NS On mode I think might also be a bit much for some but I do prefer its more coherent and "together" natural sound. NS Mode sounds the more natural and smoother of the two side by side and it is the side of the NS-U1 signature I think you could listen to for a lot longer overall without fatigue.
Synergy
Power
The NS-U1 has two different impedance settings so whilst SNR is relatively unchanged at 105dB (off) to 104dB (on) the resistance is almost half at 16dB on the On setting to the 30dB on the 'off' setting.
This is unlikely to make a huge difference to your everyday use and sure enough, the NS-U1 is not the hardest of IEMs to drive. Digital gain control on the FiiO X7 is a comfortable 70 with the NU-S1, the DX90 at 200, and the DX80 at around 70-75.
It sounded superb actually with the new FiiO M3 with total control at around 30 on its digital volume which is only 50% and even my BB Passport sounded relatively ok without resorting to full power.
Sound
Tonally the best match I found was with the FiiO X7 and M3. I am not entirely convinced those with AK240's will be reaching for the NS-U1 given the target market but it does sound excellent also out of the AK240 with brownie points for clarity, detail, and realism.
The X7 edged the DX80 in terms of detail retrieval and the IEM card was excellent in terms of control, clarity, and balance with the NS-U1.
The M3 pushed the NS-U1 more to a typical consumer sound with a lower resolution and less top-end articulation but gave a very pleasing and smooth response with a nice mid-bass elevation that for $55 you simply can't beat.
The BB Passport tended to make the treble sound overly dry and lacking in definition. That 5k peak was a bit too prevalent for me even with the more natural-sounding NS on mode.
Our Verdict
I know a few crosstalk nerds who might enjoy the NS-U1 quite a lot. These are the guys who like to fiddle to recreate that speaker sound in their head, never satisfied with the unnatural separation average IEMs offer you.
Does the NS-U1 give you that front image? Well yes, it does a good job of tightening up the response of the regular IEM left-right channel separation to produce a very different sound indeed.
Both sound signatures are still what I would consider consumer sounds though with the non-NS signal being somewhat the flatter of the two and the NS sound being the beefier hitting and warmer.
I would love to see how this would all work on a more neutral and linear sound signature, perhaps even one with a predominant midrange. If the tech can be planted into higher-end earphones, then there is a very rich potential indeed for this technology.
The new tuning NC-03 cable also adds another perspective and I hope that this cable can give a bit more control over the NS sound and allow me to finally tweak it to where I need it to be.
I would also like to see if the tech inside can be shrunk a little bit more as the size and fit of the NS-U1 are a bit on the big side and the nozzle is quite long though not a deal breaker for my ears. Tips can play a role, some slide down exposing the nozzle so watch out for that.
As it stands the price of HK$1600 is not a bad price for such a bold experiment and if you are into your u-shaped sound signature, and enjoy modern genres such as EDM and Hip Hop as well as some genres of heavy rock then it's a decent performing dynamic driver in its own right with above average detail retrieval regardless of the new tech stuffed inside.
Lear NatroSound NS-U1 Technical Specifications
Driver: 2 x 5.8 mm CCAW,

Neodymium magnets,

LEAR custom-tuned dynamic driver per side
Frequency response: 10Hz~30kHz
Impedance: 30 ohms @1000 Hz NS OFF, 16 ohms @1000 Hz NS ON
Sensitivity : 105dB @1mW NS OFF ,104dB @1mW NS ON