The Vision Ears VE6 XControl is a 6 BA driver custom IEM with a unique switchable dual-tuning design. It is priced at €1900.84, (incl. 19% German VAT).
Disclaimer: The Vision Ears EVE20 sent to us is a sample in exchange for our honest opinion in this review. We thank the team at Vision Ears for giving us this opportunity.
To read more about Vision Ears products we have featured on Headfonics click here.
Note, this review follows our new scoring guidelines for 2020 which you can read up on here.
Vision Ears VE6 XControl
The sweet combination of massive staging, detailed vocal presence, and switchability between a slight bass bias (X1) and a relatively linear audiophile presentation (X2) is the icing on the cake. The shell artistry and first-rate finish are very smooth and comfortable with a fantastic seal.
Road Map
You mention the words "stage series" to any custom monitor fan and they will immediately nod their head in approval. It is a phrase commonly associated with the now-defunct German brand label Compact Monitors who had built up a highly reputable series of CIEM's entitled 'The Stage Series".
This series garnished some huge praise from initially the professional musicians who lapped them up and then slowly moving to the audiophile market over the latter years as an equally hungry beast.
Compact Monitors had been around for 10-12 years prior to the split and was co-owned by Marcel Schoenen, who went onto form Vision Ears. I actually also managed to spend some time speaking to Marcel as we went along this process during 2014 and he was very clear on how Visions Ears was conceived:
Our vision was and still is to build high class custom In-Ears in terms of fitting, sound and visual design. Some companies are trying to build good quality for a certain price range, but for us quality is the highest duty. We are heading out to be the brand with one of the highest quality In-Ears in the world and being the most innovative. The custom In-Ears we have now, are very well developed and now that we released our new flagship VE6 Xcontrol, we gave a hint of how much innovative power we have.
Product Range
Vision Ears recently decided to adopt their own "VE" brand over the "Stage Series" brand and as Marcel stated to me, the whole range was developed really like some sort of road map.
Our custom models are very unique in sound. They are all very different in their sound-character, but they also have something in common (fit together very well). When I developed them, the most important thing I wanted to achieve was to create a product line that contains different models that all have their own characteristic and make sense in the overall product line.
Now the VE1-4 range is largely the same product as the older Stage Series 1-4 done during the time both companies were under the same house but in the last year or so Vision Ears have indeed launched new products onto the market that can be considered 100% VE.
The one we have for review now is indeed the Vision Ears VE6X which is one of the priciest CIEM's in the market coming in at €1899 if you happen to live in the EU and less 19% VAT if you order outside of the EU.
Tech Inside
The VE6 Xcontrol is Vision Ear's first 6 BA driver Custom Monitor with a 4-way crossover since the branding change and sits at the very top of the product line as their flagship CIEM in the VE series.
There are a few unique features to the VE6 series one of which for the VE6 Xcontrol is the proprietary manually operated switch control system that allows you to choose between two sound signatures.
The first is the X1, which is a slightly bass-tuned signature, and the second is a reference level or a more balanced sound signature called the X2. You can order the X1 and X2 versions as two totally different CIEM units at a slightly lower price with the additional €90 VE ambiance filter system that you cannot get with the VE6 Xcontrol.
For my money, the better value is having both housed in one shell with the Xcontrol switch allowing you to flick from one to another without ever changing what is in your ear.
Ordering Process
The ordering and build process with Vision Ears is very similar to Advanced AcousticWerkes as both of their websites are slightly more functional than inspirational. I guess I got spoiled by the 1964EARS online buying experience which is first class.
That being said Vision Ears have a somewhat more impressive finished CIEM gallery on their website than AAW and make an all so important distinction between artwork that is possible and more artistic artwork that is mainly to "inspire" original thinking.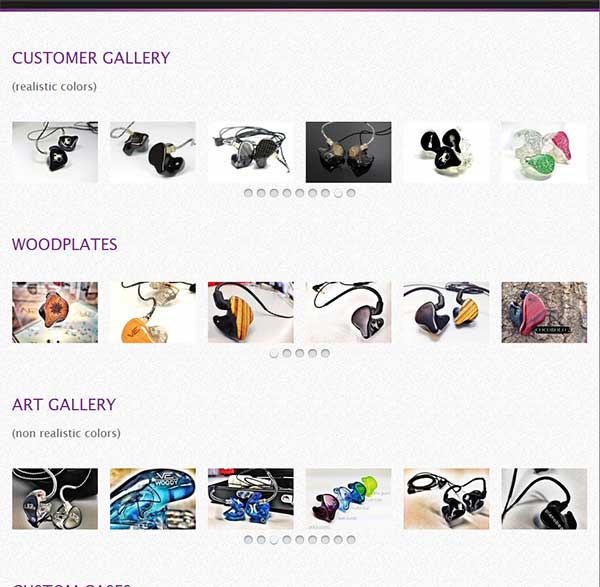 Facebook Inspiration
Much like AAW, Vision Ears also has an active Facebook Page with a lot of customer designs for you to browse and get inspired by.
The Facebook page has by far the largest gallery of the two sites but both combined make a fairly interesting catalog of ideas and fusion of tastes and if anything brings home how talented you really need to be in the CIEM artwork business. Marcel explained to us that artwork is really a two-way process for them when it comes to what they can make:
We´re always trying to improve our possibilities and special requests are very welcome because we experienced that a lot of customers are very creative in designing their custom IEM´s.

If people ask for something we never did before and we see potential that this could be another optional artwork feature, we will try to find a way to make it.

But sometimes it is too much effort to gain the result. So sometimes we have to deny such wishes. Actually I don´t have a concrete case of something we were not able to do.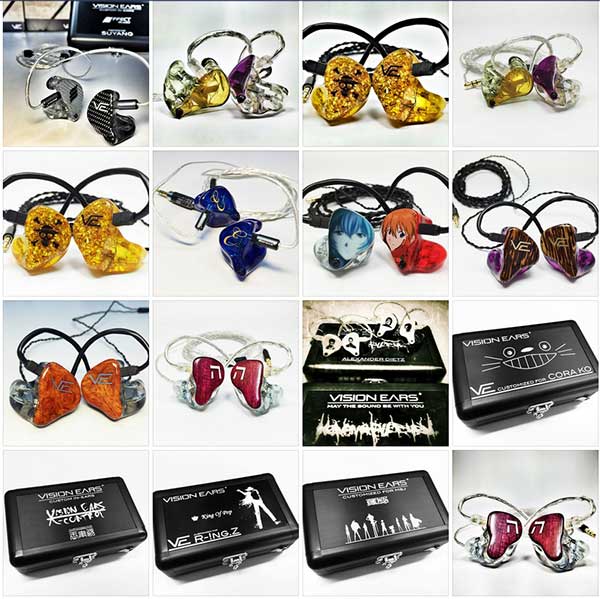 Design Choice
For my own choice, I went with something conservative and tasteful. I wanted my custom this time to be subtle with a hint of expensive than the eye-catching wonder design of the AAW W300AR.
I went with wood again but this time the nice tonality of Cocobolo for a wood insert with a black smoked shell. I also had the logo of VE 'torched' into the wood insert and printed on the inside along with my name.
A few people have already mentioned that it looks rather understated; I guess that is my taste. I also like an English cut pinstripe two-piece suit for work and marmalade on my toast for breakfast but then that's another story really.
I still do not think yet we are at Noble Prestige levels of innovative and daring combinations with VE but there is plenty of choice and customization potential on offer. You are only really limited by your own imagination in the end.
Closed, not open!
Again for this process, I used Detax clay as my first impression came out a bit "vague" on the second bend and was rejected by Vision Ears and rightly so because the second impression was nearly perfect.
One very important point to note is that Vision Ears do require you to take a closed-ear impression rather than an open impression. By closed we mean your mouth shut but not teeth-grindingly shut, just relaxed.
Open will not work for their molding and polishing process and they do mention that so those with various bite blocks aiming for a VE unit, leave them at home your goldfish impression in public is not required this time around thankfully.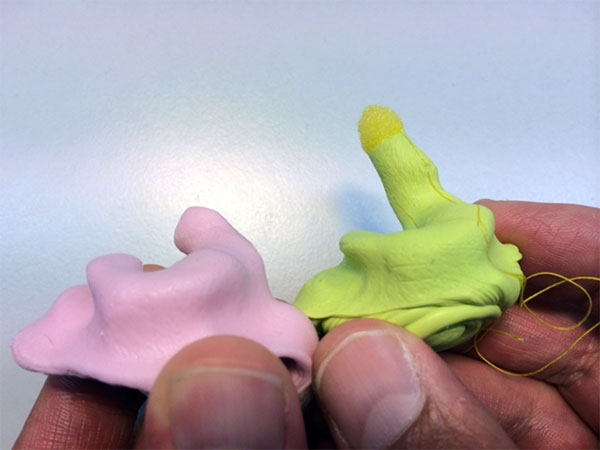 Reasoning
Much of this comes from their background in German audiology and how the profession is learned and the rest comes from a lengthy 15 years of experience. Vision Ears claim their rejection or refit rate is less than 5% for their custom units.
It´s no secret. Just use good ear impressions! If we get ear impressions with missing parts, too short or wrong impression material, we kindly ask the customer for new impressions. I know that other companies give instruction to bite on a block during the impression process, but we recommend doing it with a relaxed face.

It may make sense to do it with an open mouth in some special cases but usually you gain a better result with relaxed face. More important is the right material. There are materials that build up some pressure when inserting it into the ear. This is what we prefer.

We are very careful with judging the customers impressions, because only perfect impressions can be used to build perfectly fitting custom In-Ears.
Turnaround Time
Turnaround time was around 4 weeks for me personally including shipping time using DHL which got their super-quick around 3 days from my small Island on the other side of the world.
The times can vary, that is only natural as they have a certain finite capacity and supply and demand and the quality of your impressions will always play a factor in how long the waiting time will be.
Click on page 2 below for build quality and sound impressions.