Software
Platform
Similar to the AP60 and N3 the M2s uses a system on a chip or SOC platform to deliver the latest themed iteration of HiBy Music's DAP OS.
HiBy Music seems to have cornered a large chunk of the Chinese market for audio player software systems with customs such as Shanling, Cayin, and FiiO among the big names turning to HiBy to partner in DAP development.
It is not hard to see why though. The OS on the M2s is quick, stable, and packed with an ever-increasing feature set that makes it one of the best systems outside of a full Android or iOS setup.
It is not an app or WiFi capable, it is not as advanced as the touch-based Android platforms but it is not as power or memory-hungry either. This is a pure DAP platform through with additional BT functionality via HiBy Link that vastly expands the "memory capacity by proxy" as I call it.
Speed
Boot-Time
HiBY OS has always been fast to boot up and power down but the M2s is possibly the fastest out of the latest generation I have tested thus far.
Compared to both the N3 and X1 2nd Gen DAPs the M2s boots up around 1-2 seconds faster and powers down also around 1 second faster than the N3 and about the same as the X1 2nd gen. This is tested with their latest v2.20 firmware released in August 2017.
Scanning
Again, the same pattern with scanning with a lightning-fast 13 seconds for 913 FLAC 16 BIT tracks scanned and added to the database from a 64GB Class 10 Sansdisk MicroSD card. As a point of comparison, the N3 took 63 seconds for 2400 similar tracks and the X1 Gen 2 trailed in like a day later it is that slow in media scanning.
Once updated, navigating the library was reasonably snappy with no noticeable lag between browsing, selecting, and playback starting.
Navigation
As with previous iterations of the M2s OS, the navigation is loosely based on a vinyl record with sub-menu options in a semi-circle at the edge of the record outline. It differs slightly from Cayin who has brought out the BT menu from the main systems setting menu so there are 5 options on the home screen as opposed to 6.
Dial controls
If you have used the original M2 or the M5 the system is almost the same just with an update of some of the menu features. Navigating is also a continuance of the use of the alps dials for moving up and down and a click for selecting or confirming your desired choice. The power button allows you to come out of any submenu or cancel/return. The playback buttons have no OS functionality.
Lock Screen
The power button at the top will now lock the screen which is a new feature not available before on previous Shanling HiBy Music OS versions. It will also turn off the LCD screen at the same time to save battery life. The lock screen also shows the new clock display function which is a nice aesthetic touch similar to how Android works.
Features
There are 3 groups of software features on the M2s. Those that deal with media management, features for settings, and those that deal with connectivity and in particular HiBY Link. If you have owned or used the M2 or M5 you should be familiar with the media management and settings tools.
However, the connectivity features are relatively new on this OS platform due to the additional functionality provided by the BT aptX capable 4.0 module inside the M2s.
Media Management
There are four direct media management functions within the M2s OS from the home screen, though there are a few sub-menu features within the system settings that also allow you to access media from other sources namely USB-DAC wired and BT wireless.
These are Now Playing for quick access to the playback screen, My Music which is your tag-based music library, file explorer for file-based navigation, and play settings which contain all your tweaks such as EQ, channel balance, and gain.
My Music & File Browser
Both essentially do the same thing and that is to allow you to browse your music files and select the desired track you wish to play. They differ though in terms of how the media is filed and presented.
The "My Music" option is your classic tag-driven media management tool and will show up once you have opted to update your music library.
Updating your music database can be found as an option in the system settings sub-menu which is a little easier to understand than the N3 which places it in its equivalent File Browser section. Still, I would like to see this option moved to the My Music sub-menu where it feels more logical in the application.
My Music Sub-menu
Once your database is built you can opt to drill down into your media via a list of tag titles that appear the moment you select the My Music category. The additional screen real estate on the M2s makes accessing this section and scrolling much easier with more titles per screen than competing DAPs.
Here you can access anything that has been recently played, your favorites, and the traditional tag splits of the album, artist, genre, and tracks. You can also access any playlists you have previously create or cue files already dropped into folders.
Drill Downs
As with the previous HiBy Music tag drill down the Genre tag is still way too flat, somethings will never change so accessing anything via genre will give you a long alphabetical list of tracks without any indication of artist or album.
I have long since given up hoping this will change. Android player apps such as Pure Player have got the message already on better drill-down organization. Album and Artist are better organized though.
File Explorer
This is the second option to navigate and select tracks for playback. How good or bad it depends entirely on your own file and folder naming convention and whether or not you intend to use OTG as a memory by proxy alternate source.
You can drill down into your memory card and simply select the folder and file you want to play. It should play through folders also and does not require any DB updating as it is a live view of the files on your cards.
OTG
OTG is tested as working fine with flash sticks, SDcards, and powered HDDs. My own RavPower SD slot with 8Gb inserted displayed its contents as did a cheap flash drive. It works in the same manner as the TF card option by simply scrolling and selecting what you want to play
Play Settings
The Play settings have some changes to the older firmware found on the M5. Now you have a fade in fade out function for track playback which was not available on the M5 as well as a low-pass filter mode (gradual or off).
Gain Replay
It also has the much-desired gain replay function to help normalize loudness issues on multi-volume level tracks which doubtless we all have. It is one of the most requested features on the N3 when it was launched so great to see v2.20 firmware have it on the M2s.
The play settings will also allow you to choose from two gain settings (high and low), access the 10-band EQ with 8 presets, and one custom preset you can mess around with as well as configure any channel balanced requirements and skip through folders during playback.
On The Fly
During playback, if you long-press the Alps rotary dial on the M2s you can pull up 5 additional menu options without having to leave the playback screen. You can change the play mode such as opt for shuffle, repeat. You can also add the current song to a playlist, access the main playback and system settings menu, and delete the file.
Personally, I would love to see the two main settings menu dropped since you can access them anyway via a return click then dial function. Instead, I would love the BT and gain functions front and center for quick changes if required.
System Settings
System settings are pretty much a rundown of all the player tweaks you can change that are unrelated to playback though the DB updating function is here as well as the Hiby Link indirectly via the Bluetooth function.
I would have liked to have seen Hiby Link dug out a bit more from the 3rd drill-down click on the system menu. It's such an important feature of this OS that it should not be hidden this deep.
Power Tweaks
Aside from the BT and DB update functionality, you can adjust power-related settings such as screen brightness, backlight timer, and auto shutdown as well as turn on or off the screen lock function.
Clock
You can also adjust the clock time and set it to 12 or 24-hour formats as well as change the theme color of your device. Shanling has included four themes and they are the exact same themes as those to be found on the M5.
Output Options
You can also change your output options from the system's settings for headphones and line out as well as MTP or DAC for the USB to PC mounting functionality. DSD output is also controlled here with a choice of D2P or DoP output.
Connectivity
Bluetooth (HiBy Link)
Pretty much every HiBy Music OS platform is making a big noise about the Bi-directional capability of their BT functionality and the M2s is no different. You can make use of the BT functionality in 2 ways.
Use it to connect to a smartphone or any other BT devices with audio services to allow you to access tracks from another source for playback on the M2s.
Use HiBY Link to connect to any audio capable source and use that source to access and playback tracks from the M2s
You can elect to turn on or off the full apt-X capability but be warned that you will have to restart the device if you turn it on.
HiBY Link
So what is HiBy Link? It is pretty much a link between the M2s and Android smartphones and it comes complete now with the latest version of the HiBy Music app available on the Google Play store.
It basically allows the smartphone to access the drive of the M2s and gives you the ability to control and playback the music library on your smartphone plus a few more features on top of that. Shanling has helpfully pulled together a walk-through video that better demonstrates the capabilities below:
One thing to be aware of pairing and using HiBy Link. The connection will fail if you have HiBy Link switched on via the M2s and not the smartphone app. Both options on client and host must be turned on for the pairing to succeed otherwise the link will be revered and you will be drawing from the smartphone source tracks.
Wired
OTG/USB-DAC
Wired, including OTG is heavily integrated already into the M2s OS and will automatically show up as a searchable drive under the File Browser/OTG option the moment you plug in your flash drive or compatible HDD.
Any OTG cable will work so long as it is terminated with USB-C or you have a USB-C converter tool. These are cheap and easy to acquire costing less than $5 in most outlets.
You can also attach the M2s to any PC/MAC for USB-DAC functionality though with windows you will need to download drivers to get it up and running.
You can also use OTG digital audio services to convert the M2s into a transport and output digital audio to higher-end devices such as the Mojo which is will piggyback really nicely given its relatively small size.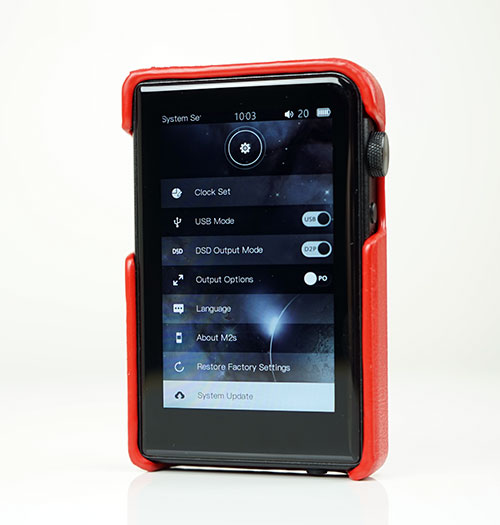 Line out
The M2s headphone jack doubles as a line-out offering an on-paper 2.2Vrms output voltage (10KΩ load) which is pretty good by mobile standards and pretty much the norm for any DAC analog output. You can access line out via the system settings menu with a quick switch.
Once clicked it will warn you to take out headphones as the volume will go up substantially and could cause serious damage to your gear and ears.
Click on page 3 before for Sound Impressions