There isn't a whole lot going with credible DAPs sub $100 these days. Outside of the M3 from FiiO, you have, well, …FiiO at $99.
Everything else in-between is a mixture of legacy used gear like the venerable clip or a host of small time brands like Xudoo or Benjie from China which neither have yet to really move out of their local market in any serious manner.
Step forward Hidizs from their relative slumber this past couple of years with their new pocket-sized and wallet-friendly AP60 DAP which retails at just $89 as well as the soon to be launched AP200 which will be their flagship DAP this year.
The dudes with the unpronounceable name have suddenly hit the markets again after their AP100 DAP which was reviewed by us almost exactly 2 years ago and actually quite liked for what it could at the time.
Yes, it has taken them 2 years to get the AP60 to the market but perhaps it is good timing because the tech has moved on considerably and the AP60 seems to have capitalized on that with a ton of features.
What Is The Pitch?
The AP60 is priced at $89.99 and is pitched as an entry level DAP for audiophiles on a budget or a relatively risk-free first-time upgrade. It covers all the main bases that an audiophile will need in a very tiny package including DSD decoding, bi-directional BT using aptX, USB-DAC, and OTG capabilities.
It is not designed to compete with the likes of the Android-powered DAP's and it has no Wifi capability, instead, it is a physical and capacitive control based DAP much in the same vein as Cayin's new N3 and FiiO's X1 2nd gen. Yet side by side these two the AP60 is not only half the price of the N3 but half the size of the X1 2nd Gen. This is a pure music player built for ultra-portability.
Build
Dimensions
The AP60 is tiny measuring in at just 70mm X 42mm X 14mm. As a point of reference it is 4mm shorter, and 3mm narrower than FiiO's smallest player the M3. However, it is deep at 14mm by a good 5mm over the M3 and only 2.2mm less than their full-size AP100 DAP. It is also quite light, weighing in at only 50g which is about 10g more than the FiiO M3, and over half the weight of the N3 and FiiO X1 2nd gen which come in around 100g. The AP60 is a chunky little DAP, but also it is very light and very short.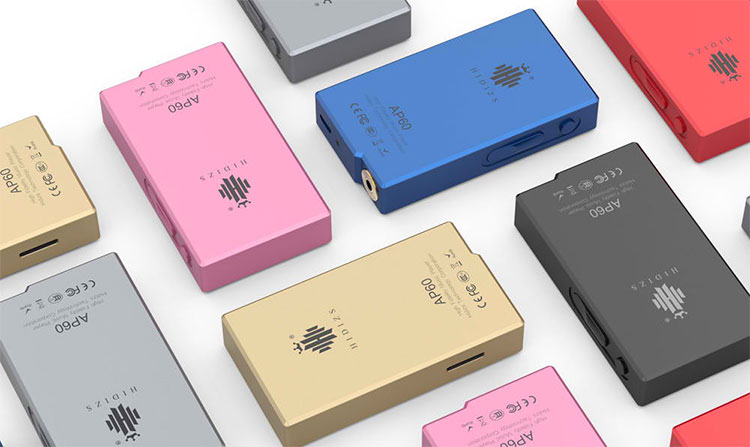 Materials & Finish
The AP60 body is made of a durable hard plastic with alloy infused materials for additional strength and durability. There is no flex in the chassis and despite its lack of curves, it doesn't have an angular sharp feel in your hand. There is a slight indent around the gold plated 3.5mm headphone jack just to give a little but welcome design accent and prevent it from looking like a boring matchbox shape.
The body is finished in a wide range of UV curable varnish colors from your standard black, gray and the Asian favorite gold to funkier and youth orientated red, blue and pink. We decided on red for that photographic "pop" factor over the more generic black or gray but your preferences may differ. The red also looked nicer in their add on bi-flip case that is sold separately.
Screen
The AP60 uses a 2.0 inch HD TFT(320X240) screen which is non-touch based and the same size and pixel density as the FiiO M3 screen. Quality level 'full on' is pretty good actually for its size with decent color pop, good lighting and a well-organized UI that maximizes the screen real estate allowed.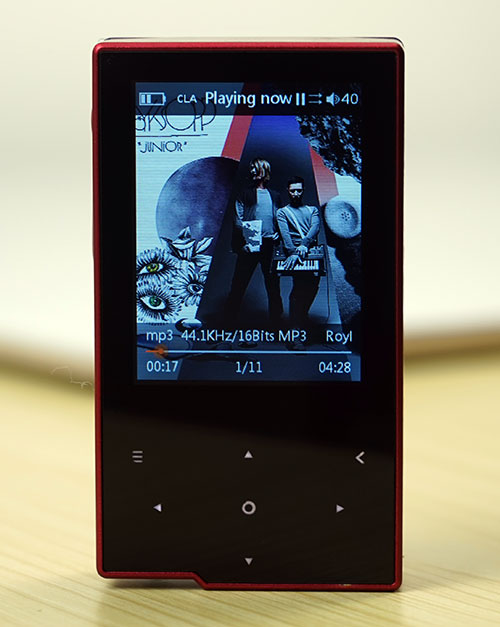 However, unlike the N3 this is not an IPS-based screen, so whilst the aliasing is much better than the X1 2nd Gen from FiiO the viewing angle is much more limited than either of these DAPs. You will get a loss of clarity and a higher level of reflection with just angles of around 60-70 degree whereas the N3 is going strong at 90 degrees or almost flat.
Memory Capacity
The AP60 does not come with any onboard memory, that is no real surprise at this price point with none of the leading contenders using onboard memory for their entry level DAPs such as FiiO and Cayin. The AP60 does come with a single microSD slot houses on the lower right panel and can handle up to a maximum of 256GB physical memory. Physical cards can either be in FAT or ExFAT format.
Expansion Options
You do have other options though to further expand the memory with up to 2TB via OTG and if using a smartphone in BT mode you can tap into its memory which may be a further 256GB on a microSD and 128Gb onboard max using the AP60's bi-directional transmission capability That is a possible 2.640TB of accessible memory for the AP60 with BT, onboard and OTG all working in tandem.
Battery
Battery life is good considering the size of the battery installed in the AP60 which is a small 1000mAh LiCoO2 Battery. You get 10-12 hours depending on your usage pattern and the resolution of the tracks you are playing. Battery levels on competing devices are similar on the N3 and X1 2nd gen at up to 12 hours and they are packing larger batteries so the AP60 is competitive in that regard.
Usage Scenarios
Bear in mind these are all best case scenarios so the more button mashing, higher voltage requirements, prolonged use of DSD or lossless tracks and screen on will drop that figure to sub-10 hours at times but not by a huge amount. In fact, during regular usage scenarios, FLAC files with average navigation usage and screen set to dim after 15 seconds did get me over 10 hours so the quoted performance is reasonably accurate.
Inputs & Outputs
The AP60 has but two ports and all housed on the bottom panel. To the far left is a fairly solid looking gold plated 3.5mm stereo jack port and to the right is the micro-USB port which doubles up as both the charging and data port including OTG duties.
The AP60 does not offer a fixed or variable line out via the 3.5mm jack unlike the N3 and X1 2nd Gen which is a shame so those looking to do an analog hook up with a more powerful amp will be double amping.
Physical Controls
Capacitive Controls
The AP60 mirrors the N3 in some respects with its front-facing capacitive touch buttons just below the screen but unlike the N3 it does not have any dual playback control buttons to the side. Instead, you have a small power/LCD screen on/off button just above a volume rocker on the left panel.
What You Can Do
The majority of the AP60 controls, including navigation, is done on the front panel capacitive buttons. These come alight when you power up and include a "playback menu" option on the top right which introduces a secondary circular menu, 4 directional buttons for navigation and scrolling with a central confirm button and a return or cancel button to the top left. During playback, these buttons assume playback controls such as play/pause/forward and backward.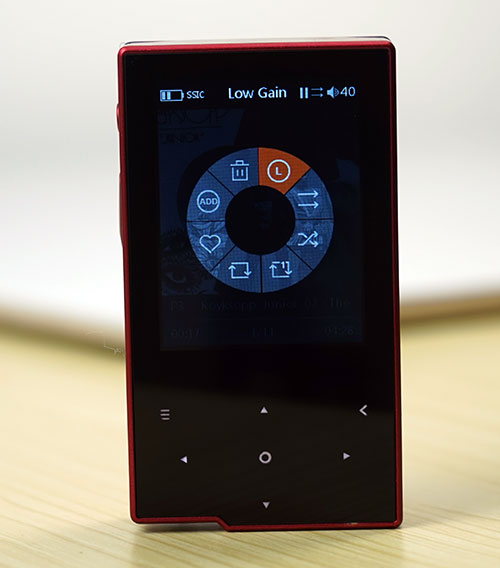 User Experience
One of the difficulties though of a DAP of this size is getting physical buttons into the design in such a way that they are usable and not on top of each. The AP60 is pretty close packed, I will give you that, but the user experience of working with them I think will vary according to hand size and familiarity with the UI.
It is a well-used UI, similar to the one on the N3 and previous FiiO DAPs and my hand is not huge so my experience has been largely positive. Certainly, the AP60 is pretty easy to work with out of one hand.
What You Cannot Do
However, there are caveats to the AP60 navigation system. For instance, you cannot control playback when the screen goes blank, unlike the competing DAPs which offer a measure of traditional side panel control with the screen off. You can only control volume levels.
The other being the lack of tactile feedback when pressing the buttons. Now, this is a double-edged sword because to be frank I turned that option off right away on the N3 but it is nice to have the choice and I know those who would appreciate that physical confirmation when pressing the buttons.
Functionality
DAC
The AP60 packs a fairly capable DAC for its price point from AKM called the AK4452VN which was launched in 2015 as part of AKMs Velvet Sound range of DAC chipsets.
The decoding capability of the AP60 is very impressive for the price. You get support for most codecs up to PCM 24BIT/192kHz as well as DSD128 and the usual standards such as Mp3, Wav, Ogg, AIFF and Flac to name but a few. DSD can be outputted as either D2P or DoP from within the software settings of the AP60.
Hidizs have decided though not to use some of the features of the DAC such as the 5 digital filters that usually come as standard on higher end DAP's in their music settings. On the AP60 it seems to have been fixed to just one filter though I wouldn't know which one.
Amp
Hidizs have decided to use a Maxim MAX97220A amp inside the AP60 which is rated at just 35mW into a 32-ohm load. That is half the power of the X1 2nd Gen (70mW) and about 1/4 of the power of the N3's amp specification (135mW).
It is not the strongest amp in the universe and may not be suitable for anything above IEMs or efficient portable headphones. Now technically this differential input line driver is capable of up to 125mW into 32Ω with a 5V supply so clearly the voltage supply is well below that in the AP60.
Noise
One might be tempted to believe that the AP60 low output levels and 0.1-ohm output rating are tailor made for IEMs and to some extent that is true but surprisingly the MAX97220A amp (when the mute relay is off) is quite a noisy amp for sensitive IEMs and does spit out a bit of hiss. I do wonder if the gain settings have been set just a little too high and could be lowered without loss of power.
Performance Figures
Performance figures on the AP60 are competitive on paper but it is not clear if these are achieved under any sort of quantifiable load settings. It may well be unloaded but still it is fairly respectable for a DAP at this price with an SNR of 109dB which is 1dB higher than the N3 and a dynamic range measurement of 105dB which is 2 behind the FiiO X1 2nd gen and 3 behind the N3 (note the N3 is measured under a load rating).
Accessories & Packaging
I actually think that AP60 comes very well packaged and you do get the nice bonus of a cheap set of earbuds and a faux leather pouch to carry the DAP around. These seem to be a customized set of earbuds specifically for Hidizs and packs a fairly large 14.8mm dynamic driver and come with a single set of foams for additional comfort and grip.
Hidizs have not supplied any tech specs for the earbuds but they do a better job with noise then my BA IEMs (as in noise free) so the sensitivity and impedance rating could well be that bit less efficient. Tonally they are a touch dark but smooth enough sounding and quite mid-centric with a fairly open design as is the case with a lot of ear buds.
I would highly recommend you splash out a little extra and buy the flip case which also comes with an armband strap for jogging and stuff I know nothing about like the gym. It is a lovely little accessory package for around $12, which is peanuts and does a very nice job both in terms of protection for the AP60 and all -round aesthetics. They also come in numerous colors to match your DAP including, brown, black and blue.
Inside the retail box, as standard, you get a USB cable which is both a data transfer cable and charging cable as well as a manual, service and warranty card and a set of screen protectors. Sadly you will have to put them on yourself as the AP60 does not come supplied with them pre-applied like the N3 or X1 2nd Gen.
Page 2: Software & Connectivity