Cayin N3 is the latest budget DAP from established Chinese audio manufacturers with a value-conscious price starting at $149.
Disclaimer: The Cayin N3 sent to us is a sample in exchange for our honest opinion. We thank Cayin for this opportunity.
To learn more about Cayin products on Headfonics you can click here.
Cayin N3
I am also extremely impressed with the capability of the N3 in terms of audio quality when compared to the i5 and its nearest competitors at the entry-level. It retains quite a lot, if not most, of the tonal qualities of the i5 but at the same time, it lowers the noise floor with its new gain settings to make it an ideal pairing for IEMs.
The N3 is officially the fourth release in the Cayin DAP lineup and priced at $149. It is also the cheapest making Cayin's entry-level DAP and a direct competitor against the likes of the FiiO X1 gen 1 or 2 or the Shanling M1. Perhaps even (at a stretch) the Hidizs AP60, which also came out onto the market though price much lower at $80 and packing fewer features.
Coming fresh from declaring the i5 the king of mid-fi DAPs in 2016 I was actually quite surprised Cayin had another one lined up so quickly but given the price disparity between the two I am pretty sure that neither will cannibalize sales from each other.
That being said the N3 is probably one of the most feature-rich DAPs at this price point and whether you acquired it through local retail channels or waiting for the rather higher profile Massdrop version in April 2017 I actually think the oft-used meme "Bang for Buck" really does apply to the N3.
What Is The Pitch?
Price
Cayin are pitching the N3 on several levels and truth be told some of these features are very interesting indeed, at least on paper. The price point is just right for first-time upgraders or those who might, shall we say, have a slightly level of dissatisfaction on cheaper DAPs. Cayin even throws in a color variation with cyan and black just to give it a more modern appeal.
Decoding Capability
Second, the N3 packs the AK4490EN DAC chip, which is the recently released mobile version of their excellent AK4490 chip used in the mid-range i5 DAP. It is also the exact same chip in my ZTE Axon 7 mobile phone so it should pack a musical punch offering 32BIT/384Hz implementation including up to DSD256 decoding. That covers the bases for most audiophile decoding needs.
Interfacing
Third, the N3 can double up not just as a USB-DAC, which even at this price is no longer something unique, but also output a SPDIF signal to a receiver of your choice. Their clever use of the USB-C connections means the N3 can become the source itself and offer an alternative to a wider range of non-USB receivers out there in the market today as well as USB DACs.
For audiophiles looking for a small source/transport and packing anything from a Mojo up to a dedicated receiver desktop with coaxial input – lookout, you are being pitched to by Cayin.
Memory
Memory is also a big pitch on the N3. If you want a source with plenty of memory for those DSD files then N3 can handle up to 256Gb in memory plus on a single microSD. It can also offer OTG capability via USB-C for even bigger memory sticks and power-efficient hard drives.
Wireless
The final feature and one that I think adds substantial value to the N3 pitch is the wireless capabilities. No, it does not have WiFi, at this price point you would need to be working on Android to get anything out of WiFi and that's a price level up and already covered by the i5.
The wireless pitch of the N3 is BT 4.0 aptX which ironically was not on the i5. The N3 rocks a duplex BT 4.0 aptX service, which for phone, desktop zeppelins, and car stereo BT receivers, offers the most competitive BT audio signal in the market today.
Design
Materials & Design
The Cayin N3 is quite understated in design flair and certainly nothing quite as flashy as the i5 or as memorable as the N6. However, it is quite a bit smaller in size and far more pocketable than the two higher-end units measuring in at just 10 x 5.4 x 1.3 cm and weighing in at just 100g making it half the weight of the i5. The term "pocketable" in terms of form factor literally applies to the N3.
Though understated in aesthetics the N3 really doesn't skimp too much on the materials. It feels light but sturdy with a solid aluminum chassis and a soft, anti-slip pleather back which has a nice touch to it and adds to the "grip-ability" of the N3 in your hand. Both color schemes, black, and cyan come in a sandblasted finish.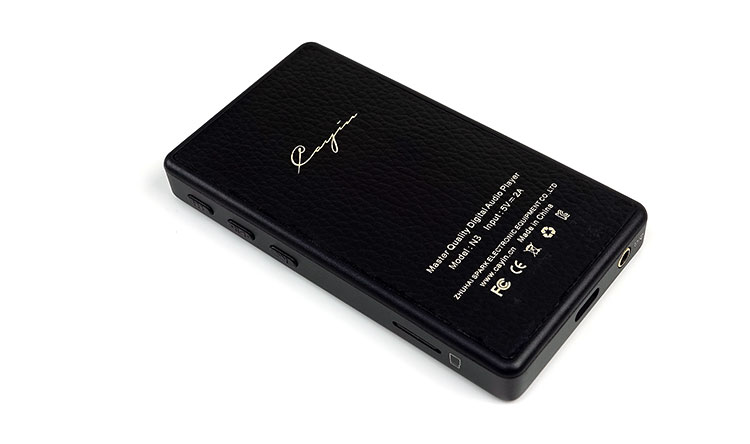 Side Panels
On the left and right panels, you have physical controls and the open memory card slot with the inputs and outputs housed on the bottom panel of the N3. There are no functionality or hardware controls on the flush top panel.
Front Panel
The top is dominated by a capacitive touch control button array directly under the screen with a physical central button mostly for confirming and playback functionality.
None of the buttons are back-lit sadly but the haptic feedback when you press one of them does help for a confirmatory basis when operating in low light conditions. Below the capacitive buttons there is about an inch long of nothingness to rest your thumb on I guess.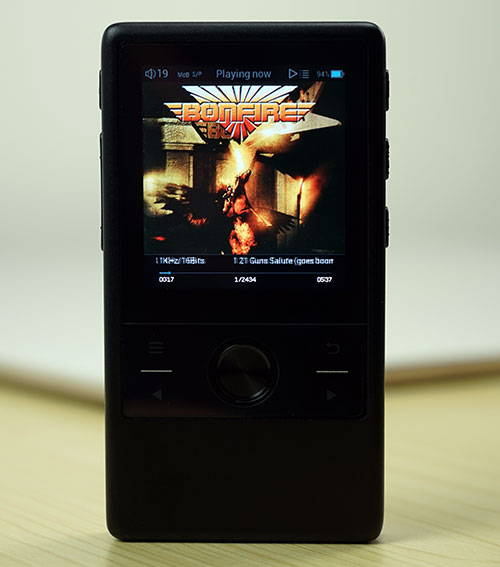 Screen
The N3 uses a 2.4″ TFT 400 x 300 IPS screen which is not bad actually at this price point. Despite the size of the screen the OS never felt cramped either with the text being crisp and clear and with some good saturation in the color reproduction.
It is also a class higher than the 2 inch TFT 320 x 240 LCD screen of the FiiO X1 2nd gen which is lower in resolution on paper and looks pixelated in comparison.
The viewing angle is excellent with this screen. You can dip it to almost horizontal at eye level and still read what is going on the screen. You can also adjust the backlight of the screen to conserve battery life in the settings menu. There is plenty of pop and brightness at full power, but my preference is around 50% to shorten the drain but still leave it fairly legible.
Hardware Controls
Types
There are two sets of hardware controls for the Cayin N3 – the top capacitive buttons and the side physical traditional buttons. Both overlap on playback control but the side buttons to not interface or control the OS navigation and selection.
Capacitive Controls
Whilst it is not a touchscreen-based system it does pay homage to its costlier cousins with a set of capacitive buttons just below the screen, on either side of a more traditional circular hardware confirm button. You can elect to turn the haptic feedback response of these buttons on or off from the settings menu should you find them distracting.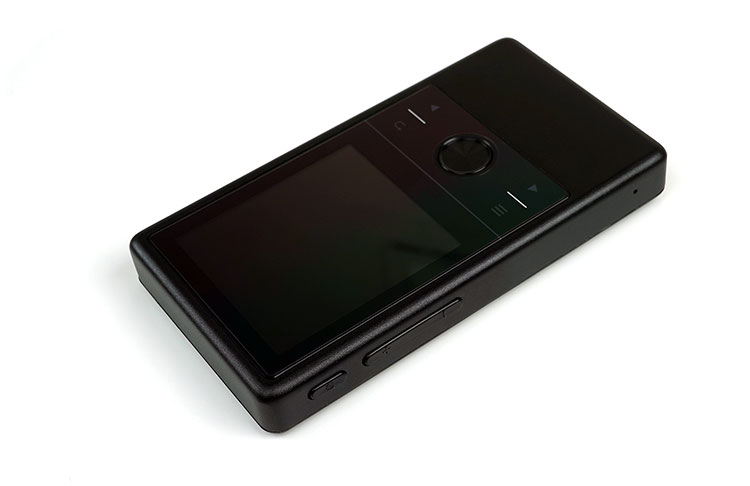 Bottom
The bottom two buttons have dual functionality with forward and back during playback and up and down/left or right actions during menu navigation.
Top Left
The top-left button has a few functions to it and it is not intuitive unless you read the manual or play about with it. The first function is during playback.
By pressing it you can bring up "On the go" options such as gain control, playlist control, line out and delete the track. A second option is a confirmatory action in the Music category which immediately opens up one of the categories to view the list of songs available.
Top Right
The top right button acts as a return button to allow you to navigate out of the screen you are into a higher or previous level in the OS. It can also allow you to come out of the playback screen and browse your music selection without interruption to the current track you are listening to.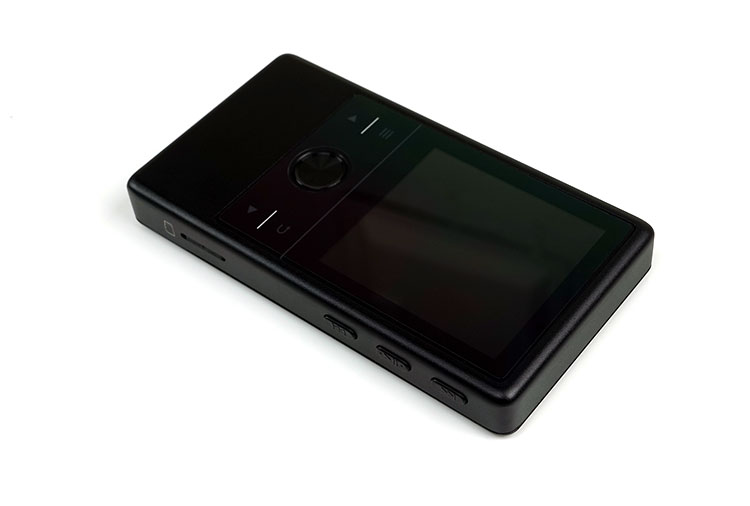 Left & Right Panel
These are the more traditional types of pressure-based switches with the left housing the power/LCD screen on and off button and a volume rocker just below and on the right side your traditional playback buttons, play/pause, back, and forward.
These are designed specifically to allow you a measure of playback and power/volume control without having to look or interact with the front-facing capacitive buttons.
Inputs & Outputs
I/O is 100% on the bottom panel with just two interfaces, the headphone/line-out analog jack and Cayin's specifically engineered USB-C interface.
I say specifically engineered because they have been able to work a SPDIF/OTG and USB-DAC interface into the one port and not even my USB-C interface on my mobile phone has that much functionality packed into it. It does make me wonder what more can be done with a single USB-C port beyond that but kudos to Cayin for stuffing that much already into a $149 DAP.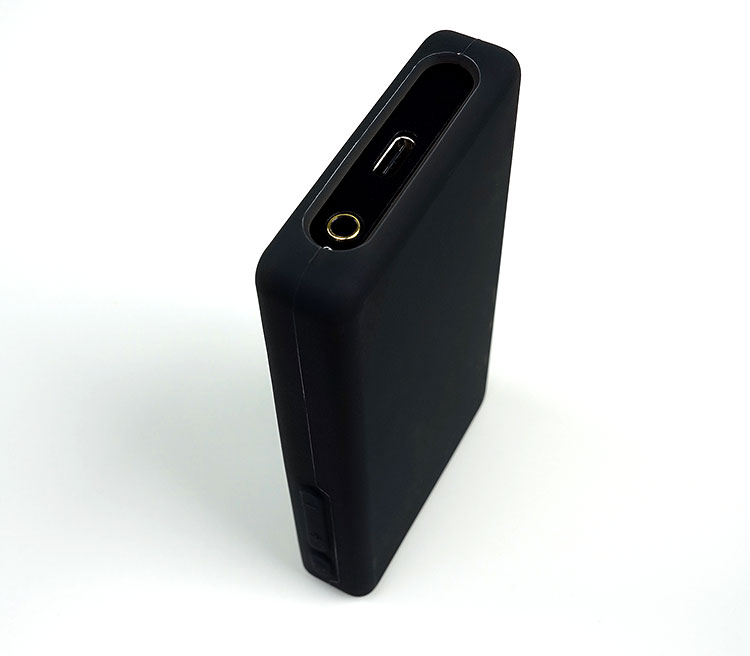 Cables, therefore, will play a bigger role with the N3. The bundled USB-C cable can be used as charging, data, and digital connection from your PC/MAC to N3 (N3 as USB DAC).
You can also buy an aftermarket SPDIF short cable for using the N3 as a transport with the Mojo in a tidy little package. You can also buy Cayin's own CS-30TCR USB-C To Coaxial Cable which is a bit longer for easier desktop interfacing as a source with SPDIF capable receivers and DAC's such as Cayin's own iDAC-6 desktop module.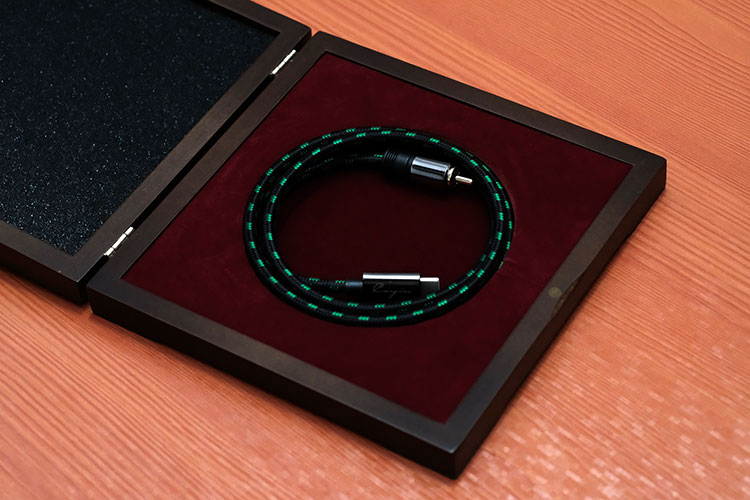 Memory Capacity
The N3 is competitive for memory capacity and in line with both Hidizs and FiiO for their entry-level memory capacity at 256GB via a single microSD as well as OTG capabilities for flash drives and powered hard drives.
Also, indirectly you can acquire "additional memory space by proxy" using the BT Duplex service. In effect, the N3 becomes a wireless DAC/Amp with potential access to just under 5TB of space (2TB OTG N3, 2TB OTG phone, 2 x 256GB memory cards in N3 and Phone and an average of 128GB space onboard a smartphone).
That is a huge reservoir of space the N3 can tap into for audio tracks.
Something to point out at this stage though is the speed of access to memory on the N3. It is actually on par with the AP60 at around 63 seconds for 2400 16BIT FLAC tracks in scanning and absolutely flattens the ponderous X1 Gen 2 Linux OS and processor memory access speeds. I think for the equivalent number of FLAC tracks you are talking around 10 minutes on the X1 2nd Gen.
Battery Life
Rating
The Cayin N3 2500mAh li-poly battery is rated at a very competitive 12 hours continuous playback and up to 200 hours standby under optimal conditions using CD-quality files. Compared to the higher-end models in Cayin's range the N3 has the longest battery life.
As a point of comparison, FiiO's Linux driven X1 2nd Gen is rated also at 12 hours on a 1800mAh 3.7v Li-Polymer Lithium battery and the Hidizs AP60 can churn out 10-12 hours on its tiny 1000mAh Lithium polymer battery though to nowhere near the level of functionality as the N3.
All 3 pale into comparison with the Sony NW-35's class-leading 30 hours using FLAC. Also 8.3 days continuous standby is pretty good but it is missing FiiO's 'Deep Sleep' feature which can achieve almost double standby time at near 15 days.
Charging Time
Charging time is a fairly speedy 2 hours on a 1.5/2A charger or by using the supplied USB data/charging cable and Cayin do recommend at least a few cycles before the battery indicator is accurately reflecting the current charge levels on the main screen.
Usage Scenarios
12 hours is an optimal estimation by Cayin meaning CD-quality files are being played continuously with the LCD screen turned off throughout. It is highly likely the first cycle will also be a lot shorter as it is shipped partially charged. Button mashing, high LCD screen brightness settings, and liberal use of the BT function or DSD files will drop the battery time by a few hours.
My own real-world numbers are set closer to 10 hours but I do like a bright screen as the stock theme is quite dark both in font and background colors.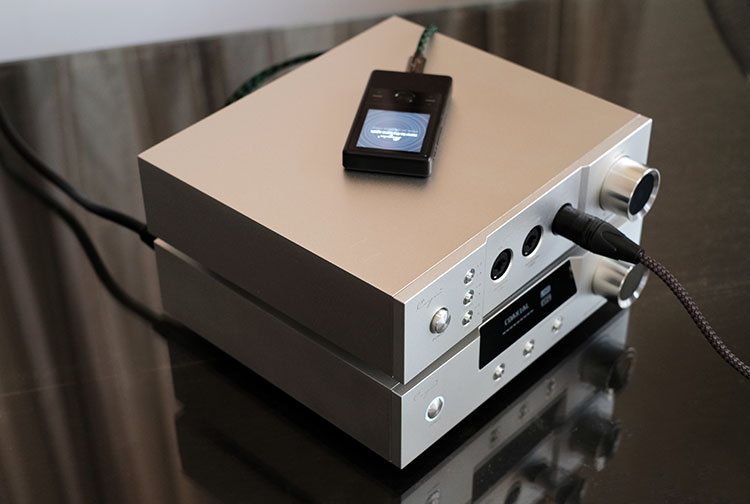 Functionality
DAC
AK4990EN
The N3 uses the latest iteration of the AKM 4990 family, the AK4990EN DAC chip. This is a 32BIT 2 channel low power consumption DAC chip specifically targeting mobile applications with hi-resolution audio needs. It is also smaller with a more efficient design than the AK4490EQ chip.
Codecs & Features
The great thing about this new chip is that it retains quite a lot of features of the AK4990EQ but in a vastly reduced size and thus allowing the Cayin to shrink their DAP design to that of the N3.
Decoding rates are a truly excellent 32BIT/384K (Wav and AIFF) in PCM format with DSD native decoding up to DSD256 with a very wide range of codec support including DSF, DIFF, SACD-ISO, WAV, AIFF, FLAC, ALAC, APE, WMA, MP3, and OGG.
Note though that FLAC decoding is a max 24BIT/192K and DSD256 files will be natively decoded on the N3 but the max output is DSD128 on DoP.
Digital Filters
The N3 AK4490EN chip also retains the five different 32-bit digital filter types, including short delay sharp roll-off and short delay slow roll-off filters, a sharp roll-off filter, a slow roll-off filter to preserve the phase difference, and a new even slower roll-off filter. All are accessible in the settings menu on the N3.

Processor
The N3 uses an Ingenic X1000 SOC with an HBC2500A HiBy Music digital audio processor. This is a custom FPGA from HiBy Music (one of Cayin's major backers) designed to handle the bitstream and reduce jitter before the signal enters the AK4990EN chip for decoding.
The X1000 SOC chip used in the N3 is from the same family of SOC chips used by Cayin in their N5 and N6 models (JZ4760B) though the clocking speed is much higher at 1Ghz compared to the older JZ4760B which had a max 600Mhz clock speed. In short, the X1000 XBurst1 is a good deal faster and more powerful.
Amping
The N3 deploys an entirely Texas Instruments solution for its amping requirements, including the low pass filter and line amp (OPA1652) as well as the amp stage itself (OPA1622).
The rated power output of the N3 is 130 mW + 130 mW at 32 ohm which is pretty respectable and only slightly down on the i5 which delivers 190mW+190mw (@32Ω) from its TI design that also deploys a dual BUF634 buffer.
Note the i5 also uses an OPA1652 so take note, SNR and dynamic range performance of the N3 and i5 are the exact same at 108dB though distortion figures on the N3 are not quite to the same level at 0.03% compared to the i5's THD+N much lower 0.006% for the headphone jack output.
Accessories & Packaging
For its retail price point of $149 the N3 accessories and packaging are professional and cover most of the bases though you would hardly term it luxurious. Inside you get:
1 x silicone case
1 x 1m data/USB USB-C to USB-A cable
2 x screen protectors (one is pre-applied)
1 x warranty card and user manual
The silicone case will come in multiple colors so if you ordered black you will get a black silicone case and cyan color for the cyan-colored DAP. There will be the option though to order silicone cases beyond those 2 colors with yellow, lime, and red in the pipeline.
Having used the silicone case for a while it is pretty durable yet flexible enough to work with the buttons underneath though the additional thickness just below the capacitive buttons can sometimes get in the way of smooth button operation but not a deal-breaker.
Click on page 2 below for Software Impressions