The Padmate PaMu Explore is a full-sized closed-back dynamic driver Bluetooth wireless headphone featuring BT5.0 and aptX decoding. It is priced at $199.
Disclaimer: Padmate sent to us the PaMu Explore sample in exchange for our honest opinion in this review. We thank the team at Padmate for giving us this opportunity.
To read more about Padmate products we have reviewed previously on Headfonics click here.
Note, this review follows our new scoring guidelines for 2020 which you can read up on here.
The PaMu Explore can be summed up like this. A well priced (at $99) BT 5.0 wireless full-sized headphone with a good driver that has a lot of potential, a good Qualcomm chip with APTx HD, and a list of good features but in the wrong shell. You will either love or hate their looks.
Padmate has become somewhat of a common name when it comes to TWS earbuds. They sell TWS units like hotcakes and buyers are liking them. We reviewed two of their models and thought they were decent TWS models particularly in battery life and touch control functionality.
So it makes sense that at this point they want to try their hand at a full-sized headphone with Bluetooth capabilities. The PaMu Explore is their freshman debut for full-sized Bluetooth headphones.
The PaMu Explore has many features but is simple in function. The introductory price of 199 US dollars puts it in a class where there is a lot of competition from large companies like Sony, JBL, Audio Technica, and Sennheiser and many other companies so let us see how this fares.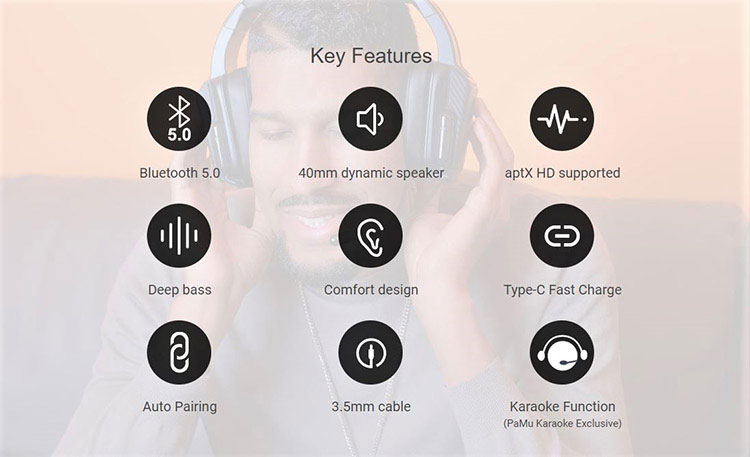 Tech Inside
The Driver
The PaMu Explore employs a single dynamic driver. PaMu developed the 40mm dynamic driver that is being used here. The 40 microns thin driver has a Polyurethane Composite diaphragm.
According to Padmate, the driver is capable of a frequency response of 10hz to 30khz.
The PaMu Explore not only works over Bluetooth but you could also use the 3.5mm plug on the bottom of the right cup. So you could connect these headphones to your favorite amp or use this method if your battery runs out of energy or if you just want to try out the drivers' full capabilities.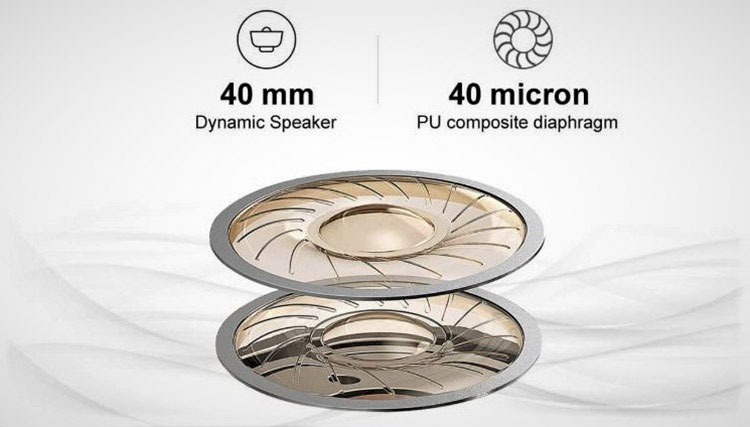 Bluetooth
Bluetooth capability is handled by the single-chip solution Qualcomm QCC3034 chip. The 90-pin VFBGA type flash-programmable chip is part of the Qualcomm low power SoC line. It also runs on a dual ram DSP and also on a dual-core 32-bit main system. It uses an 80kb programmable DSP ram plus another 256kb of ram to handle the decoding.
Qualcomm claims the same low power performance out of this chip comparing this chip to their premium QCC5100 series chips and claims a reduction in power consumption over other similar chips of 65%.
Codec Support
The PaMu Explore has you covered in this department and has a generous list of compatible codecs. They mention many other codecs but only list 4 specific ones. The PaMu Explore steps it up and gives us APTx HD support plus the more common APTx.
SBS codecs work and Apple AAC so I can say the coding department is enough to not worry about your devices working with the Explore.
CVC Noise Cancelling Microphone
The PaMu Explore does not have ANC, active noise canceling in the audio department but it does use CVC noise canceling on the dual microphone setup it has. The microphone system on this set works just fine and sounds pretty clear. No one complained about the audio quality on the other end.
Controls
The PaMu Explore has touch controls that for me worked very well. However, the sensitivity could be turned down a hair. The sensitivity is such that just by floating your finger over the touch panel it activates.
Many times did I pause the music while testing the PaMu Explore until I used better control on my part and used better hand discipline.
Aside from the touch controls are two buttons for volume adjustment located on the right-side cup. At times I could not adjust the volume from the source and at times I could so it's a good thing these are there and I do prefer them over touch control volume controls.
Design
The PaMu Explore is a big headphone and a unique design. The cups are huge and so is the headband. Their design is a completely closed-back design or so it seems. The construction is mainly plastic. There are bars on the bottom covered in a ribbed rubber shield. I really cannot say what purpose these bars have.
The only metal part is on the metal slider adjustment and only as an overlay.
Swivel system
The cups appear to be huge. They are not actually but give that impression because they are mounted on a rubber suspension system that gives the cup just a few millimeters of side to side swivel.
So basically each side is composed of two shells, one inner and one outer with a rubber suspension in between. There is no swivel on the headband itself.
I feel this has pros and cons. The rubber suspension adds weight and bulk which is undesirable in a headphone design. The pro is that since it is a fixed cup there is no swivel which is always a weak point in all headphone designs. They do seem to be robust enough to last a very long time with normal use.
I detected wind noise and the origin was the space between the two cups. Perhaps the driver enclosure is not closed back after all. Bleed is kept to a minimum.
Padding
The PaMu Explore uses protein leather pads on a proprietary clip-on mounting system that padmate promises long life due to their construction and materials.
The ovals shaped pads are very comfortable. The headband produces a somewhat high amount of clamp pressure and keeps these secure on the head. The pads do get sweaty at times. These headphones seem completely closed back and there seems to be no breathability.
The headband also gets a treatment of comfort with a protein leather-wrapped cushion which is almost an inch thick.
Isolation
As mentioned previously these do not employ any active noise canceling except for the microphone system. They do however isolate pretty well. If my ears are correct these have almost the same amount of passive isolation as an IEM which on average is about 28 decibels of noise reduction.
Despite being closed off once again I have to mention the wind noise coming from the space between the two cup system.
Slider Adjustment
The only size adjustment the PaMu Explore has is the slider adjustments. The one place the construction contains metal is in the slider. The sliders are marked with a process called a PVD process and claim to be scratch resistant.
The slider adjustments are marked with numbers from 0 to over 30 but I could not find what standard measurement it uses. It is not marked in inches or millimeters. I guess it is just a random measurement. I used a tape measure and got approximately 1¼ inch on each side. I would say these will fit practically anyone comfortably.
Connectivity
The PaMu Explore has all its wired connections on the bottom right-hand side cup.
First off the charging port is a USB-C type and is my preferred plug over the mini USB. I am not sure this port is data enabled for future firmware upgrades. Padmate does not mention it so I guess there will be no updates and there is no application for them either.
The other connection is a 3.5mm standard headphone connector. You can use any 3.5mm wire you have and it will work fine on the PaMu Explore.
Then there is an on and off switch nestled in between. That is the wireless Bluetooth on/off switch. Simply turn on the switch and the auto-pairing takes care of the rest. I rarely had problems pairing these and seem to auto-connect fine
.
Rocket lights
The PaMu Explore has four huge indicator lights they call rocket lights. They indicate the status of either pairing mode or being connected. I think they are unnecessarily large and the indicator could have been a small LED on the bottom of the earcup by the USB connector. Something less conspicuous.
Battery life is of concern also since there are four LEDs consuming energy. Plus you have extra added weight with the 4 capsule-shaped light shells.
Bluetooth Range
It seems 33 feet is a common range specification on all the Qualcomm chips. I have obtained a minimum of 22 feet and a maximum of 37 feet from TWS and headphones using Qualcomm chips.
The PaMu Explore is an in-between 32 feet in the range department missing the 33 feet specification by 12 inches. I tested the range in a straight line and using a BT5.0 transmission. At 33 feet the signal broke up and at 34 feet there was a disconnect. It paired well after the unit came back into range.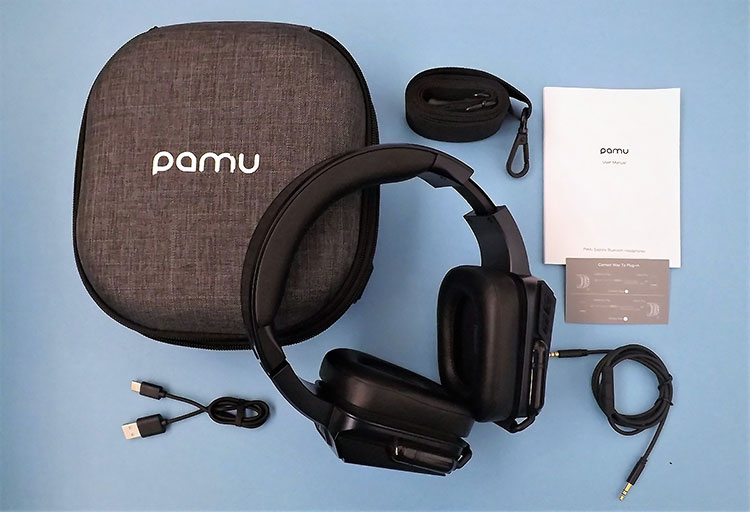 Packaging & Accessories
I like the PaMu Explore included semi-hard carrying case. The letters are scratched off some but the quality of the case is undeniable. The case is made of a semi-hard shell, cloth-covered, and is zipper lined. A carrying strap is also thrown in the box.
You also get a four-foot wire that ends in a 3.5mm 4 pin plug. The wire has a microphone with basic inline controls. Beyond that, there is not much else. You get an instruction manual, a USB-C charging wire of about 18 inches, and a proper connection guide.
PaMu Explore Sound Impressions
The sound signature here is a high bass tilt. A 10 to 15 decibels Boost in the bass, somewhat flat midrange, and a sharp high-frequency roll-off. These are tuned more for gaming and basic use and I would not consider them Hi Res.
I have built many speaker cabinets in my day and know the importance of a well-designed box taking into consideration the driver specifications and parameters. The PaMu driver seems to have the characteristic of a driver in a box that is slightly too large.
On a plus side gaming with the PaMu Explore is a cool experience because they have plenty of energy in the low frequencies and tend to scare with impactful sound on explosions. I can also attest that this PaMu driver has a lot of potential if it was in a better-tuned environment.
Bass
As stated the bass is somewhat of a highlight here. It hits hard. However, it misses a small portion of the lower frequency spectrum and most of the energy is in the midbass region. My tone generator test revealed severe driver breakup at any frequency below 30Hz. It could well be and sounds to me like a driver damping issue.
There are two peaks in the lower regions above other bass frequencies. One is in the 190Hz region and the other is in the 290Hz region which is at that point hitting the midrange area. There is a small amount of midbass bleed into the lower midrange that apparently comes from the two peaks in the frequency range mentioned above.
Midrange
There is a slight veil in the midrange but not much. They are smooth and clear sounding in general. Female vocals tend to sound better than male vocals. The latter tends to have a small amount of hollowness. At times sound took on a cavernous characteristic in the midrange area.
But it is fair to say that the midrange has a good amount of detail just not a micro detail-oriented. Instruments sound okay in tone and generally separate well from each other within the soundstage.
Treble
The highs give a clean impression but upon further listening, they roll off very early. The tone generator test revealed that these drivers are not producing any frequencies above 14kHz so my ears were right at detecting a very early roll-off. My hearing is tested up to 19kHz.
Since there is an early roll-off, the highs never sound too harsh or piercing however there is some graininess. The high-frequency shimmer is lacking. The highs also lack a little bit of complexity.
Separation & Imaging
Imaging is precise but the soundstage is very narrow. There is some frontal positioning but very little else. Imagine a coconut sized object inside your head. All the sound happens within that space. There is not much information beyond the ears and frontal lobe.
Detail retrieval rated from poor to excellent I would rate them adequate to good depending on the music genre.
Synergy
Wireless Performance
There is a slight difference when you listen to the PaMu Explore with Bluetooth enabled and streaming high-quality files. The sound characteristics stay the same except for the bass department.
It seems obvious PaMu put the Kalimba DSP tool kit to work and gave the Bluetooth a leaner sound by taming down the bass a few decibels. That improved the overall sound quality and I can only guess battery life improves by not having to produce so much bass.
The midrange and the highs seem to clean up by approximately 5 to 10% which is strange since I used a few very clean amplifiers with low distortion ratings on the 3.5mm plug. I guess the APTx HD is all that is hyped up to be when a headphone sounds better through a Bluetooth receiver rather than being connected to a dedicated amplifier.
Each time I turned on the Bluetooth switch the PaMu Explore connected to my home PC with no hassle. It also paired well with my Motorola Android phone.
Wired Performance
On the wired side, these tend to be very efficient and can be driven by my phone but can also seem to handle some serious power if you desire to feed them with a dedicated amp. The PaMu Explore seems to be very stable at all things it claims to do.
Battery life
PaMu did not list any information on what type of batteries are used inside the PaMu Explore. I honestly could not find a list of specifications on any of Padmate product websites either.
What is listed is battery life measured in hours. Padmate claims a 27-hour battery life. I must say that when we reviewed the Slide Mini and the Unique both units had exceptional battery life and these follow that line. I obtained 26 hours of playback time at a medium volume level before I needed to charge them and that is close enough.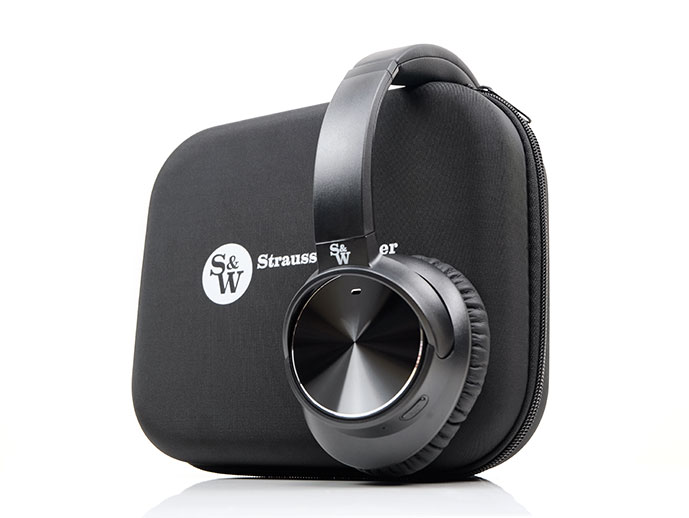 Selective Comparison
Strauss and Wagner SW-ANCBT501
Straight out of New York and also a newcomer in the full-sized BT headphone scene is the S&W 501s. At the time both are being offered at 99 bucks. Soundwise they both scream bass. They both seem to have elevated bass, average midrange, and recessed highs.
The differences are mainly in the fact that the S&W has ANC. Although the PaMu Explore does isolate well it does it passively. Another different aspect is the aesthetics of the two. The S&W seems more streamlined with a lower profile.
There is a third feature and that is folding capabilities. Portability sometimes requires a headphone to have foldability but on the negative side that ads complexity and fragility. If I was to put my money on who would win a longevity contest I would bet all my money on PaMu.
Our Verdict
At the time of writing this review, Padmate was offering the PaMu Explore at $99 dollars, and that is a fair price. It is a harder sale at the SRP $199 because the competition is plenty in that price bracket.
The PaMu Explore can be summed up like this. A well priced (at $99) BT 5.0 wireless full-sized headphone with a good driver that has a lot of potential, a good Qualcomm chip with APTx HD, and a list of good features but in the wrong shell. You will either love or hate their looks.
For 100 bucks the driver itself seems to be competitive with wired cans at that price bracket. I could mention several similar models but the PaMu Explore gives you BT 5.0 APTx HD capability which is good value for me.
Every product has a purpose and you might find one or even a few with the PaMu Explore. It does what it says it does that is for sure. For $99 I would say its a decent buy and if you do not like them you can always use their 30-day return policy which is generous of them indeed.
PaMu Explore Specifications
40mm Polyurethane Composite diaphragm Dynamic speaker
Bluetooth 5.0
APTx HD, APTx, SBS, AAC
Auto Pairing
Type C fast chare
3.5mm cable with mic