The Oriveti OH500 & OH300 are the company's brand new hybrid universal monitors with the OH300 a triple driver and the OH500 a 5-driver and their flagship. The OH300 is priced at $299 and the OH500 is priced at $499.
Disclaimer: The Oriveti OH500 & OH300 sent to us are samples in exchange for our honest opinion. We thank Oriveti for this opportunity.
To read more on previous Oriveti reviews on Headfonics you can click here.
Note, this 2-page review follows our new scoring guidelines for 2020 which you can read up on here.
Oriveti OH500 & OH300
The ORIVETI OH500 shows off a more mature tuning with stronger technicalities. The tonal balance and mid-bass texture are much more engaging and detailed. The overall performance is a tier up from the OH300 and ready for some serious and enjoyable listening.
Coming to us this time are the recently announced hybrid IEMs OH300 and OH500 from Oriveti. These new 3 drivers and 5 drivers IEMs are hand-built with resin and come with a premium-looking 8-braid cable, packed in professional packaging like the former model New Primacy reviewed earlier.
Both IEMs look quite sensitive on paper, assumable to be a great fit for phones and some new DAPs. In this review, we will test out the performance of the two IEMs and compare these two items that share similar designs but different configurations.
Tech Highlights
You notice the driver count of the new OH300 overlaps with the New Primacy, both encasing the same 1+2 hybrid configuration. The OH300 houses a new dynamic driver and replaces the New Primacy build with a premium resin design and an 8-wire cable.
The OH500, on the other hand, is Oriveti's new flagship also featuring a hybrid design but differentiating itself with 4 balanced armatures and sporting the same 8-braid cable in a brown color. With new designs and higher driver counts, we can expect better separation and treble extension as well as good synergy on devices with lower outputs.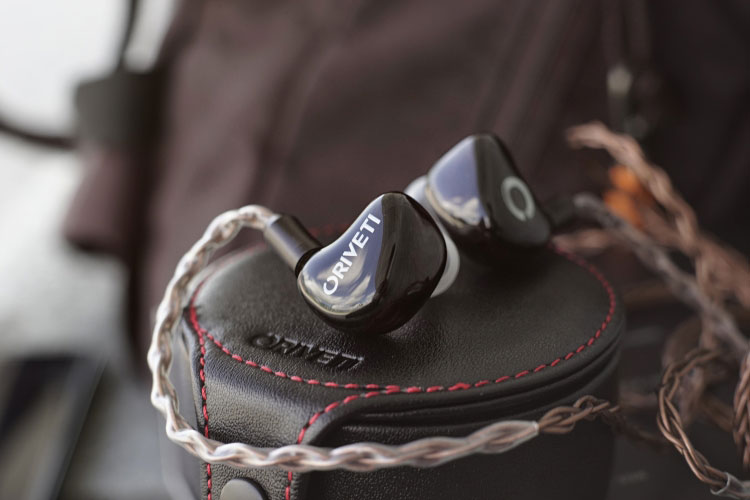 Design
The OH300 and OH500's resin housings are shaped like jelly beans when viewed at a certain angle. They do resemble the New Primacy's design but are now way more premium and pebble-smooth in appearance and touch.
The build and polish are awesome and no bubbles or blemishes. The faceplates show off a smart golden Oriveti logo on the left and the brand logo on the right.
The OH500 is beautiful under sunlight especially when light passes through, the semi-transparent amber-brown finish allows you to take a glimpse at the internal structure.
The OH300 has a stealth black color scheme matching very nicely with the golden logos and is also semi-transparent when viewing under the light. Both monitors are built with the same mold so the dimensions are the same.
Comfort & Fit
The tips, when attached to the nozzles on both monitors are tilted slightly to the front. They both have a deep insertion so they seal swell and offer good isolation. Both earphones are designed to be worn over with detachable cables.
Volumetrically, the OH500 is slightly bigger than the OH300, however, both are compact enough to fit comfortably in smaller ears. The IEMs are quite compact, and light, and feel comfortable in the ear after a few hours of continuous listening.
When I use the double flange tips both go a little bit too deep in my ears but some may like the deeper insertion for the tighter bass impact.
Tips
There is a good selection of tips inside the packaging so you should be able to find a suitable fit and tuning. A good fit is very important as it will affect the seal and insertion depth which greatly alter the sound.
You will also find a small plastic box filled with tips and some more in the leather case including silicone tips in 3 sizes ( 2 different designs ), 2 pairs of memory foam tips, and 2 pairs of double flange tips. The nozzle design will allow you to swap other tips such as final tips and spiral dots without them falling off.
Cables & Connectors
In both packages, you will find the same SPC 8-braided cable. The materials and square braiding on the cables look professional and luxurious and not likely to unwind. In the case of the brown OH500, the color matches the finish quite well.
There is a plastic ball slider and all Y-split/ plugs are covered by custom-made metallic parts. Heat shrinks bend as the ear guides and covers the connector end of the cables. All parts and the cable material look well-machined.
The prints on the MMCX cover are, however, slightly off-center and the MMCX metal cover looks a bit too big compared to the body. It doesn't affect the fit, however, and seems quite robust but it may look nicer if the parts are slimmer and the prints are aligned.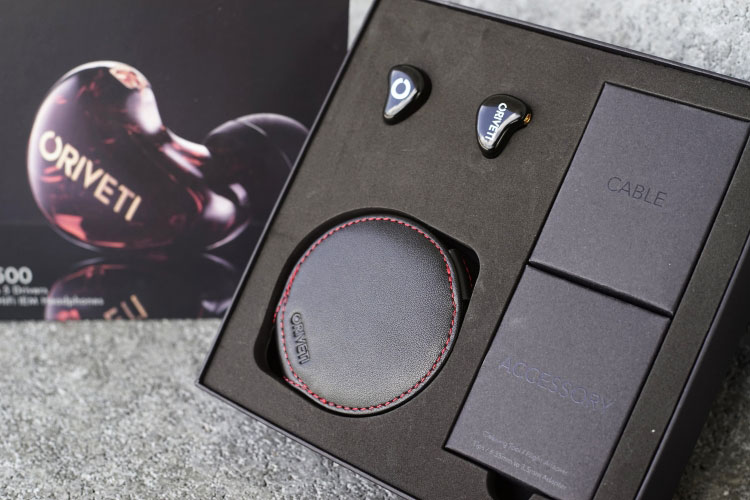 Package & Accessories
Both models come in similar packaging with a nice selection of accessories. This is especially so for the very premium feeling leather pouch made from genuine leather included for both models which fits the earphones just right.
The box design is professional, parts are loaded into small paper box compartments and it feels much like unpacking a luxurious handbag.
In the packaging, you will find also cleaning tools, a flight adaptor, a 3.5mm – 6.3mm converter, and the tips in S/ M/ L sizes, double-flange, and foam. The 8-wire cable sits in a separate paper box and each IEM has no tips and cables preinstalled.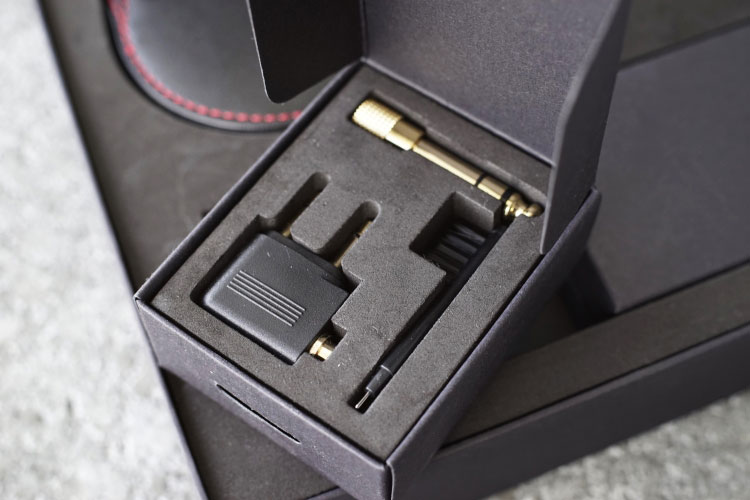 Sound Impressions
Both IEMs are burnt in for more than 48 hours and circulated for my daily travels for more than 2 weeks before impressions are made.
OH300
Presentation
Like the New Primacy in my memory, the OH300 is also an easy-to-drive, mid-treble optimized IEM that sounds very clean even on phones and Bluetooth receivers such as Hiby W5. The OH300 has a new 8mm dynamic driver inside that adds more fullness to the lower vocal range and the Dual-BA is responsible for higher frequencies.
Testing on my iPhone 6+ the bass punch is soft but the extension is decent with good detail and texture. It also delivers a slightly forwarded vocal with good treble presence and no unpleasant peaks which makes the OH300 very comfortable to listen to for an hour or two without any fatigue.
You can feel some elevation purposely added to the upper vocal range to evoke a slightly cooler signature which contrasts nicely with the soft bass. I find it great for lighter voices and relaxing music genres i.e. blues and Jazz also lighter vocals.
The transition between the drivers on the OH300 is smooth and the output is quite stereoscopic. Overall, there is a good level of resolution and detail. The clean vocal performance and relaxing bass lines work their magic to render the music very engaging yet you will feel the limitation of hybrid designs when it comes to high BPM tracks.
Source Sensitivity
When you play songs with complicated bass content or lossy format you will notice a weakness on OH300 in the bass performance. To further explore OH300's performance I paired it with different devices.
The dynamic driver is quite sensitive to what input is fed in and you will feel more energy and control in the bass on higher powered outputs. With certain gears like Lotoo Paw Gold, you will get even more sparkle in the treble, which may work for audiophile recordings but could also sound harsh on string instruments.
Soundstage
The sound stage is fairly spacious with good headroom and decent depth. On a Hiby R6, a device with higher output impedance, the sensitive OH300 still sounds fairly balanced and dynamic. You will find the OH300 pairs nicely with many sources and finds a good balance between an engaging sound signature and technical capability.
OH500
Presentation
Switching to the OH500 which carries the same 8mm dynamic driver plus 2 more BAs you will immediately hear a larger soundstage, better dynamic range, and noticeably much better bass control.
You still get the buttery smooth articulations and swift vocal while technical performance is much enhanced with the two extra BA drivers added on. The vocal stands out more from the background and the overall presentation is more natural and three-dimensional with the extra details and texture in the bass.
Sensitivity
With two more BAs inside the OH500, it is quite a bit more sensitive than the OH300, further boosting details and mid-bass performance on lower-powered devices.
Small DAPS like Shanling M1 or FiiO M6 can drive OH500 loud and detailed and with an amped/more powerful system, you will get good control in the bass that allows you to listen to fast and energetic music along with juicy textures in the lower frequencies.
Compared to the OH300, the OH500 has a better sub-bass and a much more tamed treble. It sounds more controlled and without the sparkle, the OH500 sounds warmer and more refined. The higher technical performance comes together with much better staging and separation, not to mention very smooth transitions in the crossover range.
Listening to higher resolution tracks, in particular, audiophile vocal recordings with the OH500 is enjoyable. With good mastering, you will hear rich details, especially in the mid-bass area.
Comparatively, the character of OH300 renders voices lightly and delicately without missing the dynamics in the instrumentals. The OH500 feels like switching from solid state to tubes, handling everything in a more refined way and further strengthening the resolution.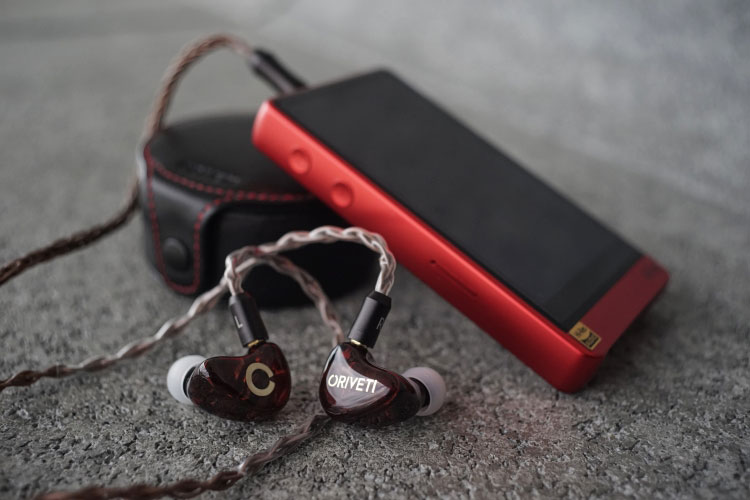 Synergy
OH500
The OH500 is rated at just 12Ω with 110db sensitivity, sufficiently powered by many portable devices. With small USB power DACs like FiiO K3, you can get decent quality outputted and it also works surprisingly well with the latest FiiO M11 on the 3.5mm socket.
Putting the OH500 on amplifiers or more powerful DAPs you will hear better layering and power in the lows, you will hear firmer punches, and more solid impact with better details and texture. Being quite low in impedance OH500 is sensitive to what it is paired with and sounds quite different with various sources.
OH300
On the other hand, the smaller brother OH300 outputs clean mids and relaxing bass lines on phones and lower-end DAPs, putting it on higher-end outputs gives it a good boost in the lower frequencies handled by the dynamic driver.
You could upgrade to Oriveti's affinity cable in 2.5mm or 4.4mm terminations on Oriveti's site when you purchase the unit. On quite some balanced socket-optimized devices there will be greater output power and dynamics, possibly better separation and details when compared to 3.5mm on the same machines.
With OH300 it is easier to notice the scale-up effect with a higher gain factor and OH500 sounds great straight out of most devices and responds to different inputs more sensitively.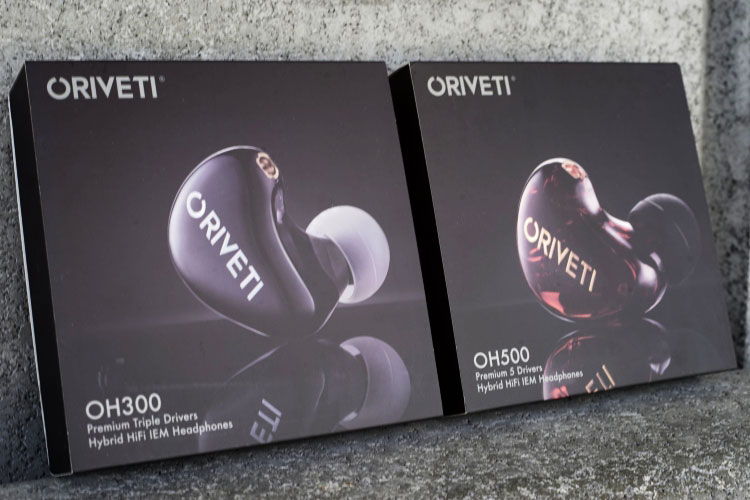 Our Verdict
The OH300 offers great vocal clarity with a handsome build and a nicely implemented hybrid design that sounds coherent enough for you to sometimes forget it is a hybrid design when sufficiently powered. The slight hint of sparkle delivers a lighter vocal timbre and a unique texture but I still find the treble performance fairly elegant rather than peaky.
The OH500 shows off a more mature tuning with stronger technicalities. The tonal balance and mid-bass texture are much more engaging and detailed. The overall performance is a tier up from the OH300 and ready for some serious and enjoyable listening.
If you are looking for premium craftsmanship and hybrid designs that could be easily driven well, these amber and black gems are an excellent and competitive offering from Oriveti.
ORIVETI OH300 Specifications
Drivers: One Dual Knowles Balanced Armatures + one 8MM Dynamic Driver
Impedance: 13 Ohm
Frequency Response: 20~20KHz
Sensitivity: 108+-3dB/mW, 1000Hz
Distortion: <1%
ORIVETI OH500 Specifications
Drivers: 4 Knowles Balanced Armatures + one 8MM Dynamic Driver
Impedance: 12 Ohm
Frequency Response: 20~20KHz
Sensitivity: 110+-3dB/mW, 1000Hz
Distortion: <1%