The Empire Ears Wraith is the company's flagship EP Series quad-electrostatic 11-driver universal monitor featuring their proprietary EIVEC technology. It is priced at $3499.
Disclaimer: The Empire Ears Wraith was sent to us in exchange for our honest opinion in this review. Many thanks to Empire Ears for giving us this opportunity.
You can read about previous Empire Ears products reviewed on Headfonics here.
Note, this review follows our new scoring guidelines for 2020 which you can read up on here.
If you are after a very natural vocal centric sound with some excellent analog overtones that work a charm with rock standards then the Wraith with that excellent Effect Audio Cleopatra stock cable excels. 
With the launch of increasingly complex universe hybrid electrostatic monitors this year, we thought the timing was right to publish our review of the Wraith. Particularly so when we have a few quad-electrostatic monitors out there now we can compare with. Monitors such as the WAVAYA Octa and the AAW Halcyon which we have covered already.
To date, the Wraith remains the TOTL or flagship monitor of Empire Ears EP series at $3499. This is also the product series home to their excellent Phantom. Currently, Empire Ears does not offer the Wraith in a custom format due to the internal configuration requirements so this is a traditional universal IEM review for us.
Tech Inside
Configuration
The Wraith driver count is 11 with not 1 or 2 but 4 Sonion electrostatic drivers and the other seven comprising of BA drivers. This is a gen 1 Sonion transformer, unlike the Halcyon gen 2 version. There are no dynamic drivers inside the Wraith so it is not a 'triple blend' like the Valkyrie which was launched at the same time.
The exact configuration is 2 BA for the lows, 3 for the mids, 2 for the highs, and the quad e-stats for the super highs.
As with the Valkyrie, the Wraith uses the EIVEC electrical component system to maximize the electrostatic driver's performance by allowing each driver to control a specific frequency response range. This is in addition to a more advanced 5-way synX Crossover Network as opposed to the 4-way inside the Valkyrie.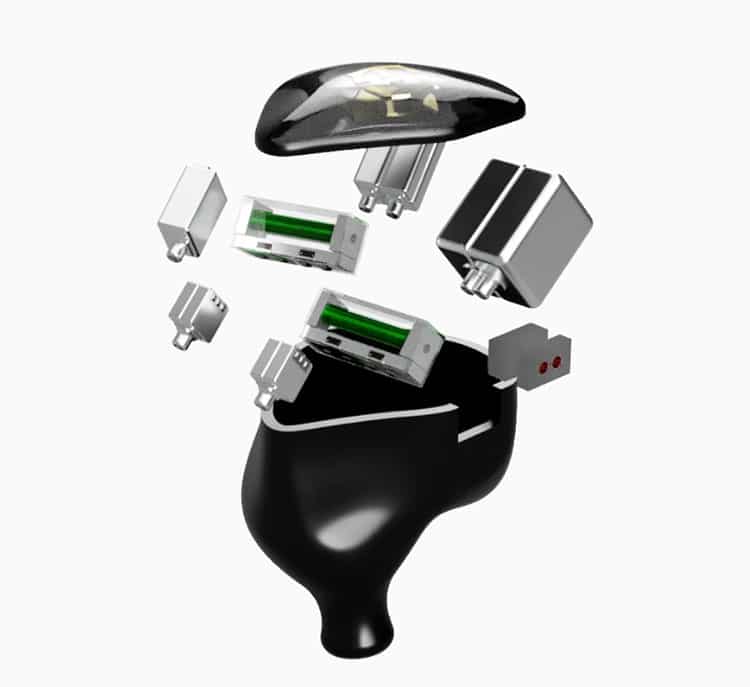 A.R.C
The Wraith uses Empire Ear's A.R.C tech which I first encountered when reviewing the Phantom last year. A.R.C is short for Anti-Resonance Compound and is a special type of damping coating used on the inside of the Wraith's shell. It is applied to virtually every component used such as the drivers, tubes, and crossover boards.
Empire Ears claims that this coating adds a critical level of mass or solidity to the internal components. This, combined with ferrofluid damping inside the driver, creates a very resonate-free and phase-correct listening experience with the Wraith.
EIVEC
EIVEC stands for Empire Intelligent Variable Electrostatic Control and it is designed in work in tandem with their 5-way synX crossover network inside the Wraith.
You can consider it as a measure of additional control on the EST drivers through electronics components and how it works in tandem with the other drivers. Its main job is to ensure that the EST driver works optimally across a potentially vast 4kHz-100kHz range without upsetting the harmonic balance with the BA driver configuration underpinning it.
Numbers
The Wraith lives pretty much an ohmic resistance and reactance free lifestyle with an intriguingly low 4Ω and a fairly sensitive 117dB SPL. It will not take much to drive these and background hiss could be, (and is), a factor when pairing the Wraith.
To be honest, this type of rating is quite unique for an electrostatic hybrid monitor. I am always seeing 100dB to about 110-112dB SPL and I am told that is due to the difficulty in energizing those Gen 1 electrostatic transformers.
Before you say lack of a dynamic driver, let me point you to the similar BA/e-stat combo, the Wavaya Octa which is 100dB SPL and it also has a quad-electrostatic array and no dynamic driver.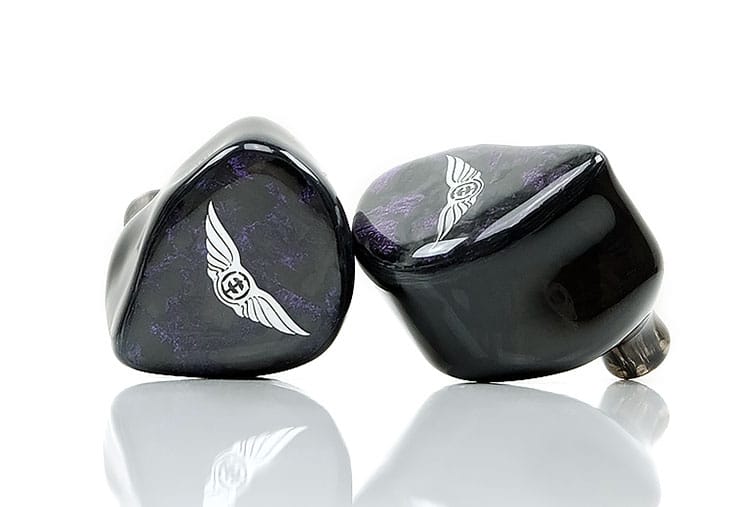 Design
This is an acrylic hollow body universal design that is deep but reasonably narrow. It has a slightly conservative custom universal design so not as contoured as the Trinity from Jomo Audio but still very comfortable in the ear.
The overall design tone is dark and subtle rather than the bright pop of the Valkyrie custom design. The shell is opaque onyx and possibly a smoked nozzle but that may be simply a trick of the light making it look slightly lighter under studio conditions.
The faceplate I believe is called Amethyst Haze which is not a design plate option for their custom monitor products so fairly unique. It does have a nice shimmer to it under certain lighting conditions but otherwise, the design is nuanced and subtle rather than garish or vivid.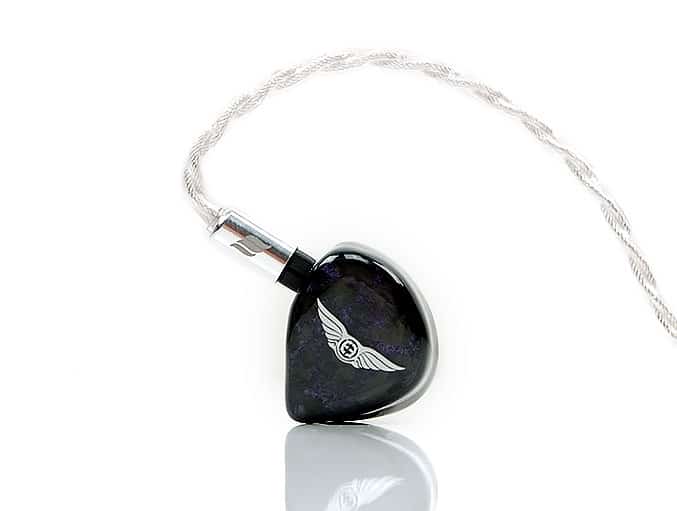 Cable
This is a killer cable and worth $699 in its own right. This is the Effect Audio Cleopatra and we covered this cable extensively in 2019.
The Cleopatra is a 26AWG silver wire cable but of a different grade to some of their other silver cables. The Cleopatra is also a Litz build with a 7-core multi-strand geometry. The strands are individually enameled in a woven Litz technique much like their excellent Leonidas II.
The grade of UP-OCC Pure Silver being used is much higher and more complex than that used in the Premium Series Thor II. So much so, Effect Audio has introduced woven Kevlar materials into their geometry build to keep this grade of silver stabilized and working optimally.
Sonically, this will flesh out the lows a bit better and generally bring an excellent level of refinement and smoothness right up into the treble. All this while offering next to no physical noise and what seems to be a lighter stainless-steel splitter so it is even lighter than when I reviewed it.
The Wraith is a 2-pin connector as with all EE builds so the Cleopatra is also 2-pin 0.78mm but you can choose from a 3.5mm or 2.5mm TRRS at the checkout depending on your preferences.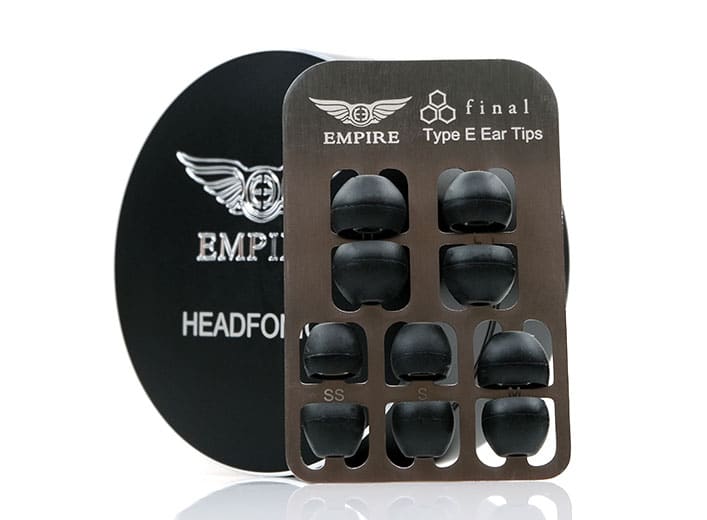 Comfort & Isolation
Despite having a fairly short nozzle the Wraith slips into the ear really nicely. The Final E tips are an excellent choice and I say that as a traditional "non-fan" of these tips because of the way they can 'close up' under pressure and block the sound. They do not do that here with the Wraith and they do tease out some additional bass body which helps a lot with the Wraith's low-end.
In fact, the Final E tips and Wraith pairing may well be an inspired choice because the seal is pretty good as well as staying pretty secure in the ear. I have no issues with comfort at all with the Wraith/Cleopatra/Final E tip combo. My only caveat is that shell depth means the Wraith will stick out of your ear slightly more than a regular IEM.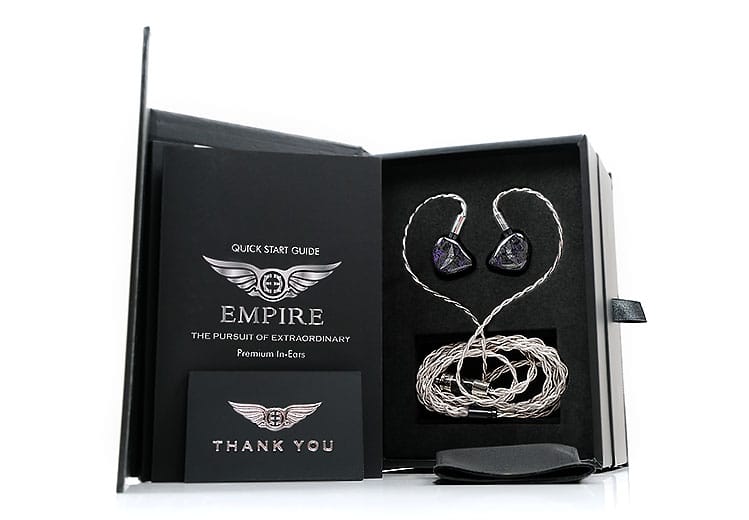 Packaging & Accessories
It is real pro time with the Wraith unboxing and an altogether fatter look than the Valkyrie ensemble. It is fatter because of the tiered modernistic all-black slider box they picked for the Wraith. The tone and look are pretty similar to the Valkyrie though this is the universal version so you do get a set of tips with the Wraith that require its own spacing.
The slider tray is a nice touch and it allows Empire Ears to spread out the Wraith kit a bit more and make it look a touch more dashing, and well, TOTL. I still say Vision ear's Elysium presentation is the king though at this price point but bear in mind the VE package is huge.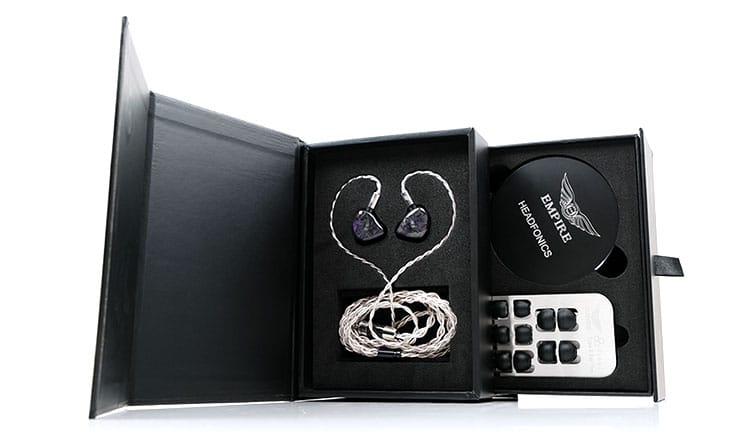 Inside you get a reasonable amount of very high-quality accessories. Alongside the monitors, you 5 pairs of Final E tips in an aluminum tips tray and a similar aluminum carry case to the Valkyrie on the lower deck of the box.
On the upper deck, you get a quick start guide and a thank you card as well as your warranty information, cleaning tool, and a silk cleaning cloth.
Wraith Sound Impressions
Summary
The Wraith is a fairly mid-centric monitor with a slight low-end emphasis that helps to create a rich and natural-sounding tone with vocals to the fore. The reach on the Wraith low-end is deep with some good extension but it is more spacious and quick-paced compared to the power and solidity of the Valkyrie's Weapon IX driver.
Given its a dual BA bass configuration I am not surprised and you get the hallmarks of a BA low-end including a shorter decay and a tightly defined but neutral level of quantity. I tend to refer to this type of low-end as supportive rather than dominating and it does allow the mids to deliver on presence and detail without sounding thin or dry.
There is not a huge dip into the Wraith lower-mids so it retains a natural sound and a relatively smooth transition that works really well for male vocals presence. The Wraiths curve is amplified the most from 1k up to almost 2-3k and from there it starts to drop in a slow but linear fashion into a relaxed treble tuning.
That means female vocals and percussion retains some nice forwardness but they also shed any sharp partial overtones sounding rounded and smooth with some good body and a rich texture.
Overall, I am actually impressed by the level of instrumental separation through the Wraith mids. I never sensed it being overly dense or veiled even though it is not what you would term a very clean or analytical delivery.
Is it the airiest or the brightest top-end? No, it is not and some might look to PMEQ for a bit more percussion bite but it is not dark in the traditional sense either. I never felt the treble was hitting some sort of unnatural sonic wall but rather it is a wetter softer delivery making it very non-fatiguing.
Timbre
The Wraith timbre is sweet and slightly on the euphonic side tending to sound a little on the analog side, particularly with rock classics. The low-end generates a slightly north of neutral level of warmth which I think is important for it to avoid sounding dry and analytical.
It doesn't have the strongest bass fundamental but it doesn't suck out the body from the lower-mids either so lower-pitching instruments have some excellent presence and above average body.
That makes the Wraith instrumental timbre tailor-made for chugging rhythm guitar, particularly distinctive Les Paul/ Fender '65 Twin Reverb riffs which need a monitor that can reproduce those long sustain note textures really well.
This is the kind of signature I enjoy with old-school blues and southern rock such as the Faces, Badlands, and the Black Crowes that tend to ram up that 'close and intimate' blues-rock guitar sound. It is a sound that doesn't need a huge amount of power but instead relies on a slightly thicker richer delivery.
Of particular note are vocals, both male and particularly female. On page 2 I will refer to standards a lot as a genre that the Wraith timbre really works well with. Standards vocals for me are generally full-bodied rasping rock vocals or soulful breathy female performances.
If you are a fan of Chris Robinson, Ray Lamontagne, Rod Stewart, or on the lead female side, someone like Buika or old school Janis Joplin then the Wraith's richly texture and detailed vocal delivery does this style justice.
Staging
The Wraith has moderate low-end quantity but above-average depth and extension for a BA. The positioning is still slightly north of neutral so its fulsome just not powerful like the Valkyrie Weapon X below 80Hz.
Width to me is stretched a bit from to back with some excellent imaging and accurate instrumental placement. That 1-3k bump giving most vocals a bit of a forward sounding presence. Lower-mids are not dipped enough to suck out the energy and presence of instruments though they are not on a rising curve like the Phantom.
Upper mids and treble are more relaxed with a slow drop down to 8-10k and a minor bump thereafter. That where you get that rounded tone to percussion and the smooth female vocal sound.
If you want to inject a bit more percussion presence or more natural sibilance into the presentation I would suggest a narrow band PMEQ around 5-the 4k and 8k band. The Wraith responds really well with a 1-2dB lift in this region without the tone going steely or the notes being thinned out.
Click on page 2 below for sound impressions & comparisons