The Tin HiFi T5 is a 5th generation of the company's highly popular IEM series featuring a single 10mm DOC diaphragm dynamic driver. It is priced at $129.
Disclaimer: This Tin HiFi T5 was a personal purchase but will be used also for the purposes of this review. We thank the team at Linsoul and Tin Hifi for giving us this opportunity.
To read more about our reviews of Tin Hifi products on Headfonics click here.
Note, this 2-page review follows our new scoring guidelines for 2021 which you can read up on here.
Tin HiFi T5
Sound-wise there is a level up in detail and upper-frequency presence with the T5 but at the cost of harshness. However, this only occurs at high volume levels. There is also some added spaciousness to the staging which is a plus.
When Tin HiFi released the T2 I could not get away from them. Everyone at the time of release was talking about them as being these IEMs that broke the cost to performance barrier far more than other models in the past. It was the dual dynamic driver setup, high-value price per performance that made them popular for sure.
Then the P1 came out and once again everyone was salivated over the fact that you could finally get a Planar Magnetic IEM without having to sell off your car or donate a body organ. It seemed at those product release intervals Tin HiFi was on top of their game.
Both these IEMs were totally different in driver configuration and construction from each other and if you were to see them both side by side and if you were not very savvy about IEMs you would say they were made by two different companies.
Well here we have the Tin HiFi T5 for review but somehow I remain with questions because this particular model is unlike their two most successful launches and is a total redesign.
Tech Highlights
Tin HiFi is always associated with high-value IEMs that produced sound with quality way beyond their price point. Their most successful launches were as mentioned the T2 and the P1. The P1 has a single planar driver and the T2 had 2 dynamic drivers.
So how come the T5 did not come with 5 drivers? Makes sense right? However, Tin HiFi decided this time to go with a single dynamic driver as in their previous model the T4 which driver they developed in-house.
The 10mm dynamic driver used here is a next-generation DOC diamond diaphragm driver which material is boosted as being 60% stronger while at the same time having less weight. DOC is also 5 times stiffer according to Tin HiFi compared to the typical ceramic driver.
Tin HiFi has used all kinds of drivers including planar, carbon, and Beryllium coated to name a few and this is the first time Tin HiFi uses a DOC diaphragm which is claimed to have an enhanced molecular carbon atom structure that resembles diamond more so than DLC and is stiffer while at the same time being thinner and lighter.
Specifications
One of the listed specifications for the Tin HiFi T5 is a frequency response of 10 Hz to 20 kHz and if you look at the listed specifications on the T2 model, for example, you will find it listed as 10 Hz to 40 kHz so I ask what happened? On paper, the T2 seemed to have the better high-frequency extension and at half the cost.
Another specification that has gone belly up in numbers is the impedance which for the T5 is listed as 48 ohms which is the highest of its predecessors. The T2 and the T4 both have a listed impedance of 32 ohms while the P1 is at 20 ohms.
So is efficiency affected? Not really and it does not matter long as the IEM plays well with low-powered devices and the T5 does so that specification is just a number. I would not worry about the higher to drive impedance rating.
Efficiency did go up one number to 103 decibels at 1 kHz and to be honest, efficiency seems high in real-world T5 tests. Distortion is another listed specification and is listed as 1% at 1 kHz which is not too bad.
Design
Not only does the T5 have different specifications but the IEM construction looks unlike any other Tin HiFi IEM from the past. This shell is made from pure Titanium and shaped like a molten metal lava rock. To be honest I feel this IEM should have been introduced as a new line of IEMs. They are that much different from past Tin HiFi IEMs.
They do have a shape that contours to the inside of the ear well and since there are no protrusions or sharp edges they seem fairly comfortable. Another turnaround from their usual format is the use of a 2 pin .78mm connector instead of the MMCX connectors Tin HiFi is used to using.
The T5 has a handsome-looking output shaft which is gold plated with an aluminum filter that has very tiny holes which is where all the output from that dynamic driver is released into the ear. The screen though seems somewhat restrictive with a very little amount of openings for sound to escape.
They are rather large for a single dynamic design and are the largest in the T series line. In second place is the T2 Plus perhaps which I think are smaller especially in girth.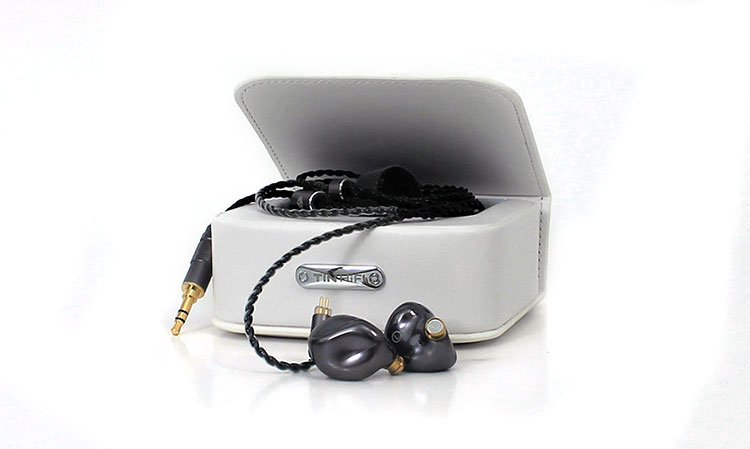 Stock Cable
This particular cable assembly is perhaps the nicest one included compared to the previous Tin HiFi IEMs in my opinion. The only caveat I see is that there is only a 3.5mm plug so if you want to go balanced you will have to outsource another cable. Nowadays that seems to be a trend but not so much at this budget level.
The T5 stock wire is made with 40 strands 0.005 oxygen-free copper plated wires with 200D Kevlar in a four-core configuration. Tin HiFi assures fast and clean power transmission with this cable and I must admit there is very little noise of any kind including microphonics but there's no microphone.
All the hardware from the 3.5mm tip, the Y adjuster, and the 0.78mm tips are all made of aluminum and branded with the Tin HiFi logo. The 4 core wire itself is black and not braided but twisted and so are the left and right wires.
Comfort & Isolation
Comfort levels are good with the Tin HiFi T5 and they are not probably the heaviest of the line but are definitely the largest of their entire T line of IEMs. You do feel them on but they do not present any discomfort wearing them for long periods of time.
I am certain Tin HiFi knows Titanium has certain characters in where it does not retain cold temperatures well but at the same time dissipate heat rather quickly. Basically, Titanium is an ideal material to make IEM shells by never being too hot or too cold with a high level of surface damage resistance while remaining lightweight all at the same time.
Isolation seems good enough but not great. This IEM was never marketed as a noise-canceling IEM but once you find the right tips and you hit the play button all outside noise becomes muted so I would say isolation is very good.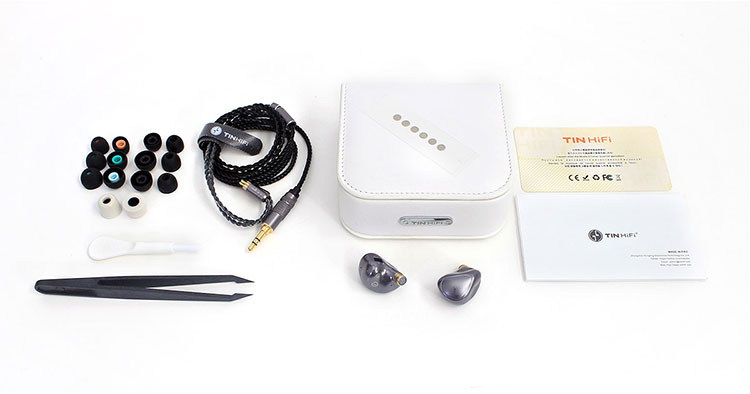 Packaging & Accessories
The T5 comes in a rather large white-colored box with a metallic T5 upfront and a gold Tin HiFi logo. Inside there is a lined foam block that displays the IEMs plus the white faux leather storage case which has a magnetic cover and the Tin HiFi logo displayed on a front-mounted silver medallion.
Tip selection is not too ample and the T5 comes with 3 black rubber tips, 3 spin fits plus a single pair of foam tips in white. To keep things clean a brush is supplied plus a tool that resembles plastic tweezers.
I am almost sure these tweezers are included to facilitate the removal and installation of output nozzle filters which Tin HiFi was generous enough to include six. I wished other IEM makers would do the same because clogging is a common issue and this is a simple solution.
I must mention the filters are stock replacements and do not alter the sound. Not much else is in the box except a small product manual and a warranty card slash authenticity card.
Click on page 2 below for sound impressions and select comparisons