The Shanling M6 Version 21 is the company's latest DAP featuring a new dual ES9038Q2M DAC and improved output power. It is priced at $569.
Disclaimer: The Shanling M6 Version 21 sent to us is a sample in exchange for our honest opinion in this review. We thank the team at Shanling for giving us this opportunity.
To read more about Shanling products we have reviewed on Headfonics click here.
Note, this 2-page review follows our new scoring guidelines for 2021 which you can read up on here.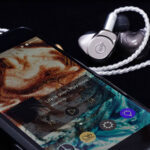 Shanling M6 Version 21
Considering its stylish design and excellent form factor to carry as well as its easy-matching sound character that sounds sweet and dynamic with almost any IEM and small cans I plug in, the M6 Version 21 is a solid recommendation that I believe is well worth the asking price!
If you are following news of audio parts manufacturers, the fire that broke out in OCT 2020 at AKM's factory has led to an acute shortage in chipsets supplies.
A lot of brands that originally had an AKM chipset DAP now have to switch to other solutions, and this gives us the chance to see similar designs using two different chipsets, which results in very different outcomes.
The M6 Version 21 landed on our desk this time which is the latest version of the M6 DAP with an overhauled dual ESS ES9038Q2M DAC implementation.
There is now MQA support as well as an updated amping circuit, outputting as much power as the M6 Pro. Beauty arises from a harmonious design with glass covering a large portion of the body, and a new hint of gold on the scroll wheel enhancing the overall visual appeal.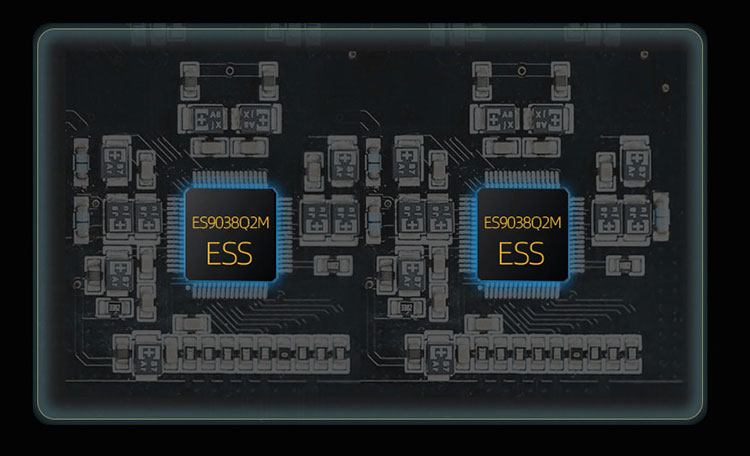 Tech Highlights
DAC Changes
On the outside, you may not notice much difference except the accented golden volume wheel on the new M6 Version 21. Looking more closely, it is not just about the ES9038Q2M upgrade, but the changes that go around it.
The ESS DAC is reinforced with KDS crystal oscillators and FPGA controllers coded by Shanling themselves, promising more precise clock signals and allowing more precise decoding.
Another area being upgraded is the DSD decoding support, which is now DSD512 native decoding compared to the original DSD128 hardware decoding and DSD256 software decoding on the M6.
MQA Support
For M6 users that are questioning if MQA support can be added to the machine, sadly due to MQA certification limitations it cannot be expanded to the older DAPs so you will need an upgrade if you are looking for the MQA function.
Amplification Changes
Shanling has also designed a new amping circuit, using the OPA221 as an LPF with the ADI AD8397. On paper, we are observing some improvements in THD, output power (from 160mW to 190mw), as well as a lower output impedance.
There are also other audiophile parts, for example, the ELNA Silmic II caps and Panasonic Tantalum-Polymer caps being used. These are seen on other Shanling machines before as well and from these specs I am guessing the sound signature will be much cleaner than the original M6.
The output impedance is now as low as 0.3Ω on the 3.5mm connection and 0.6Ω on balanced, so there is a lot more flexibility pairing it with very sensitive IEMs and custom monitors.
The S/N ratio is similar to the M6 Pro, measuring 126dB on a balanced connection. This makes me wonder how similar would the M6 Version 21 be to the M6 Pro too and we will compare them directly on page 2 of this review.
One minor change you may not notice is the playback time, which is shortened by one 1hour on BAL and SE connections while the battery is now 4000mAh big. With the output power nearly doubling this is a worthy trade-off and in reality, I don't notice the difference in playback hours when it is just +/- 1 hour.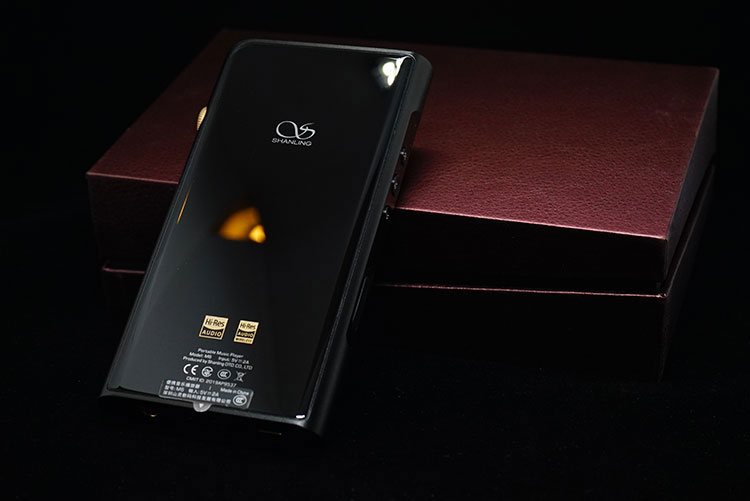 Design
Black and gold is an all-time classic theme and the reflective elements added on the M6 Version 21 giving it a more traditional HiFi stylish aesthetic.
Using the same design on the M6 we have the well-recognized, original M series design language. The curvy glass panels that wrap around the big round edges look exceptionally modern and differentiates it well from phones and the competition.
The build quality is the same as on the M6 or the M6 Pro. This is a very solid chassis machined to feel premium but not hefty. The fully laminated screen sits beautifully on the long body design and the screen ratio is sexy.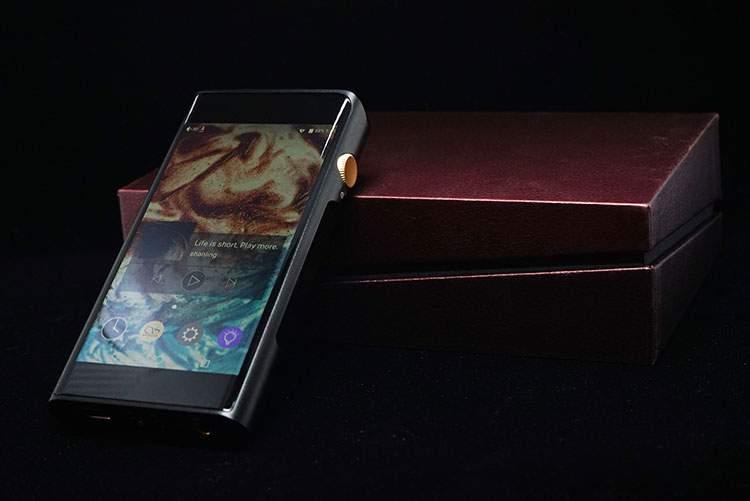 Screen
Sharp as the name suggests, the M6 Version 21 comes with a bright, high-contrast screen under tempered glass, showcasing 16 million colors within its 4.7″ span.
Featuring on-cell touch technology and anti-fingerprint oleophobic coating you can swiftly navigate even without any physical buttons on the machine, which keeps the design even more minimalistic and clean.
It feels really good navigating without a screen protector and you can appreciate how the curved glass panel looks, so if you are careful you can try letting the screen go bare without protectors.
The screen on the original M6 and M6 Version 21 is one of the sexiest designs I have seen, mainly because of the rounded edges on both the glass panels and the casing that looks very futuristic together.
Compared to the bolder framework on the M8 and M6 Pro the M6 Version 21 looks more elegant and less conservative. However, it is good to have different or distinct designs in the product line and all are appealing in different ways.
Controls
On the left side of the M6 Version 21, round control buttons are spotted similar to the M6 or M6 Pro. There is also a micro SD card slot with a soft cover that does not require a pin to unlock. That is quite a friendly feature that will prevent the card from jumping out. This will let you quickly swap cards, eject the card, and transfer files from a card reader.
On the bottom of the housing sits the USB-C port, 2.5/ 3.5 and 4.4 balanced outputs, very neatly arranged. This combo covers the most updated terminations you will likely need in 2021.
The volume wheel on the other side of the player has a clean clicking sound when turning and you can very finely adjust the volume, friendly to sensitive IEMs even at higher gain. It is noteworthy to mention the small knob on the M series Shanling players is one of the best dumb proof design that will never make you jump accidentally.
Battery life
Shanling has shown us their capability to boost playback time up to 23 hours on the M3X and the M6 Version 21 is obviously targeting those who don't want to compromise output power for more playback time. A single charge gives you 11 hours with SE output and 8 hours of continuous balanced playback and the output is noticeably stronger than the M3X.
The M6 Version 21 supports QC3.0 quick charge. Unless you really need to travel around all day there is plenty of power to play dozens of albums. Power control is decent as it doesn't drain much power when idling.
Packaging & Accessories
The M6 Version 21 comes in Shanling's classic packaging. Inside you will find user manuals, USB cable, and screen protectors. It would be sweet to include the leather case but unfortunately, you have to buy that separately.
Decoding
USB DAC
This has become quite a standard feature with a USB connection to other DACs or dongles such as the Lotoo PAW S1 or other small decoders now very stable on Shanling machines. There aren't any issues experienced, also no sudden volume changes or pops that will make you jump.
BlueTooth
The new M6 Version 21 also comes with BlueTooth 4.2 which is a bit dated. The device supports receiving and broadcasting a Bluetooth signal, supporting LDAC, SBC codecs as a receiver, and can emit LDAC, SBC, LHDC, aptX HD, and aptX as a transmitter.
Enjoy up to LDAC transmission quality and everything is just as smooth as experienced on the M3X and M6Pro, as long as you don't move or turn around fast the signal remains stable. It works perfectly with the MW200 and other BlueTooth devices tested.
You can use the M6 Version 21 as a BlueTooth receiver, receiving LDAC and SBC signals from a desktop transmitter like the Shanling BA1. This allows you to roam around your place freely with your portable gears on so you don't need to mind the cables dangling around.
One cool extra feature on the M6 Version 21 is the LED status indicator. With different BlueTooth signal fed into the player you will see different light colors:
SBC: blue
LDAC: green
aptX HD: yellow
aptX: purple
MQA
If you are not familiar with MQA it is a Codec that compresses audiophile-grade quality music files to smaller packages and can be "unfolded" to a higher sampling rate with supporting hardware.
An increasing amount of software and hardware are supporting this licensed codec, of which the controller and the DAC are responsible for the upsampling process, providing up to 8x sampling step-up from the original rate.
With the Shanling music app, you will see MQA files being stepped up to 8x their original sampling rate. The output is smooth and getting quite close to playing back large size, lossless files while there isn't much heat dissipated when the upsampling is turned on.
My experience with MQA is pretty positive even though it is not a lossless codec, probably due to the mastering. You could expect good dynamics and plenty of microdetails streaming on Tidal and playing back on the local app will allow the full utilization of unfolding power which is up to 8x. I
It still can't beat well mastered lossless files but when listening outdoors with IEMs that aren't perfectly isolating the ambient noises. It comes really close in performance especially when MQA files are quite well mastered.
AGLO
All sounds from any apps are output without conversion, all the way up to 768kHz. The same technology we see on other Shanling devices such as the M8 can be found on the M6 Version 21 which bypasses Android limitations and does not degrade or downsample data, supporting up to 32/384 kHz sampling.
Customizing the Android system down to the root level ensures no unnecessary digital conversion that alters and degrades the sound signal before it reaches the decoding chipsets. This is an important feature if you want to enjoy the best output with other apps such as Tidal aside from the manufacturer's own music player app.
You can also switch to the PRIME mode which terminates other apps in the background to further ensure the least interference when using the music app.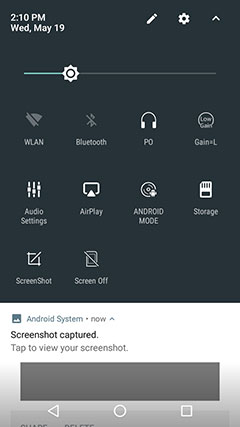 Software
Android 7.1
Full open Android 7.1 is used on the M6 Version 21, a well-polished system on the Shanling M series, it has been laggy a few years ago. Now on the M6 Version 21, I have not experienced force quit or unexpected bugs.
The UI experience is pretty much the same as on the M8. It is smooth enough to handle simple graphics or games like Zuma. With the Google Play market installed manually, you can access uncountable apps like on your phones.
Dragging down the top menu you will see several areas being customized and you can access a pure music mode (prime mode) that forces close other apps, tweak filter settings, and switch between single/dual DACs.
In the Shanling Music app, you could access your NAS's music files with DLNA, use Airplay, Synclink also transfer songs over 5GHz wifi. There is also one feature that I really like, you can automatically get covers and lyrics downloaded and it is much nicer to look at having cover pics for the collection.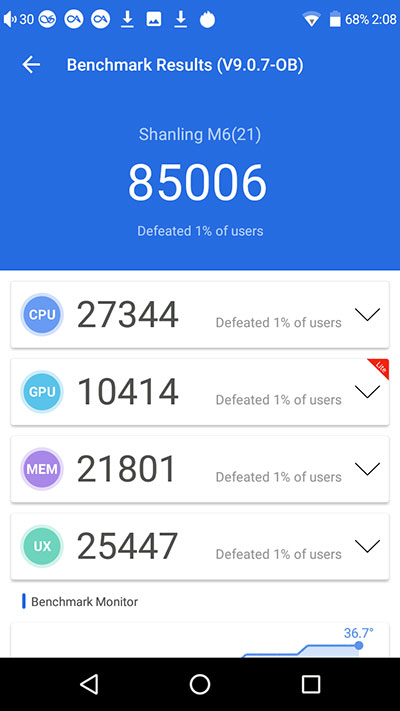 Performance Benchmarking
On Antutu Benchmark we have 85006 which is fast but not market-leading in 2021. The 8-core Qualcomm controller is fast enough to handle all music playback and fast scrolling smoothly, though you cannot play other graphics-intensive games, or else you will see the fps starting to drop sharply.
Click on page 2 below for sound impressions and select comparisons.