Part 2 of the CanJam Singapore 2018 report is all about headphones, DAPs, and some of the people whom I
...
This is the third CanJam event to be held in Singapore and our second time in attendance in a media
...
The Effect Audio Lionheart is a new Heritage Series aftermarket IEM cable using a 26AWG EA silver-plated and Gold-plated copper
...
Alas…the life of a reviewer, indeed. I admit, I smile ear to ear each time I see a new version
...
The Audio Art Cable HPX-1 Headphone Cable Series is the latest project by the long-established US cable specialists. The price
...
The Unique Melody Martian is a special dual dynamic and balanced armature universal in-ear monitor. It is priced at $699.
...
Snugs is a British based mold manufacturer that supply custom made silicone fits for your universal IEMs based on an
...
Disclaimer: The Kvart-Bolge Sommeliers Speakers sent to us are a sample in exchange for our honest opinion. We thank the
...
Disclaimer: The Minerva Mi-Performer Pro & Artis sent to us are samples in exchange for our honest opinion in this
...
Everyone knows Beyer's quality and of the last few years their drive for a bit of innovation in driver technology
...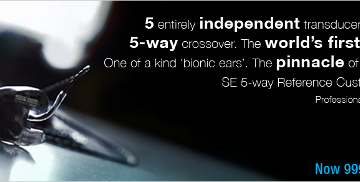 Spiral is a new name to us in the world of custom earphones but nevertheless they have caught our attention
...
In this article, we review the FiR Audio Krypton 5 which is a high-end hybrid 5 driver custom in-ear monitor
...
This is an in-depth review of the Ultimate Ears UE5 Pro dual BA driver custom IEM complete with switchable 311
...
It is Black Friday and Cyber Weekend time again on Headfonics with our annual overview of some of the best
...
64 Audio U6t is a universal multi-BA driver in-ear monitor featuring the company's apex filter system, LID, and tia technology.
...
The Luxury & Precision P6 Pro is a revised edition of the original flagship P6 R2R DAP featuring a new
...
The 64 Audio U18s is a high-end 18 BA driver universal monitor featuring apex filter technology, tia tubeless design, and
...
The Craft Ears Craft 6 is the company's current flagship reference custom monitor featuring an all-BA 6 driver configuration. It
...
The 64 Audio Nio is a hybrid universal-fit earphone featuring a 9mm dynamic driver and 8 balanced armature drivers showcasing
...