The Effect Audio Lionheart is a new Heritage Series aftermarket IEM cable using a 26AWG EA silver-plated and Gold-plated copper Litz geometry. It is priced at $499.
Disclaimer: The Effect Audio Lionheart was sent to us in advance of retail release to allow us to complete this review. Many thanks to Effect Audio for giving us this opportunity.
To read more about Effect Audio products reviewed on Headfonics click here.
Effect Audio Cleopatra
If you want copper the Lionheart has it and then some. This is not like the generic copper you get with some stock CIEM cables though.
I have had quite a few IEMs in the last two years that I have spoken about fondly. IEM's have great potential only to be held back by a stock cable that serves a basic purpose rather than delivers exceptional performance.
The option to change a cable you are not happy with, for whatever reason, to me, is a logical extension in the current market and a reasoned personal choice rather than a mandatory upgrade. How compelling that upgrade becomes though is really down to how bad or how unhappy you are with your current setup and how appealing that potential upgrade is to you.
Step forward Effect Audio from Singapore. They have been in the aftermarket cable business since 2009. A lot of people swear by them and I had the good fortune to meet the effervescent Eric Chong and his team at CanJam Singapore 2017 and try out a few.
I was impressed enough to agree to review their new Lionheart cable which they just released for $499. I tend to be a stickler for price points in cables, if it can't get the job done for less than $500 over a stock cable on a flagship IEM then it isn't worthwhile so the Lionheart seems to fit the bill.
What Is The Pitch?
Positioning
The Lionheart is part of Effect Audio's Heritage Series of IEM cables which are distinct for being the company's bleeding-edge lineup. In short, they take a few risks, try something new and bring out something they think is genuinely unique as well as groundbreaking in the cable industry. Kind of their 'blue sky' thinking line-up.
For cables that are designed with tried and tested methodologies, they have the Premium series which starts at around $149 all the way to an eye-watering $1599.
Materials
The Lionheart is the second cable of the Heritage series with the gold-plated silver Litz-designed Leonidas being the top-of-the-line cable at $799. The Lionheart is distinct from the Leonidas in its use of copper as its primary material rather than Litz. This is going to pitch to those who are after body and richness in their sound with a certain sense of natural-sounding musicality.
The copper used is a UPOCC 26awg strand variant and I believe this one was picked from 8 different samples tested from a completely new batch of copper variants not used before in the audio industry. So the specific material may well be unique though the qualities of copper in audio are always seen to be more rich and pleasing than clinical and precise.
Geometry
To add some specific tonal qualities to the final product Effect Audio has taken some existing in-house tweaks and added them to the Lionheart copper materials, namely their EA silver plated and EA Gold-plated copper variants taken from the Leonidas and Mars edition cables.
These are not alloys, by the way, they are not mixed together, but rather layered side by side and all wrapped in their in-house EA Ultra Flexi coating.
Build
AWG
26Awg is a fairly light strand composition in terms of threading size with an approx 0.405mm diameter and 62.7 turns of wire before we begin to speak about the insulating depth of the SPC and GPC layering on top of that.
To give you another point of comparison, Whiplash Audio's Twag v4 is a 22.5AWG UPOCC custom silver Litz design and measures a little fatter and stiffer at approximately 0.6mm in thickness and around 16 turns of wire per cm. Resistance will be lower on the Twag versus the thinner 26awg build on the Lionheart but at 1.2m it should not be a huge factor in the final sound production.
Pliancy
With a side-by-side comparison the slightly thinner strand of the Lionheart, even with the SPC/GPC layering, does play ball a little better than the thicker AWG cable finish of the Whiplash Audio Twag v4 and is hugely superior to really stiff SXC24 from ALO.
By that I mean it is a little more pliant, looser, and does not curl up as much when not in use. This is the kind of easy-going cable play you want, especially if you are out and about.
Terminations
The cable itself is a standard 1.2m length and terminated with a 0.78mm 2-pin socket design encased in chrome finished aluminum tubes sporting Effect Audio's logo on each and a carbon weave and chrome finished 'PSquared' 3.5mm stereo jack on the other end.
In-between you have a similar chrome and carbon weave alloy finish for the y-split tube which does a really nice job of separating the wires and reducing any microphonics without adding too much additional overall weight to the cable. Just above you have a small silicone adjustable chin strap that doesn't feel overly tight when moving up or down.
Options
You can elect though to terminate with other connection systems during purchasing with no less than 7 different variety of plugs including rhodium 3.5mm and right angle 3.5mm, rhodium and gold plated 2.5mm, 4.5mm, and 3.5mm balanced as well as old school RSA type balanced. The connector varieties are equally abundant with no less than 12 different types from 2 pin, MMCX, FitEar, UE, Sennheiser to name but a few.
PSquared
The PSquared 3.5mm termination was developed in cooperation with Japanese specialty cable manufacturers, Oyaide Electric. Co., Ltd. These guys have been operating over 60 years so they are no flash in the pan indie operators and their plugs are well respected.
If you have an EA cable with a PSquared jack you will know it by its green pole lines rather than the standard black on 3.5mm. However, balanced PSquared plugs will have black rings. This is considered an upgrade on their rhodium plated plugs from their use of Palladium and Platinum with the contention that it will sound better than the standard plug.
(We will actually test that theory out in our sound impressions as we received one with a PSquared and one without to compare).
Strain Relief
The strain relief on each termination is subtle. It starts more on the inside than shows on the outside of the 2-pin metal tubes with a translucent rubber overlay of about 2mm max. Effect Audio does not use strain relief systems like Whiplash which are more prominent, black and to be honest not quite as aesthetically pleasing.
ALO Audio use a similar strain relief on their SXC range but it is a bit more prominent at around 0.5mm and has a slightly off-white color tone which doesn't quite match the color scheme of their cable as well.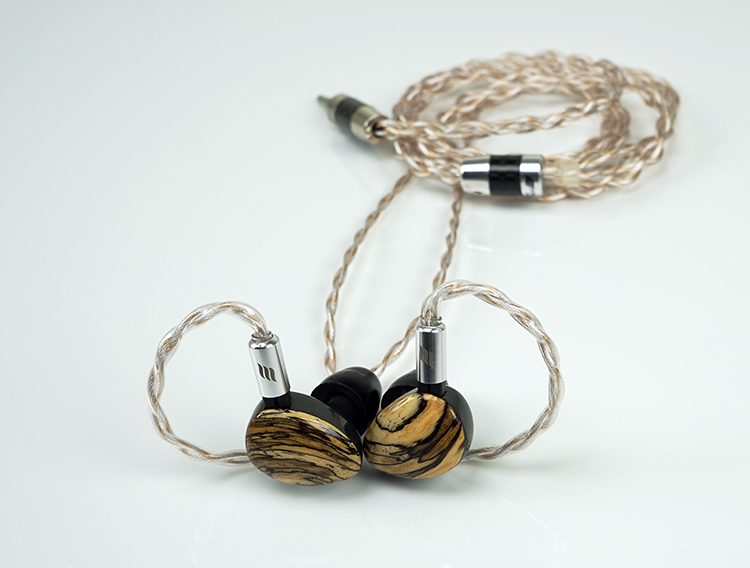 Memory Wire
The memory wire on the Lionheart is excellent, one of the best I have had to date on an aftermarket cable. It is so subtle and pliant you would hardly notice it is there yet it holds its shape perfectly.
Just to be clear though the memory wire on the Lionheart is not a user-customizable material. It is pre-formed meaning it will bend, flex, shape but once you take it off it will snap back into its original shape. Quite a lot of stiffer materials on other cables will hold their shape indefinitely, this one does not.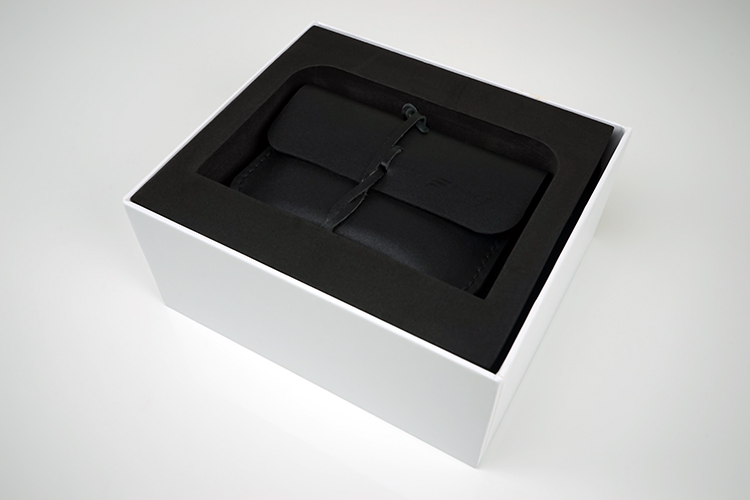 Accessories & Packaging
A truly well-presented package to be honest though perhaps a bit on the big side for what it is. Certainly, it is the nicest IEM cable package I have received to date for review purposes with the vast majority arriving in anti-static bags or small boxes and cloth pouches.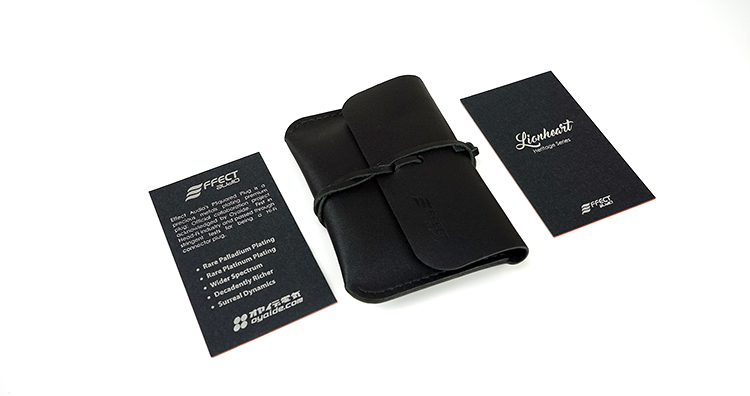 Inside, the Cable is neatly wrapped in a rather fetching soft leather case with a leather tie strap. There is a subtle emboss of the Effect Audio logo on the far right side and inside the case flap, you have the Lionheart moniker printed in gold just below the opening for the cable.
In my particular unit, the additional "demo" subtitle is underneath. Full retail versions will not have the demo moniker.
The cable PSquare plug has a small plastic cover that you can slide on or off to protect it from potential damage as well as the splitter barrel and connectors being wrapped in protective plastic wraps. Aside from that, you get a couple of nice black business-style cards introducing the series and the key selling points.
Sound Impressions
Tonality & Presentation
The Lionheart has a decidedly rich and full-sounding tonal quality that I tend to associate with good-quality copper cables.
For those using stock Plastics One cables, which tend to be lower quality copper constructs, you might actually find the tonal bias to be similar in terms of low-end warmth and smooth delivery of the mids. However, unlike the Plastics One stock cables, the presentation is a lot tighter with superior dynamics and a more forward-sounding presentation.
Timbre
The timbre you get with the Lionheart is very liquid sounding, very smooth, and decidedly biased in favor of an even harmonic emphasis.
Upper harmonics or overtones are very subdued to the point of non-existent means pretty much any instrumental passage will lack any nasty sharpness but it doesn't get to the point where notes sound overly rounded or one-dimensional in their delivery. This rings very true for percussion, (xylophone, drums, bells, etc) and piano timbre, even with very neutral and transparent IEMs.
Relaxed Top End
I was not surprised with the more relaxed treble performance of the Lionheart, this is a cable with stronger bass and mid-range performance as well as offering a very natural sounding vocal presence.
Yet at the same time, this is not a fuzzy, bloated or veiled experience, it is in fact pretty tight with good layering and excellent depth. You won't get as much air or headroom as you might with cables such as the SXC24 and its very energetic presentation but I tend to find the SXC24 not quite as easy on the ear as the Lionheart.
Synergy
Warm
This type of tonal quality works incredibly well on neutral IEMs but less so with IEMs that are already attenuated at the top end such as the AAW W300AR. With the W300AR you need something to thin it out a touch and lift the treble performance and headroom that is lacking and the Lionheart tends to take it in the opposite direction.
Neutral
Excellent IEMs for tonal matches with the Lionheart included the Noble Katana and 64 Audio A18 which were far more neutral and detailed sound with excellent headroom already at their disposal.
Both IEMs exhibited greater low-end thickness and generally a fuller richer sound up to the mids. Both use stock copper cables which are just ok but tend to lack a few dynamics compared to Lionheart's more engaging delivery.
Musical
Musical customs such as the VE8 actually produced excellent results compared to the stock cable. I was concerned ahead of listening that copper pairing might overly bloat the already dynamic low-end but compared to the stock cable it did the opposite.
Yes, it retained and even added bass body and improved the overall impact, but at the same time, it tightened up the presentation with enhanced dynamics as well as exhibited much better clarity and imaging in the VE8's mid-range performance. Overall a far snappier and engaging pairing.
PSquared vs Non-PSquared
Luckily, Effect Audio sent a non-PSquared terminated version of Lionheart because without it I wouldn't have a clue of the benefits of the pSquared plugs capabilities. Comparing side by side using the Vision Ears VE8 both cables still have a similar tonal bias but the change-up with the PSquared terminated version produces a more dynamic presentation.
The low-end impact and body of the sub-bass are more eye-catching, vocals are more lifelike, and imaging a little more 3-D. The PSquared is a vivid presentation and works particularly well with modern RnB with sparse arrangements and plenty of low-end reverb as well as soulful or breathy vocals.
Select Comparisons
ALO Audio Tinsel
$99 – $149
Build
This is pretty much "your first upgrade" type of aftermarket cable and is priced as such. Constructed of with SPC tinsel wire in FEP jackets it is very thin and lightweight but it is not as quiet as the Lionheart in terms of microphonics and is a bit more memory retentive.
Sound
Tonally, the Tinsel is a clean and clear-sounding cable with a slightly forward vocal presence and a reasonable neutral treble performance. It lacks the body and impact though of the Lionheart and the generally liquid sound the EA cable can create.
Of particular note is the low-end on the Tinsel which is a little flatter sounding and not as weighty or dynamic sounding as the Lionheart. The upper mids on the Lionheart also have a lot more energy and presence both in percussive passages and vocal presence.
ALO Audio SXC24
$249-289
Build
The SXC24 is a high purity SPC cable, again wrapped in FEP jackets and retailing a bit higher than the budget Tinsel cable in ALO Audio's cable range.
I tend to use this one a lot for contrast with stock copper cables because of the big difference in sound. Physically though the Lionheart is a very pliant and stable construct compared to the wilder and memory retentive SXC24. It also displays a higher level of microphones than the Lionheart. No getting around it, the Lionheart has superb build quality.
Sound
The SXC24 is a dynamic sounding cable but it is not as impactful or as forward sounding as the weightier Lionheart. The body on the low-end of the SXC24 is pretty good, with definitely similar levels of extension. The Lionheart though is weightier and fuller sounding which can make a significant difference with IEMs such as the VE8.
The SXC24 has a slightly airier top end with a bit more sparkle over the Lionheart whereas the Lionheart has a more forward mid-range and a fuller, more organic sounding vocal presence. I also find the mids on the Lionheart more refined and engaging than the SXC24 which is a touch more neutral sounding and a little bit flatter by comparison.
Whiplash Twag V4
$350
Build
This is a beast of a cable for the asking price. It is also a bit heavier and stiffer than the Lionheart with its larger 22.5awg custom silver litz design with a custom nylon core and thicker jacketing. The finish is gold plated with Whiplash's traditional wood-finished y-split barrels. It is a striking cable and despite its size, it is actually quite light and very microphonic-free.
Sound
I usually use the Twag v4 to act as a refined contrast to the dynamic energy of the SXC24 as it tends to come off as very natural sounding to my ears.
Compared to the Lionheart it is every bit as detailed and refined sounding with excellent imaging, however, the tonal bias is a little more neutral sounding with less weight and a low-end body. It is not as rich or forward sounding as the Lionheart which really is much more colored from the low to mids.
It does, however, have a bit more air and sparkle in its treble performance over the Lionheart which tends to focus a lot more on lower treble percussive energy and a little more laid back beyond.
If you want something a bit more neutral and with more air or treble sparkle then the Twag v4 is a good choice. If you are after something with more depth and a low-end body then the Lionheart gets the nod.
Our Verdict
If you want copper the Lionheart has it and then some. This is not like the generic copper you get with some stock CIEM cables though.
It has an excellent body, it has a richness to its timbre combined with good clarity and dynamics. It is also beautifully made, wonderfully pliant, and very light. The PSquared 3.5mm jack only adds to that generally positive impression of a well-crafted cable.
It will not be for everyone though I am pretty sure the Heritage series is all about testing new ground and I doubt Effect Audio see it any other way.
Those who prefer a more balanced, clean sound with lots of air might be better off checking out Effect Audio's other offerings such as the flagship Heritage Leonidas or the similarly priced Premium line Thor Silver II.
However, if you are after richness, low-end body, and generally a full musical sound with a wonderfully smooth vocal delivery then the Lionheart is a very good option.
Effect Audio Lionheart Specifications
26awg
Type II GPC & SPC Hybrid
Gold Plating from "Mars"
Silver Plating from "Leonidas"
Multi-Stranded
UPOCC
PSquared Plug – Palladium Platinum Plated plug collaborated with Oyaide