This is the third CanJam event to be held in Singapore and our second time in attendance in a media capacity. This year we decided to go all-in and grab a sponsorship slot because of the amazing experience of 2017.
The City
This is a show that you should not miss as an audiophile, tech lover, and simply somewhere to meet some great and very interesting people.
This is also a wonderfully diverse and interesting city with a climate that is a home from home to me. You can get almost anywhere in 30 minutes by tube, bus, or taxi and there is so much to see and do from the Zoo at one end to the Singapore Flyer on the other.
The People
I enjoyed meeting the people behind the gear and the attendees just as much as auditioning anything new at the stands. Nothing beats coffee and chats with some of the brains behinds the designs and understanding why they do what they do.
These guys open up a whole new window into the motivations behind a product that is much harder to acquire through emails and PR copy. At times it can be very inspiring. With over 2000 attendees this year they were kept incredibly busy also.
The Brands
The CanJam brand count was even higher than last year also. I counted at least 75-80 brands before my head started to spin and Ethan himself pitched over 110 brands in total. The hall is pretty darn big at over 15,000sq ft. not to mention around 4-5 additional rooms and some suits on level 2 and beyond for even more brands to fill.
I actually even mentioned to Jude at the end of Sunday that he had to make this 3 days. There is no way you can see everything and demo everything inside two days it is that packed.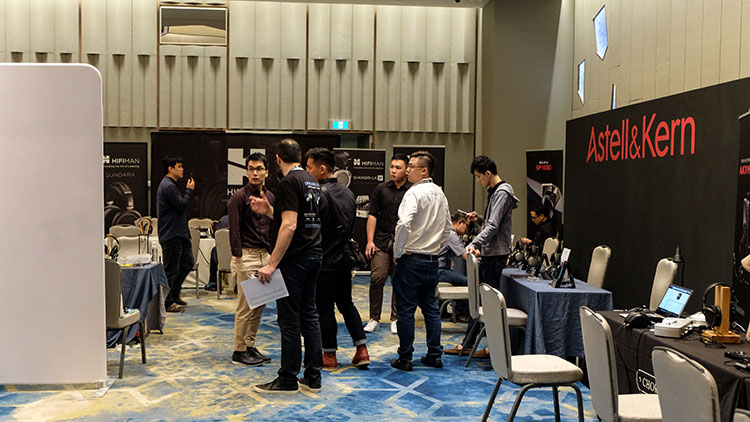 The Products
I also thought this year's CanJam was a lot more diverse than last year in terms of product displays. You had your usual attending big players and Singapore's major distributors but tucked in here and there were companies showing off some very interesting new designs and concepts.
I also felt the heavy presence of a diverse range of electrostatic brands and products this year, much more so than previously. Not just Stax, but Sonoma, MrSpeakers, and downstairs AAW/Shozy with their super cool electret hybrid IEM.
Suffice to say I could not visit every booth but for those I did I left with some distinct impressions and some very definite favorites that we hope to review on Headfonics in the coming months.
Cayin
I have a very random way of going through shows, normally I just pick out Andy Kong and his ever-growing team of "red shirts" as a good starting point. Andy is never lacking in insight. Not just on Cayin gear but on audio in general. The man has some excellent opinions and I almost spend as much time tapping into his brain as I do listening to his products.
I was lucky enough to demo a lot of the gear on display at the Guangzhou Audio Show in Nov 2017 and also reviewed the N3, N5ii, and the "I-series" desktop amp, DAC, and streamer. The big-ticket item was the beautiful HA-300 SET Class A tube amplifier which weighs in at a back-breaking 30kg and primed to drive just about any headphones out there.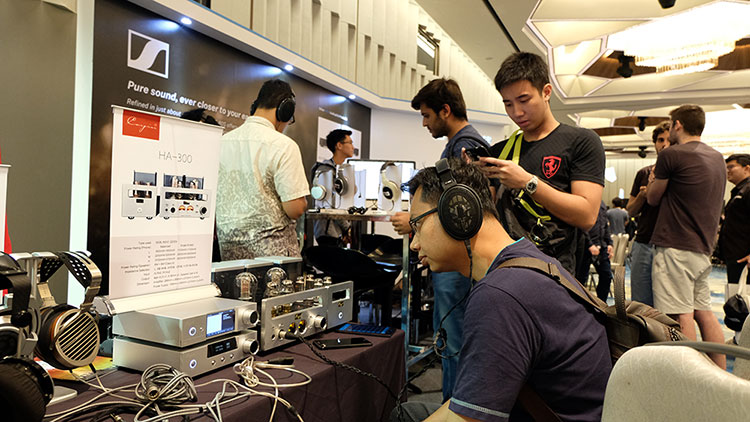 Not only that it has its own dedicated outboard power supply which is crafted in the same beautiful design using 4 pieces of NOS RCA 22DE4 rectifier tubes. The main unit uses 300B Triode Vacuum tubes and 6SN7 tubes to pair with the 300Bs for a push-pull signal amplification. 300B are rare and expensive but sound oh so good.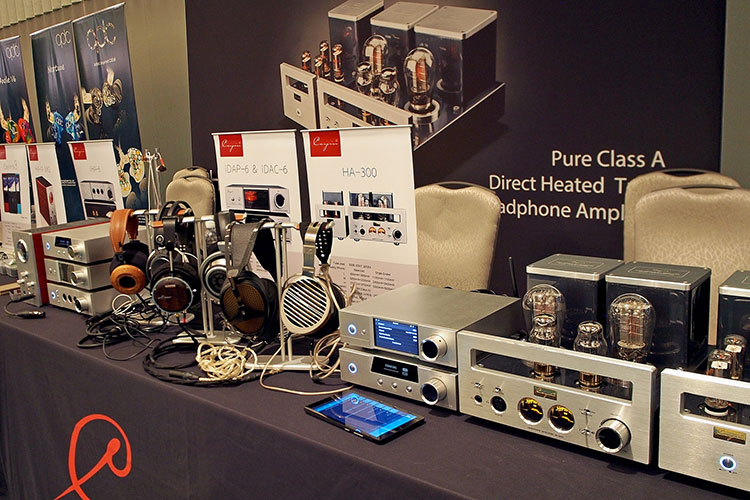 The HA-300 is no different in that respect at $4000 but hunt around and you will find other 300B amps at twice the price so competitive it is. Wisely Cayin put some class-leading headphones on the table beside it to try it out.
The Susvara sounded stunning with a super quiet noise floor and a very refined level of control. Likewise the very organic and natural sounding Empyrean from Meze which was the first time I got to hear it with any setup.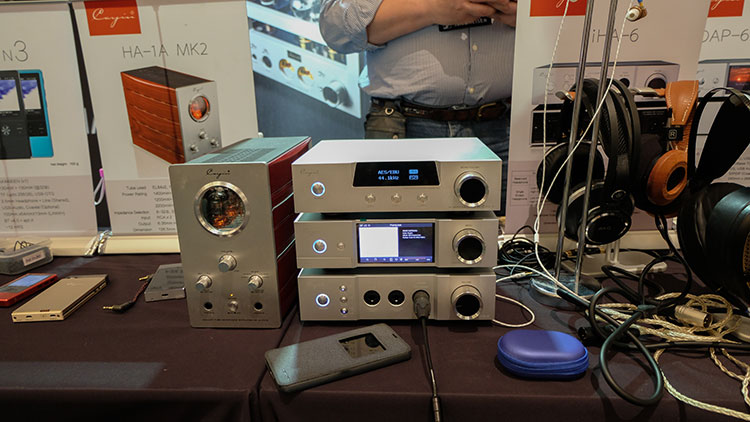 The i-Series was also on show. This is the iHA-6, iDAC-6, and iDAP-6. In that order, you are talking about a solid-state amp, DAC, and wireless streamer all designed to fit neatly on your desktop. This has been reviewed before by us and the iHA-6 we gave an award to as best solid-state amp for 2017.
This amp is just $699 but it delivers some unbelievable power balanced (7W) and can happily deal with just about any headphone in the market. Yet at the same time, it will drive your IEMs with a very nice and low noise floor.
At home, I tend to use this stack with the Susvara and Ether open because of its quick-paced, clean, and detailed signal. It can also run fully balanced and pull from any source online or offline it is that flexible. Possibly one of the best deals in the market right now for a desktop headphone amp system.
Periodic Audio
Right in front of Cayin was Periodic Audio making their debut at CanJam Singapore. They did not bring their white coats this time sadly. I asked Dan Wiggins why not and he pointed me to the sun outside. Fair point, it was freaking hot and then some.
As always, though their distinctive billboards were up and their excellent IEM range was on show. Sadly, I did not get a chance to try their new Nickel portable amp but I do hope to see and review it very soon.
The specs point to some good power at up to 250mW into 32Ω and all will fit into your small jeans pocket. Dan was telling me that any product that does not fit into the smaller jean pocket gets binned and redesigned until it does.
Their IEMs also had a small packaging redesign which I think was an improvement on the old white cardboard.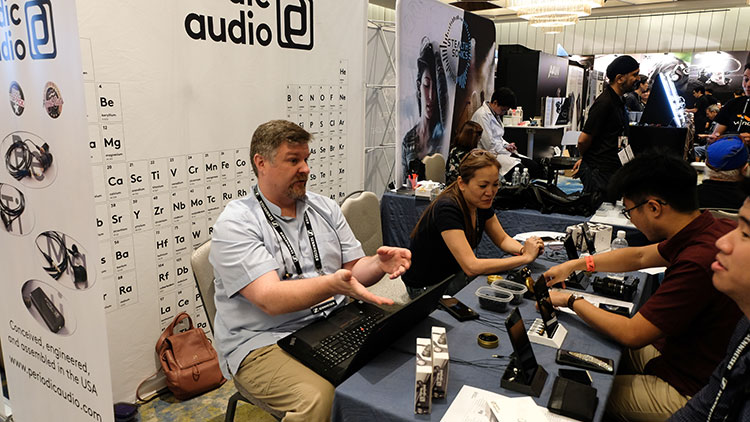 Just as I arrived Dan was selling a Be to one happy guy. I honestly couldn't stop praising the Be as the best sub-$500 dynamic driver universal I had heard in ages during the transaction. I think Kevin (The happy customer) was pretty stoked to get one at good show prices.
If you have not tried the Be or even the cheaper Ti and Mg models I highly recommend you do. The dynamics on the Be are truly excellent with a powerful open sounding performance. It is an IEM I feel I could throw anything at it and it will come up with the goods. In particular prog rock, hard rock, and EDM sound 'huge' on the Be.
FiiO
No show would be complete without FiiO in attendance and yes they had a few new things to show as well as a surprise takeaway that I cannot wait to try out. The big news came out just after the show in the shape of a wireless headphone (aptX-HD AND LDAC ready) which I hope we can talk more about in the coming months.
Right now, it is the very interesting consumer-level M7 DAP which is due to launch in April plus the AM3B amp card for the X7 series and Q5.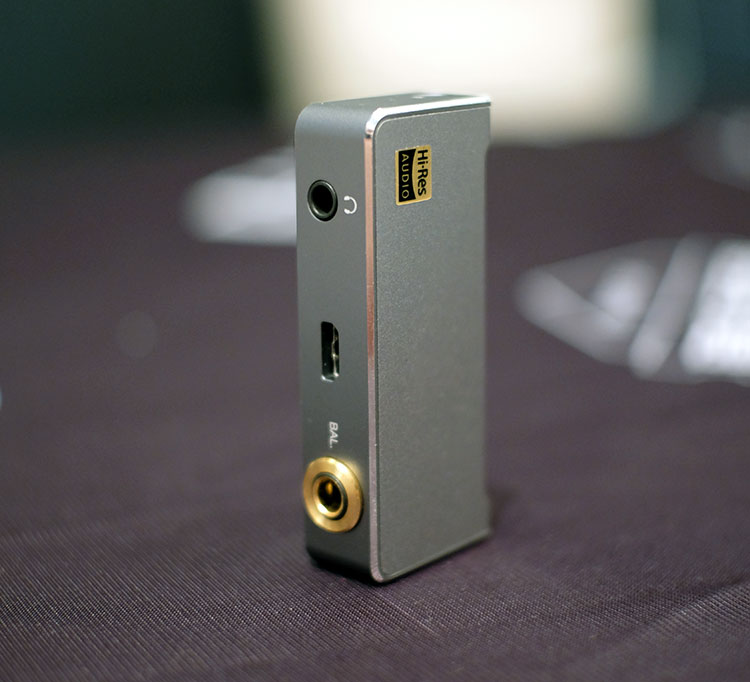 Now luckily, I managed to get an engineering sample of the AM3B amp card so that one will have a review soon enough. This is FiiO's first 4.4mm socket balanced amp card and sits alongside the AM3a. Specs seem to be the same as the AM3a but this should appeal to the growing 4.4mm cable-user community.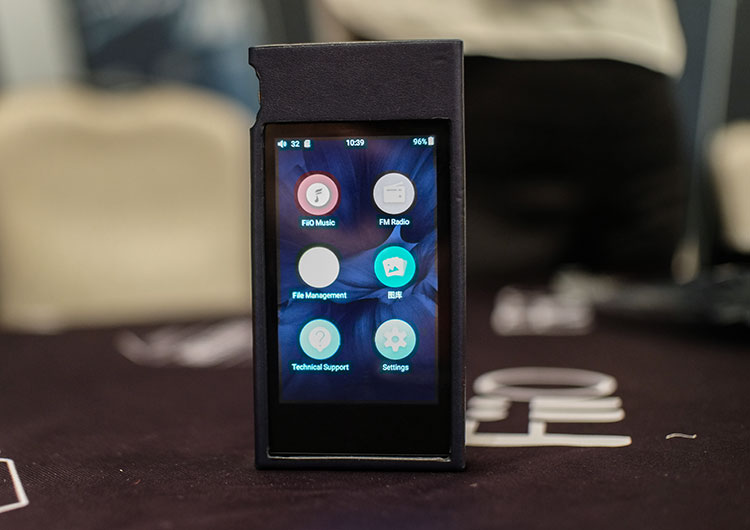 The M7, on the other hand, is a big jump up from the M3. Its slimline design reminds me of a slimmed-down and slightly smaller X7. It is priced approximately in the $150-200 category, sporting an Exynos 7270 processor as well as an ES9018Q2C DAC chip.
The OS looks custom made to me, perhaps an OREO platform but it does flow very smoothly from my time with it and boast features which I think will be useful. FM Radio made me smile. I have not seen FM on a DAP since the ZUNE HD in 2007 and that just taps into my old school heart.
It is not all retro though, it does boast of aptX-HD and LDAC capability, most likely something that ties in with their wireless headphone announcement which also has the same feature set. It also boasts of over 20 hours of battery life from just 1800mAh which is huge! It is too early to give you anything in-depth on sound but I was impressed with what I heard, cheap it does not sound and may present a dilemma for those wanting something over and above the X1.
Noble Audio
It was great to see the Wizard, aka John Moulton, at the show again this year. John has some great stories and insight and much like Andy of Cayin I usually spend a bit of time chatting the breeze with him as well as discussing his latest products. Noble had all the universal line-up there as well as the EDC Velvet but true to form he whipped out something brand new, the "Bell" universal IEM.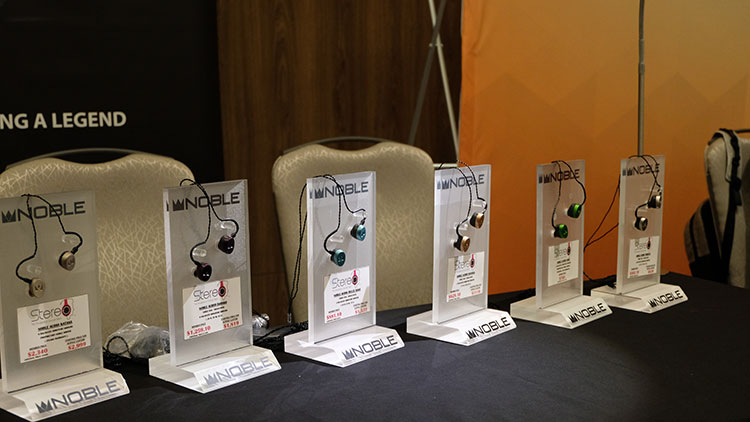 This was a sneak peek of sorts as it was not officially launched by Noble. However, I did get to spend some time with it. The Bell is a non-detachable single dynamic driver universal IEM in the same vein as the Velvet only tuned for a slightly more balanced and neutral sound. John described it as more in the Sage vein of tonality and less bass orientated.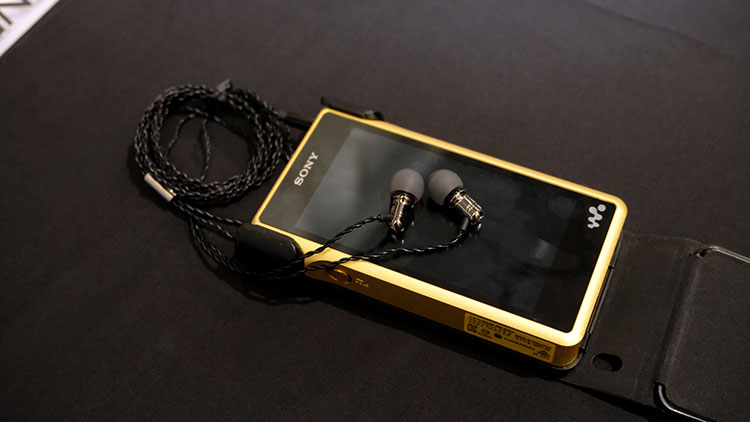 True enough the signature is clean, clear, and more linear than the Velvet with an excellent level of detail. The form factor is bullet type, very light and small, and nicely finished from what I could tell at the show. It should run just fine on smartphones as well as DAPs.
The price is roughly $199 or SG$269 so let us see if that holds for the final production run. As always, we will have a review in full in due course.
qdc
Not sure if qdc is that well known outside of Asia which is a shame because they make some of the best IEMs, custom, or universal in the business. What I love about their work is the insane levels of creativity they put into their designs, especially for custom designs.
I was testing their Anole V6 when I spotted a design that I couldn't take my eyes off. It was some sort of ghoul faceplate but beautifully designed and in 3D, aka not flat. I had never seen that level of ambition before in a CIEM faceplate and deeply desired it. I think it cost around $300 but its the best plate I have seen to date for my own personal preferences.
Back to the Anole V6. Oh my, this was one of the products on display at the show that stuck in my memory. This is a switchable 6 BA driver IEM in universal or custom format. There is a gentle u-shape to its signature with a warm but detailed low-end and good sub-bass presence, dipped lower mids, rising energy for the vocals and upper mids and a minor bump around 7-8k for harmonic balance.
However, the sound signature is not fixed. In fact, there are 4 switchable options – standard, strong bass, high sensitivity, and smooth vocal. My preference was for smooth vocal and standard mode which I felt had the best balance out of the four signatures. You have to try this out if you get a chance and we hope to be reviewing this ourselves in due course.
Our CanJam Report continues on Page 2, click below