I am in a rare position this month of having more than one custom IEM on my desk thanks to the wonderful team at Minerva UK who kindly sent me their latest creations – the Mi-Performer Pro and Mi-Performer Artist customs monitor class IEMs. Previously I have been a card-carrying fan of UM and my only other custom, the UM Merlin. I love that dang Merlin to bits and spent a ton on cables and accessories since getting it 2 years ago and many a flagship universal IEM has come and gone and still, the love falls on my Merlin. Call it the game changer, call it the endgame, whatever, but the custom IEM is the best solution for people like me that struggle to see the value in earphones period over headphones.
Maybe it is the process from ear impressions to the personalization that imparts a sense of loyalty and achievement, I just cannot put my finger on it exactly, but that sense of "This is mine and mine only" when you stick that perfectly shaped ear shell and block out the world is just very hard to replicate with anything universal. It really is that hard to go back to "regular joe" earphones after a customs experience.
And it seems a lot of people agree with that sentiment. The customs business is big business driven by the likes of Unique Melody, JH Audio and big conglomerates like Ultimate Ears rolling out iteration after iteration with the number of drivers stuffed inside the shells multiplying like bunnies in heat. The whole business is on a bold step and new companies are popping up just about everywhere offering something unique and personal – vibes which people relate to strongly in the era of the selfie.
The Company
Now you may not have heard of Minerva if you are making the leap from cans and universals but in actual fact, Minerva is a pretty big company in the "hearing" business being on the go now for over 60 years and are rated as one of the largest specialist earmould laboratories in Europe. In terms of in-ear custom monitors though this is a more recent venture and though I wouldn't say they are playing catch up. On first sight, they don't do the whole "razzamatazz" website marketing experience you might get with JH Audio and the likes. This is primarily a hearing specialist company that knows how to make great in-ear monitors. I find that pleasantly reassuring rather than an audio company dabbling in customs without any heritage or background.
Process
Much like my Merlin's the whole process of buying the Mi-Performer Pro & Artist start with the impression process. Basically, this is a clay type model of the inside of your ear up to the second bend of your ear canal taken at an audiologist or with your own DIY kit (if you are brave enough). Not being in the UK I went to my own audiologist, the Manila Hearing Aid (MHA) company who did a set of impressions for around 600php or $15 and are well used to the audiophile brigade coming in for ear impressions for their latest customs. Note to others MHA also do a re-shell for Php7,000 (both ears) of your favorite universal if that's your bag also. If you are in the UK even better as Minerva has deals with over 75 fitting centers and you can find out your closest center on their website.
Anyway back to the process, I was also struggling to find a bite block to keep my mouth open to about the width of 2 fingers and in the end, I used a coke bottle top which was about the same width on it's side. The open and closed impression is really down to what you are doing when you are using your customs such as eating and talking as the closed mouth impressions is looser than the open mouth impression. The open mouth fitting is tighter to allow for a widening of the ear canal when you open your mouth. If you think you will not be using your mouth a lot then go for the closed. I went for the open and the results, described later, were very impressive indeed for fit and seal. The impression is critical for that seal. Get a bad impression and the customs will sound like crap due to an imperfect seal. The magic in a custom is that it is supposed to be a perfect fit for your ear, something which a universal can never replicate.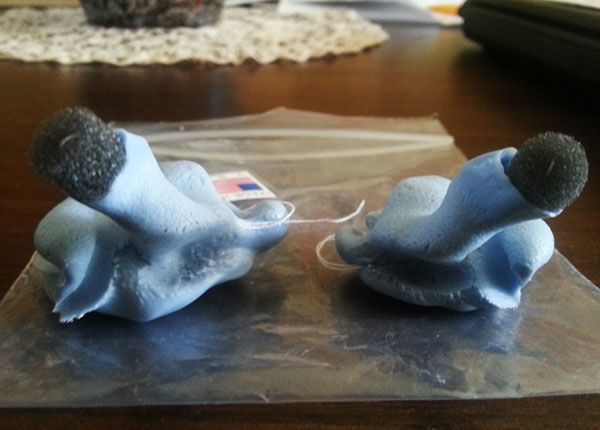 The whole process should only take about 15 to 20 minutes and you can check your impressions after for accuracy and length (they should look like the picture above from totally-dubbed.net). Remember beyond the second bend of the ear canal or forget about it. After that just wrap them in cotton wool, box and tag them and send them to Minerva who will manufacture your customs based on those impressions. During this part, I also had a few extra options such as laser etchings, custom coloring of the ear shells and placement of the cables. The Mi-Performer Pro is silicone so this works with a fixed rather than detachable cable so I went for a top exit for over the ear to reduce the stress on the cables as well as further reduce any microphonics from the cables. The Artist got the same treatment but have non-recessed detachable cables which might prove very useful later on down the line for cable changing which is what I did with my Merlins eventually.
Designs
One area I did note for future development of the range was the custom artwork seemed a little lackluster compared to the elaborate and striking designs of JH Audio and Unique Melody so I kept things simple and went for translucent in both the Pro and Artist with only the Minerva logo and left and right in red and blue. I like minimalism on mine but others can go to town and have whatever they want on it. The colored shells or glitter options didn't grab my attention as much.
Turnaround was an impressive 10 days not including shipment time. That is much faster than some other customs companies by a matter of months in some case and everything arrived in perfect condition. What I did get was as follows: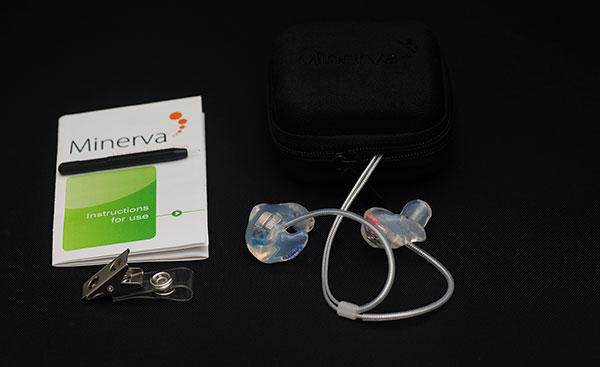 The custom earphones themselves
Soft Carrying Case
Instructions or nice little foldable manual
Cleaning Pin
One tube of ear balm (nice thought since after all they are a hearing specialist company)
Yes, I could have grabbed a Peli 1010 case and all the extras but this is a stock delivery and as such everything is just dandy for my needs for now.
Click onto next page for comments on build and fit.