Part 2 of the CanJam Singapore 2018 report is all about headphones, DAPs, and some of the people whom I spent a bit of time shooting the breeze with. We often have a pure focus on the gear but you always have to remember the people behind the gear have some great stories and chats also. I find both mutually interesting and insightful.
If you want to check out Part 1 of the show report you can click here. Part 1 covers mostly the main hall and portable products on display from international and local manufacturers.
MrSpeakers
I have tried just about every MrSpeakers headphone there is in the last 5-6 years. However, they have all been planar headphones. This year it is electrostatic and the hugely impressive debut of the VOCE electrostatic headphones.
Now at the show, I did not spend a huge amount of time listening to the VOCE simply because I have one back home cooking for a review as we speak. However, I did want to try it with the HeadAmp Blue Hawaii stats tube amp that Dan has been recommending to me for a long time now.
I have quite a few stats amps of varying quality but Blue Hawaii is something else. This is so incredibly transparent, life-like, and exhibiting zero harshness or unacceptable levels of distortion. I am not sure if my Enterprise Lite E is on the same level but tonally it is very similar.
The VOCE itself is just excellent. I prefer it over my 007 MK2 currently though it does have a different presentation to it than the 009.
I wish I had a 009 right beside me to give the ultimate answer but from aural memory, it sits closer to the 009 in terms of detail but not as demanding or as treble forward. The 007 MK2 treble also seems a little brittle and not as composed as the VOCE though its low-end might be more weighted.
The VOCE does seem more balanced than the 007 MK2 and more natural-sounding to my ears. I do love those little tuning pads also that Dan gives with almost every headphone. The white pads seem to work best with damping down the top end if you happen to find the stock sound too energetic.
Meze Audio
Meze has recently been on a big push for their new circumaural Empyrean headphones. This is an isodynamic hybrid array design that Meze has partnered on with Rinaro. It is also a world's first in terms of the specific design in a headphone and is currently their flagship headphone.
Rinaro is the isodynamic specialist in this partnership whereas Meze seems to be overseeing the design and sound signature of the Empyrean. I am not 100% sure I got the balance right in that collaboration but it feels like that from reading the story behind it on their awesome little digital business cards they handed out at the show.
The build quality is very good indeed. This is a full CNC aluminum cup design with a carbon fiber headband and boy does it feel much lighter than it looks. The headband and cup angle does a nice job of avoiding the top of your ears with magnetic detachable ear pads that do a heck of a lot more than just being ear pads.
The Rinaro CEO, Pavlo Shymanovych, explained to me that not just are they super easy to detach and put back on but they also use isodynamic magnets which increased the efficiency of the driver by 12%.
That does mean though that aftermarket pads on the Empyrean will not be ideal and I did mention that additional pads would be useful or at least the option to buy them which I believe will be the case when launched.
The diaphragm design is also incredibly unique with a specific purpose in the shape and flow. This is a continuous trace but with two unique shapes. At the top is a curved line switchback trace that focuses on the low-end delivery (bass) and the circular pattern at the bottom is designed to focus on the mids and highs.
Now the positioning of the trace is such to get that circular pattern directly over your ear. In doing so there should be a qualitative reduction in non-reflected soundwaves and an improved perception of imaging a better staging.
Quick Sound Impressions
And how does it sound? Anton asked me what did I think and the first word that came to mind was organic. He looked at me and said what else?
To be frank, after 5 minutes of listening to it I had to sit down and think about it because generally speaking, I could not find fault with the performance. I guess we tend to find fault first with initial impressions but instead I got sucked right into its presentation and really enjoyed what I heard.
Does it sound like a planar? Quite a bit with its snappy linear bass response but that is not what struck me the most. It was the mids, vocals, and imaging that grabbed me. It was running out of Cayin's iHA-6 amp which is very neutral and lively.
However, the Empyrean is more of a warm tuning and I got a fairly natural sound with this pairing overall. There is an elevated midrange and smooth vocal also with some very nice placement and a holographic presentation that prevented it from becoming overly intimate. You will get some nice depth and width on the Empyrean.
It is also very comfortable to wear and light in the hand. I am less of a fan of the gold version than I am of the silver-finished Empyrean. Hopefully, I will get to see more of the silver-finished one in due course.
Zeppelin & Co.
Zeppelin & Co. is one of the other big players in the audio distribution and retail business in Singapore. They commanded the entire Ocean 9 room in the Pan Pacific with a wide range of brands under their umbrella for the region, including, Questyle, Auris, Advanced, Kennerton, ZMF Headphones, Feliks, and Hyla to name but a few.
They also brought over some of the top guys from each of their brands including Zach Mehrbach, Valentin Kazanzhi, and Lukasz Feliks to name but a few. Zeppelin & Co. sent some of their key reps also including Jeremy, Thush, and of course the founder of Zeppelin & Co., Kristy Song.
Kennerton
If you see Kennerton at a show make a beeline for the head honcho, Valentin Kazanzhi if he is there. He is not hard to miss and usually has one of his headphones to hand over right away. Not only will you get a great insight into the background of their product line up but actually get to meet a genuinely nice guy with some cool stories to boot.
I was lucky enough to spend some time working in Russia over 15 years ago and we spent a good 30 mins alone talking about life and the changes there since I last visited.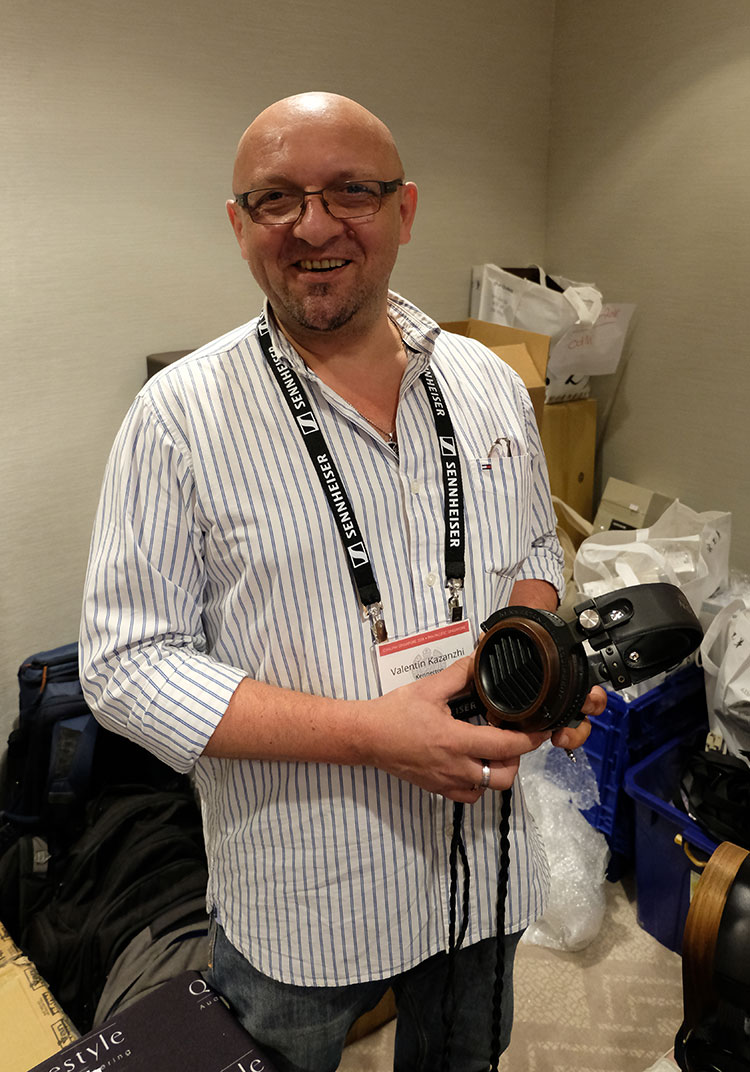 I often say that a trade show is a dry affair if the manufacturers are not there. If Valentin was absent you might miss a little of the energy and excitement or nuanced details such as the cost and time consumed acquiring those striking wood materials they use in creating the likes of the Vali and Odin.
Speaking of the creations, they had a new one at the show called the Thror priced at around $3500 and is their new flagship. The Odin has some very nice wood finished but the one on the Thror was something special using a Bog Oak grain. According to Valentin, this wood was incredibly hard to procure and very expensive also.
What I got with the Thror was a running modification on the headband of the Odin which sorted out some of those fitting issues I had with the original version. My head was simply too small. The Thror presented to me at the show to try outfitted perfectly and was a lot more comfortable though still heavy.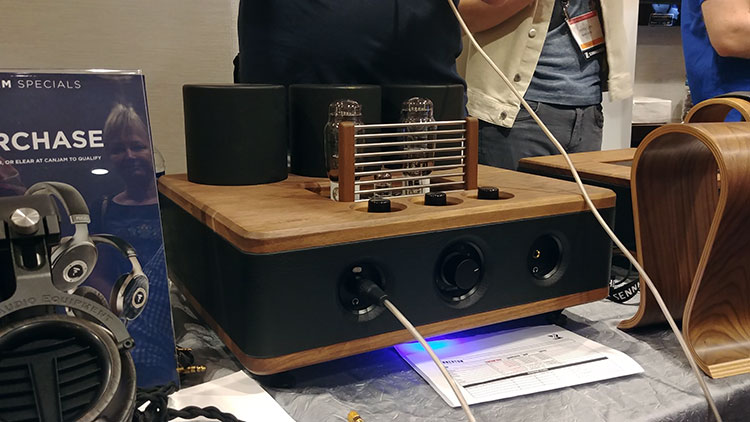 Auris Audio
Right beside Valentin was the Auris team from Serbia showing off their Headonia flagship headphone tube amp. My recollection of the amp price was around $8000 which is TOTL premium for sure but it was beautiful to look at with its wood/black or wood/white finish.
It is also massive and I believe comes shipped in a big crate to your doorstep. That was the amp I plugged the Thror into for a taste of what both companies could do right after I managed to get Jude away from it (he seemed impressed).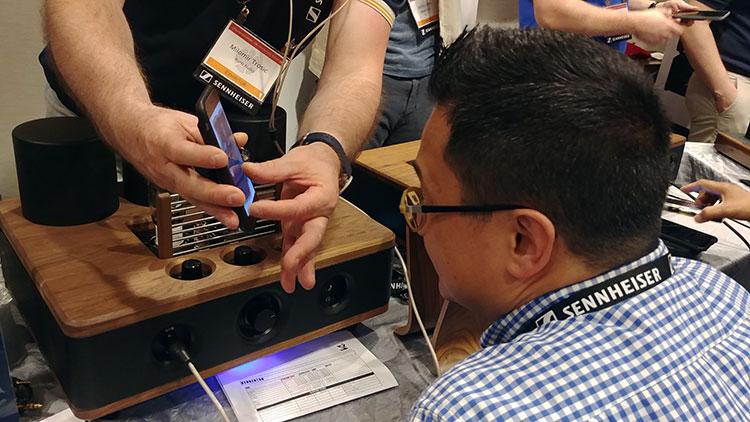 During my time with the Thror and the Auris, my source was an LO from a Cayin N6 DAP. I would have liked to have seen a better DAC setup but given the physical space it is understandable they revert to something small and easy to work with. By the way, both source and amp were deathly quiet, with no noise whatsoever.
Thror/Headonia Impressions
The Thror sounded very powerful combined with the Auris Headonia. In particular the low-end sounded very detailed, with tons of texture and detail, a good soundstage, and plenty of headroom. I would love to try the Thror with lesser amps just to hear the difference.
It's always difficult to know when you start flagship amps right away what the benefit is but I was not complaining at all in terms of what I heard.
Compared to, say, the HE1000 I found the Thror to be more coherent and less aggressive in the top-end which should suit those sensitive to treble forwardness. Weight wise the Thror is heavy no doubt so it might wear you down physically.
Our CanJam Report continues on Page 2 below