Disclaimer: The RHA CL2 was sent to us is a discounted sample in exchange for our honest opinion. We thank RHA for this opportunity.
To learn more about RHA products on Headfonics you can click here.
Edit – Full review can be found here as of Oct 27th, 2019.
So the RHA CL2 arrived at HFS recently and we thought we give you a quick rundown of this unique product, what it is all about, including possibly one of the best unboxing experiences in the IEM market today.
For those that have been following us for a while now will have noted that there was indeed a CL1, which we reviewed back in March 2017 and in many respects, the CL2 at least from the outside, draws from its predecessor.
However, the proposition and user experience are entirely different. This is a planar magnetic universal monitor, the first such offering from RHA, and more than that, it comes in wired and Bluetooth wireless format which may well be a first for planar magnetic in this form factor.
Of course, the price point is also quite different. At $899 it is a jump up on the older CL1 price point and it does make the CL2 their flagship monitor by some distance. However, there is really a lot going on here with the CL2 that would merit this being the flagship of their current range.
Tech Inside
The planar driver inside the CL2 has apparently been 4 years in the making and by all accounts, it does seem fairly unique, even for an IEM planar. First, the driver is perhaps one of the smallest planar builds in the monitor market today at just the 10mm driver.
Second, it consists of a planar coil and 16-micrometer diaphragm perfectly suspended above two matched magnetic fields so literally the diaphragm is suspended in mid-air inside a super tough Zirconium dioxide housing.
The CL2 is rated at just 89dB SPL also. That means it needs a lot of current to drive it and much like the legacy of the CL1, (also 89dB SPL), this monitor might be best suited out of a quality amplification setup. No weak sauce amps considered!
Unboxing
Wow, just wow! This has got to be one of the most feature-packed unboxings I have done in living memory. RHA always had a penchant for stuffing tons of accessories into their audiophile offerings. The CL1 was pretty darn good but the CL2 takes it to another level. The retail box is big for a monitor but it needs to be because of the layers and layers of accessories inside.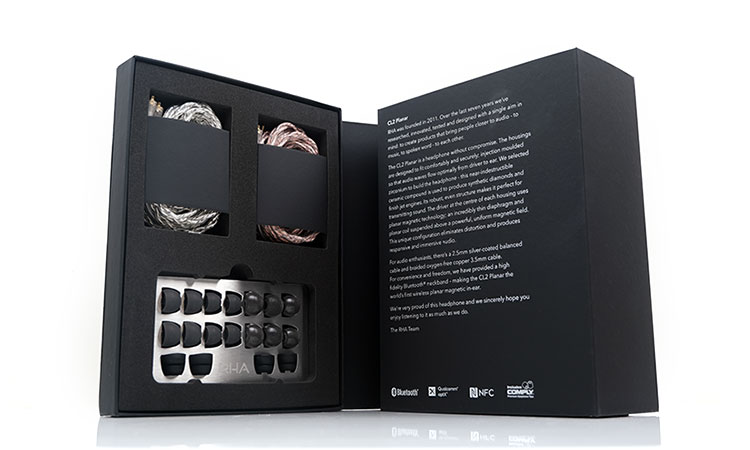 Overall, there are 3 layers of accessories with the top holding two excellent cables in both balanced and unbalanced as well as the RHA silver metal finished tips tray. The left side of this layer also includes the story and technical details of the CL2.
The second layer includes the CL2 drivers as well as the Bluetooth receiver cable as well as the manual in a neat pocket on the right side. All cables are MMCX terminated and the BT cable is aptX compatible with playback and volume controls. The cable is pretty much the same as one they supply now with their wireless offerings such as the MA750 though with a slightly different or darker external finish.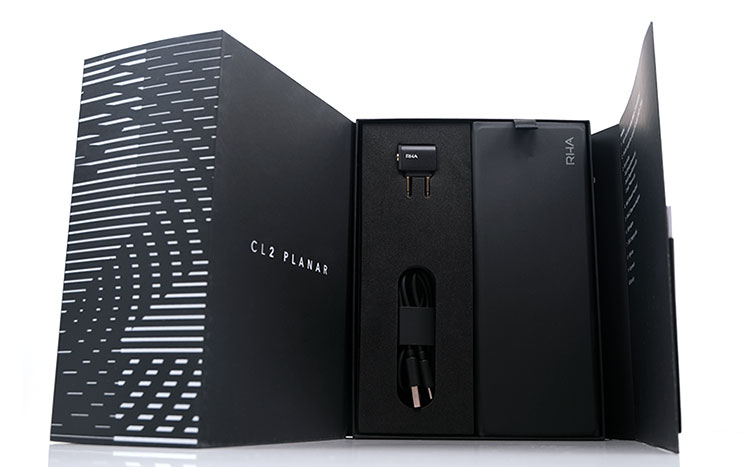 The final layer as the rest of the accessories which includes a flight case to hold most every cable, a soft carry pouch, a USB-C charger cable, and a flight adapter. All nicely branded with the RHA logo. Again, I cannot overstate just how yummy this all looks. Sometimes when you pay good money you expect a quality physical offering and plenty of accessories to go with the cash being laid out and the CL2 more than matches that expectation.
Accessories
Just for the record here is the complete accessory listing including a wide range of tips that include single bore silicone, double flange, and Comply Foam Tsx400 tips. For the record, I am using the Comply tips for the majority of my initial impressions.
Ag4x silver coated cable: MMCX – 2.5mm balanced
Braided oxygen-free copper (OFC) cable: MMCX – 3.5mm
SecureFlex Bluetooth® neckband: MMCX
Flight case
Carry pouch
Stainless steel ear tip holder
USB C charging cable
Flight adapter
Dual-density silicone ear tips: 2xS, 2xM, 2xL
Double flange silicone ear tips: 1xS, 1xL
Comply™ Foam Tsx400 ear tips: 3xM
Design
If you are coming from the CL1 the design of the CL2 is remarkably similar in terms of finishing, materials, and dimensions. The weight does seem marginally lighter by 4g but very hard to tell side by side. They only physical differences I can spot is the little venting port on the CL1 faceplate for the driver to breathe and the stronger looking raised MMCX connectors.
The materials are a super tough Zirconium dioxide injection molding shell with plenty of shine to the gunmetal or shimmering black finish. This is a 3-piece ensemble with 2 for the body and silver-finished short nozzle for the 3rd. They look gorgeous, to be honest, and certainly nothing DIY or boutique about the build quality.
Cables
The CL2 is MMCX terminated with a fairly tight stem that's actually part of the shell itself. It is not quite the easiest to work with for an MMCX connection because of the lack of body grip. However, I can just about nip and pull the cable connectors out so it is not giving me huge problems thus far.
The two supplied cables look very much like the original CL1 cables only the silver version is a 2.5mm TRRS connection and not the old mini-XLR designed to work with the L1 portable amp. The 3.5mm TRS terminated option 1 is a braided oxygen-free copper (OFC) cable and the silver 2.5mm balanced option 2 is an Ag4x silver coated cable.
Both of these cables coated in a TPE and are incredibly soft, pliant and easy to work with. They have zero memory retention and microphonics. This cable is also finished with RHA's coiled memory wire for hooking around the ear with supreme ease/ The cables are finished with a very attractive metal tube y-split and a plastic chin strap.
Comfort & Fit
This is a super comfortable monitor to slip into your ear. The tips will do most of the sealing work but given the small size of the CL2 that is not an issue as you can get this real close to your canal without any undue pressure on your outer ear.
There are a ton of tips to choose from but so far, I am settling on the Comply tips as the best balance between seal and comfort. I can get a little deeper insert with the dual flange and the single bore silicone tips are slightly comfier but neither seal quite as well nor deliver as much body to the CL2 sound as the foams.
I might try a few more options here such as SpinFit and Symbio hybrids because I would like to hear a bit more top-end air than what the Comply tips offer but without the loss of low-end.
Initial Sound Impressions
Wired
Like the AAW Nightingale, the RHA CL2 immediately sounds like a planar, and very different to dynamic drivers. The low-end is actually fairly linear and responds beautifully with zero distortion and a very pure sound with virtually no roll-off. I do love the bass balance and power RHA have achieved with such a small 10mm driver.
There does seem to be a small dip into the lower-mids so it is not quite as thick and warmed up as the Nightingale's lower-mids but the instrumental presence is still excellent if just a smidgen leaner and it also sounds a bit quicker on initial impressions.
There does seem to be a fairly forward sounding mids to upper mids, around 2-4k which, on a lot of planar headphones, is usually the area that starts to dip and fall a little so that's quite a different tuning. What that means plenty of percussion presence and if the vocal is pitched high enough it is going to come across as quite forward and clear.
Treble sounds fairly relaxed to me which is probably why I am not hearing too many sharp odd-harmonic overtones in that midrange bump. It has the amplitude but the dipping down on the upper treble means I honestly do not find this a peaky brittle sound with the copper cable and foam tips.
At the moment, I do have a slight preference with the silver cable going balanced. It is a touch cleaner and airier, especially when paired with the Lotoo Paw Gold Touch.
Wireless
So far, nothing surprising about the wireless performance with a small drop in dynamic range, slightly more bass bloom and yes, just a slightly harder upper-mids edge to the harmonic balance. I would have loved if the cable was LDAC compatible to get that dynamic range closer to wired standards so I will try with a few LDAC compatible dongles just to see if there is a significant difference.
Much depends of course on the internal amp in the cable so whilst I am fine with it, the wired does deliver more detail and a tighter harmonic balance thus far when we tested with the BT from the Lotoo PAW Gold Touch.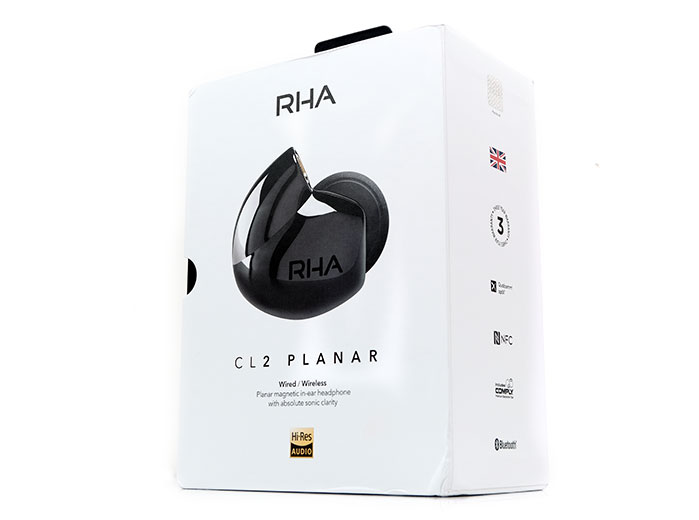 Stay Tuned!
So, I was expecting something a little leaner and brighter given some of the reports circulating on the CL2 but thus far I am having a slightly different experience. My feeling is this comes down to efficiency and power or current. At 89dB that's a tough cookie to drive properly on anything sub-500mW and drop that power too much the CL2 might sound uneven with some wonky timbre. I have seen this happen all too often to sub 90dB planar headphones.
Definitely going to check out the level of control weaker sources have on that boosted midrange and how much the treble affects or does not affect anything that floats in that area. For now, there is a high degree of forwardness in that area but nothing I would call shrill or hot. If you enjoy a strong vocal presence the CL2 seems to give you that out of the box. How that will change with tips, other cables and some burn-in we shall see. Stay tuned!
RHA CL2 Specifications
Weight: 9g (without cables)
Impedance: 15 ohms
Max/rated power: 2 / 10mW
Sensitivity: 89dB/mW
Frequency range: 16 Hz – 45,000 Hz
Manufacturer's Warranty: 3 years