Disclaimer: The Cayin N6ii was sent to us is a sample in exchange for our honest opinion. We thank Cayin for this opportunity. To learn more about Cayin products on Headfonics you can click here.
There is a gap. On the one side, you have the N5iis at around $499 that competes with the likes of the iBasso DX150, HiBy R6, and FiiO's plethora of mid-range devices.
On the other side, you have the N8. A fantastic flagship digital media player and the first to incorporate Korg's modern spin on the traditional vacuum tube, the Nutube. Not to mention the wide range of connectivity options that make it almost system component level. An award winner from 2018 but an award winner costing over $3000.
And nothing in between, so yes, we have a gap. One that is being gobbled up by the likes of the iBasso DX220, HiBy R6 Pro and to a lesser extent the boutique options from Cowon and Colorfly. Somewhere on the $1k marker, just below and just above, sits some of the best value DAPs in the market. Key features such as speed, decoding prowess, connectivity, aesthetics, and modular amp cards, all the hallmarks of a competitive arena.
Unique
If Cayin is to fill that gap not only do they need to come in with a competitive price but also with a defining unique feature not done before. With the launch of the new N6ii, the company believes they have met those two requirements. First, the price at $1299, though a little higher than the direct competition, is still at a relatively sweet spot between their mid-fi N5iis and flagship N8.
The second, a swappable card system that not only allows you to yank out the amp like iBasso and FiiO but also the entire DAC. That is the new and that, I feel is the real talking point of the N6ii far beyond our initial impressions and review of the entire unit in the coming months. We hope!
Tech Inside
There is the tech inside, then there is the tech further inside. Being a modular DAP, the Cayin N6ii has two distinct components, the main body or player, and the swappable motherboard
Main Player
The touch-capable main player has had a fairly substantial upgrade from previous releases with the deployment of a Snapdragon CPU using 4GB of RAM, a full Android Oreo 8.1 OS and Direct Transfer Architecture (DTA) allowing for bit-perfect playback from the entire platform and not just 1 or 2 apps. This player is fast, very fast indeed.
It also comes with the latest Cayin Music and HiBy Music apps preinstalled meaning MSEB and HiByLink bi-directional Bluetooth up to LDAC decoding capability out of the box. Those familiar with MSEB on the HiBy build will know just how much fun this DSP app is. You can, of course, expand the OS with direct streaming apps including TIDAL, Spotify, and Qobuz or DLNA your own setup if you wish with built-in 2.4g/5G WiFi.
The main player has a built-in 64GB of storage, OTG expansion capability for memory and digital audio out, as well a single memory card slot which supports pretty much any SDXC microSD card you fit into it.
The battery inside is a huge 5900mAh with quick charge capability in around 110 minutes to 90% and delivers an excellent at 13-14 hours continuous playback on either balanced or unbalanced with the supplied card module.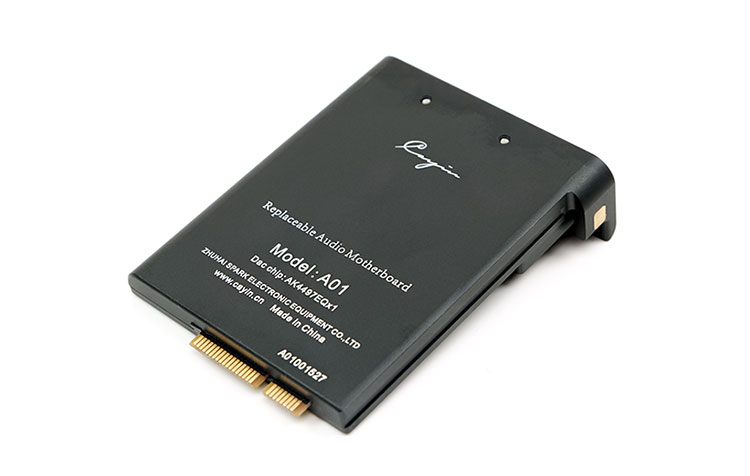 Module
The first module supplied out of the box with the main player consists of a high-end single AKM AK4497 DAC chipset and four OPA1622's in parallel offering up to 245mW into 32Ω unbalanced and 530mW balanced. The motherboard also offers a fixed voltage unbalanced and balanced lineout set at 2.1V and 4.2V on their maximum settings, enough for any competent connection to a desktop amp's line-in.
With the supplied module the main player is capable of natively decoding up to DSD256 and PCM 32BIT/384kHz and deliver it to your headgear in bit-perfect format due to the main players DTA architecture. It will also work just fine with SACD ISO formats and load up cue files.
Unboxing & Accessories
There is a fair bit of subtle harmonization here with the flagship N8 packaging. The N6ii box is a slimmer more traditional shape but it still has the same silvery pattern finish on the slip-over vinyl cover that the N8 uses.
Inside the box is a simpler black foldout two-piece display case rather than the complex layering inside the N8 case. Simplification does lower costs but more so there are simply fewer accessories with the N6ii that would necessitate any sort of additional layering in the N6ii box.
Accessories
Accessories are not plentiful but they are of good quality. The only critique I have is that I do wish the large excess space on the far right includes a fast charger since if you decide to charge the N6ii from a regular USB port (old school) you are going to be there for a very long time.
Aside from that, you get the following accessories:
Leather case
Cayin USB-A to USB-C Charger and data transfer cable
A nicely finished and very handy 4.4mm to 2.5mm right-angle converter.
screen protectors
Manuals and a warranty card
No screw to take out the motherboard? Yup! The question is why do you need to take one out if you have only one card? Sounds logical right? I assume a screwdriver will come with the next card. In the meantime, if you really must then it is a T5 size and the old FiiO X7ii supplied driver works a charm.
I think Cayin has nailed the black leather case on the N6ii in terms of material elasticity and cutting. Unlike the DX200 case, this one is a perfect fit and does not disrupt volume control. Unlike the older i5, I cannot see this one getting loose and the player slipping out. Mind you it is just a few weeks but so far I do not detect any stretch in the case.
Design
There are definite shades of the N8 in the N6ii design, though its dimensions are indeed smaller than the flagship Cayin DAP. Still, it is a 'chunky monkey' of sorts compared to the slimline U8 from Colorfly. I suspect much of that has to do with fitting in the motherboard as a replaceable module as well as the massive 5900mAh battery. Those things require additional space.
Despite that, the N6ii dimensions are competitive when you drill down to the spec sheet. At 290g it is heavier than the likes of the aluminum R6 and DX220 but closer to the likes of the R6 Pro. It is also only marginally taller than the R6 Pro and Lotoo Paw Gold Touch and not as long as the DX220.
Materials
The materials look to be a CNC aluminum shell with a sandblasted finish and a matte black coloring. The lines are clean and the curves are rounded so it sits nicely in one hand and yes, it feels like it can be managed in one hand also. The rear panel is made from an attractive tempered glass finish and does feel suitably tough but I do feel more relaxed with the unit inside its protective leather case.
I do like the volume button design on the N6ii right panel. It doubles as a power button but the guard on it and resistive pressure are such that it is not going to be turned on by accident. The rest of the physical controls are on the right panel for playback and on the left not much save for the micro-SD slot towards the base.
Screen
The front is dominated by a very nice 720p 4.2′ multi-point capacitive IPS panel which is very responsive and so far looks to be very legible indeed with great color saturation. The screen is on par in every way with the HiBy R6 pro screen with the exact same specification. Though not quite on the DX220 1080P 5″ screen level it will be a shade less demanding for battery concerns.
OS Performance
With 4GB of RAM and an upgrade to Snapdragon you can expect the N6ii to be a fast DAP and on par with HiBy's R6 Pro. And indeed our initial impressions are exactly that. This is a highly responsive digital media player OS, with very little in the way of lag with multiple apps open. Boot up times seem good also and there are no issues with Google Play out of the box in terms of installing and using official apps.
AnTuTu
Just to get a quick insight into the OS performance we installed AnTuTu whilst the OS was clean to check areas such as clock rates and general performance/stability of the new N6ii Android experience.
The performance is excellent from the N6ii based on our initial run. The score is as high as the original R6 and R6 Pro on a clean install which we rated as perhaps one of the fastest DAPs sub-$1k. Checking the clock rate is it not capped like the DX220 and sits at a very nice 960-1400MHz which goes some way to explaining why everything on the N6ii feels snappy. That 4GB also should ensure multi-tasking does not drag those numbers down either.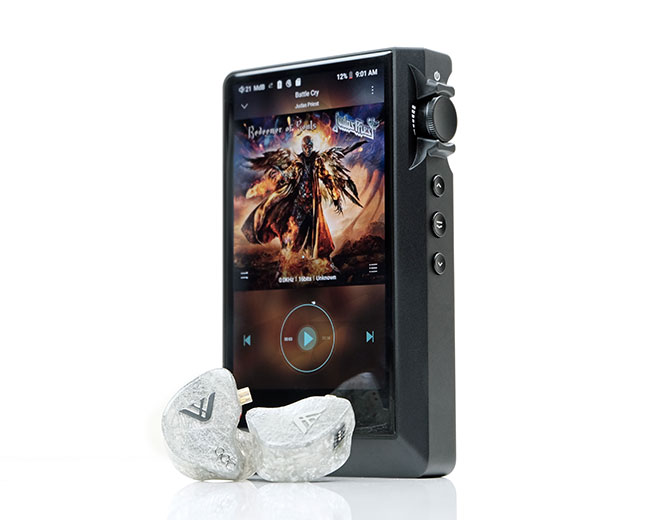 Initial Sound Impressions
(Tested with a CA Solaris and Noble Khan using HiBy Music and Cayin Music App with FLAC 44.1k 16BIT tracks)
My initial impressions of the A01 motherboard combo is that of a balanced presentation but a tone that errs to the slightly warmer side of neutral, a presentation geared to a smoother easier listening experience than anything exacting or analytical.
The timbre is on the richer side with some nice low-end emphasis but not an overpowering low-end either. It does seem that there is a focus from Cayin on ensuring the N6ii delivers something more on the smooth side but not to the point where it sounds lush.
There is a little uptick in the N6II treble for sparkle which is something I tend to expect from AKM chipsets but here it sounds very coherent with a very refined tone and none of that hard-edged harmonics of the older 4490 implementations from a few years back. You get a natural tone to percussion, good presence but without any nasty metallic overtones.
This presentation reminds me of the Vorzuge VorzAmpduo II analog amp which I just loved from a few years back for being able to give a rich, slightly euphonic tone but successfully avoiding sounding dull or lacking in detail.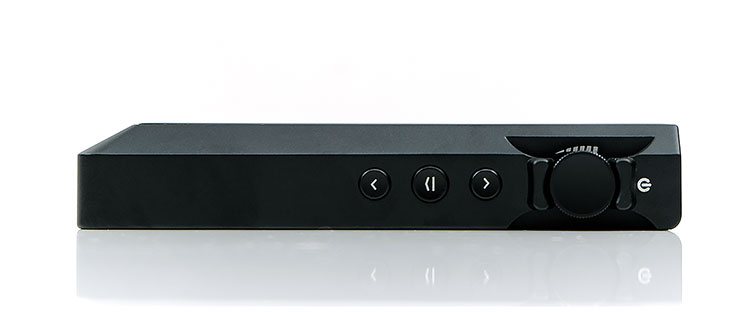 Stay Tuned!
Of course, the proof of a modular concept player is just how good those modules are. Therefore, the Cayin N6ii is a long game player with a potentially excellent eco-system or it could end up shelved depending on market conditions and, well, life in this tariff crazy world we have now.
Personally, I think it is a unique concept, never been done before and genuinely does have legs if the subsequent cards coming out traverse a wide gamut of sounds and decoding potential.
On the player side, this is already a big jump from the N5iis and in some ways a better performer than even the N8 in terms of speed and expandability. The main review could well reveal the N6ii as being Cayin's most complete player to date so stay tuned!
Cayin N6ii Specifications