Select Comparisons
Questyle M12
The M12 was the first dongle-type portable amp and DAC released by Questyle in 2021. You can find our full review of it here.
$139.99
Technical
Despite the price and positional difference, there is a degree of overlap internal between these two dongles.
For a start, both are using the same DAC chipset, the ES9281AC with similar decoding capability at up to PCM 384kHz/32bit and DSD256 including hardware MQA unfolding. Each device is compatible with similar platforms for digital receiving including OTG for Android and Apple as well as USB-DAC for PC and Mac.
Neither of them is feature rich. That means no volume control, DSP, or LCD screen. Both are just pure DAC/Amps that will require source-side tweaking for listening levels.
What is very different, however, is the amplification circuit with the M12 single-ended only and the M15 offering both SE and 4.4mm outputs from a balanced current mode topology. The M12's current mode architecture uses a single CMA SiP amplifier module creating a dual CMA amp engine whereas the M15 doubles that count to two SiP or four CMA circuits.
The resulting top-level power output is thus higher on the M15 using its balanced output compared to the M12 with SE only. Not only that, the M15 ditches the smart switching amplification technology gain control with it now being user-selectable in 2 steps on the side panel.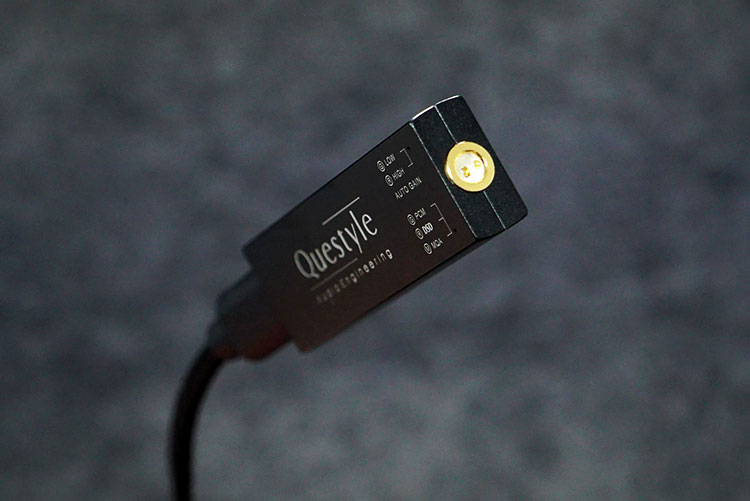 Design
Very contrasting design languages here with the only shared feature being a lack of onboard volume control or any DSP options and filters. The M15 does have the additional manual gain control on the side as one point of differentiation.
Both the M15 and the M12 do have anodized finished CNC machine aluminum housing but the glass top panel of the M15 combined with the wider form factor make it a more interesting and appealing aesthetic.
The M12 is both smaller and simpler in design with only a single SE 3.5mm output and a USB-C input on the rear. If 'compact' is what you are really after then the M12 is much the better choice and one of the smallest dongles I have personally used. It does lack the additional balanced output option which will give the M15 an appeal to those with more demanding gear.
Performance
Given both use the same DAC, same SiP modules, and offer 3.5mm outputs, I was expecting these two performances to be quite similar. However, that does not seem to be the case when comparing like for like.
Before we even touch on aspects of the tonal differences the choice of headgear here proved that offering a user-selectable gain switch was a smart choice by Questyle.
I selected the 64 Audio Duo for this comparison, an expansive and airy but smooth-sounding semi-open back IEM. Now with both on low, the M15 had a slight dynamic range advantage sounding a little cleaner and more linear in its delivery.
However, switching to high gain on the M15 and the Duo became a bit of a monster for sub-bass reach and staging immersion. The M12 auto-switch stayed resolutely in low gain leaving it much the softer and more polite sounding of the two performers.
That final description is really a snapshot of how the M12 sounds tonally compared to the M15 when comparing their like-for-like output. The M12 has a shade more bloom and warmth coming from the lows, a slightly softer and more relaxed mids with more rounded notes, and a treble delivery that feels relaxed but not missing.
The M15 doesn't hugely change that very natural flow to the presentation, rather it pulls back a bit more on the bloom, improving the bass punch and layering and injecting a bit more treble shine up top. That in turn improves perceived clarity and energy in the midrange instrumental and vocal timbre.
Cayin RU6
The Cayin RU6 is priced in the same bracket as the M15 and is also Cayin's debut and only dongle-type portable amp/DAC to date. You can find our full review of the RU6 here from earlier this year here.
$249
Technical
In a way, both of these dongles should be marked out for their very different approaches to key aspects of what makes a dongle unique. In the case of the M15, it is the current mode amplification architecture. In the case of the RU6, it is the use of R2R for the DAC component.
The R2R implementation is discreetly engineered and consists of 96 precision-matched resistors for digital to analog conversion at 48 per channel. There is also an additional high-precision resistor network for volume control as well as additional NOS/OS sampling levels with user control.
In contrast, the M15 DAC uses a single delta-sigma ES9281AC. Simpler to implement but slightly less engineering control compared to R2R. Decoding for both is similar for lossy/lossless with both offering up to PCM 384kHz/32bit and DSD256. However, the RU6 does lack any MQA unfolding which is something that R2R was never designed to do.
For amplification, both offer a balanced and unbalanced option with differing output levels. Officially Questyle does not list a 32Ω rating whereas Cayin has no official 300Ω rating.
Any direct comparisons would be based on the Questyle supplied data would suggest the M15 is quite a bit weaker than the RU6's maximum 213mW output. However, in practice that never really felt like an accurate experience.
Design
These are two different approaches to dongle designs and what you find attractive or useful depends on your personal preferences.
Cayin's design is perhaps more sedate but its inclusion of an LCD I think most will find more useful. Add to that a more feature-rich layout of volume and Mode controls then you have perhaps a more complete user experience.
The M15 is more about that glass panel and lower profile form factor. Both offer similar I/O, both balanced and unbalanced PO with a USB-C digital input but the reduced height of the M15 might suit some as the RU6 is a fair bit taller though significantly wider.
Aside from a manual gain control, however, the M15 does lack those useful user interfaces and if your phone is not set up for micro-volume control the basic stepped physical alternative on Android phones can be somewhat brutal. The RU6 volume micro-control system is more refined for me.
Performance
Since both dongles offer a balanced output I thought this would be a good place to start with the excellent but demanding 98dB SPL-rated qdc Dmagic 3D triple dynamic driver IEM for our comparison pairing.
On paper, the mW output rating of the RU6 seems a lot higher but in practice, with this pairing, the M15 sounded like it had at least as much punch and drive in low gain mode.
There was a little bit more difficulty in assessing them in high gain as the crude USB volume level controller on our smartphones could never quite match the more refined onboard RU6 volume adjuster.
However, once matched the M15 did seem to reach a little deeper for sub-bass presence and power though not quite as warm and fulsome as the RU6 through the mid-to-upper bass.
The M15 also sounds a little more neutral in the mids and vocals both in imaging and tonal coloration though it's by no means a dry and high contrast alternative to the richer R2R treatment from the RU6.
You will, however, find yourself drawn a bit more to the sublime vocal texture of the RU6 whereas the clarity and layering of the M15 mids shine through a bit better. It is probably the key strength of the RU6 for me.
That M15 clarity is aided by a stronger treble presence which in turn injects that cleaner tone through the mids instrumental timbre. It helps tease out a little more airiness and also some high-frequency spatial cues or notes have a bit more shine and pop to them.
Luxury & Precision W2
One of the first 'high-end' dongles from DAP manufacturers, Luxury & Precision. We reviewed the W2 back in mid-2021 and it walked away with a Top Gear Award for the same year.
$299
Technical
Both dongles are delta-sigma for decoding with the W2 using a dual Cirrus Logic CS43198 DAC implementation as opposed to the single ES9281AC inside the M15. Both have the same decoding capability at a maximum of PCM 32BIT/386kHz and native DSD256.
However, there is no MQA unfolding offered on the W2 as far as I am aware but it does have a few aces up its sleeve, namely the ability to output via SPDIF.
I believe it's the only dongle in the market that can act as a digital transport in this manner. Add to that a wide range of useable DSP filters and use of the onboard digital filters from the DAC chipset for the W2.
For amplification, both dongles have a balanced and SE-capable topology though the circuit principle is quite different with the M15 using a current mode design.
The power at 32Ω based on Questyle's supplied data would suggest the M15 is the weaker of the two for power with the W2 rated at a max of 230mW on a 32Ω balanced load but like the RU6 comparison, our real-world testing would suggest the mW ratings are a bit misleading.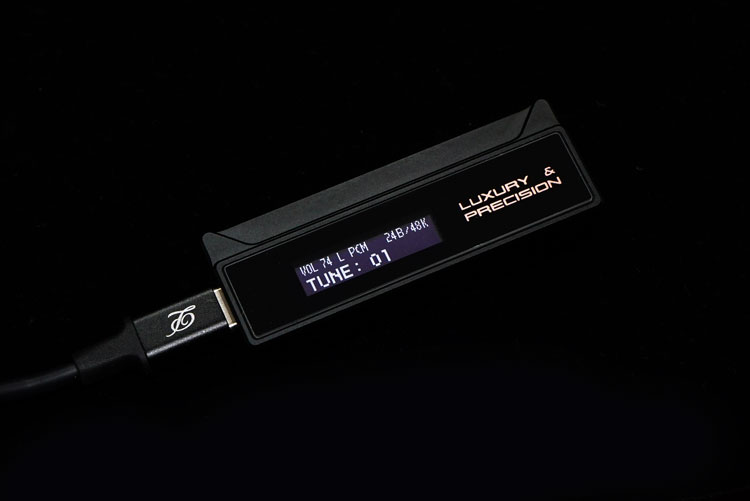 Design
The W2 is more in the M12 direction than the M15 for size being the more compact of the two form factors. The W2 also has a lot of 'chiseled' intricacy to its aluminum housing panels but nothing quite like the pop of the glass panel of the M15.
Given its small size, I have to say the W2's useability is incredibly good with volume controls, a mode selector button, SPDIF output, and a small but quite legible LCD screen. I kind of wish Questyle would give us more of this for the M15 which is bereft of useability aside from the manual gain control.
I/O is similar save for the SPDIF which is very unique to the W2. Both dongles offer slightly offset 4.4mm and 3.5mm PO as well as a USB-C digital input interface allowing them to operate in both OTG and USB-DAC mode.
One final note, at this price point I do wish both would come with dedicated leather cases. It seems vogue for most dongle manufacturers to sell small leather cases separately for $20+ so the ownership costs can rack up quickly.
Performance
For this comparison, I picked out the UM MEXT which is a slightly darker tuned monitor looking to see how both dongles pushed that dynamic driver and fleshed out its treble response at the same time using the balanced output.
For me, the W2 is a denser sounding dongle when paired with the MEXT. Notes are slightly rounder in tone, and a bit more upfront also but not quite as complex in their presentation. There does seem to be a bit of a gap between it and the M15 for general dynamic range and resolution also.
The M15 also presents a roomier more expansive presentation with better staging depth and for my money, more resolution with micro-detail coming through better on the MEXT.
The staging on the W2 feels a little more restricted in the sense when you get a strong vocal image that's what resonates the most whereas the M15's strong vocal comes with a lot of spatial articulation around it creating a more immersive performance.
The W2 seems to lack a bit of equivalent extension and energy in the upper treble which pulls your ear down a little more to its midrange performance. That upper harmonic influence is a major factor in the timbral make-up of the two dongles with the MEXT, that additional top-end sparkle.
The W2 may be the more forgiving and smoother as a result but the bigger staging quality and better clarity come from the M15.
Our Verdict
The Questyle M15 is probably the most immersive-sounding dongle I have heard to date. It has plenty of power so do not be fooled by those paper specs. Harder to drive dynamic driver IEMs and even some headphones will pair very well with this diminutive amp/DAC.
It may not quite have the natural lush and emotive characterization of something like the Cayin RU6 and its R2R tuning but it compensates through compelling dynamics, a spacious and holographic midrange performance, and just enough of a natural coloration to make pairing a very easy task.
My one negative point is the lack of onboard volume control. This is a device primarily pitched to audiophiles who want to retain the use of their smartphone or iPhone as their primary interface. Volume control on these devices is severely lacking making it difficult to fine-tune the M15 to exactly the level I want it at. I hope a V2 of this device addresses that issue.
Otherwise, the performance is on point, the design is very nerd-exotic and interesting, and competes very well indeed, if not better, than some of the competing dongles out there.
Questyle M15 Specifications
OS Required
Android phone and pad: Android 5.0 and above
PC: Win10 1803 and above
Apple cellphone: iOS (You need to buy an OTG cable for Lightning to Type-C.)
Apple computer: mac OS
DAC Capability
PCM: PCM: 32kHz – 384kHz (16/24/32Bit)
DSD: DSD64(1Bit 2.8MHz) , DSD128(1Bit 5.6MHz), DSD256(1Bit 11.2MHz)
Output Interface
3.5mm standard headphone jack
4.4mm balanced headphone jack
Output Power
3.5mm: RL=300Ω, PO=11.97mW, Vout(Max)=1.895Vrms, THD+N=0.00045%
4.4mm: RL=300Ω, PO=22.60mW, Vout(Max)=2.624Vrms, THD+N=0.00057%
Frequency Response & THD
Frequency Response: ±0.1dB(20Hz-20kHz)
THD + N: 0.0003%
DAC: ESS flagship USB DAC chip ES9281AC
Appearance
Material: CNC machined aluminum
Color: Black
Size: 61.8[L] X 27.2[W] X 12[D](mm)