The Audioengine HDP6 Passive Speakers are a set of 4Ω 2-way passive, rear-ported design speakers in a range of wood enclosures.
...
The Lake People Reference Series is a desktop headphone amplifier and DAC stackable combo system. It is priced at €800
...
The Kingsound M-03 & KS-H4 system is a new quasi-portable electrostatic headphone and portable amplifier. They are priced at $650
...
This is a review on the Dan Clark Audio Ether C Flow which is the company's flagship closed-back circumaural headphones
...
The Obravo Audio EAMT-2c is a semi-open hybrid dynamic and AMT driver combo universal IEM from Taiwan. It is priced
...
The Focal Elear is a 40mm dynamic driver circumaural headphone featuring Focal's signature M-shaped dome tweeter. It is priced at
...
The Ultrasone Edition 5 Unlimited is a new high-end on-ear headphone from German manufacturers Ultrasone and is priced at $2750.
...
Leave it to a relatively new company to produce the type of headphone most of us wanted for the past
...
AudioQuest ran into the Audiophile Pit while wearing a cowboy hat, guns blazing and firing at anything that moved like
...
Disclaimer: The Airist Audio Heron 5 was sent to us as a sample in exchange for our honest opinion in
...
The HIFIMAN HE1000 is a new flagship open-back planar magnetic headphone featuring a new type of diaphragm and external cup
...
Oh, come on! Are you kidding, Mayflower?  Pssh.  Just take my $1000 deposit for the next few renditions of the
...
I hate earbuds. Probably not the most endearing start to a review for any manufacturer to read and I can
...
This is a review of the Dan Clark Audio Ether which is the next generation open-back planar magnetic flagship headphone.
...
In today's review, we listen to the new Sony MDR-Z7 Headphones and give our opinion on this closed-back's performance, design,
...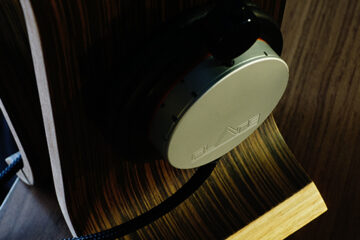 Ever ask yourselves what a headphone would sound like if you combined an Electrostatic, Planar and a Dynamic headphone and
...
The Sony MDR-XB950BT are a large supraaural Bluetooth capable closed-back dynamic driver set of headphones. They are priced at $179.99
...
The Audeze LCD-XC is a new closed-back full-sized planar headphones featuring a beautiful wood finish and a 106mm planar diaphragm.
...