The Kingsound M-03 & KS-H4 system is a new quasi-portable electrostatic headphone and portable amplifier. They are priced at $650 and $999.
Disclaimer: The Kingsound M-03 & Ks-H4 sent to us are samples in exchange for our honest opinion. We thank Kingsound for this opportunity.
To learn more about FiiO reviews on Headfonics you can click here.
Kingsound M-03 & KS-H4
Together both the KS-H04 and M-03 make a solid and logical pairing with a nice smooth and effortless electrostatic sound that makes for a solid introduction to life without air being pushed in your ear. The price is competitive if the build quality is still not quite as compelling as Stax.
It has been just over 3 years since we last reviewed the "process" of electrostatic product development from Hong Kong manufacturer, Kingsound Audio.
At the time they had just moved past the initial "prototype" electrostatic headphone, the KS-H01 (the odd purple cyberman helmet styling) to a more mature and better-sounding KS-H02 and of course their desktop solid-state M10 and the bigger tube designed M20 pro bias amps.
I had some pros and cons on the M10 but my conclusion on the amp was best used as a preamp to maximize the potential of the Kingsound system as a desktop setup.
Well roll in 2016 (and 2017 I guess) and here we are with the Kingsound 4th generation KS-H04 headphone and its "partner" the pro-bias portable M-03 amp. Now both of these launched in prototype from around late 2015 and were doing the trade shows at the time and came to the market really in early 2016 at a not insubstantial but still a competitive $999 for the H04 headphone and $650 for the M03.
Today it's a touch harder to find the H04 openly for sale for some reason but the M03 portable amp was on sale for around $450-$500 last I saw it on some dealer sites. The street price has dropped a little but even at SRP Kingsound is still rolling out electrostatic systems way under Stax pricing and more on par with Koss's attractive pricing point.
What Is The Pitch?
In theory and in practice both can be bought as independent units of gear. However, Kingsound's big pitch with both the amp and headphones is that together they are a fully portable electrostatic system. The operative word here is portable.
M-03 – Portable System
The M-03 amp for me is the first time a truly portable electrostatic amp has been built that can cater for full-size electrostatic headphones of practically any variant. Right now, to go portable with electrostatics you are tied into the Shure KSE1500 earphone system at $2999 or for many years before it, the Baby Stax system (MK1 and Mk2) with their own open IEM variants.
Both in many ways provide an undeniable level of excellence but are closed systems. To use the amp, you have to use their proprietary IEM. The Baby Stax was cheap in many ways at sub-$500 so perhaps more attractive to the budget-conscious but their earphones were not on the same level as the Shure variant and not as detailed.
M-03 – Plays everything
The M-03 from Kingsound is different. It has the price level of the Baby Stax, to begin with, bringing it well within the reach of most people's budget range.
The second is the regular pro bias output capability giving you an option to stick in any electrostatic headphone with a pro bias connection such as Stax, Kingsound's own cans and yes, even Koss with a converter cable. All will work and you are not restricted to just one type.
The third big pitch for the M-03 is the fact it can also double up as a normal bias amp and handle voltage outputs to regular headphones and IEMs so it will work with both systems which, for me, is very unique.
The final pitch is the power bank functionality. Yup, the M-03 can double up as a power bank with its big 6500mAh battery inside which is pretty useful for mobility on the go and definitely a value add.
KS-H04 – Mobile headphones
In a way, the KS-H04 electrostatic headphone which comes with the M-03 is both a response to the feedback on the bright sounding KS-H03 predecessor as well as a complement to the M-03 mobility pitch. It has a 90-degree gimbal allowing it to fold flat which is new for Kingsound. It also comes in a neat zip case with the M-03 amp making it a stylish duo as a single system pack.
Tonally it is being pitched as a smoother, warmer, and slightly euphonic-sounding presentation to the more demanding, brighter, and extended KS-H03.
There is some assumption there that mobility and critical listening do not always go hand in hand and to be frank, I would admit normally that is the case, especially since they are open headphones by design and as such far less isolating.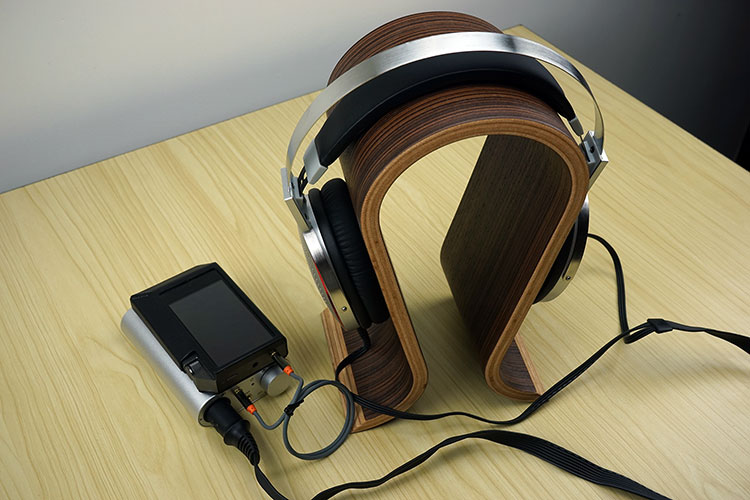 Kingsound M-03 Build
Robust
This portable amplifier is built like a tank. It could crush the Baby Stax amp and then some. Its volumetric size is not that big actually, about the same length and width as a typical portable amp but it's the height that marks this amp out at around 3cm tall or doubles that of an old school boxy portable amp.
Fitting in a pro-bias Stax-type connector socket is always going to add some girth to the amp though.
Weight
It is also one of the heaviest portable amps I have come across, weighing in at 450g which is around Bakoon's monster HPA-01M current mode portable amp weight. It has the form factor to fit in a set of cargo pants pockets but you will feel that additional weight.
Form Factor
The form factor itself is fairly traditional in its visual look except for the rather ergonomic curved sides which make this a peach to hold in your hand.
Given the weight, it's a nice touch and really helps with the handling. Materials are all-round aluminum and colors come in quite a surprisingly wide variety of silver, gray, black, purple, yellow, and gold. The last 3 clearly are lifestyle choices with the silver and black have the most continuous-looking finishes.
Front Panel
The front of the M-03 is smoothly finished with a slightly brushed aluminum plate using clear decals and sporting a reasonably spacious layout. The ESL output (electrostatic) is to the far left with the traditional line in and 3.5mm regular voltage output central and resistance based on/off and volume pot to the far right.
The amp itself comes with a 3.5mm thin jack terminated IC for line duties with a source of your choice (this has no DAC) but given the adequate spacing, there should not be too many issues using thicker jack terminations for IC and headphones or earphones.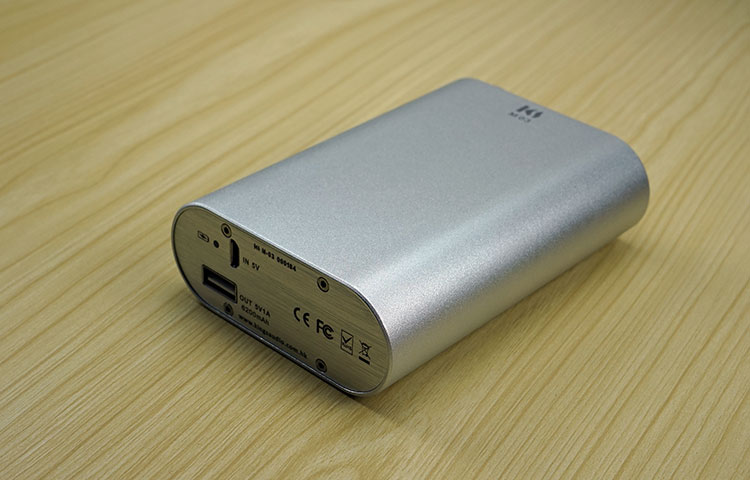 Rear Panel
To the rear, you have two USB connections on the far left of the amp. The bottom is a USB -A female connection for power bank duties giving you a 5v output via its twin Lithium-Ion Panasonic NCR18650A batteries (combined output of 6200mAh).
Just above it is a micro-USB female port for charging the amp itself. Kingsound does not include a wall charger for the amp (or the relevant USB cables) so you will have to acquire these by yourself. You can, of course, charge the amp via a USB out from your laptop but at a slightly slower pace.
Charging
To the left of the micro-USB socket is a small LED display to show charging status. The LED light has a series of blinks to denote the charge status of the M-03. All blinks are in blue color, it does not change color during different charge cycles. A single blink is 25% charge remaining, 2 is 50%, 3 is 75% and 4 is 100%. It will blink on a regular basis whilst charging.
Personally, I would prefer a simpler color-based LED system for charge levels (red, green orange) and an on/off LED for charging but after a while, you get used to counting the blinks on the M-03 rear panel.
Amplification
Internally the M-03 contains two hefty transformers on a stabilizing circuit to drive a 90V signal required for the ESL output to properly drive electrostatic headphones. Close to these transformers, Kingsound has elected to use an ETA Solutions ETA9640 5V/1A with a 1A linear charger for power bank duties.
For amplification output, the M-03 uses a Maxim MAX97220A which combines duties via step-up transformers to the ESL output as well as drive regular headphones via the 3.5mm output jack socket.
The regular headphone output of the M-03 is capable of driving line-level loads with 3VRMS into 1kΩ with a 5V supply and a regular headphone load of 125mW into 32Ω with a 5V supply. The ESL, via the step-up transformer, will give you a 300VRMS load to adequately drive electrostatic headphones.
Kingsound KS-H04 Build
Form Factor
The KS-H04 has been described by Kingsound as the mobile version of their KS-H03. As far as I can tell physically this means going back to one of the original prototype features of the KS-H01 and allowing it to fold flat instead of being rigid and upright like the KS-H03 and KS-H03.
It is a fairly lightweight design overall and much lighter than your regular Stax-type headphone. It does not look incredibly durable though but then again, I have never been 100% confident in the durability of some of the start Stax headphones so it is not a new concern. However, it is much more stylish-looking and comfortable than Stax headphones.
Cups
Other physical changes in the design also include a slightly elongated cup as opposed to the round cups of the H02 and H03 which makes for a more natural and comfortable fit. The H04 retains the red ring accented silver metal finish of the H03 cups, albeit with a slightly different pin cushion hole open-back design.
The gimbals are held in place with hard plastic covers on each side with a lightweight screw on each side of the cups and allow for the swivel to fold flat into their carry case.
Pads
The pads are over the ear and made of protein leather and of a medium depth. They will sweat up a touch under humid conditions and being electrostatic I would recommend ensuring your ears are dry before use as the medium depth of the pads does bring your ears a bit closer to the diaphragm than the deeper Stax rectangular cushions.
They are replaceable though by the looks of it so modders take note.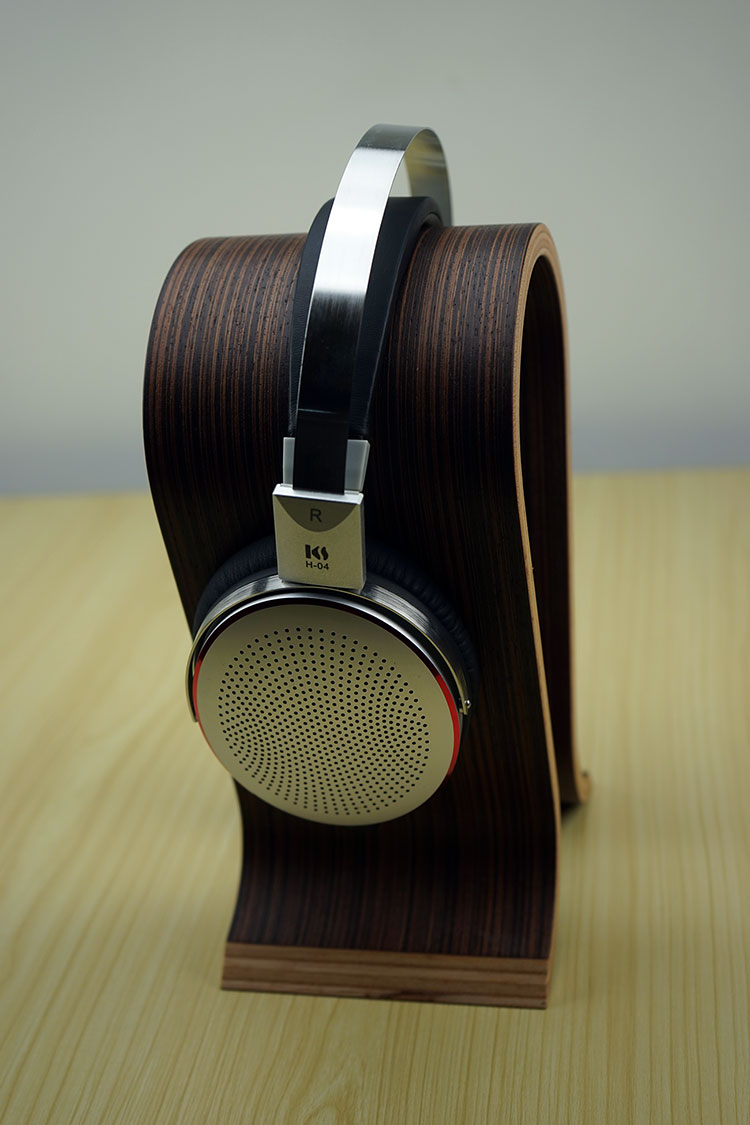 Headband
The H04 has also reverted to a headband system similar to the one seen on the older KS-H02. The H03 had a dual metal band design with a lightweight protein leather adjustment strap underneath.
The H04 now has a single metal band design and lightweight adjustment strap underneath but with a slightly more durable finish using plastic finishers on each end of the strap.
That being said the overall lightweight design of the KS-H04 makes this a fairly comfortable fit with a good distribution of pressure. The pressure is more down than sideways though so after a while you might feel it a bit more on the top of your ears. Nothing major and small adjustments can always be made during listening.
Cable
Unlike previous iterations, the H04 has a detachable dual-entry cable design with a single 3 pin slimline socket at the base of each cup and a regular pro bias 5-pin round Stax type connector on the other end of its rather short flat cable. The length we presume is for increased mobility though you can order a longer one if you should choose to have greater flexibility.
The connectors are also at a slight angle on the cups which is a welcome feature as it gently guides the cables away from your shoulders minimizing potential knocks that would disconnect the cable accidentally or general discomfort from the cable constantly hitting your body during usage.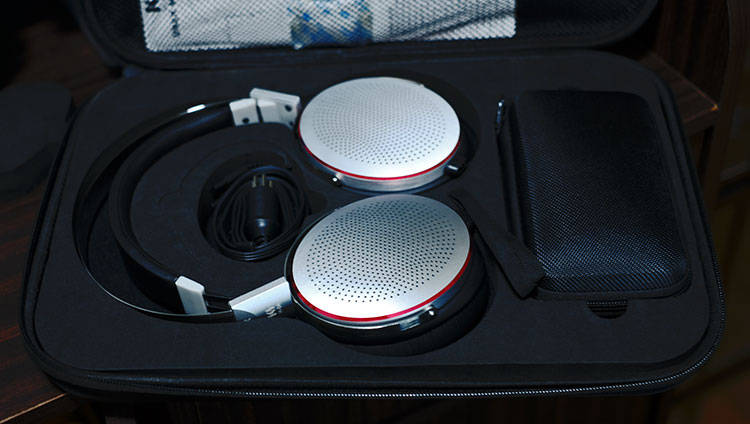 Packaging & Accessories
There is not a huge amount of accessories that come with the system (short manual and 3.5mm IC cable is all you get) but in terms of casing and due to the ability to fold the KS-H04 flat it does come in a rather fetching and useful, laptop-like, zippered carry case with internal contoured foam padding.
The M-03 portable amp has its own separate stiffened zipper case should you wish to use that alone. Inside the case is a small mesh net for carrying the short IC cable for line out duties as well as the manual. Both cases have the Kingsound KS logo embroidered on the top.
Click on page 2 below for Sound Impressions & Matchability