The Oriolus DPS-L2 is a unique spin on the classic Sony TPS-L2 Walkman mechanical design using a modern ES9038PRO DAC. It is priced at $2199.
Disclaimer: The Oriolus DPS-L2 was sent to us in exchange for our honest opinion in this review. Many thanks to Shenzhen Audio and Oriolus for giving us this opportunity.
To read more on Oriolus products we have reviewed at Headfonics you can click here.
Note, this 4-page review follows our new scoring guidelines for 2021 which you can read up on here.
Oriolus DPS-L2
Overall, a DAP not without flaws and some frustrations for those who are used to modern touch-sensitive designs. However, as a retro-styled spin on the classic Walkman cassette player, the DPS-L2 is absorbing, a lot of fun to an old-timer like me, and a talking point among crowds to say the least.
Despite owning some classic Walkmans I never did get a chance to test the iconic Sony TPS-L2 when it first came out. Even less of a chance now with its movie time renaissance in the hands of Mr. Starlord meaning they can cost a small fortune if they are in good working condition.
And yet, cassette players are more of a trip down memory lane for most of us. The modern audiophile is going to give the high noise floors, pure analog track navigation, and the cost of sourcing good quality cassettes the thumbs down.
So how cool is it that Oriolus has decided to take on the iconic TPS-L2 form factor and build a modern digital DAP inside a retro shell? I suspect very is the answer if you are 40 years or older.
The DPS-L2 is not cheap at $2199 and there are only 999 units available. However, it is a very absorbing, if somewhat flawed experience, for those who like something a bit cool, a bit different.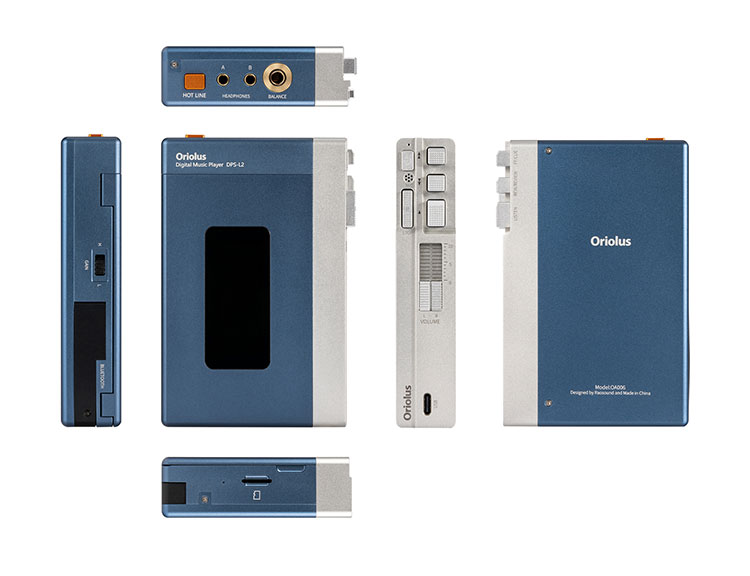 Tech Highlights
DAC
This is the modern stuff, the nitty-gritty if you like, and the DPS-L2 uses a good one, the flagship ES9038PRO desktop delta-sigma chipset in a single channel implementation.
Decoding, however, is competitive but not quite top-tier at up to DSD256 and PCM 32BIT/384kHz. As a point of reference that is on par with the Cayin's dual AK4497EQ implementation inside the N8 and the N6ii as well as Luxury & Precision P6's R2R decoding capability.
It does fall somewhat below the likes of the HiBy R8 and the Lotoo PAW Gold Touch's DSD512 and 32BIT/768kHz ceiling. We do know the ES9038PRO is capable of higher rates so the bottleneck is likely a balance between acceptable battery life, the XMOS XS-1 U8 being used in the DPS-L2, and perhaps the CPU which I presume is a Rockchip or Arm Cortex variant.
Wireless
The DPS-L2 also offers Bluetooth 4.0, which again is not the latest and greatest 5.0 but combined with its HiByLink operational capability will give you a decent level of remote control from your receiving source.
Bluetooth on the DPS-L2 is also two-way meaning you can receive and transmit but sadly LDAC does not seem to be on offer with only an SBC/AAC maximum of 16BIT/48k decoding receiving capability. You can transmit up to aptX, however, to a dedicated wireless receiver such as the Burson Composer 3X Performance DAC or the Cayin iDAP-6.
Amplification
The DPS-L2 uses a dual bipolar opamp IC for amplification, the Texas Instruments OPA1612 which is the same chipset used in the likes of FiiO's M15. Having said that, the M15 uses 4 x opa1612's and Oriolus has not declared how many are used inside the DPS-L2. My guess is at least 2 given it can output both single-ended and balanced.
Amplification is relatively unique in that you get not one but two 3.5mm TRS SE outputs and a single 4.4mm balanced output that will mute the SE outputs when in use. Both 3.5mm outputs are independent of each other meaning you can slot in two monitors or headphones and basically "share' the music.
Performance Numbers
The DPS-L2 output ratings are very good, but again not quite top-tier with a maximum output rating of 400mW into a 32Ω load from the SE outputs and curiously a slightly lower 360mW from its balanced output.
Most high-end DAPs now can offer better voltage swing from 500mW up to 1W from their balanced outputs though the SE is quite competitive at 400mW. However, I am told that you will not get a reduced output rating if you used both SE sockets at the same time which is a bonus.
The more nuanced ratings such as SNR and THD+N are also quite competitive at a maximum of ≥ 119dB and 0.0015% (32Ω @ 1KHz) (balanced).
That's a better performance on paper compared to the similarly priced LP P6 for THD+N which is at <0.003%. It is also superior to the HiBy R8's SNR balanced output rating of 117dB though do bear in mind you can get up to 1W from the HiBy and its THD+N is lower at <0.00083%.
Design
The DPS-L2 aesthetic is even better in real life than any picture I have seen to date. It is not a 1:1 scale of the original TPS-L2 cassette player, in fact, it is a little smaller at 118 x 76 x 25mm compared to 150 x 90 x 35mm.
However, it has a dense feeling in the hand being made entirely of anodized CNC-machined aluminum rather than plastic and full of intricate mechanical buttons, also made out of aluminum. They also actually work and are not just there for aesthetical reasons.
The design has some obvious and also some nuanced differences from the original. Differences such as the lack of Sony Walkman branding, the slightly stubbier mechanical stop button, and the shorter top panel. There is also a smoky perspex panel on the bottom corner of the DPS-L2 for the BT antenna.
The orange Hot Line button is also a bit lower profile on the DPS-L2 and the larger mic on the original Sony right panel has been reduced in size to make way for a physical power button. The DC 3V side panel charger is now a USB-C port with no accompany swappable battery compartment on the back panel.
Most importantly, it does not have the ability to play cassettes so no front-loading bay. However, much to my delight, the front panel does open up exactly as you would hope it would revealing the 'ode to modernity' with its 2.4″ IPS screen and control interface.
Heck, Oriolus has even thrown in a cassette screensaver during playback that actually mimics a cassette being played and then stops spinning when you hit stop. Perfect!
Screen
The original TPS-L2 cassette bay has been replaced by a fairly compact but quite legible 2.4″ IPS screen embedded in a relatively large bezel enclosure. The OS inside is the very familiar HiBy Music from a few years back and customized to work within the screen limitations.
The viewing angle is not really an issue here because the top lid will limit your viewing angle in the first place. You will have to hold it in a certain way to be able to see the screen and from that angle, it is quite legible with a little bit of color, mainly blue and grey.
This is not a touchscreen, however. All the controls are physical so you will find yourself holding the DPS-L2 horizontally and in both hands to be able to operate the device via the screen. Once you hit the playback screen and close the lid all you will see is that cool interactive screensaver
As mentioned, the screensaver is interactive and does an excellent job of mimicking the mechanics of a cassette during playback including rotating during playback, speeding up when you fast forward, rewinding, and stopping. It does an excellent job of creating that retro analog vibe in all fairness.
Controls
Almost all controls are physical and there is a degree of overlap in terms of what they can do. The wireless aspect is via HiByLink's BT remote control service which you can read more about in our software assessment on page 2.
The physical controls are split into two areas. The 'boring ones' are under the front flap and are primarily used for software navigation and settings controls. You also get a single slider switch on the left panel for a high gain and low gain setting.
The cool mechanical ones are on the right panel and operate in a very similar fashion to an analog Walkman for playback control, powering up or down, and LCD panel on/off.
They also feel exactly like a Walkman analog mechanical switch with a satisfyingly long travel and authentic physical click when you hit the bottom.
You get four of these old-school buttons, play/stop, forwards, and reverse and all with a nice grippy texture on top to prevent your finger from sliding. You do not need a pause button, the stop button does that just as it would on an old-school Walkman.
Right beside those controls, you get a subtler and smaller modern power button that has a styling not out of sync with the retro styling. It is the only real diversion from how analog deck controls work.
Dual Analog Volume Control
Below the playback buttons, you get the very cool dual analog volume sliders which are 2×2 analog potentiometers that independently control the left and right volume channels.
That does mean you need to push up both at the same time to keep left and right channel volumes in sync which can be a bit tricky without a nice solid fingernail to act as a guideline at the base.
However, both sliders have plenty of grip and you can easily see from the side if one is slightly out of whack with the other. Yup, this is no different from the TPS-L2 and it comes complete with the original's volume level labels going from 0-10 on the side.
Hot Line
The orange Hot Line button at the top of the DPS-L2 does exactly what you think it might or should do which is mimic the original TPS-L2 environmental control in tandem with the small mic on the right panel.
The original concept for this was to activate the small built-in microphone, partially overriding the sound from the cassette, and allowing one user to talk to the other over the music when both jacked in at the same time.
Does it work on the DPS-L2? Yes, it does, by pulling in the mic from the side panel it operates much like a TWS ambient sound control but instead of a minor sound cancellation it actually stops the music altogether. Once it does stop it you can easily hear what is going on around you as the mic amplifies all the noise outside of your monitors.
I/O
Because of the unique design, the I/O are not quite in the normal positions you would expect for a DAP. For example, the open MicroSD slot is on the bottom rather than the side and the USB-C port is on the lower-right side instead of the bottom.
That isn't much of an issue if you intend to use this purely as a DAP. However, for USB-DAC and OTG capability, of which the DPS-L2 has both, the side connection is not neatly aligned with most Android or iOS devices that have their port at the base.
Aside from those two digital I/O, the analog connections are all at the top including PO for balanced 4.4mm and the two 3.5mm TRS SE outputs. There is no dual functional LO or dedicated LO in either balanced or SE format.
The final tiny easy to miss I/O is a reset pinhole at the base of the DPS-L2 near the MicroSD slot which I have not had to use yet which speaks volumes on the HiBy OS stability.
Storage
There is no onboard memory inside the DPS-L2 which is a bit of shame because at this price point most DAPs have at least 64GB and some up to 256GB. You do get an open MicroSD slot which should take pretty much any card memory size though in the spec sheet it is rated up to a maximum of 512GB.
You can also enhance your DPS-L2 storage options via a flash drive as the HiBy OS will recognize USB-C terminated sticks via OTG. That can give you a fairly large parameter up to I suspect 2TB powered drives though bear in mind the line-entry style of the OS might make navigating it a bit of a tall order.
Battery Life
Stuffed inside the DPS-L2 is a fairly hefty 5000mAh high-density polymer lithium battery which should give you up to 10-11 hours of battery life with a 3-4 hour recharge from zero to 100% via the USB-C port. That might drop, however, using Bluetooth, hi-res decoding, or heavier loads.
There is no mention of any quick charging capability and it will not charge with a high voltage charger such as my own ROG Phone 30W Adapter. Normal USB charging ports such as a laptop and PC that are rated at up to 1.5A should work fine though for charging the DPS-L2.
Packaging & Accessories
A surprisingly small and compact retail package for the DPS-L2 with very little in the way of accessories. You do get a short USB-A to USB-C charging/data transfer cable and a manual, (In Chinese) and that's about it.
The box itself does have excellent protection for the DAP with a stiff foam lining on the inside with the DAP nestling quite deep inside it. You also get a similar foam layer on the underside of the outbox lid to protect the DAP from knocks during transit.
What would I have like to have seen included? A carrying or protective case much like the original TPS-L2 Walkman would have been very useful as well as an English manual version or a link on the current manual on where to download the digital version of the manual.
Click on page 2 below for DPS-L2 software impressions
Click on page 3 below for DPS-L2 sound impressions and pairings
Click on page 4 below for select comparisons