The Burson Composer 3X Performance is a balanced capable pure DAC featuring an ES9038Q2M chipset and Bluetooth 5.0 streaming capability. It is priced at $1144.
Disclaimer: The Burson Composer 3X Performance sent to us is a sample unit in exchange for our honest opinion. We thank the team at Burson for giving us this opportunity.
You can find out more about Burson products reviewed on Headfonics here.
Note, this review follows our latest scoring guidelines which you can read up on here.
Burson Composer 3X Performance Review
I am very surprised by what Burson has achieved here with the Composer 3X Performance despite my hesitancy over them using the Q2M version of the ES9038. Their opamps are easily the star of the show here and they do go to prove how much a proper DAC implementation can lift and transform any DAC chipset performance. 
Burson review duties have been split largely between myself and Mike this past few years with the last from me being the Burson Play, Fun, and Bang from late 2018.
The Burson Composer 3X Performance DAC is an altogether different beast from those models and a continuation of the high-end pitch first seen on the fresh designs of the Conductor series in 2019.
Mike loved the Conductor 3 and gave it an award end of last year so it was a no-brainer to get involved when Burson came back with something 'similar' for their DAC range, the Composer 3X Performance.
Roadmap
As far as I can tell, this is Burson's flagship DAC with no lower-tier non-3X version available. On the Conductor side, they do have one step up from the Performance series integrated amps called the reference series. It is not clear to me yet that Burson intends to release a Reference series pure DAC but all things are possible.
At $1144 SRP, this is the best of Burson Audio's digital side of the house. However, true to the Burson heritage, it is not simply a 'plug and play' DAC. Yup, that means Opamp rolling with their famous SS Opamp range of which I think are some of the best performing opamps in the world right now.
If you ever want to get into opamp rolling then start with Burson. They make their units dead easy to work with. Do these opamps change the sound signature? Oh yes, and then some!
Tech Inside
DAC
The Composer 3X Performance uses a single ES9038Q2M delt-sigma chipset at the heart of its digital implementation. This is somewhat of a curious choice given the Q2M chipset is for mobile class power implementation or sources.
Typically, you would expect a PRO in there instead for the higher internal DAC crunching and potentially lower signal-dependent distortion. If you look at the rear panel, however, semantically it kind of makes sense with its USB-C digital input.
That is normally a mobile source type of digital connection. That also means the Composer 3X Performance digital side can interface with mobile sources.
Performance
Having said all that the performance side of the Composer 3X Performance ES9038Q2M implementation is top-notch. Decoding, in conjunction with an XMOS USB stage (XU208), is a thoroughly modern DSD512 native and PCM 32BIT/768kH level of capability.
Well, almost modern as there is no native MQA decoding or rendering. I would suggest looking at your transport to render initially before sending the signal to the Composer 3X Performance. DAPs such as the HiBy R8 or FiiO M15 DAP will do the trick.
Channel separation, which is one of the key focus points of this DAC is a ridiculously high 142dB @1KHz dropping to 135dB @20KHz. As a contrasting example, the Chord Qutest, one of my favorite DACs of the last few years, is rated at 138dB @1kHz and on paper slightly lower.
THD+N follows a similar high-performance weighted path at 0.0005% @1KHz, 0dBFS. Under a fairly similar weighting, the official spec of the Qutest is a little bit higher at <0.0001%. However, it is closer to the likes of Cayin's new i-DAC 6 MK2 resistor stage at ≤0.003% and higher than its vacuum stage at ≤0.8%.
Opamps
We must also be careful here throwing our lot is based purely on the DAC chipset specs since Burson's output stage design and performance are hugely influenced by its proprietary power supply design and of course those rollable opamps.
Most notable is the bypassing of the DAC's current/voltage (I/V) conversion stage by 2 of the opamps and the low-pass filter is handled by 2 other opamps. All 4 of these are Burson V6 Vivid discrete opamps in a dual configuration (2 per channel) or 'red-tops' as I like to call them due to their red vertical enclosures.
The V6′ family' are discrete opamps with up to a ±15V swing and reverse voltage protection as opposed to preconfigured IC blocks off a shelf. This includes the stock V6 Vivid and the V6 Classics.
They have a better power-to-performance ratio than IC options as well as a deeper class A bias. Not only that, but they also fundamentally change the sound signature of the output stage as I found out in my original Play review when I first used them back in 2018.
V6 Vivid
From my previous experience, the V6 Vivid (red tops) are the more 'explosive' of the two V6 opamps. That is to say less midrange warmth and richness but more power and a higher level of treble contrast. I am expecting this to be a lively opamp sound with a high level of energy and a clean-sounding timbre.
V6 Classic
The V6 Classic opamps, (orange tops) on the other hand, are more relaxed, warmer, and richer sounding. They will not deliver quite the same planted feel as the Vivid but rather a natural or more analog-sounding tone to instrumental and vocal timbre performance.
Max Current Power Supplies (MCPS)
Every DAC needs quality power to sound optimal and some will contend a DAC's power supply is the most crucial element.
Burson has long used the MCPS topology combined with a very short signal path in its components instead of a traditional switching transformer design (SMPS). This was present back in the Fun as it is now in the Composer 3X Performance.
The Composer 3X Performance Max Current Power Supply (MCPS) does away with high resistance copper windings (SMPS) and uses switching resistors instead that adjust to the power supplied.
In turn, that means a much lower output impedance and far less working frequency noise, in this case, just 10Ω for the pre-out and 25Ω for the pure DAC out where you would normally expect a 30Ω+ rating.
The resistors also convert AC to DC at a much higher kHz than traditional SMPS designs thus producing a much better performance for noise and therefore dynamic range should improve.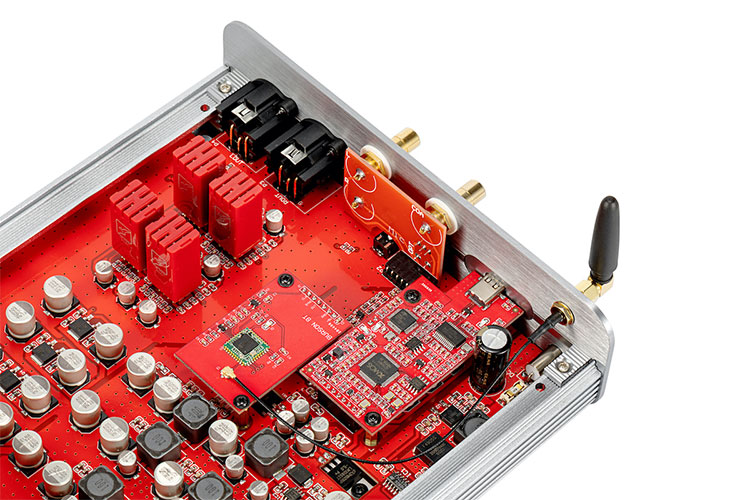 Bluetooth
This is something I am seeing more often now in new DAC designs, the addition of a wireless element for some sort of streaming capability. The Composer 3X Performance comes equipped with Bluetooth 5.0 capability via a small wired antenna at the rear and its own dedicated Soc and PCB board internal design.
With BT5.0 onboard the Composer 3X Performance will receive pretty much all the major codecs including aptX and LDAC up to PCM 24BIT/96K though it does not mention in the manual if it also offers any low latency aptX capability.
Preamp Output
Aside from a fixed voltage lineout from the DAC, the Composer 3X Performance also offers a variable volume controlled pre-amp functionality in both single-ended and balanced 3-pin XLR output for pairing with power amps.
Interestingly, the spec sheet does not mention voltage assignments so we must assume it is a standard 2.1V and 4.2V for unbalanced and balanced specs. We do know the impedance ratings are impressively low, however, at 10Ω for the pre-out.
Design
Burson seems to have slowly moved away from the ultra-industrial/PC-based slot design of the Play which I found to be a hugely radical departure from their traditional desktop designs of a few years ago.
The Composer 3X Performance is a thick electroplated high-density silver aluminum curved panel design. I believe Burson has referred to before as the "cool case" on their Conductor designs which are very similar. Certainly, it is much more discreetly put together than the older boxy black designs of the Play, Fun, and Bang.
As before it has a detachable top lid held by 1″ long screws inserted into the base so aesthetically it is much cleaner or more premium looking. The seam down the sides for the split is quite nicely disguised by the ribbed texture design.
Despite the upgraded finishing, it is still a fairly robust but diminutive utilitarian design with shades of an old WWI British Mark V tank via those curved ribbed side panels.
Speaking of tanks, I can tell you from first-hand experience that the solid silver aluminum casing is incredibly tough. FedEx gave it a right kicking on its way here but it came out shining and working as intended. A lot of lesser units might not have survived.
I/O
All the connectivity on the Composer 3X Performance is on the rear panel. That includes power, the screw in the BT antenna, and your digital and analog sockets.
It is not quite flagship-level with a lack of I²S or BNC sockets but it does cover the main bases with single-ended and 3-pin single-ended and balanced analog outputs as well as USB and coaxial/SPDIF inputs.
You do also get a Mic 3.5mm port but it is not a throughput port as you would find on the older Fun model. For that, you do need an amp such as the Soloist 3X Performance which Burson is currently offering as a bundle with the Composer 3X Performance online.
A few curious omissions or choices here. The first is the use of a USB-C socket instead of a traditional USB-B port you would expect to find on a traditional desktop DAC.
The primary reason I suspect is for mobile source connectivity via OTG. It will still work fine for PCs and MACs with the use of a USB-A to USB-C cable and one is supplied among the accessories inside the retail package.
The second is a labeling omission on the Composer 3X Performance XLR sockets for left and right. Traditionally it is reversed as you see it from behind with right first and left second but that might throw those not used to working with balanced connections. Even a diagrammatic inclusion inside the manual would be beneficial.
Controls
The Composer 3X Performance front panel is sparse save for the small silver button to the lower left and the matching menu bottom to the far left. A small LCD panel and a textured grippy potentiometer are in between.
The potentiometer will adjust the volume, (stepped), for pre-out duties as well as act as a navigation/selector control for menu-based options presented on the OS menu via the LCD.
You will notice also a small black circle just below the far right menu option button. That is the sensor for the supplied remote control which comes in a matching dense silver aluminum finish.
It sort of looks very similar to the included remotes for the older Play but true to the form factor of the new 'cool case' design the new remote is a little curvier on the sides and feels better built.
All the controls pretty much duplicate the front panel operability with volume control, mute, and input selection capability. The remote also has a screw lock rare which you can pop off when the pill battery dies out and simply replace it with a new one.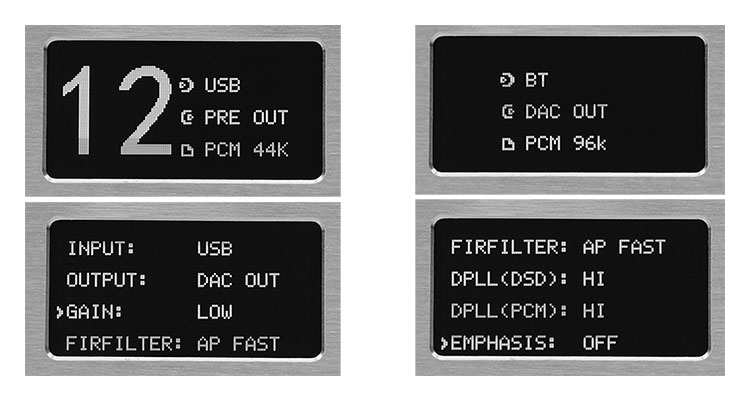 OS
The Composer 3X Performance uses a fairly small and basic LCD screen which is not on the same level as the bigger SMSL M400 screen or the Cayin iDAC-6 MK2's very expressive colored LCD panel.
It is more on the level of the Topping D90 matrix-style presentation. It can be a bit tricky to see from a distance though the pre-amp volume indicator is much bigger and more legible.
Having said that, the menu options are plentiful with input and output switching controls for USB, coaxial, and optical as well as Bluetooth. You can also choose 2 levels of gain, all 8 of the ES9038PRO digital filter settings as well as deeper options such as DPLL with sampling indicators.
As an FYI, DPLL works on a high, medium, and low setting basis and allows the user to vary the amount of jitter filtering from a USB source and covers both DSD and PCM audio signals on the jitter side before it hits the DAC for analog conversion.
One final option on the Composer 3X Performance OS, called Emphasis, is primarily for analog sources such as tape. De-emphasis is normally used to flatten frequency response when there has been pre-emphasis, (boosting high frequencies on the recording).
Accessories & Packaging
My particular sample did not come with the full retail packaging though it did come with the accessories. The Composer 3X Performance packaging from what I have seen has changed from the older slimline black cardboard to a new all-white vinyl polished cardboard container finished with black and red font on the front.
Inside the layout does seem to look fairly similar though the accessories and power brick have their mini rectangular packaging with the main unit safely tucked away in a foam cutout. Aside from the remote control, you get the following accessories:
External Power Supply 24V 3A
USB-A to USB-C Data cable
Hex Key (for opening up the lid to opamp roll)
Spare Fuse
Spare IC opamps for troubleshooting
The Composer 3X Performance Bluetooth antenna is also stuffed into the accessory container and it is a simple screw lock onto the rear panel for fitting. Aside from that, you get a small user manual guide which you can also download directly from the Burson support section along with the USB drivers if required.
Click on Page 2 below for Sound Impressions & Comparisons