The Hidizs S9 Pro is a portable balanced and SE amp/DAC dongle offering up to PCM 32BIT/768kHZ and native DSD512 decoding. It is priced at $113.
Disclaimer: The Hidizs S9 Pro sent to us is a sample in exchange for our honest opinion. We thank the team at Hidizs for giving us this opportunity.
To read more about Hidizs products we have reviewed on Headfonics click here.
Note, this review follows our new scoring guidelines for 2021 which you can read up on here.
Hidizs S9 Pro
While it is true that there are other solutions in the market that boast qualitatively better measurements, what matters to me as a consumer is its price-to-performance ratio. I strongly believe that the S9 Pro surpasses many of its rivals.
The Hidizs S9 Pro is the audio equivalent of the iconic Swiss-army-knife; a well-conceptualized dongle that is fit for most purposes downsized into a miniaturized dongle that fits within the palms of one's hands.
From IEMs with delicate sensitivity ratings to full-sized headphones that require ample power, the S9 Pro has proven its mettle amongst a multitude of porta-audio products from both ends of the spectrum. Realistically, however, do not expect super-sonic or out-of-this-world gain, given its tiny form factor.
The ritual of carrying a separate source solely dedicated to music playback has lost its ubiquity in the modern age. Even amongst the dogmatic adherents of the global audiophile community, the widespread prevalence of portable dongle DAC/amps has started to level the playing field between bespoke digital-audio-player companies, and your run-of-the-mill smartphone.
Gone are the days when audiophiles had to fork out a huge wad of cash for a player that was an exceptional real-world performer. Why lug around a portable player, when you can save precious real estate in one's pockets by opting for a dongle?
The Hidizs S9 Pro is one such product. Compared to its predecessors, it is a device that builds upon the prototypical foundations set out by Hidizs' earlier iterations.
Tech Highlights
DAC
The newly revamped S9 Pro houses the tried-and-tested ES9038Q2M DAC, a 2 channel DAC designed and manufactured by the widely lauded ESS Technologies. On the other hand, its younger counterpart, the Hidizs S8, boasts CS43131 manufactured by the company, Cirrus Logic.
There is a tremendous leap in output power, from a respectable 32mW in the S8 to a substantial 100 mW in the S9 Pro; more than triple its original power output! The S9, its more affordable sibling boasts an AK4493EQ; a notable DAC from AKM, but one that does not quite hit the mark that has been set out by the ambitious S9 Pro.
Other qualitative improvements include a lower THD (Total harmonic distortion), at 0.0006% @32ohms in the 3.5mm out, and 0.0012% @32ohms. Measurements-wise, the S9 Pro is technically superior to its younger counterparts, the S8, and the S9.
Apart from that, the Hidizs S9 Pro has expanded on its already format-friendly compatibility; all formats, including the data-rich DSD-64 and MQA support (which is currently gaining insurmountable traction), are now available.
Design:
Apart from the removal of the volume buttons, the S9 Pro retains its design DNA. However, the S9 now has a haptic logo that lights up upon connecting to either a laptop, tablet, or smartphone. Each color-coded light on the LED transmitter signifies the file format that is being played back from the source device (as shown in the image below).
Moreover, there is an oblong protrusion that breaks out from one end of the dongle to house the additional 2.5mm balanced output; a welcomed addition for versatility and synergy with more power-hungry headphones or IEMs'.
Overall, it is an iconic design that avoids reinventing the wheel, albeit with some value-added features that sweeten the overall package.
Controls:
Because it does not have built-in volume controls, any adjustments are restricted to the source device. Unfortunately, there are not enough steps on my Samsung S21 for subtle volume adjustments.
That limitation circumscribes its ability to accommodate sensitive IEMs. As a result, each adjustment skyrockets the gain on the S9 Pro. However, that problem is easily mitigated with the Shanling M0, with its highly adjustable digital volume pot.
Battery Life:
The S9 Pro does not have a built-in battery; it derives its power from its source device. In real-world use, I noticed a significant acceleration in battery depletion when I used the 2.5mm balanced output on a daily basis. I would say that on single-ended mode, it reduced the battery consumption by a healthy 25%.
That is the price one must pay for exceptional power output. However, considering the fact that most consumers carry a dedicated battery pack for said circumstances, it is still far more convenient than lugging around a separate digital audio player that takes up far more real estate in one's pockets.
It is worth noting that the unit does start to "warm-up" in balanced mode, but it does not violently emanate heat from its chassis.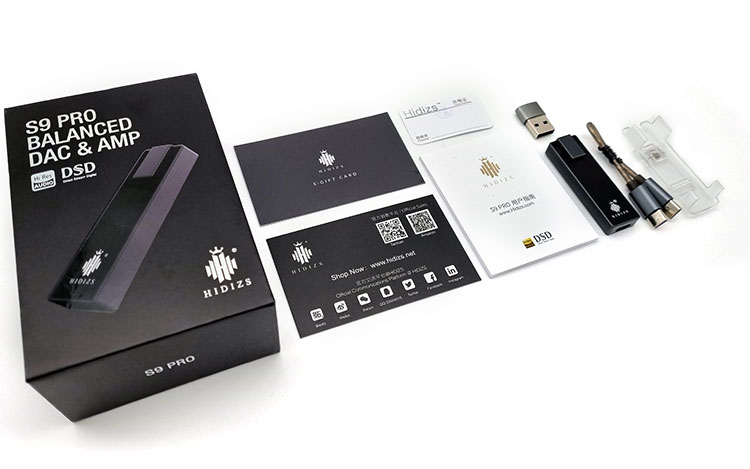 Packaging and Accessories
Like all other offerings in Hidizs' current catalog, the S9 Pro comes encased in a professionally printed cardboard box, with every USB-C cable known to man; from standard USB to thunderbolt, every cable is included.
Additionally, it comes packaged with your usual run-of-the-mill instruction manual detailing its operation (the LED indicators legend will come in handy later on), and a plastic guard that allows you to "clip" the device onto the side of one's garments.
Every possible need of the consumer has been accounted for, and as a reviewer, I could ask for nothing more. This is an exceptional package that covers all the bases necessary for an instant plug-and-play experience. Hidizs has upped the ante on packaged inclusions, especially at the lower price brackets.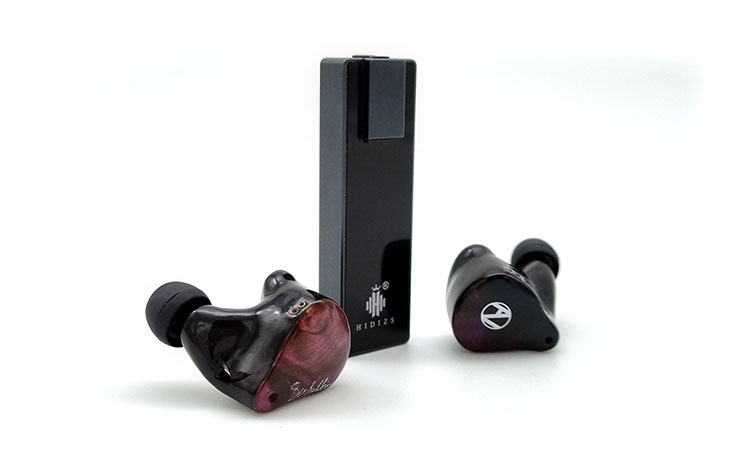 Sound Impressions
The first few superlatives that come to mind are: taut, separated, and speedy. Percussive elements in each track sound more pronounced, especially in the mid-bass to lower-mid regions.
There is an element of excitement in these regions that distinguishes itself from a neutral-to-flat sound signature. As someone that enjoys focusing on the back-end sections of most genres, anything that accentuates or amplifies the commanding presence of the rhythmic section enjoys my unequivocal support.
Speed is the name of the game here. With its tremendous 200mW power output into 32 ohms and low output impedance, I would argue that any changes in both resolution and decay share a strong positive correlation between its superior measurements.
These are the noticeable improvements in comparison to the other dongle DAC/amps that I currently have in my portfolio.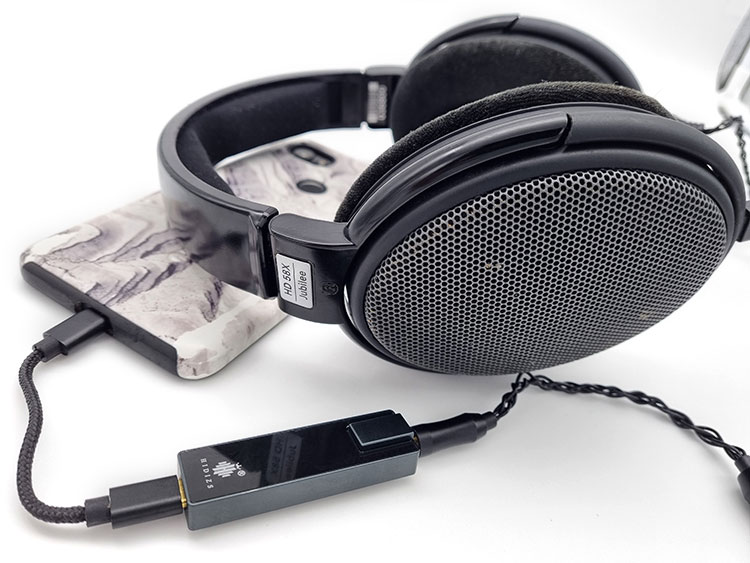 Synergy
Power
This little device packs quite a hefty punch. Its sizeable power output drives full-sized headphones such as the Sennheiser HD58x with ease. IEMs with lower sensitivity ratings and measurements (the especially notorious Tin Hifi P2) performed gracefully on the S9 Pro. In my current roster of dongles, only the Hilidac Beam 2 competes on even footing (we will dive more into that later).
As mentioned earlier in the review, the Hidizs S9 Pro obviously provides more power from its 2.5mm balanced out, dishing out power in spades.
When paired with both my Samsung S21 and PC, I experienced a clean, and pristine black background; there was no legible noise in the foreground. Thankfully, I enjoyed a hiss-free experience on both the single-ended headphone and balanced 2.5mm out. Overall, it performs consistently across both portable and pc configurations.
Selective Comparisons
Hidizs S8
Technical
Basing this comparison on measurements alone, the S9 Pro's power output (as discussed above) dwarfs that of the S8. It is still worth remembering that its technical capabilities are not completely reflective of its real-world performance.
In the S9 Pro, the S8's now-defunct micro-USB connector has been replaced by the newly-standardized USB-C which is now far more ubiquitous. Like the original S8, the S9 Pro is compatible with all modern smart devices without installing additional drivers.
Unfortunately, the removal of the internal volume adjustment keys on the S8 had proven to be a huge step backward. The S8's internal volume controls were considered innovative compared to other readily available market solutions.
Thankfully, one remarkable change entails the device's recognisability by the device's operating system upon connection. The S8 had a strange design flaw that required the user to plug in one's earphones or headphones into its 3.5mm output, prior to connecting it to the source device. One misstep and the S8 would not be detected by the operating system.
This appears to have been rectified on the S9 Pro; this problem is no longer prevalent. Overall, the S9 Pro has taken many steps forward, and one step back in terms of utility.
Performance:
The S8 is limited by its single-ended out and its proportionally weaker power output. But tuning-wise, they both carry fairly similar sound signatures. The only difference perceptible to my ears is a slightly thicker bass response that favors slightly more sub-bass, and a marginally slower decay.
Volume-wise, the S9 Pro definitely requires fewer volume adjustments when paired with the Sennheiser HD58x. The S8 unfortunately, simply lacks the driving power compared to its performatively superior sibling. Given its weaker measurements, this was to be expected and should come as no surprise.
While this particular comparison may come across as unfair, given the S8's age, I think it stood its ground, given its inherent limitations. Most importantly, the S9 Pro reflects Hidizs accommodating user feedback, as it revises its older catalog of products.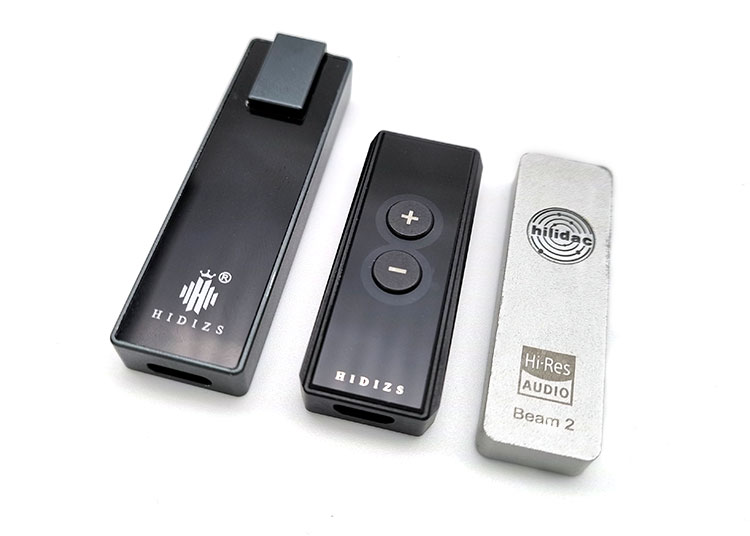 Hilidac Beam 2
Technical
The Hilidac Beam 2 enjoyed a cult following for its unrivaled power output and being one of the original progenitors of the 2.5mm balanced out on a dongle. However, since that novelty has faded, has it stood the test of time? I would say, fairly well! But there are aspects that I prefer on the S9 pro.
Focusing on each of their measurements, the Beam yields proportionally more power in both it's balanced and single-ended out, at 240mW into 32 ohms and 110mW into 24 ohms, respectively. But raw power is not wholly representative of real-time performance. Moreover, it has a lower THD at 0.003% @32ohms. Both dongles are DSD and MQA-ready.
Design-wise, the Beam 2 positions its balanced and single-ended ports on the left-hand side of the dongle; a bizarre placement for outside use. The S9 Pro's design is far more user-friendly for the outdoors, especially with the included clip attachment that snaps snugly to one's garments.
In addition, the dissipation of heat on the S9 Pro appears to be more efficient; the Beam 2's all-metal construction exudes noticeably higher amounts of heat.
Performance
The Beam 2 carries an unashamedly forward sound, with a mid-forward emphasis that favors female and male vocals in the upper registers. It never crosses the pain threshold, although is strays fairly closer to that domain as compared to the S9 Pro. It simply sounds more neutral to my ears without overtly coloring the overall signature by such a large margin.
Volume-wise, the disparity is not reflective in its actual performance, when paired with my Sennheiser HD58x. Using my Samsung S21 as the source, the balanced outs on both dongles achieved more-than-ideal volume levels. I never had to adjust the volume manually after switching to the S9 Pro from the Beam 2.
Purely based on sound, the S9 Pro's more modest tuning/approach to music reproduction.
Our Verdict
The S9 Pro is a wonderful amalgam of features that used to be exclusive to digital audio players, condensed into an affordable and ultra-portable format. Its unassailably, clean power output and universal adaptability to all electronic devices serve as a wonderful alternative to an already bulky, dedicated audio source.
While it is true that there are other solutions in the market that boast qualitatively better measurements, what matters to me as a consumer is its price-to-performance ratio. I strongly believe that the S9 Pro surpasses many of its rivals.
If you are looking for a Swiss-army-knife of dongle DAC/Amps with both excellent power output and dead silent noise floor, the S9 Pro is a unit worth considering.
Hidizs S9 Pro Specifications
Transmission Interface: USB Type-C.
PCM Decoding Support: Up to 32Bit/768kHz.
Native DSD512 decoding support.
Output Parameters(Single-Ended 3.5mm)
Rated output power: 100mW@32Ω.
Frequency response: 20Hz-50kHz.
SNR: 120dB.
Channel Separation: 80dB.
THD+N: 0.0012%.
Output Parameters(Balanced 2.5mm)
Rated output power: 200mW@32Ω.
Frequency response: 20Hz-50kHz.
SNR: 119dB.
Channel Separation: 118dB.
THD+N: 0.0006%.