Software Impressions
Proprietary OS
The DPS-L2 uses a modified version of the lightweight Linux-based HiBy Music OS (EV1.1), specifically the non-touch version rather than the newer touch-capable firmware you now see on the likes of the HiBy R3 Pro up to the Cayin N8.
Whilst not being the flashiest looking OS it is fast and very stable. You could say that's the benefit of picking an OS that has been knocking around for years with plenty of firmware updates.
Speaking of updates, the software can be upgraded via a local image on a memory card but I have actually yet to see any new firmware being offered. Shenzhen Audio does keep an excellent download repository but of now nothing for the DPS-L2.
Not that it needs it, I have yet to find any obvious bugs and the rest of my needs could well be defined as feature requests rather than errors.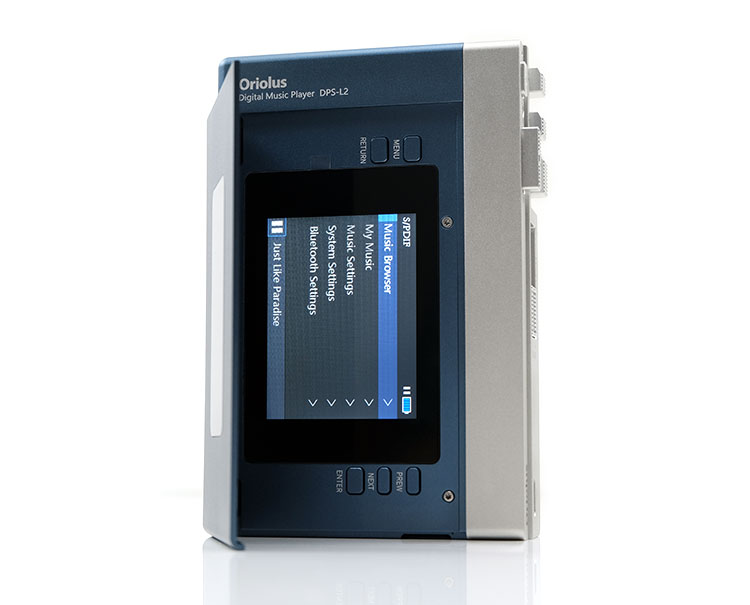 Navigation
Since this is a line-entry non-touch experience the navigation is done via those buttons on each side of the LCD I mentioned previously on page 1. There are two on the left side and three on the right side and they can also dual as playback if you fancy playing and browsing same time.
On the left side, you have a menu and a return button. On the right, you have a next, previous, and enter button. The return and enter button will allow you to enter or exit out of the menu and submenus and the previous and next buttons allow you to navigate up and down the line entry options in the OS.
The menu button is a little less obvious in what it does. It does mimic the enter button which seems a bit redundant unless you are left-handed. However, its more valuable function is bringing up HiBy OS's mini-menu on the playback screen with no less than 8 choices or 8 icons.
They are not labeled but do include shuffle controls, playlist editing, and the ability to delete the track. Options that should be familiar to long-time users of the older HiBy Music OS.
Overall, navigating the DPS-L2 is a little linear as you would expect from a non-touch OS and not as fast to navigate as Android or HiBy touch versions. However, the close proximity and front-facing of the control buttons make it somewhat easier to use than something like the LP P6 non-touch controls.
Features
You can find most of the major DPS-L2 OS features inside the settings menu of the OS. Both the Music and System Settings menu will offer up some more in-depth options beyond media management and playback.
Digital Filters
Interestingly, only 2 digital filters are on offer within the DPS-L2 music settings; sharp decay and slow decay. The ES9038PRO has up to 7 onboard digital filters which Oriolus engineers can choose to integrate or in this case only sparingly.
I am not a hardcore digital filter fan, at least not the built-in DAC chipsets ones. I tend to find the tonal tweaks to be more nuanced than pronounced, preferring PMEQ and DSP instead which are much more dramatic. However, for some who do enjoy them, that might be a bit of a miss.
EQ
You do, however, get HiBy's fully customizable 10-band EQ software with 8 presets which I tend to think of as one of the better EQ systems out there with up to 10 +/- dB of control from 31Hz up to 16khz. You can access it either through the Music settings or by a long press of the menu button during playback.
There will be a dB diminution once you activate EQ as with most EQ apps so you will find yourself bumping up those analog potentiometer dials by 1-2 notches to retain your desired volume setting.
The presets are mostly a personal preference thing with only 1 or 2 I could work with including the ultra v-shaped Dance EQ and the more mid-happy metal EQ setting. The others tended to sound a little dull, too warm, or too dark.
Of course, you can work your own custom EQ and aim for the Harmon curve if that tickles your fancy, or simply keep EQ turned off for the most transparent sound possible.
Environmental Controls
This is a label I tend to give to a heap of little useful features that do not merit individual sections. The DSP-L2 is loaded with plenty of these such as channel balancing which I do know a lot of people swear by due to some hearing issues. You also get a gapless playback option as well as DSD gain but sadly no replay gain which I would have loved to have seen included.
Tucked somewhere halfway down the system settings you also get the option to switch over to car mode as well as control your environmental settings for better battery management such as screen brightness and backlight time, (spelled here as 'blacklight time'), and a sleep timer.
From here you can also determine the USB functionality when connecting to your PC or MAC by setting it as a media storage device or a USB-DAC.
Media Management
Classic HiBy OS media management in a nutshell. If you are used to the HiBy OS from around 2018 then the DPS-L2 media management is a breeze in terms of navigational familiarity.
The only drawback is of course it's non-touch so it is a bit of a chore to button-mash your way through long track lists and come in and out of various sub-menus.
My Music
That being said, the DPS-L2 media scanning is decent at 1700 tracks of various sizes processed in 58 seconds from the 64GB MicroSD Class 10 card and an instant and accurate tag-based listing under the "My Music" category.
If your tagging is good then the category listings should be very accurate. Artist/album/song groups all displayed as I expected them to.
My only problem, as always with this version of HiBy OS, is the flat structure of the genre tag. You click genre and it gives you a complete list of songs, with no artist or album splits which is horrible if 1500 tracks are all in the same genre.
Music Browser
If tagging is not your thing then you can use a classic file browser process via the DPS-L2 "Music Browser" category which will allow you to sift through either your external memory card or any flash drive attached via OTG.
You can also scan and update your music library here which I always found to be a curious location since it mainly affects your tag database and not the file browser. It should really be in the My Music submenu.
Playlists
You do have the option to build playlists on the DPS-L2 via an 'on the fly' option in the playback mini-menu or via digging into your media track lists. You can bring up the playlist edit option with a click of the menu button when you highlight the desired track in your media library.
Unfortunately, you do not have the ability to create your own playlist names even though there is a create a playlist option on the DPS-L2. Instead, you are given a list of alternative names like era, mood, and genre with some having submenus like the '2000s' and '1990s' for the 'era' category, or 'sweet' for the mood category.
Playback
Playback on the DPS-L2 is relatively straightforward with a mix of those mechanical and front-facing button controls and a fairly simple informational display layered on the excellent interactive cassette screensaver.
As mentioned, with the menu button you can pull up that list of mini-menu options which does include shuffle, song information, and playlist controls.
Aside from that, the playback screen will update you on whether you are using the balanced output or SE, the song title, time/total time, as well as battery life in the top corner, (consistent with all screens on the DPS-L2).
At the bottom of the playback screen, you get a small ticker digital display showing you the file format, shuffle mode, and bit/sample rate of the track being played.
Click on page 2 below for DPS-L2 software impressions
Click on page 3 below for DPS-L2 sound impressions and pairings
Click on page 4 below for select comparisons