Sound Impressions
Summary
Off the bat, the DIRAC tuning makes a big difference here and makes this set sound better and beyond the lower codec capability. The sound signature in stock form is rather flat and lacks definition and body until you activate the DIRAC feature then things change for the better.
Some TWS models are either bass-heavy or midrange focused but the Klipsch T5 II ANC seems to be following a flat line frequency response more so than other TWS models I tested so far and aim for a neutral character.
When I ran the tone sweep test I heard these go down to 16 Hz and they were flat in the bass response above 21Hz all the way through the midrange transition. The midsection was also flat with no major peaks anywhere surprisingly.
The only area that showed some deficiency was the high-frequency area which took a dip in the output above 8kHz and above that had very little extension especially above 13kHz where it took a sharp dip. However, the T5 II ANC did not present any of the common high noise levels in the high-frequency area with a dark background.
Tonality
My initial thought on receiving these was "did Klipsch capture their big speaker sound signature in the T5 II ANC?" They somewhat did because these sound rather large in scope and panorama. Everything seems to come from an area in front of the listener simulating a medium-sized room and large speakers.
The bass response seems rather punchy, encompassing, and has some kick behind it but remains rather flat in frequency output and to its merit is absent of bloat or artificiality. It transitions well into the midrange by not bleeding into the neighboring spectrum.
The midrange response is again, flat in frequency response with a nice bite and good presence. The midrange has a nice amount of forwardness and tonality which seems rather pleasant most times with an absence of harshness. Tonality is rather good and there seems to be very little in the way of a veil.
The high frequencies on the other hand I feel were limited by the lack of high-end codec because I bet that even though the driver seems capable of very good high-frequency extension it lacks in this area making the high frequencies at times come through a touch harsh, metallic or just lacking in extension.
But by remaining noise-free with the absence of the common high-frequency noise floor found on most TWS models the Klipsch T5 II ANC makes it into my shortlist of TWS models with a rather noise-free top end.
And although not a highlight of the sound signature at moderate volume levels the high frequencies remain listenable and on an even plane with the rest of the spectrum curve.
Staging
The large speaker-like sound panorama of the Klipsch T5 II ANC is wide with a good amount of depth. I would say the only area lacking perhaps is a bit of height but the amount supplied is ample enough to keep things interesting.
Most of the midrange especially vocals seem to occupy a wide space upfront of the listener more so than in other similar sets. Imaging is very precise and panning is done accurately. The 3D positioning is more accurate on the sidelines than on center stage.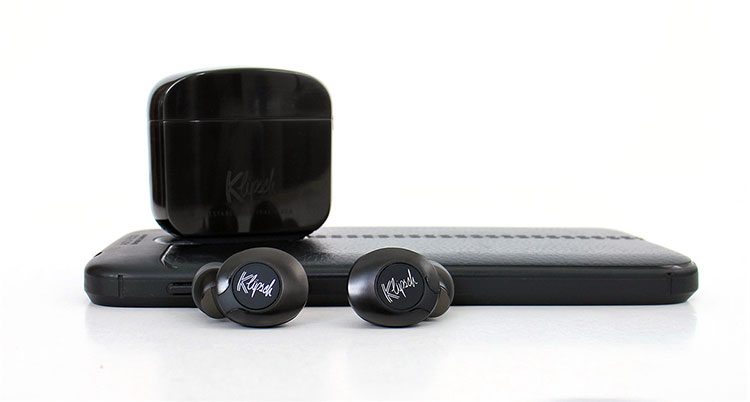 Wireless Performance
Pairing
The Klipsch T5 II ANC once paired, connected solidly to paired source, and locked in solidly, quickly, and every time. Again you have to time the initial pairing just right but you could also force earbuds to go into pairing mode with a 3-second press if you miss the starting sequence.
Since codec capability has a basic and common set it pairs with everything you have. The sources I used were a FiiO BTA30, an Asus Bluetooth dongle, an Insignia dongle, 2 Android phones plus a Laptop and they all worked as they should with no strange anomalies.
Stability and Range
I use an almost prehistoric test on Bluetooth devices nowadays. My particular Asus dongle is somewhat sensitive to interference from a screen door in my house room and most TWS break up if I stand next to that door using this adapter.
The Klipsch T5 II ANC was rock solid all the time. I could actually go on the other side of that door and still maintain a good connection which means the connection is very stable.
Most TWS and Bluetooth devices are somewhat sensitive to going around corners and going through walls but it seems this particular model does better in this area but just do not expect miracles either.
Another area the T5 II ANC did well in was in distance and I was able to move away up to 40 feet from the source and remained connected with decent stability.
Latency
The Klipsch T5 II ANC does very well with latency, actually better than most and I was seeing under the average 0.2 seconds of BT lag on this set which is not bad at all. I would say it's closer to a .1 second lag which is barely noticeable.
I was able to game just fine with the T5 II ANC and latency never caused an issue for me. I did some tours over at Warzone with the T5 II ANC just fine and was always on point.
I highly depend on auditory senses within this game and I never had issues locating what direction sound was coming from and since you could get around 6 hours of playback I doubt anyone would outlast this set without risking a severe case of the lower body part numbness.
Select Comparisons
Technics EAH-AZ70W
Price $249.00
Technical
The Technics AZ70 came out around a year ago and showcased lots of new features unavailable on other TWS models like the 100 step variable noise-canceling plus a 50 step ambient noise sensitivity adjustment.
To me, the AZ70 has one of the best ANC implementations around and that's the main selling point here because codec capability is lacking with just AAC and SBC running on Bluetooth 5.0 which is not the latest version either.
The AZ70 relies on touch controls and once again, I really like the implementation here simply because it just works. There are times some touch controls are either too sensitive or just unresponsive at times and the AZ70 touch implementation works better than most.
Design
If you look at the body style you could visually tell how large these earbuds are. They stick out some but they still weigh less than the T5 II ANC by just under 2 grams and stand at 7 grams apiece. The case is also lighter at 65 grams versus 89.3 grams.
Construction quality I would say is a tie when it comes to the earbuds but not the cradle. The AZ70 is all plastic and only has a metal laminate while the T5 II ANC is made of solid polished metal and just holding it in your hands emits a quality impression.
Performance
If we take the ANC out of the way first it should be of no surprise that the AZ70 wins in noise reduction performance but the sound quality is another story. I do like the way the AZ70 sounds but they lack excitement and it's sort of a bland dish that is cooked well but lacks seasoning. It tastes good but it is missing a sauce or some spice.
The bass response of the AZ70 is mid-bass-forward with a slight bass emphasis while the Klipsch T5 II ANC takes on a more clinical and flatter approach with better speed and transient response. The midrange on the AZ70 could be described as polite while the T5 II has some bite and more life.
The high-frequency section from the AZ70 is also noise-free and extends higher to around 14.5 kHz and then dips sharply thereafter. The AZ70 has better extension but the highs seem more restrained versus the highs on the T5 II ANC.
If you want to count battery performance as an important factor the T5 II ANC gives you two more hours per charge. For example, the AZ70 gives off a low battery warning around four hours in while the T5 II ANC can go six hours.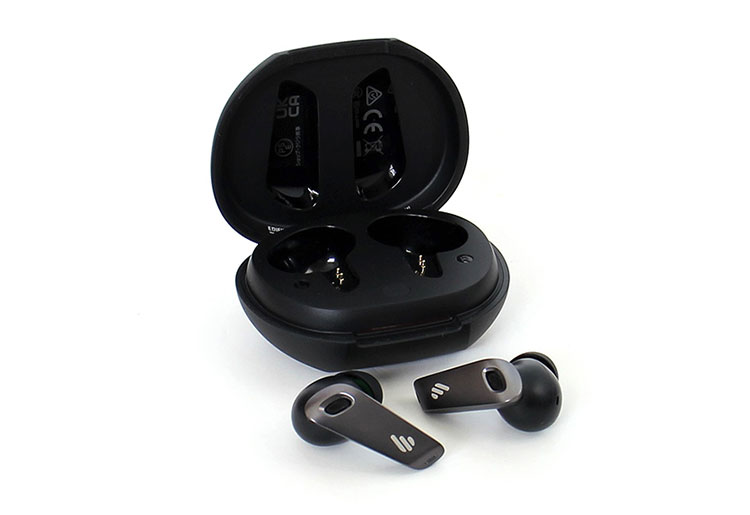 Edifier NeoBuds Pro
Price $129.99
Technical
I wanted to throw this set into the mix because of its low price and high-end codec capability to sort of counter the DIRAC implementation. Which is best is the big question.
Well, we have to first take into consideration comfort, and to be honest, both these sets are comfortable to wear and personal preference will determine your favorite. I like both the stem and ball style and the unique shape of the T5 II ANC.
The NeoBuds Pro also has ANC but it's not a hybrid adjustable type like the other two sets have and it just has an on and off function which is done via touch control or through the app.
I do have one slight gripe about the touch implementation here because on my set the touch control was unresponsive at times, was somewhat difficult to get the timing or the tapping sequence right although the sensitivity was attempted to be adjusted at the app.
Design
To be honest, if you do physical activity with TWS earbuds then you might prefer the NeoBuds Pro because they tend to anchor into the ear best. I would say the Klipsch set is in a close second while the AZ70 sits in last place and I personally would not recommend them for joggers or gym-goers.
The cradle construction is made mostly from plastic and it does keep weight down if that is important to you and it's also the smallest. I really like the UFO-style LED system on the cradle and think of it as a highlight.
The NeoBuds have two things going for them. The first was mentioned already which is the LDAC ability but the second is that from the three in this comparison it's the only TWS that uses a hybrid two-driver system which is composed of a dynamic driver along with a Balanced Armature Knowles tweeter.
Performance
This is a battle between LDAC and DIRAC, hybrid versus single dynamic, hardware versus software. It's complex. DIRAC is in fact a type of complex DSP that works with phase, timing issues, and frequency response and it might be in fact the more complex implementation here which obviously takes more effort to work out all the bugs of a beta product sound signature.
The flat curve which was obtained by the T5 II ANC with DIRAC implementation is no accident and the nice crisp sound quality obtained would improve with a better codec and better hardware is all I'm saying.
Bass response has more kick on the NeoBuds but you get a cleaner, fast and responsive character with the T5 II ANC so there is more bass emphasis on the NeoBuds but it also has more coloration in the lower end.
Midrange seems to come through with a gentle character on the NeoBuds while on the Klipsch set there seems to be some bite and perhaps a touch more forwardness and presence.
The highs are sharper on the NeoBuds probably because of the LDAC but if they both were compared with the same codec to make it a more even fight there seems to be more color and character on the Klipsch T5 II ANC.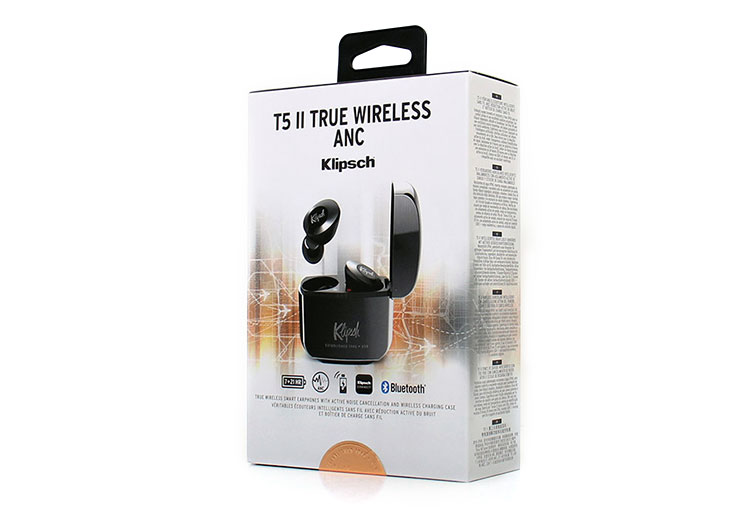 Our Verdict
If I was to list the selling points and winning traits of the Klipsch T5 II ANC they would read off as a quality-oriented TWS with a sleek design, DIRAC complex DSP implementation which made it possible to squeeze the maximum performance out of this single dynamic driver TWS.
The charging cradle is built like a tank, literally. The construction fit and finish of the earbuds and cradle is excellent. These would honestly have broken barriers in the TWS market if they only had implemented LDAC plus let's say a better array of drivers so I guess it's safe to say we'll have to wait some more time for their horn-loaded TWS model.
Jokes aside, the DIRAC implementation here still brings this set quite close to sounding like a set with a higher bit rate decoder while using the common aptX transmission which is quite impressive. So, to wrap it up the Klipsch T5 II ANC TWS clearly showcases a new direction and something different which is exactly what the TWS market needs today.
Klipsch T5 II True Wireless ANC Specifications
STYLE In-Ear Monitor
DRIVER DESIGN Dynamic Moving Coil Micro Speaker
DRIVER DIAMETER 0 mm
MIC/REMOTE CVC 8.0 Quad-MIC
FREQUENCY RESPONSE 10Hz-19kHz
NOISE ISOLATION -22dB
INPUT CONNECTIONS Bluetooth
BATTERY (EARPIECES) 50mAh BATTERY (CHARGING CASE) 360 mAh
BLUETOOTH® SPECIFICATIONS Version: Bluetooth 5.0 Profiles: A2DP 1.3, AVRCP 1.6, HSP 1.2, HFP 1.7 A2DP
Codecs: SBC, AAC®, aptX®
Range: Up to 10m (33ft.)
Input Rating: 5V DC, 1.0A Battery Status: iOS & Android Battery Status Monitor
WEIGHT Buds: 10.6g (.023lbs) Case: 89.3g (.19 lbs) Buds and Case: 100g (.22lbs)
COLORS Gunmetal, Silver