In this feature, we review the Fearless Provence which is a new triple hybrid single 10mm dynamic and dual BA driver universal IEM. It is priced at $138.00
Disclaimer: This was sent to us as a sample for our honest opinion. Headfonics is an independent website with no affiliate links or services. We thank the team at Linsoul & Fearless Audio for giving us this opportunity.
To read more about the Fearless products we have featured on Headfonics click here.
Note, this review follows our new scoring guidelines for 2022 which you can read up on here.
Fearless Provence
Tuned to be more appropriate for analytical listening, the Fearless Provence can be a good entry point for people looking for an in-between monitor, applicable for both listening and performance.
Fearless Provence is our second installment review of the three universal IEMs offered by Fearless Audio's Colorful World Series. Provence is the middle child in this series as it houses a 1DD + 2BA configuration, compared to Shangri-la's 1DD + 4BA and Barcelona's 1DD + 1BA.
Fearless Audio describes Provence to be the Rich and Detailed Hybrid IEM with its 3-driver setup. Priced at an attractive SRP of $138, it sits in the lower price tier range at $90 less than its big brother, the Fearless Shangri-la.
Everything about this IEM series leads on nicely from the more expensive Shangri-La. That includes the hybrid implementation and distinct color combinations. Similar to the Fearless Shangri-la, these monitors are eye-catching with 3 colors to choose from – Rhone, Nice, and Lavender.
Tech Highlights
Taking a deeper dive into the tech inside, Fearless Provence is a 3-driver hybrid universal IEM with a 10mm dynamic driver and 2 balanced armature drivers using a 2-way crossover configuration.
The dynamic driver is a 10mm Fearless Special Research Pole-Magnetic DD, which is tuned to minimize distortion and give powerful lows.
The two custom balanced armature drivers are a mid-frequency driver and an ultra-high-frequency driver. Drivers used were the familiar collaboration of Sonion and Colorful World with the special 2300 series Sonion driver and 2nd generation Colorful World ultra-high frequency driver. These drivers are uniquely tuned to give a rich and detailed midrange and treble region.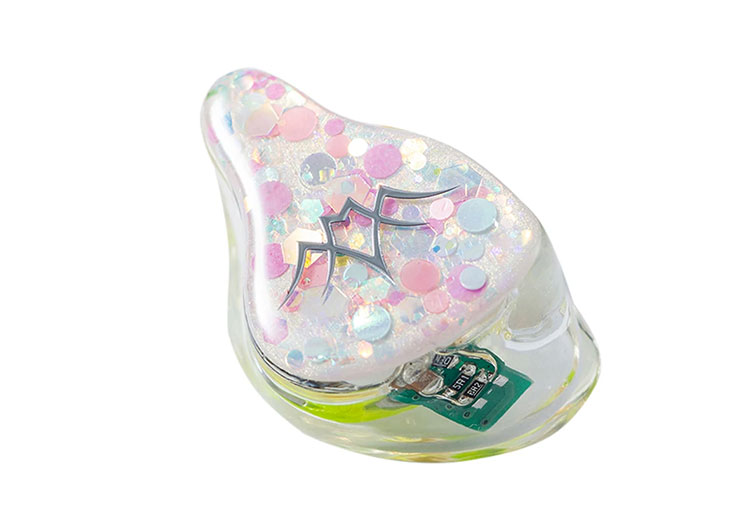 Design
Out of the box, one thing for sure is that these monitors are fun and exciting to look at. Fearless Audio deviates from the standard black, futuristic silver, and earth-tone colors that dominate the market.
Perhaps they want to appeal to the younger generation with their bright color designs? Either way, I love how Fearless Audio's Colorful World series tend to experiment and play with edgy colors.
The 'nice' variant of the Provence has an overall sequenced glittery-pearl-pink appearance, which may seem surprisingly too loud for others. Compared to the pictures, these are extra glittery in person, shimmering in different angles.
The shell is a transparent resin material, which unveils the multi-driver setup of the Provence. Inside, you can see the 1 DD + 2 BA, with the dynamic driver covered with a detailed light green color, complementing the overall look.
The shell is light and shaped ergonomically, conforming to the shape of my ears. The shape and size of the shell were just right for me, allowing a comfortable fit with ample insertion.
Comfort & Isolation
The resin shell is incredibly light, maybe one of the lightest IEM I have ever used. Wearing the Provence for long periods was never a problem. The nozzle has ample width and length, giving a good seal in my ears.
Isolation of the Provence is sublime. I have no complaints as it works as intended. Trying to work outside, background noise was completely drowned out making it easy to listen and get down to business.
Stock Cable
Provence has an identical cable with the Shangri-la. The included cable is an 8-strand ultra-pure oxygen-free copper (OFC) silver-plated Litz cable.
High-end cables like Litz allows signals to efficiently pass, maintaining signals to be intact. Its composition also keeps the physical wire from oxidizing and going green. I was quite surprised that even at a lower-priced monitor, Fearless Audio included the same high-quality cable.
The cable has a plain silver color, nothing too striking. It complements the glittery faceplate design with the braided-silver cable color.
The memory wire was pretty standard. Memory retention was enough to sit comfortably on the ears. Microphonics were kept at normal levels when moving around. It was not bothersome to enjoy music while on the go.
The termination on the IEM side is a universal 0.78 2-pin configuration. This enables cable-rollers to expand on the stock offering with an upgraded cable or a Bluetooth-capable one. The other end is terminated with a single-ended 3.5mm TRS Fearless Audio plug.
Packaging & Accessories
Truth be told, the Fearless Provence has the exact packaging and inclusions with the Fearless Shangri-la.
It comes with a standard box with the common inclusions – a wipe cloth, cleaning brush, 3 sized silicon tips, 1.2m stock cable, and a semi-hard white magnetic carry case.
Nothing was striking about the packaging and included accessories. Fearless Audio kept it plain and simple, but functional.
Sound Impressions
Bass
With the Provence having a V-shaped sound signature, I was expecting a bass-heavy monitor. However, the sub-bass region was nowhere heavy and meaty. Low frequencies were heard in the mid-bass region but the rumble in the sub-bass was faint and light.
Even so, the sub-bass has a good sense of control. It has a fast attack and decay. Details are easily heard, with ample gaps even in bass rifts.
Although this is not a bass-heavy IEM, the overall tuning of the bass region was pleasantly tuned to allow more details to be heard, which is good for analytical listening. Tuning was just right, with no bloom in the upper regions.
Mids
The midrange on the Provence is noticeably recessed, which was not surprising. Although, the lower and upper midrange regions were mostly even with no audible fluctuations.
Even though the midrange takes a back seat in the Provence's tuning, vocals and instruments are still detailed. Vocal textures are still evident and intact. Piano keys sounded natural while being easily heard and distinguished.
The midrange coloration is also on the "cool" side, which is common for BA drivers. Overall, the midrange is clear and transparent and goes well with the V-shaped tuning of the Provence.
Treble
For a V-shaped monitor, the Provence is nowhere near to having a treble uptick. Although the treble is elevated compared to the midrange, Provence is a bit dark, with the upper frequency sounding a bit rounded and dull.
Treble extends well, even if it's distant. Certain tracks reveal the cymbals to be lacking. Although heard, crisp guitar strums and splashy cymbals are missed with the Provence.
Provence's treble tuning is well-controlled, with no treble peaks. There was no harshness in higher frequencies, which is good for treble-sensitive listeners. Piercing high notes were tamed with Provence's conservative treble tuning.
Staging
The soundstage of the Provence is respectable at its price range, even comparable with monitors in the sub $200 range. It never felt cramped, but not too spacious either.
Different elements such as instruments and vocals are well projected. Sound is replicated in a multi-directional manner, easily able to space out the sound in the head. Imaging is impressive, all things considered.

Synergy
Efficiency
Smartphones such as the iPhone 12 Pro Max can easily power the Provence. With an impedance of 19 ohms and sensitivity of 116dB, the Provence is pretty easy to drive.
Switching over to a high-quality DAP such as the Hidizs AP80 Pro and iBasso DX150, soundstage and imaging have improved compared to a smartphone setup. There was no observed noise or hiss when plugged with both of these DAPs.
Pairings
The Provence has a popular V-shaped signature which would be easy to pair with. Pairing the Provence with the Hidizs AP80 Pro gave a fun-sounding combination. The AP80 Pro has elevated the Provence's midrange region, making vocals seem a bit more forward while still retaining a V-shaped sound signature.
To improve on the imaging, the iBasso DX150 with AMP6 would also be a good choice for people who wants to have a warmer tonality and a more aggressive low-end response. For people with sensitive lows, the FiiO M11 is also a good choice as it is a more neutral-sounding DAP.
Select Comparisons
Ambient Dynamic AD-006 "Lyndale"
$199 (currently priced at $149.99)
Technical
Both monitors have a hybrid configuration. The Lyndale has a 2-driver configuration (1DD + 1BA) while the Provence has a 3-driver configuration (1DD + 2BA).
Design
The Lyndale has a classic plain black acrylic shell and gold embossed logo. The Provence has a completely different style with its refreshing color of glittery pearl white and yellow/green color combination.
Both monitors have a light shell with a traditional ergonomic design, ensuring a good fit. A popular 2-pin 0.78 terminations and a 3.5mm straight plug termination can also be found on both monitors.
Performance
Bass on the Lyndale's is more emphasized and impactful than the Provence, especially in the sub-bass region. Bass response also feels more natural on the Lyndale, with its drum hits having an impressive organic oomph at every beat.
Lyndale has a more forward tuning on its midrange. It is evident on a wide range of tracks, wherein vocals and instruments take a back seat on the Provence. The Lyndale also has a warm tuning while the Provence has a "cooler" midrange response. Despite the differences, both monitors possess an even midrange region, a balanced lower and upper midrange region.
Treble on both monitors is on the dark side. Brilliance and sparkle are nowhere to be found with these monitors. However, both seem to have good treble control and extension. High frequencies are still audible, albeit feint to listen to. Both have a conservative tuning on the ultra-high frequency, which to be frank is not my cup of tea.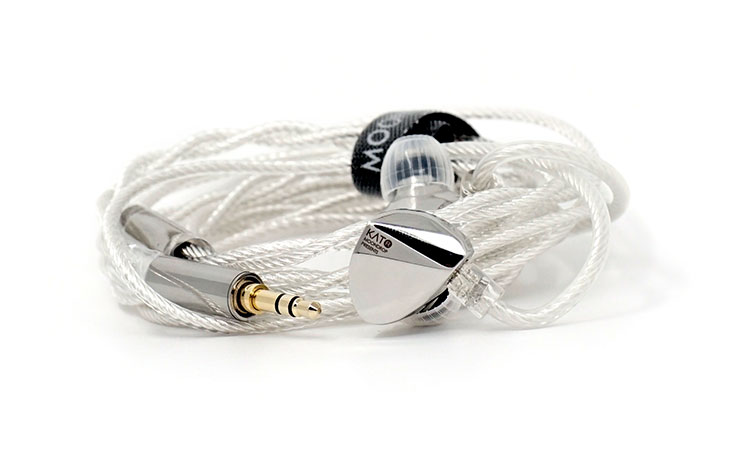 Moondrop KATO
$199
Technical
The Moondrop KATO has a single 10mm driver configuration with Moondrop's flagship ultra-linear technology. The Fearless Provence has a different configuration with its hybrid 1DD + 2 BA and 2-way cross configuration.
Design
KATO has a futuristic look with its polished silver color and irregularly shaped metal shell. It also features a removable nozzle for longevity and easy maintenance. The Provence takes a different route with its flashy colored shell with a traditional ergonomic resin shell.
Both monitors have a 2-pin 0.78 termination with a 3.5mm straight plug termination, which would be good for cable rollers who want to switch cables.
Performance
The KATO has noticeably deeper and tighter lows than the Provence. Deep rumbles heard on the KATO are absent with the Provence. KATO pushes in an extra thump on the sub-bass region that is flat on the Provence.
The midrange of both IEMs has a good balance of the lower and upper midrange. Comparing the two, Provence does have a more articulate midrange region than the KATO. However, KATO sounds "warmer" and more natural. Strings, in particular, sounds richer and full of life.
Treble extension on the KATO is noticeably better than the Provence. Although both have a good sense of control, KATO has a smoother projection and more articulate highs. It is noticeable that the Provence is tuned to have more recessed highs compared to the KATO.
Soundstage and imaging on both monitors are above average with a respectable width and depth. Although KATO has a noticeable wider soundstage. Imaging is also projected well with above-average layering.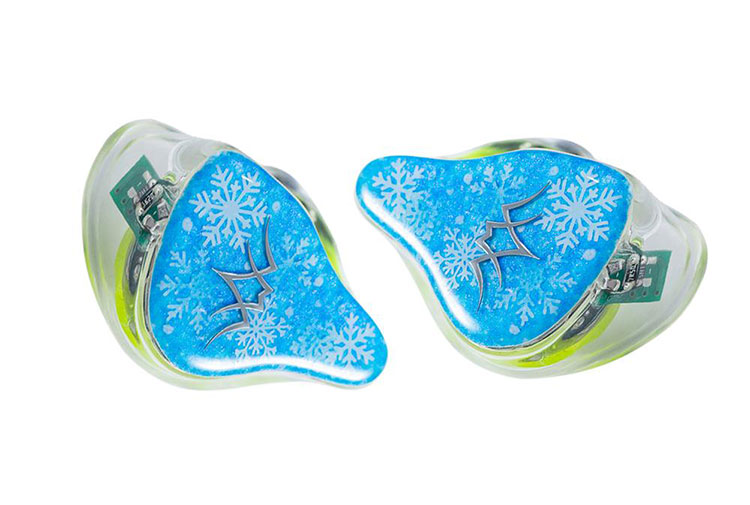 Fearless Shangri-la
$228
Technical
The Shangri-la has a hybrid design with a 5-driver configuration (1DD + 4BA) with a 3-way cross-over configuration. Provence, being a sibling of the Shangri-la, has a similar hybrid design with a 3-driver (1DD + 2BA) configuration with a 2-way cross-over configuration.
Design
Without looking at the driver configuration, these 2 IEMs look identical in their design style and shape. Both have a colorful and glittery design, very different from the usual monitors in the market.
The shells are ergonomically shaped, which are comfortably light in the ears. A 2-pin 0.78 termination with a 3.5mm straight plug termination can also be found on both monitors.
Performance
The tuning of these 2 IEMs is quite similar, with the Shangri-la having a more reference tuning. With the Shangri-la having a 1DD + 4BA configuration compared to the Provence's 1DD + 2BA, I expected the two to mainly differ in the mid and high frequencies.
And boy I was right. The lows of the 2 IEMs are tuned similarly on the shy side. Heavy rumble in the sub-bass region is not to be expected in these IEMs. They both make it up with a good mid-bass presentation and a good sense of control with a fast attack and decay evident on fast bass tracks.
The mids of the Provence are recessed compared to the Shangri-la. Shangri-la has a more natural-sounding midrange section. Instruments and vocals have a richer and more accurate timbre with the Shangri-la. Although Provence's midrange tuning is satisfactory, the Shangri-la just does a better job, with the midrange region being more articulate and natural sounding.
The highs on the Provence are subdued compared with the Shangri-la. Crisp guitar strums on the Shangri-la felt rounded and faint with the Provence. Cymbals were splashier and more energetic with the Shangri-la. This is an advantage of the added drivers on the Shangri-la compared to the Provence.
Soundstage and imaging are wider and more accurate on the Shangri-la, although not by a large margin. The Provence never felt cramped but the Shangri-la has a wider presentation. Vocal imaging and layering are also better on the Shangri-la. Positioning is more distinct and articulate on the Shangri-la compared to the Provence.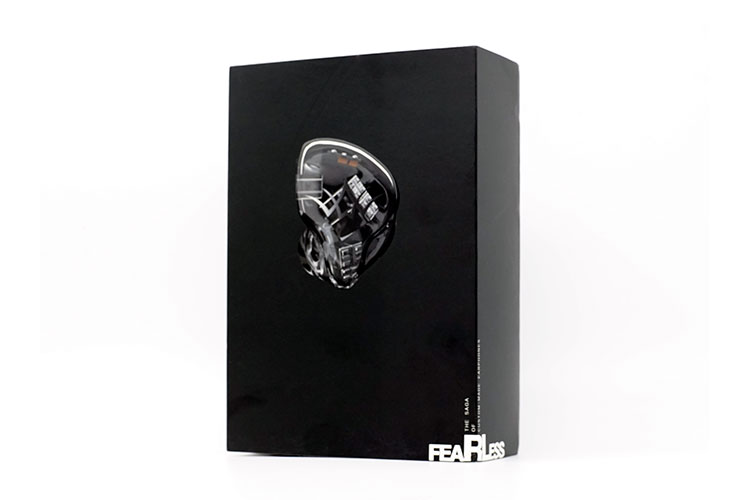 Our Verdict
Fearless Audio has once again made it harder for audiophiles to choose from the tight market of budget ChiFi monitors with its offering of a 3-driver hybrid monitor tuned to a popular V-shaped sound signature at an attractive price point without breaking the bank.
Priced at $90 less than the Fearless Shangri-la, Provence is not a bad deal at all. It includes identical accessories from the higher model, including the high-quality Litz cable. Although, if you want a better-performing monitor, be prepared to fork a bit more for the Shangri-la.
Provence has proven that Fearless Audio can deliver a quality universal monitor even at a reduced price point, paving the way for people to get familiar with the Fearless Audio house tuning and branding.
Tuned to be more appropriate for analytical listening, this can be a good entry point for people looking for an in-between monitor, applicable for both listening and performance.
Fearless Provence Specifications
Sensitivity 116dB (@1kHz)
Impedance 19Ω (@1kHz)
Frequency response range 15Hz-20000Hz
Passive noise reduction 26dB
Drivers Fearless special research pole magnetic dynamic driver
Sonion 23 colorful world cooperation funds Medium and High-Frequency BA
Colorful World 2nd generation high-frequency BA
Standard socket 78mm 2pin notched socket
Standard wiring material 8 strands of high-purity OFC silver-plated wire with O.78-2Pin with3.5mm plug
Quality control range ±2dB