Sound Impressions
Summary
It seems practice does make perfect. The iFi Audio ZEN One Signature can easily please audio gear fans with a very dark background and no audible operating noise to my ears while simultaneously producing a clean conversion of digital formats that retains most of the original information.
You could tell iFi Audio has its hands all over this piece of hardware. It has that typical slightly warm-sounding signature with fast bass lines, a smooth midsection, and good high-frequency extension. It seems iFi Audio is improving on those high frequencies in particular and I can tell.
I went through most of the iFi Audio DAC collection except for the Pro iDSD Signature because I don't have one just to sonically compare and the results are posted at the end of this write-up. I did so just to see what the differences were between the DCAs and the ZEN One Signature.
The ZEN One Signature seems to be the cleanest sounding one of the bunch with the lowest noise floor second to perhaps the NEO iDSD. It also carries the NEO's characteristics of being silent in operation when you operate the pushbuttons and also seems to be impervious to stray electrical interference.
Timbre
In subtle ways, iFi Audio has been slowly improving its DAC sections. One example I could give you is that I found the DAC section inside the xDSD Gryphon to be excellent if you want to add some color to a very clean amplifier section like for example their iDSD Diablo. The added XBass and added color does wonders for the powerful but ultra-clean DIABLO front end.
Other things aside, the ZEN One Signature seems to be the most musical to my ears. I used to prefer the NEO DAC section over the others but the NEO does portray a slight sterile character with a very clean character.
The overall tone of the iFi Audio ZEN One Signature is natural, balanced, and well extended on both ends of the frequency spectrum but at the same time has a forward and lively aspect to it.
Staging & Dynamics
Staging on the ZEN One Signature seems well done it seems and there is plenty of separation with no binding characteristics produced by the DAC section itself. Each element takes its own space in a well-defined manner. There seems to be very little smear and everything comes through in an almost transparent manner further reinforced by the dark background.
Dynamic range is also excellent along with transient response and since the unit works so silently and with a quiet background the end result is really punchy sound with a good amount of attack but silent passages are clearly heard as well.
It does seem the gain is set rather high and perhaps is closer to a 2.5V output on the single-ended side and more like 5V on the balanced output. This helps out dynamics in general and keeps things impactful and punchy while at the same time it allows soft passages to come through nicely.
Synergy
Pairings
With two separate and distinct outputs and four types of inputs you could for certain make the iFi Audio ZEN One Signature the centerpiece of your desktop or home audio setup unless you're a pro and have a recording studio. I do miss the volume control some but wished the unit came with remote control. That would have stepped it up a notch.
I got to pair the iFi Audio ZEN One Signature Not only with the original iFi Audio ZEN CAN but also with a Topping A90 plus a Schiit Asgard and I could not tell which was the best pairing. Of course, I settled for the A90 in the end due to its high power and high current front end since I use mostly planar headphones.
I guess it's safe to say the ZEN One Signature has no particular character that will not allow it good enough compatibility. It does not seem to be partial or particularly fond of a certain type of gear and it seemed right at home no matter what situation or type of setup I used it in conjunction with.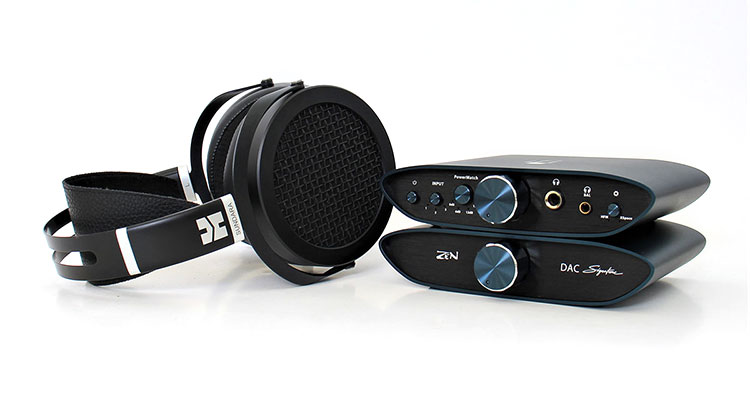 Select Comparisons
iFi Audio ZEN DAC Signature Set HFM
$299.00
Technical
If I was to write down the specific hardware list, basic functions, or even chassis and design of the DAC from the ZEN DAC Signature series HFM or the DAC Signature V2 if purchased separately, you could probably say it rings true for both units.
Both use the same HexaDeca 16 core XMOS with Burr-Brown DAC chips and custom iFi Audio firmware. Both use balanced circuitry and seem so similar on paper but upon a quick visual inspection, you could clearly tell they're not so similar after all.
Design
The way you could tell which one is which from the onset is the large volume control on the ZEN DAC HFM which is the big giveaway. I do like having a volume knob on a DAC but I see why it was omitted this time around on the ZEN One Signature but I still miss it.
Also, iFi Audio should then minimum give us PC users the option of obtaining PC volume function. Perhaps it could be done with a firmware update.
There is another obvious difference between these two and it's not only upfront but on the backside which is where you see major changes. The ZEN One Signature has most of the available types of digital inputs which makes it the more versatile unit since the ZEN DAC HFM only has a single USB input.
Performance
Sound-wise I could not tell the difference between the two except for perhaps a slightly perceived darker background on the ZEN One. I made sure I powered both units with the same iPower2 adapter to rule out the noise coming from the power source.
So the big question here is the following. Would you trade in the volume control for a Bluetooth receiver and a couple of extra inputs and pay an extra 50 bucks? I would, especially since the ZEN One Signature presents a touch less noise overall.
Of course, if you use the iFi Audio ZEN One Signature with one of their ZEN CANs, either the 6XX, HFM, MZ99, or plain vanilla version you could eliminate that very bottom hiss even further with the use of the PowerMatch feature so as a combo I would not worry about hiss at all at this point.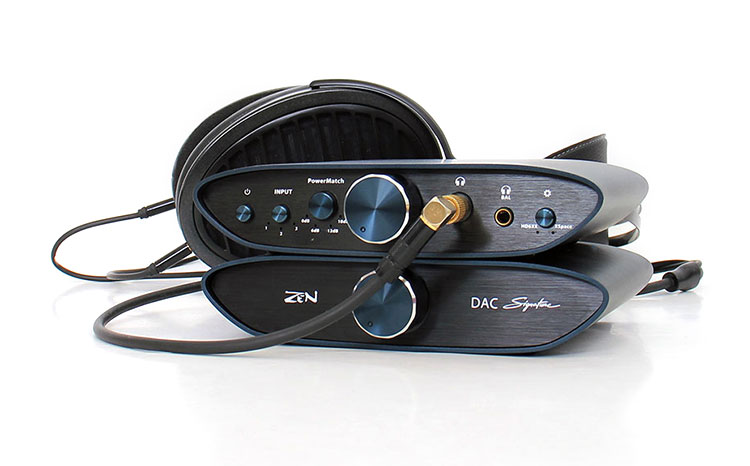 iFi Audio ZEN Signature Set
$249.00
Technical
Just for comparison's sake, I broke out the first iFi Audio ZEN Signature Set DAC or the eight-core variant (V1) out of its slumber to test and see what the sonic differences were or what sonic improvements have been made and there are some. We're only going to speak about sound differences here mostly since both version 1 and 2 units are identical in appearance and features.
I used the ZEN DAC Signature with the rear switch on fixed and actually did so in both cases to better match the ZEN One Signature output.
However, the problem here lies in that the ZEN DAC Signature is the only model that has the PC windows volume enabled but it was disabled on the HFM version and the ZEN One Signature Series so it throws things off.
Performance
It seems with each DAC version the noise floor or hiss production has been pushed downward by a very small amount. Perhaps the elimination of the volume control helped out this time but I think it also has to do more with the ZEN One's higher output.
The output seems to be fixed on max volume while the fixed setting on version one and two ZEN DACs have a lower output on that setting. It seems versions one and two have a higher output capability on their variable output with the volume set to max. I think this is where the fixed output of the ZEN One Signature is set to.
What has not changed is the warmth and good frequency extension but there seems to be slightly better resolve and better individual control of elements within recordings on the ZEN One. Each element seems better defined by a very small margin.
There might be a touch more of a nuanced and micro-detailed presentation coming off the iFi Audio ZEN One Signature as well compared to their past standalone DAC models so I like the direction iFi is taking here.
Our Verdict
The iFi Audio ZEN One Signature DAC might have eliminated the need for their own ZEN Signature series DAC since it seems it is slightly improved sonically, particularly in noise floor and hiss production but not so much in tonality although the listed specifications would not make it seem so.
So if I wanted to buy one of their combo units today I would now alternatively consider purchasing the iFi Audio ZEN CAN variant of your choice with a ZEN One Signature as an alternative to the box set and this way you will add more digital inputs plus gain Bluetooth capability with just a small extra added cost of 50 bucks.
You could always get a ZEN Blue to top off that iFi Audio combo but that would make the set even costlier and would also occupy more space while still having lesser amounts of inputs and that's something to think about.
The only other omission to think about then is the volume knob but that actually eliminated my only peeve with the original ZEN DAC Signature Series and the HFM version which was the volume knob bottom range channel imbalance.
So considering the overall performance of the iFi Audio ZEN One Signature series DAC it seems to be a slight improvement sonically and a big leap forward feature-wise. The iFi Audio ZEN One Signature DAC is clearly the next step up from the ZEN DAC one and two and certainly, a more sonically refined one features aside.
iFi Audio ZEN One Signature Specifications
Power: DC 5V (center pin)
Digital inputs: USB3.0 Type B (USB2.0 compatible) S/PDIF (coaxial, TOSLINK optical) TM
Bluetooth 5.1 (aptX, aptX HD, aptX Adaptive, aptX LL, LDAC, LHDC/HWA, AAC and SBC)
Formats: PCM 44.1/48/88.2/96/176.4/192kHz DSD 2.8/3.1/5.6/6.1/11.3/12.3MHz DXD 352.8/384kHz MQA Decoder
Bluetooth 96kHz
Chipset: Bit-Perfect DSD & DXD DAC by Burr Brown Qualcomm QCC 5100
Analogue outputs: Coaxial, Audio RCA L/R 4.4mm Balanced line out
Frequency Response: 5Hz – 80kHz ±3dB
Outputs: 4V / 2V max. (BAL/unBAL)
Output Impedance: ≤72Ω/36Ω (BAL/unBAL)
SNR: -105dB(A) @ 0dBFS (BAL/unBAL)
THD + N: <0.002% @ 0dBFS(BAL/unBAL)
Power consumption: No Signal ~0.7W / Max Signal ~1.0W
Dimensions: 158 x 100 x 35 mm (6.2″ x 3.9″ x 1.4″)
Net weight: 485g (1.1lbs)